Over the last few years, the way in which we purchase mattresses has changed. The days of lying on a mattress for five minutes to make sure it was comfortable are over. You no longer have to leave the comforts of your own home to get the bed of your dreams.
Nowadays, we have numerous options on the UK market and picking the best mattress with a free trial period can be challenging. Generally speaking, most options offer a free trial period of between 30 nights and a year. Gives you plenty of time to decide if the mattress is the right fit. However, most sleep trial periods have their terms and conditions, meaning you should always read the small print before purchasing a product. 
But how can you choose a quality option that fits the bill and checks all the boxes? There are many options on the market – from good quality products from reputable companies to cheap Chinese items that we wouldn't recommend to our worst enemy.
That's why we created LightSleeper – to help you choose the product that is right for you and you alone and help you make that choice along the way. Companies can never pay to feature their products on LightSleeper, nor we are getting paid to recommend one product over the other – we are an independent resource, and we only recommend products that have passed our tests, and we feel that they are the best in their category.
So let's see what we think are the best mattresses with a free trial in the UK and why:
1. Nectar – Editor's Pick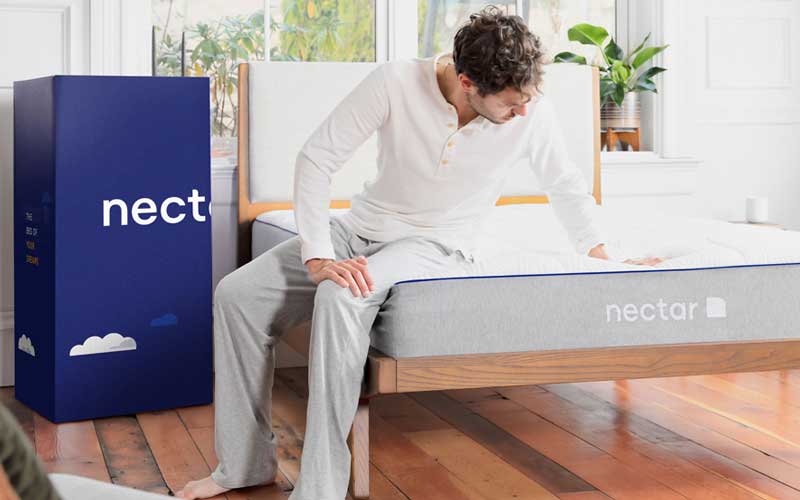 First on our list is Nectar, a memory foam mattress that easily won the Editor's pick in this category. This excellent option comes with medium firmness and five unique foam layers. Those layers will help keep your spine in perfect alignment through the night. Nectar will also provide you with a cool and breathable sleeping surface due to the poly-blend cover featuring heat wicking, cooling technology.
Nectar's excellent product has a cooling top high-density, pressure-relieving gel memory foam, neither too firm nor too soft. This perfection is packed in an item where the contouring gel memory foam will meet the body's natural curves, which is available in six sizes with a total depth of 30cm.
The dynamically adjusting foam and the stay-stable base layer ensure that the comfort and support layers above will perform at their best. Lastly, we have the shift-resistant lower cover that will help your bed stay together, no matter how much you jump on it.
Overall, the Nectar mattress comes with a reasonable price, an unbelievable 365-night trial period and a lifetime guarantee. Not only do you get a fantastic bed, but this company has included an incredible offer with two cooling pillows, a sheet set and a mattress protector. Jump on the offer right away, so you don't miss hundreds of pounds worth of free bedding products!
2. DreamCloud – Premium Choice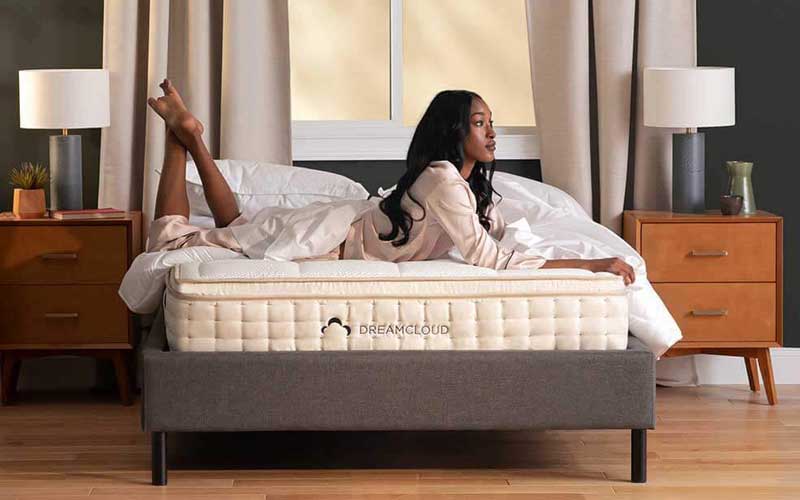 Next, we have the DreamCloud Luxury Hybrid Mattress. A good day starts with a good night's sleep, and that's DreamCloud's motto. The brand has designed a product with five innovative layers that scream perfection.
You'll be kept cool and cosy with quilted foam and a cashmere cover. DreamCloud's first layer is a pressure-activated high-density gel memory foam that contours to your shape, while the second layer is low-motion transfer supportive foam, ensuring you won't sink in too deep.
After that, you'll find the targeted support ActivEdge™ Coil layer, providing you with custom relief due to the individually wrapped 15 cm coils adapting to your body. And on the bottom, we have the base layer that ensures everything above it performs flawlessly.
If you appreciate a firm mattress and your partner prefers a soft one, DreamCloud Luxury is your ticket to compromise, available in six sizes with a depth of 35cm. Have the sweetest dreams with DreamCloud Luxury mattress, coming with free shipping, a lifetime warranty and a whopping 365-days trial period.
3. Simba Hybrid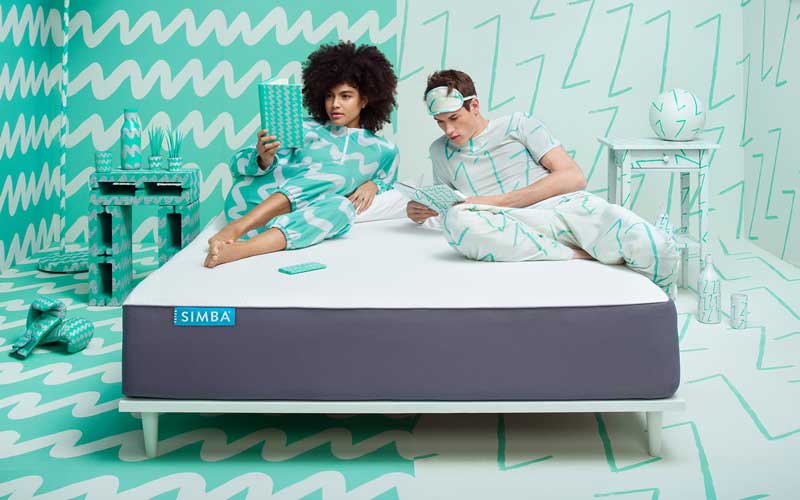 While not exactly a 100% wool mattress, the Simba Hybrid Pro model comes with a massively comfortable top wool layer that competes for the "best wool mattress" category.
The Simba Hybrid Pro is the top of the range coil spring mattress with over 5000 25mm titanium springs and seven layers of comfortable goodness. Starting with a soft, breathable surface similar to other Simba models. The second layer is a breathable natural wool layer on top of a patented foam open-cell Simba-Pure layer.
The two layers of springs are in the middle, sitting on top of another high definition Simba-Pure foam layer with excellent edge support. All this is wrapped into a hypoallergic knitted cover that features four handles for ease of movement.
The Simba Hybrid Pro comes with a 200-night free trial and a class-leading 10-year warranty. Shipping is free for most of the UK, so there are no added postage and fees. The Simba Hybrid is also good for the environment– it has no harmful chemicals, and the Simba-Pure has no chemical smell that is so typical for most memory foam mattresses.
4. Casper Wave Hybrid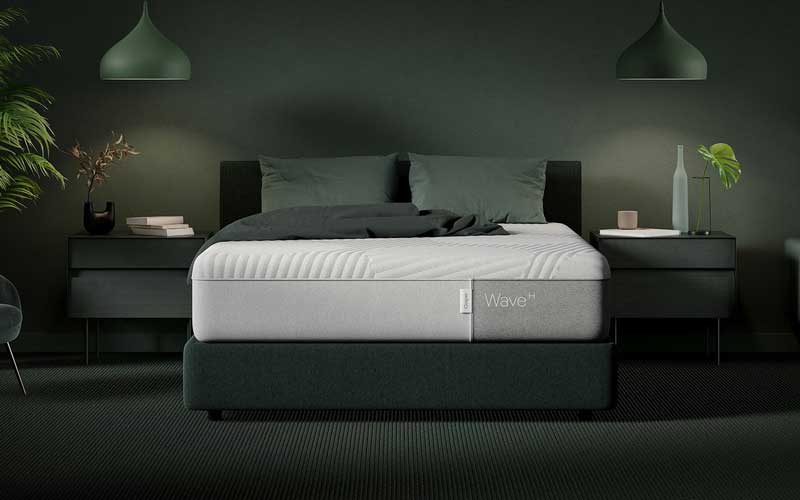 We have another premium alternative, the Casper Wave Hybrid, with one of today's most advanced cooling systems. Casper is a beautifully crafted hybrid mattress with five innovative layers made without ozone-depleting chemicals and regulated by the Consumer Product Safety Commission Low VOC (Volatile Organic Compound) emissions for indoor air quality.
Casper's top layer is constructed of breathable polyurethane foam, followed by a layer of natural latex and a third from zoned memory foam. After that comes the layer of polyurethane foam with gel pods that are strategically placed under your lower back and waist to prevent sinking while keeping your spine aligned.
Last is the durable base of polyurethane foam with encased springs, adding a little lift, support, and airflow to the mattress. The Casper Wave Hybrid is a product that will suit back sleepers ideally due to its construction and medium-firm support.
With innovation behind each layer, you get the whole package with a mattress that cools, supports and aligns with your body like no other. It is 33cm in-depth, and you get to choose from six sizes: twin, twin XL, full, queen, king and Cal king. Casper offers a stellar shipping policy, a 100-day trial and a ten-year guarantee for a comfortable and peaceful sleep each night.
5. Emma Original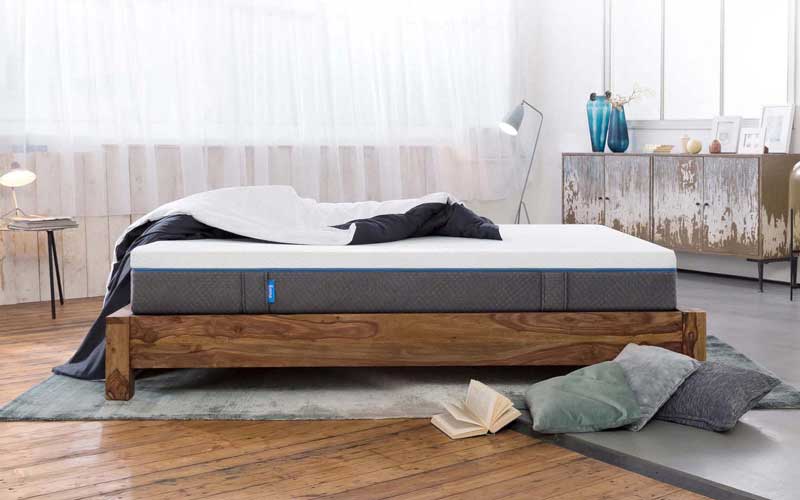 The Emma Original is UK's most awarded mattress that is sure to give you the most restful and energising sleep imaginable. Emma's products are proudly made in the United Kingdom and undergo strict testing to ensure they meet the highest quality standards.
First, you will see Emma's UltraDry cover that is excellent at temperature regulation can be easily removed and washed. Next, we have the Halo™ memory foam layer that adapts to your body shape for targeted spinal alignment, enhanced pressure relief and body-hugging comfort.
It's followed by the Emma's Point Elastic Airgocell® technology, enhancing breathability and regulating temperature by absorbing and then evaporating sweat. Lastly, you'll find the HRX (High Resiliency Extra) Supreme ™ foam that is engineered to last for years without losing its durability due to the adaptive cut-outs zone, distributing your body weight evenly to reduce pressure.
Thanks to the advanced zoning and adaptable foams, this affordable Emma option will gently cradle your body and give you the feeling of sleeping in the clouds. With its outstanding motion isolating properties, the Emma Original ensures two people won't be bothered by the other in one bed.
Emma Sleep has great excellent customer service. The brand offers you a 200-day risk-free trial period, so you have time to adjust to your new mattress. They also provide you with a 10-year manufacturer's warranty and free delivery.
6. Brook & Wilde Elite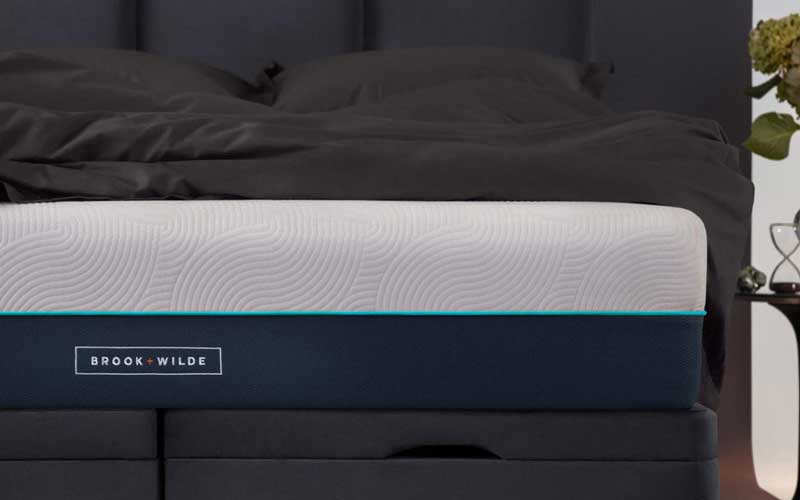 Next, we have the brand Brook + Wilde, which has designed a unique product that perfectly combines deep and restful sleep with eight innovative layers.
On top, we have a four-way stretch cover that allows air circulation and provides breathability. Second, you'll find the memory foam protector, ensuring the memory foam layer can work independently. Following is the set thermo-regulating top layer made from next-generation high-density foam, which supports your spine, and eases the stress on pressure points.
Next are 2,500 mini springs engineered to move with you as you turn around in bed. After that, we have the 'Wave technology' support layer, which has added depth and density.
Another round of springs follow, but this time they are 1,000 135mm pocket springs, accompanied by a support base for structure and solidity. And finally, the non-slip bottom ensures that your mattress stays put while you rest peacefully.
Overall, the Brook and Wilde is ergonomically engineered to provide improved support, so you'll wake up free of body aches and pains. This item can be purchased in four sizes: single, double, king and super king, with a total depth of 28cm. It comes with a 100-night comfort trial, 10-year guarantee and premium two-person delivery service.
7. Tempur Sensation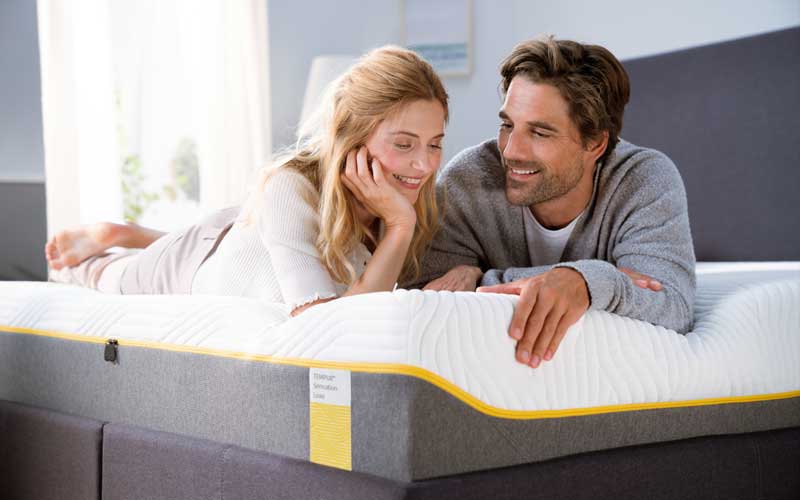 If you are willing to spend some extra cash, we have a fantastic alternative for a premium quality product, called the Tempur Sensation Luxe. This lavish choice is the firmest mattress in the Tempur range with a depth of 30cm, making it the ideal stomach sleeper option.
Tempur Luxe uses the so-called 'Dynamic Support Technology' which features two Durabase layers, that are the product's foundation. They provide you with the support and pressure relief you want and need from a mattress.
Tempur's third layer is crafted from quality materials that will bring you soothing comfort and blissful relaxation. To top it off, you get the QuickRefresh soft fabric top cover which can be removed and washed in a machine up to 60°C.
If you want out of the Tempur Sensation Luxe, you get 100 days to test it out for yourself and a 10-year guarantee that shows it's good for at least a decade, maybe even two.
8. REM-Fit 500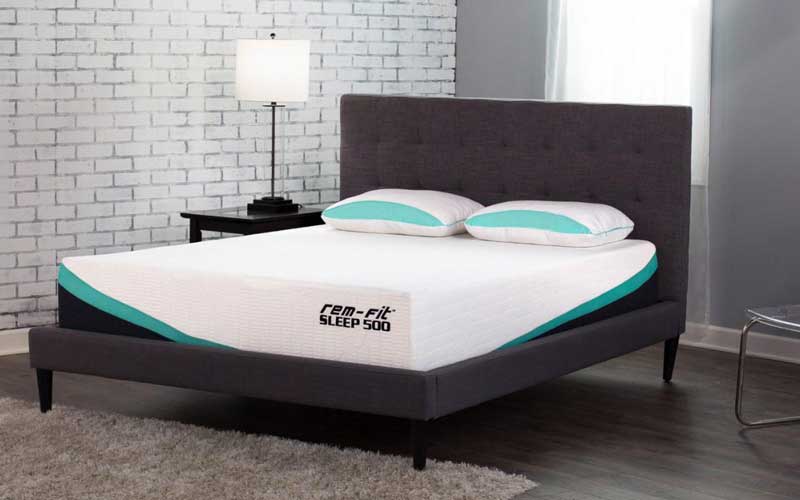 REM-Fit is a fast-growing company with an award-winning multi-layered hybrid mattress called the REM-Fit 500 Ortho. This manufacturer uses high-tech technology to create a next-generation orthopaedic mattress.
It's constructed from five unique layers. On top, we have a Re-Ax breathable, knitted cover with a silky touch. It's followed by a 50mm open-cell zoned memory foam comfort layer, providing advanced temperature regulation and pressure-relieving comfort. Next, we have 2000, 14cm encapsulated pocket springs for proper spinal alignment because of their firm tension.
After that, we have a strong foundation in the face of high-density foam, bringing a robust and highly durable sleeping surface. The REM-Fit Ortho also has encapsulated sidewalls, which deliver solid edge-to-edge support.
The REM-Fit Ortho can be purchased in eleven sizes, which is unheard of with a total depth of 25cm. This hypo-allergenic product comes with a 100-night trial and a 15-year guarantee that showcases its quality.
9. OTTY Original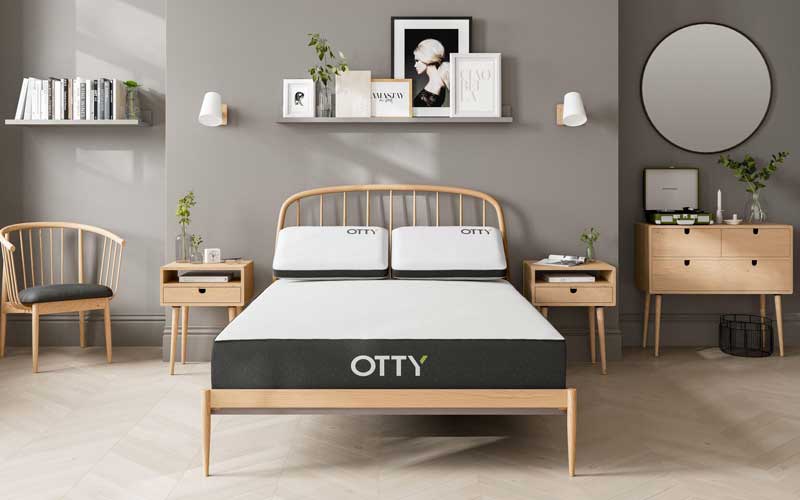 The OTTY Original Hybrid is a great all-rounder that allows you to focus on the essentials when going to bed, which is getting a good night's sleep. This inexpensive hybrid option contains 64% spring to 36% foam, giving you the best support and comfort while helping those with ailments or health issues.
OTTY consists of five life-changing layers. Its first layer is a removable and washable cover, followed by a temperature-regulating foam with an innovative technology that will deliver a great night's sleep by keeping your body at the perfect temperature. Next is the high-density foam, specifically designed to provide additional support and comfort.
After that, you'll find 2000 encapsulated pocket springs with a medium-firm firmness rating that minimise motion transfer and maximise support. Following right after is the airflow side support, a unique airflow technology offering edge-to-edge sleeping surface and aiding temperature regulation.
And lastly, OTTY has the HD base foam that provides a solid foundation while ensuring the mattress stands the test of time.
What makes the OTTY Original Hybrid special is the nine options in size. This superior product comes with an affordable price tag, 100-night trial period and ten years guarantee. The manufacturer also offers a premium delivery where a white-glove delivery team can take the mattress directly to your room and remove the packaging.
10. Eve Original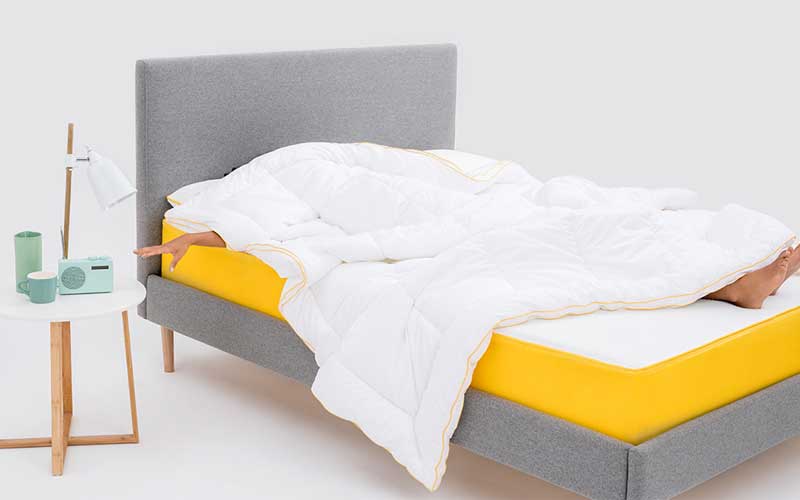 Are you a hot sleeper? If you are the Eve mattress can help you improve your sleep. With three layers of breathable next generation foam, which will keep the pressure off while giving you gentle cushioning for a gloriously comfortable sleep.
This new generation product comes with a foam that will keep you cool and isolate your movements so that if you're tossing and turning your partner will be able to sleep through it. That happens because of the items unique contour zones that keep you happy no matter what position you sleep in.
With the Eve Original mattress, you get a 100-night sleep trial and a 10-year warranty for this perfectly soft product which relieves pressure on various parts of your body. Don't hesitate and check it out!
Why do you need a free trial period?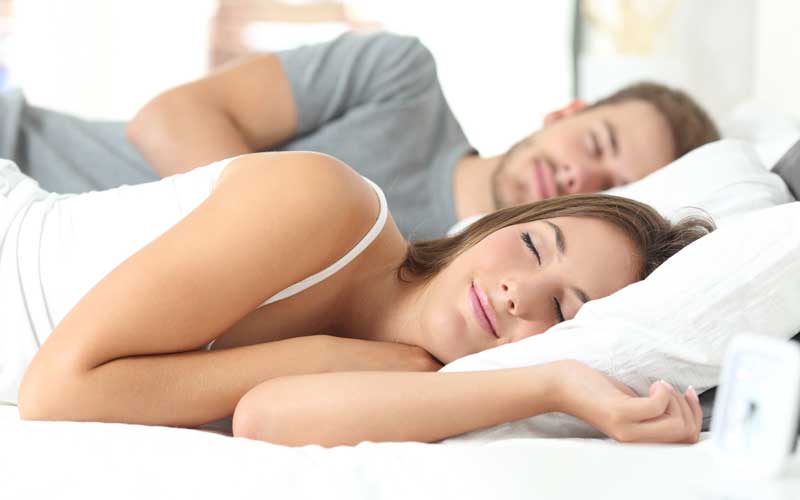 Let's be honest, there is always a chance you might not like your new mattress. Sometimes it may be too firm or too soft. Maybe it doesn't feel like the right fit. There are multiple factors to consider when purchasing a new mattress, and you might not notice them when testing the bed in a store.
Generally speaking, your body needs between 4 to 6 weeks to adjust to a new bed. In that time, you may figure out that the purchase you've made isn't what your body needs to get the proper rest. If you've chosen an item with a sleep trial, you won't be able to return it. Thus the money you've spent where for nothing.
There are many "what ifs" surrounding a purchase, which is why a trial period can help give you peace of mind that you won't have to be stuck with a product that doesn't work for you.
What should you do during the free mattress trial?
Your mattress should be used as usual during your sleep trial because sleeping on the mattress is the whole purpose of it. However, to make the most of your testing period, there are a few steps you should take.
You can start by following e brand's instructions for setting up the mattress. This is very crucial, especially if it came in a box. It is advisable to wait at least six hours before using the mattress, so it can expand properly. You should also give the mattress an off-gassing period if they tell you to do so.
The first few nights on your new mattress might not be as good as you might think. If the type is different from your previous one, there is a possibility you wake up with a new ache, which is normal. You should give your body at least a week to get used to the new mattress before you make a decision on whether to keep it or not.
How long should you try a mattress before returning it?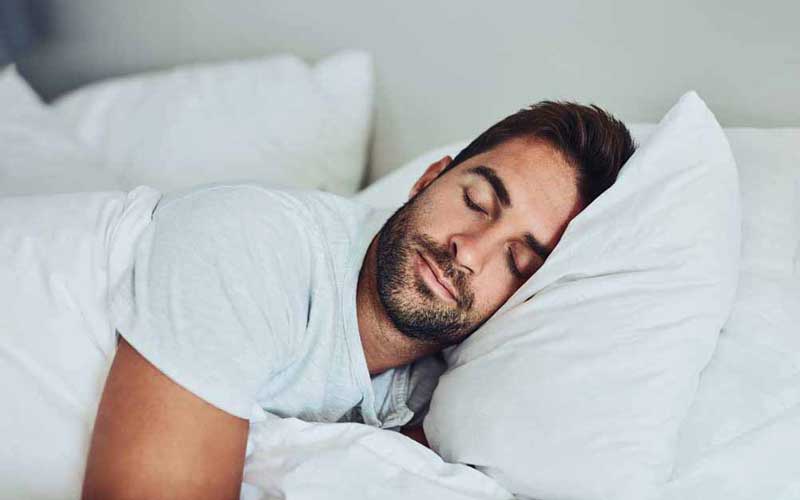 Usually, it's commonly recommended to sample a new sleeping surface for at least 30 days, but some mattress companies want you to sleep on their product for at least 60 days before making a decision.
The 30-day mark gives your body enough time to adapt to the new bed while also letting the mattress settle after the shipping process. When it comes down to a return, we advise you to allow your body to adjust. Don't sleep on the bed for one night and then ask for a refund because it may turn out to the just what you need in the long run!
How do you return a trial mattress?
In most cases, if you want to return a mattress that has a trial period, brands make it easy for you to do so. Don't feel bad if you decide the mattress isn't working for you. That's precisely what sleep trials are for. If you want to start a return, you need to contact customer service from the brand or the retailer.
Remember that most companies insist that returned mattresses must be in good condition, meaning no significant damage or rips. Don't stress, if you're looking at the tiny box your mattress arrived in, there's no way you can get it back in there.
You don't have to worry about packing or shipping your mattress because most mattress brands coordinate a pickup. Some brands might ask you to donate the purchase and provide proof of donation to get your refund.
Most companies donate trial mattresses to charity when possible because they all have their own ways of handling returned mattresses. Some donate beds to families in need, while others send them to local shelters. You will want to look up the sleep trial information from the company if you need more specific details.
Bottom line
When purchasing a mattress with a free trial, it is a good idea to read the fine print and the warranty. Choose a mattress with a trial that will allow you to recover your payment if the mattress does not suit you and your sleeping type.
All of the bed products we listed above have great customer reviews and are well received. We hope you could find what you were looking for in our guide regarding the best mattress with a free trial the market has to offer. To simplify your shopping experience, we've selected the top 10 options for 2021.
Brands in the bed industry frequently change, and so do the products they offer, which is why we will continue to provide you with the most up to par information. We hope that this article was helpful, and you could find what you are looking for.
Now it's our turn to hear from you if any questions regarding the subject were left unanswered. If you want to share some information, we would gladly hear about it in the comments below.