In recent years bed in a box mattresses have grown in popularity since they don't involve the endless weekends one can spend in showrooms, lying awkwardly on a bed next to a pushy salesman. They usually come with improved sleep technology, long free trial periods and extended warranties.
But how can you choose a quality product that fits the bill and checks all the boxes? There are many brands and models on the market – from good quality to cheap Chinese knock-offs that we wouldn't recommend to our worst enemy.
That's the sole reason we created LightSleeper – to help you choose the product that is right for you and you alone and help you make that choice along the way. Companies can never pay to feature their products on LightSleeper, nor we are getting paid to recommend one product over the other – we are an independent resource, and we only recommend products that have passed our tests, and we feel that they are the best in their category.
We tested 27 different "beds in a box" to come up with our winners and losers. We spent quite a bit of time on each mattress and tested the build quality of each, softness and firmness levels, and assessed the trial periods and delivery times, among other factors that influenced our decision process.
So let's see what we think are the best beds in a box and why.
1. Brook + Wilde Lux – Editor's Pick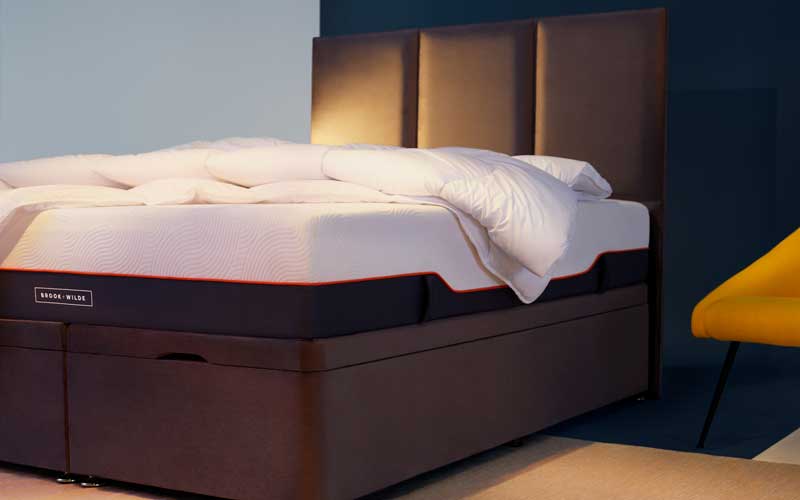 First on our list is the Brook and Wilde Lux, our favourite bed in a box with glowing reviews and stellar customer service, easily winning the Editor's pick in this category.
This mattress is constructed from 6 innovative layers. First, you'll find a breathable softcover, which is the perfect wrapping. Second, comes a cooling memory foam layer designed to mould to your body and eliminate motion transfer, so you don't disturb your partner. After that, we have 2,000 mini springs engineered to move with you as you turn and reduce pressure points.
It's followed by an additional layer of support foam that uses Brook + Wilde's unique 'wave technology' and 1,000 more 135 mm pocket springs that give you the extra bounce and push back. Lastly, we have the specialised support foam base, giving the mattress structure and solidity.
Each Brook and Wilde Lux is ergonomically engineered to provide improved support, so you'll wake up free of aches and pains. This product can be purchased in four sizes: single, double, king and super king. It also comes with a 100-night comfort trial, ten-year guarantee and premium delivery in which two-person delivery service will bring your purchase to a room of your choice.
2. Simba Hybrid Pro Mattress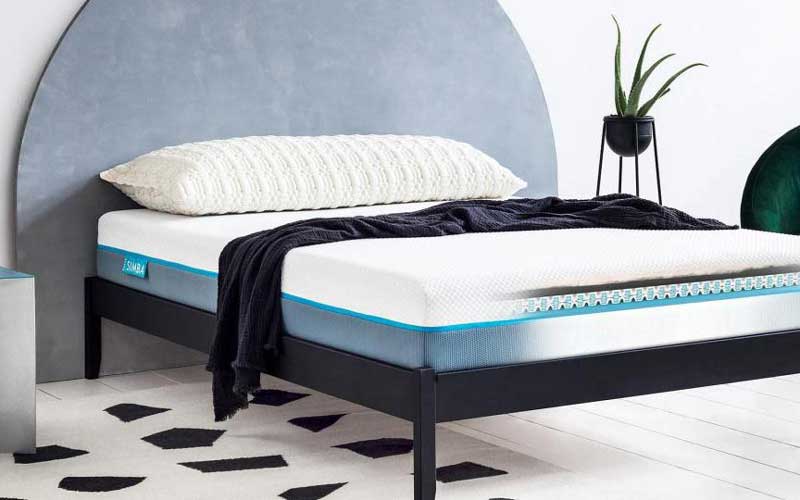 Next, we have the ultimate luxury suggestion! And that's the Simba Hybrid Pro mattress, which will provide deep comfort and zoned support each night.
The Simba Pro model comes with a massively comfortable top wool layer. The Simba Hybrid is the top of the range coil spring mattress with over 5000 25mm titanium springs and seven layers of supportive goodness.
The top layer is a soft, breathable surface, the second layer is a breathable natural wool layer on top of a patented foam open-cell Simba-Pure layer. The two layers of springs are in the middle, sitting on top of another high definition Simba-Pure foam layer that provides excellent edge support.
All this is wrapped into a hypoallergic knitted cover that features four handles for ease of movement. The Simba Hybrid Pro comes with a 200-night free trial and a class-leading 10-years warranty. Shipping is free for most parts of the UK, so there are no added postage and fees.
It's also good for the environment – it has no harmful chemicals, and the Simba-Pure has no chemical smell that is so typical for most memory foam mattresses.
Overall, the Simba mattress comes highly recommended by the LightSleeper team. It is easily the number one choice, but it comes with a significant price tag. But as we all know, sometimes you get what you pay for.
3. Emma Original Mattress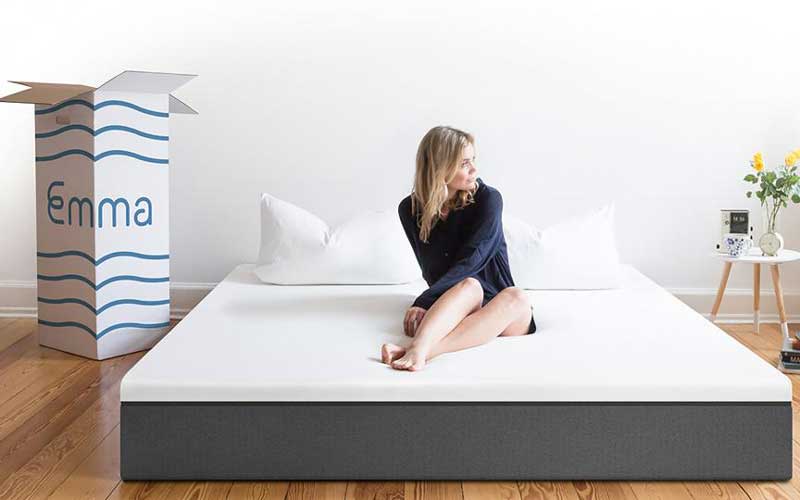 The Emma Original is UK's most awarded mattress that is sure to give you the most restful and energising sleep imaginable. Emma's products are proudly made in the United Kingdom and undergo strict testing to assure they meet the highest quality standards.
This medium-firm mattress is constructed from three innovative layers and a breathable cover. First, we have a temperature-regulating top and bottom cover that keeps moisture away and has non-slip elements, followed by an innovative Airgocell foam that keeps air flowing so your body can stay cool.
After that, we have the pressure-relieving visco-elastic memory foam, contouring to your body and distributing pressure evenly across the whole surface. Last is the supportive HRX foam providing the necessary counter pressure to keep your spine aligned and supporting your back.
You get to pick from five different sizes with a depth of 25cm and discover what it means to wake up feeling truly epic. Emma gives you a 200-day trial period for your body to adjust to the new mattress and ten years of guaranteed quality!
4. Nectar Original Hybrid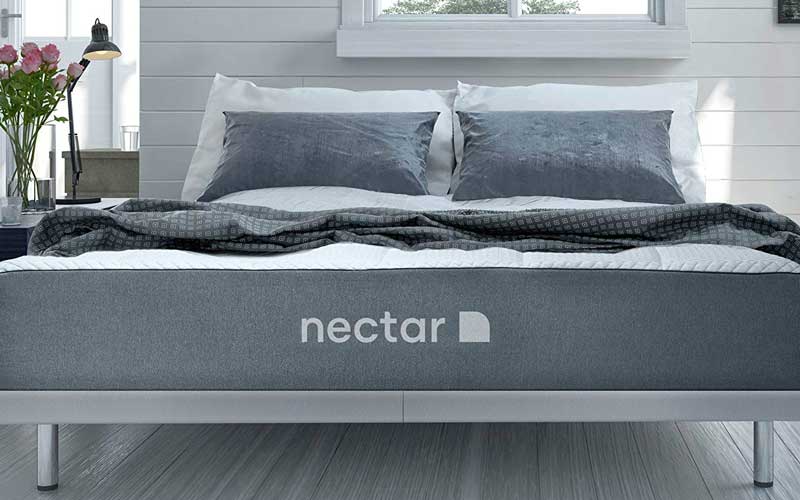 Next, we have an excellent mattress from Nectar with five unique foam layers that will help keep your spine in perfect alignment. It will also provide you with a cool and breathable sleeping surface due to the poly-blend cover featuring heat-wicking cooling technology.
Nectar's popular product comes with a cooling top high-density, pressure-relieving gel memory foam, which is neither too firm nor too soft. In addition, this Nectar mattress is packed with contouring gel memory foam that will meet the body's natural curves, available in six sizes with a total depth of 30cm.
The dynamically adjusting foam follows it and the stay-stable base layer ensures the comfort and support layers above it perform at their best at all times.
Finally, we have the shift-resistant lower cover that will help your bed stay together, no matter how much you toss or jump on it. The Nectar mattress comes at a reasonable price with a 365-night trial period and a lifetime guarantee. What can prove that your purchase will stand the test of time, more than a warranty that lasts a lifetime?
Not only do you get a fantastic bed, but the brand has included an incredible offer with two cooling pillows, a sheet set and a mattress protector. So jump on the offer right away, so you don't miss hundreds of pounds worth of free bedding products!
5. OTTY Original Mattress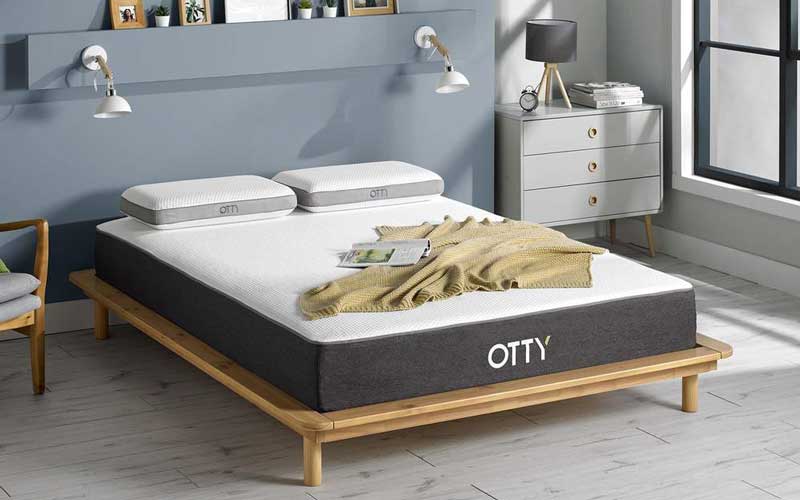 We have the OTTY Original Hybrid which is a great all-rounder which allows you to focus on the essentials when going to bed, and that's getting a good night's sleep.
The Otty contains 64% spring to 36% foam, giving you the best support and comfort while helping those with ailments or health issues. OTTY consists of five unique layers, described as life-changing when awarded "Mattress of the Year" back in 2019.
OTTY's first layer is a removable and washable cover, followed by a temperature-regulating foam with an innovative technology that will deliver a great night's sleep by keeping you at the perfect body temperature. Next is the high-density foam, specifically designed to provide additional support and comfort.
After that, we have 2000 encapsulated pocket springs with a medium-firm firmness rating that minimises motion transfer and maximises support. Following right after is the airflow side support, a unique airflow technology that offers an edge-to-edge sleeping surface and aids with temperature regulation.
And lastly, OTTY has an HD base foam, providing a solid foundation while ensuring the mattress stands the test of time. What makes the OTTY Original Hybrid special is the nine options in size. This superior product comes with an affordable price tag, a 100-night trial period and ten years guarantee. In addition, the manufacturer offers a premium delivery where a white-glove delivery team can take the mattress directly to your room and remove the packaging.
How to choose a bed in a box that works?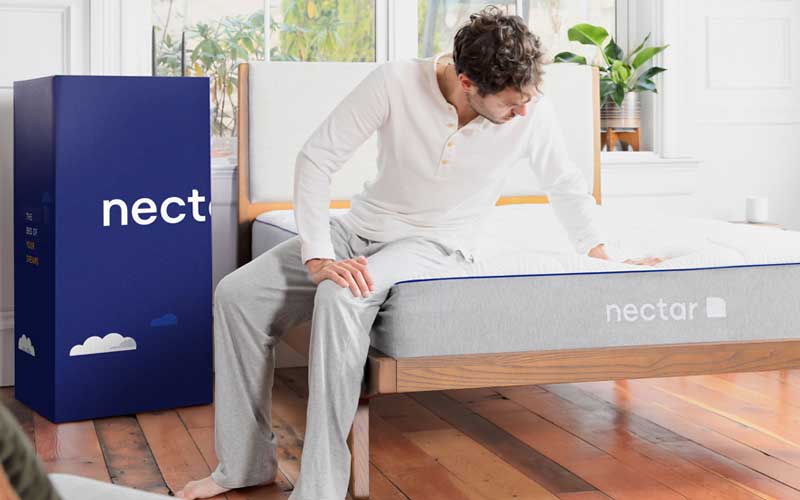 When comparing different brands and models, you should consider a few features based on your needs and preferences. They are the following:
Materials
The quality of the used materials plays a significant role in the mattress's durability, temperature neutrality, comfort, and other performance factors. Some of the best materials include options such as high-density memory foam, organic or natural latex and, of course, steel coils.
All mattress types offer distinct benefits and advantages. For example, hybrid and innerspring mattresses offer great breathability but provide limited pressure relief and motion isolation. Whereas foam and latex items alleviate pressure very well, but many lack strong edge support. That's why it's up to you to decide what factors are essential to you.
Firmness
Firmness is generally measured on a scale from 1 to 10 (1 being the softest and 10 the firmest). Most beds sold today vary between 4 and 8. However, there are incredibly are softer and firmer ones such as orthopaedic mattresses. Generally speaking, the recommended comfort grade is somewhere between 6 and 7.
Sleeping Position
Your mattress choice should depend on your sleeping position. For example, back sleepers will most likely prefer a product with a medium-firm mattress since it will provide excellent spine support. Side sleepers also prefer a medium-firm mattress since it's still flexible to the body's curvature. Finally, stomach sleepers often need a firm product since it will help alleviate neck tension by preventing the lower body from sinking.
The best mattress for a sleeper depends on their normal sleep position. Side sleepers often need softer mattresses to cradle the body, align the spine, and reduce pressure. Back sleepers usually prefer a balance of body-conforming and support with minimal sinking beneath the shoulders and hips. For stomach sleepers, a mattress should be supportive enough to prevent deep sagging around the midsection.
Certifications
In general, most boxed mattresses are made with foam, which is why we highly recommend you look for certifications such as CertiPUR-US or GreenGuard. This way, you can avoid unsafe levels of chemicals and off-gassing. A mattress is an investment, so make sure the one you choose won't come with health-related issues or any funky odours.
Temperature Regulation
As we've mentioned above, most beds in a box are made from, which tends to trap heat. You can always look for options with cooling properties of gel-infused beds that offer excellent temperature regulation and generate strong air circulation.
Edge Support
No one likes the roll-off bed feeling while they are sleeping. Some beds sink when you sit or lie down near the edges, while others have systems that reinforce the perimeter to prevent this sinkage. If you want to find a solid option, search for items that offer string edge-to0egde support.
Return policy
Nowadays, you don't have to go to a store to try a new mattress for five minutes. Instead, you can purchase a product online and get to test it out in the comfort of your own home for a specific period of time.
However, if you don't like it, you will most likely want to return it, but some brands only offer exchanges, and they won't refund you. That's why you should always read the fine print before making a decision.
Why buy a bed in a box?
There are many benefits to buying a bed in a box. But the one that stands out the most is the fact that you can finally give your body enough time to adjust instead of the ten minutes you used to spend in a store with a pushy sales associate. Let's take a closer look at the most crucial benefits:
Lower cost
A mattress in a box usually tends to be fairly inexpensive compared to most models sold in stores. That's because of the high costs for brick-and-mortar brands which need physical locations and staff to operate and make sales. Online shopping excludes all these issues and lets you purchase a product with a few mouse clicks.
Free sleep trial
In general, a person needs between four to six weeks to adjust to a new mattress, meaning they can't know if a bed is a right fit for them just by laying on it for five minutes in a store. Today, most box brands offer a risk-free trial period in which you get to test the mattress in the comfort of your own home. If, for some reason, you end up disliking your purchase, most companies will offer either a refund or an exchange.
Delivery
Due to its shape and compression process, a bed in a box can be shipped for free via ground couriers in most parts of the UK. However, the delivery may be subject to charge out of the mainlands. Many manufacturers have multiple options when it comes down to delivery, including free standard delivery, a white-glove service (a two-men team bringing the mattress to a room of your choice), in-home assembly, and even old mattress removal.
No pushy staff
In most furniture stores, people work on commission, which means they can be quite pushy when it comes down to you making a purchase. Yes, these employees are knowledgeable and can be helpful, but their end goal is to sell you a product. Unfortunately, that might mean them offering you something not suitable for your wants and needs. Whereas online brands often offer live webchat with customer service that can help you make an informed decision that will work just right for you, which you can test out at home.
Bottom line
To conclude our best bed in a box mattress review, we would like to say that we understand it might seem odd to buy something like a bed on the internet, but it is the best option today with home trials and extended warranties.
You don't have only five minutes to test your new bed, and there isn't a pushy salesman breathing down your neck. Online brands offer excellent quality, large selection and affordable pricing.
All of the mattresses we listed above have great customer reviews and are well received. We hope you could find what you were looking for in our guide. Brands in the bed industry frequently change, and so do the products they offer, which is why we will continue to provide you with the most up to date information. Now it's our turn to hear from you if any questions regarding the subject were left unanswered. If you want to share some information, we would gladly hear about it in the comments below.