Pros
100% Organic
6 firmness configurations
10 years warranty
No chemical smell
To begin this Una Mattress review, we would like to say that finding the right option can quickly become a tricky and overwhelming challenge due to the numerous available choices in the mattress industry.
However, this product was able to catch our attention because it firmly stands apart from the norm. This is a 100% natural mattress with multiple certifications and environmental standards. So, if you're looking for an environmentally friendly item that will provide you with the ultimate support ad comfort, you are at the right place.
Let's go over Una's details and see whether it's a good fit for your specific needs. We'll cover build quality, design, pricing, and sleep performance and see if there are any downsides that you should know about.
How is the Una Organic Delux craftsmanship?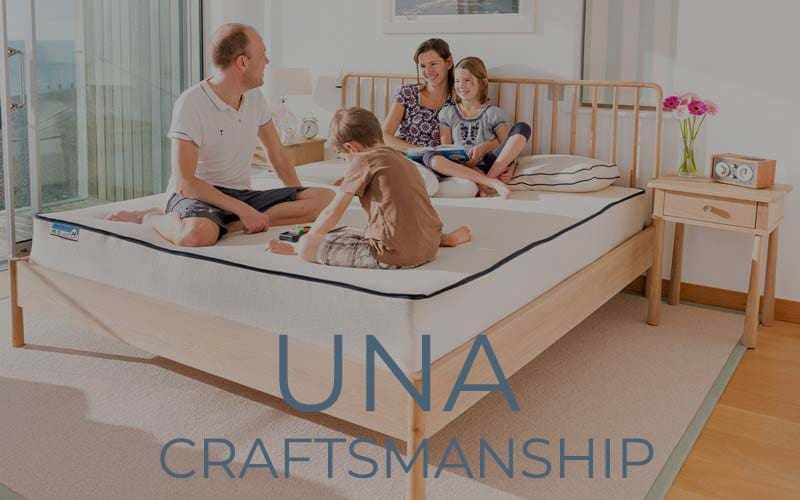 The Una Organic Delux is an entirely organic latex mattress. It's made from natural materials, which is why it has received various certifications that prove this product is 100% organic. In addition, it is designed with an all-natural cover and base.
This mattress has two separate organic regulatory boards. The first one is the Global Organic Latex Standard (which covers the internal layers and specifies that the used latex) and the Global Organic Textile Standard (certifies that the cover is 70% organic cotton and 30% organic wool).
This mattress is wholly organic and all-natural, meaning no need for chemicals or CFCs. How can you not appreciate an environmentally friendly product that will provide you with a great night's sleep? So let's jump on this healthy and natural sleep surface and let's get going!
What is in Una's layers?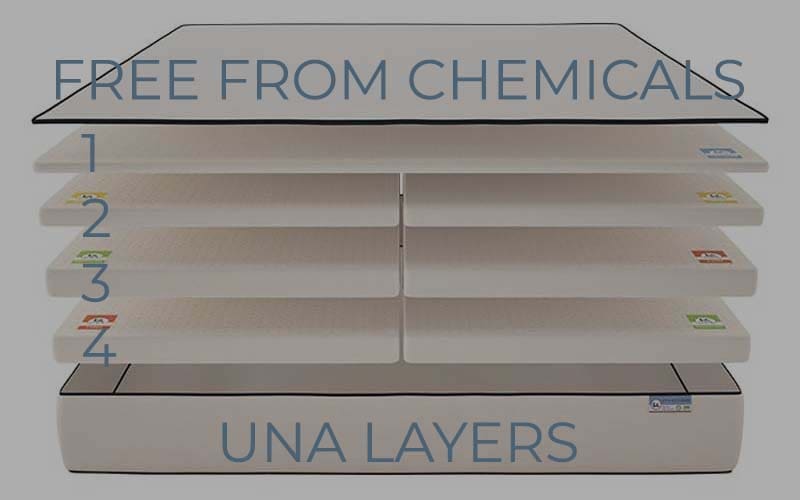 The Una Mattress is constructed from 4 layers. For many, this may seem unlikely because foam layers are often made from chemicals (for example petroleum and polyurethane). However, these ones are designed from an all-natural latex, which has been extracted from the Hevea Tree.
This item stands out due to its layer construction. The top is a full-width organic latex layer, covering the entire surface, making this mattress quite sturdy. Then we have three other layers, which can be switched around, depending on you and your sleeping habits.
After the first layer, we have a soft feel one with a density of 75 kg/m3 that's very elastic and allows for the most sinkage. It has been designed to work as a comfort layer. Next, we have the medium feel layer with a density of 85 kg/m3, which provides the holding capacity and sinking feeling.
Lastly, we have the firm feel layer with a density of 95 kg/m3, providing the most support. These three layers can be placed in the order you want so they can suit every sleeper regardless of their sleeping position or body type.
How thick is the Una mattress?
The Una Mattress stands 24cm thick, which is standard for the bedding industry. This way you don't have to worry about purchasing deep fitted sheets or custom size bedding. The Una Organic Delux Mattress can comfortably hold up to 130kg per person (two people per bed), making it a great mattress for heavier people.
How firm is the Una mattress?

When it comes down to firmness, this brand has gone above and beyond to find a way to accommodate most people's needs and preferences.
The 100% organic build is not the only thing that sets Una apart, you'd be happy to hear that Una has even gone above and beyond in the firmness department. Unlike other companies, Una provides you with 6 firmness variations on each sleeper's side, which you can switch up by simply rearranging the organic layers.
First, you have to place the base cover and then decide the order of the three individual layers that can be moved around. The arrangement can be different for both sides of the bed (unless smaller size). After that, you have to place the full-width organic latex layer on top and zip everything inside the cover.
What's interesting about these layers is that each of them was fitted with seven comfort zones. Zone one was designed to relieve pressure while supporting your head and neck, whereas the second would gently align your shoulders and spine.
The lumbar zone was engineered to be firmer in order to offer better spinal alignment. Next is the pelvic zone which is softer so that your legs, knees and feet can sink in a bit. Zone number five will be the knee zone, designed with firmer support to match the lumbar one. Lastly, we have the leg and foot zone that have been engineered to match the head and shoulder zones.
What about the Una cover?
The Una mattress cover is classified as a 100% organic product, made from 70% organic cotton and 30% organic wool. This cover is pesticide-free and doesn't require chemical flame retardants, CFCs, or other chemical substances. However, we don't recommend putting it in the washing machine, since this can damage or shrink it. We highly recommend you only spot clean this material with mild soap and water.
Design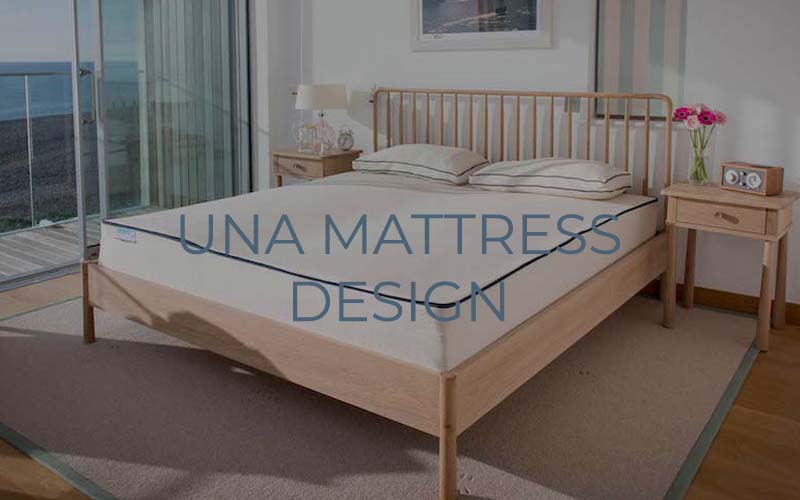 Una's mattresses follow the classic cloud-like colour design that works with any bedroom aesthetic and décor. The product's cover is white with a solid navy strip, which is elegant and straightforward, but what makes it so much better is that it's also 100% an organic product.
How long is the free trial period?
The Una Organic Delux mattress has a 100-night trial period in which you get to try the product in the comforts of your own home. Typically, your body needs between four to six weeks to adjust to a new bed, which is why laying on it for a few minutes in a store won't do the job.
If for any reason, you end up disliking your purchase in those 100 days, the manufacturer will collect the item and give you a full refund.
How long is the warranty?
The Una Organic Delux Mattress comes with a 10-year guarantee, which is the industry's standard period. Generally speaking, natural latex is highly durable and can last anywhere between 15 and 20 years, meaning your investment is worth it in the long run.
Keep in mind that in order to claim the warranty, you'll be required to provide them with proof of purchase/order number, a detailed description of the fault/defect, what caused the fault/defect and the date when you first observed the fault/defect. However, they still reserve the right not to honour claims under this guarantee at their discretion. Let's talk about the situations in which it applies and when it doesn't:
What defects does the warranty cover?
Manufacturing and material defects
Damages that cannot be regarded as normal wear and tear
Covered only if you're the original owner
Repair any issue causing the mattress an indent greater than 2.5 centimetres
Any physical flaw in the mattress that causes our organic foam layers to split or crack despite proper handling and normal usage
Cover and any manufacturing defect in the zipper assembly
What defects doesn't the warranty cover?
Any accidental or intentional damage caused to the product as a result of any action or omission
Any damage arising from failure to follow the product care instructions provided on the warranty card
Normal wear and tear from the general use of the product
What sizes does Una come in?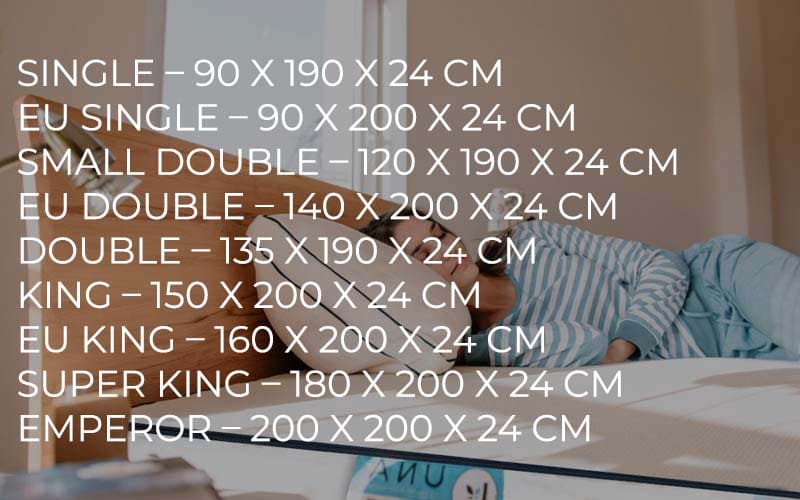 Una wants you to find your perfect match with one of their nine available size options. The company has tried to simplify that by concentrating on five sizes to create a straightforward guide with which you won't be overwhelmed or confused. Here are the available sizes for the Organic Delux Mattress:
Single – 90 x 190 x 24 cm
EU Single – 90 x 200 x 24 cm
Small Double – 120 x 190 x 24 cm
EU Double – 140 x 200 x 24 cm
Double – 135 x 190 x 24 cm
King – 150 x 200 x 24 cm
EU King – 160 x 200 x 24 cm
Super King – 180 x 200 x 24 cm
Emperor – 200 x 200 x 24 cm
What are the delivery terms?
The Una Organic mattress will be delivered to you for free within 2 to 3 weeks. However, due to the fact that it is an all-natural mattress, it requires more space than one vacuum-sealed box can offer. That's why you will receive your purchase in 2-3 boxes, depending on the size you've selected.
The good news is that this way, it's so much easier to get it to a room of your choice compared to one heavy and large vacuum-sealed box.
Other Alternatives
If you want to take a look at other similar options, here are our recommendations:
Bottom line
To conclude this Una Mattress review, we would like to put a strong emphasis on the 100% organic, which speaks for itself. Greener production and safer products should be one of our priorities, but if that's not enough, the six different firmness variations and seven comfort zones will get the job done.
It's suitable for most sleeping positions and body types. It is great for couples too. You get a firm mattress to aid with a backache that can be soft for your partner with a significant free trial period, impeccable service and a solid warranty.
It is not the cheapest mattress by any means, so this is something to consider. There are more affordable products out there, but, as we all know, you often get what you pay for. We hope you enjoyed the read, and if you have any questions, don't hesitate to drop us a comment below.