When it comes down to the simple pleasures in life, little compares to getting a good night's sleep. Of course, rest goes hand in hand with the bed and mattress you choose. Nowadays, many manufacturers offer custom size bedding, but that often includes a higher price.
If you are looking for extra space and a king-sized bed isn't doing it for you, maybe it's time to look at larger options. That's why in today's guide, we'll discuss the biggest bed UK bed size and show you how many sizes are actually available in the country so that you can find the right option for your bedroom.
What is the biggest bed size in the UK?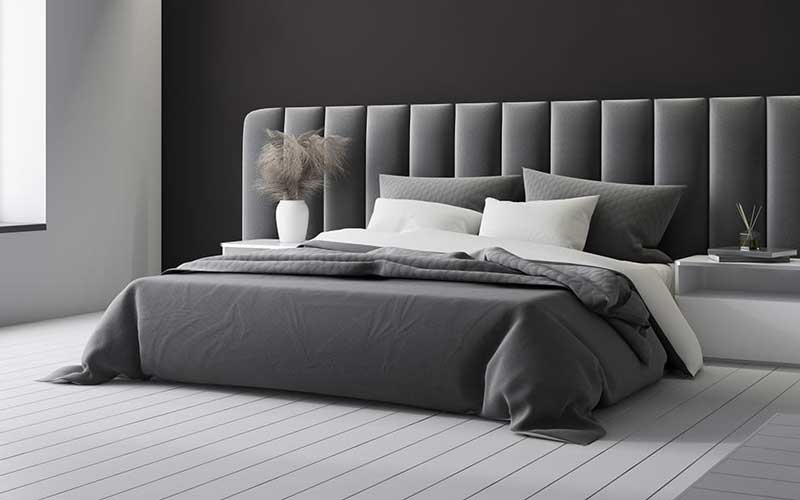 Super King bed is the largest standard UK bed size that you are most likely to find in well-stocked bed retailers, and it measures 180 cm x 200 cm.
If that's still not doing it for you, opting for Caesar size beds that measure 245 x 220cm might be the way to go. Generally speaking, in the United Kingdom, house sizes are getting smaller, and so are the bedroom sizes. The average British home (including old and new build properties) has 5.2 rooms and comprises 85 sq. m. At the same time, the average new-build home in the UK has 4.8 rooms and 76 sq. m.
This information can sometimes be misleading, as small rooms like the bathroom bring the average bedroom size down. Truth be told, the average bedroom size is nearer 18 sq. m, which means a Ceaser or Super King bed proves too big for a UK bedroom.
Overall, you can order a custom bed that is as big as your whole home, but in today's market, that can be expensive and unrealistic. Finding the right size can be challenging.
How many bed sizes are there in the UK?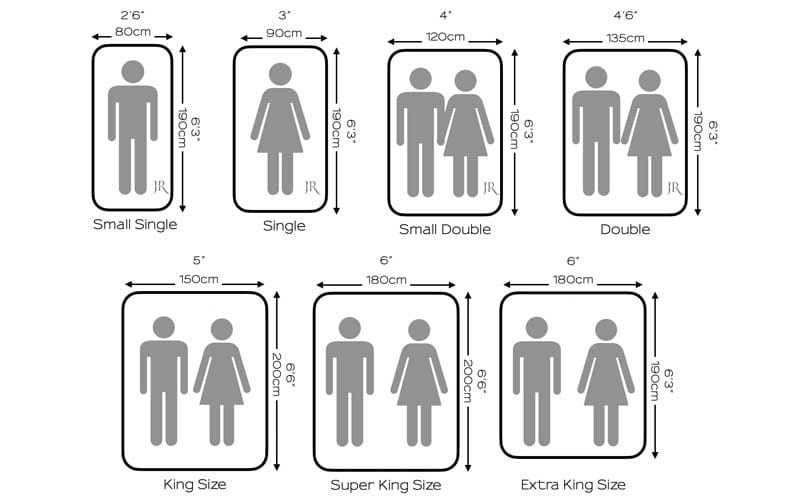 Choosing the right size for your bed and mattress are arguably the most important decisions you'll have to make considering your bedroom. Bed and mattress sizes can differ between countries, which is why we've included UK's standard sizes, EU standard sizes as well as extra-large beds.
The first thing you have to check is if the length and width of your mattress match your bed frame. With that said, don't forget about your bedroom size as well, since you want your bed to fit inside. First, we will talk about UK bed and mattress sizes. They are the following:
Small Single: 75 x 190cm
Single: 90 x 190cm
Small Double: 120 x 190cm
Double: 135 x 190cm
King: 150 x 200cm
Super King: 180 x 200cm
However, there are three extra size measures, also known as 'euro' which are suitable for the longer-legged out there. They include the following:
Euro Single: 90 x 200cm
Euro Double: 140 x 200cm
Euro King: 160 x 200cm
Today we already have many options to choose from, but the more, the merrier. If you're a fan of extra-large beds, the ones above might not be what you're looking for. Here are the larger options you can choose from:
Eastern King: 200 x 200cm
Emperor: 215 x 215cm
Ceasar: 245 x 220cm
How do I choose the right bed size?
Now that we've discussed what bed sizes are available in the UK, it's time for you to decide what's the right choice for you and the space you have in order to achieve a good bedroom environment. This article is about larger bed sizes, and that's what you came here for, but still try to be mindful of your budget and surroundings.
To have a king-sized bed, we would say that you want your room to be around 10' x 10' or 3.05 x 3.05m. This way, you have enough space around the bed to not feel too cramped. However, if you want an even larger option, make sure you do some serious measuring so that you can avoid the no space left for other furniture.
In general, there isn't a one rule fits all. Instead, you need to consider your budget, room size, and surrounding furniture to make the right decision. Last but not least, make sure that your bed frame is the same size as your mattress.
Bottom line
Now that we've told you all there is to know about the largest UK bed sizes, it's time for you to make a decision. Of course, there's probably far more than you expected, but that is always a pleasant surprise. The good news is that there is a bed out there for everyone! You can even check out what we think are the best mattresses in the UK here as well!
We hope we were able to answer the how and why, and now it's our turn to hear from you if any questions regarding the subject were left unanswered. If you want to share some information, we would gladly hear about it in the comments below.