Product designers and sleep experts have been designing new products to help people sleep. Which is precisely what mattresses are for. However, many people dislike their bed because it causes a lot of pain in different areas of their body when they should provide us with the ultimate comfort and support.
Gel mattresses provide an excellent sleep environment for customers and have been developed by different mattress manufacturers in recent years. There are a lot of benefits to gel, and we will get into that in this article.
But how can you choose a quality option that fits the bill and checks all the boxes? There are many options on the market – from good quality products from reputable companies to cheap Chinese items that we wouldn't recommend to our worst enemy.
That's why we created LightSleeper – to help you choose the product that is right for you and you alone and help you make that choice along the way. Companies can never pay to feature their products on LightSleeper, nor we are getting paid to recommend one product over the other – we are an independent resource, and we only recommend products that have passed our tests, and we feel that they are the best in their category.
So let's see what we think are the best gel mattresses on the market today:
1. Casper Wave Hybrid – Editor's Pick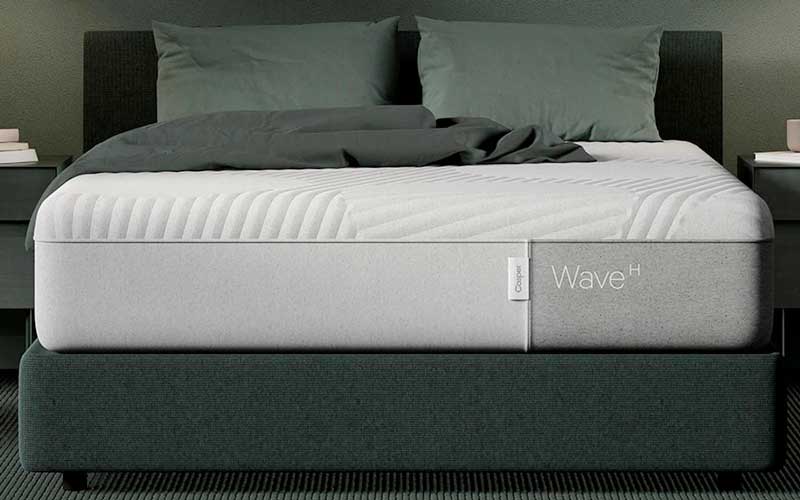 Today's "worth it" winner is the Casper Wave Hybrid, which has one of the most advanced cooling mattresses.
Casper is a beautifully crafted mattress with five innovative layers made without ozone-depleting chemicals and regulated by the Consumer Product Safety Commission Low VOC emissions for indoor air quality. Casper's top layer is constructed of breathable polyurethane foam. The second layer is made of natural latex, and the third from zoned memory foam.
Then we have the layer of polyurethane foam with gel pads that are strategically placed under your lower back and waist to prevent sinking while keeping your spine aligned. Lastly, you'll find the durable base of polyurethane foam with encased springs, adding a little lift, support, and airflow to the mattress.
The Casper's hybrid mattress has a firmer border, providing support to help you get in and out of bed effortlessly. All foam layers are CertiPUR-US® certified, and due to their air channels, it allows heat to escape to prevent overheating.
Overall, the Casper mattress is the total package because it will keep you cool while supporting and aligning your body like no other. You get to choose from six sizes with a total depth of 33cm. The brand has a stellar shipping policy, a 100-day trial and a ten-year guarantee for a comfortable and peaceful sleep every night.
2. Nectar Memory Foam – Runner Up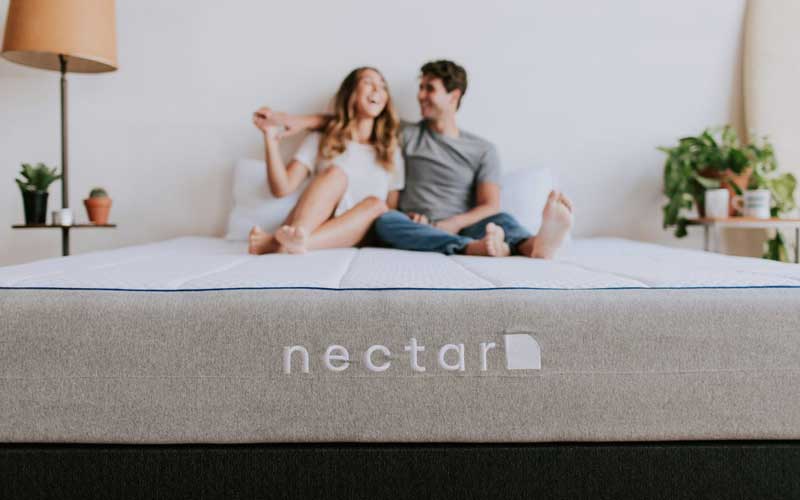 Are you continually struggling with night sweats and tossing while sleeping? If you are, the Nectar mattress might be the solution you need.
This fantastic product has five unique foam layers that will help keep your spine in perfect alignment through your sleep. They will also provide you with a cool and breathable sleeping surface due to the poly-blend cover featuring heat wicking, and cooling technology.
Nectar's excellent suggestion has a cooling top high-density, pressure-relieving gel memory foam that's neither too firm nor too soft. It's available in six sizes and is 30cm thick.
The dynamically adjusting foam and the stay-stable base layer ensure that the comfort and support layers above will perform at their best. Finally, we have the shift-resistant lower cover that will help your bed stay together, no matter how much you jump on it.
The Nectar mattress comes at a reasonable price, with an unbelievable 365-night trial period and a lifetime guarantee. Not only do you get a fantastic bed, but the company has included an incredible offer with two cooling pillows, a sheet set and a mattress protector. Jump on the offer right away, so you don't miss hundreds of pounds worth of free bedding products!
3. Silentnight Geltex Ultra 3000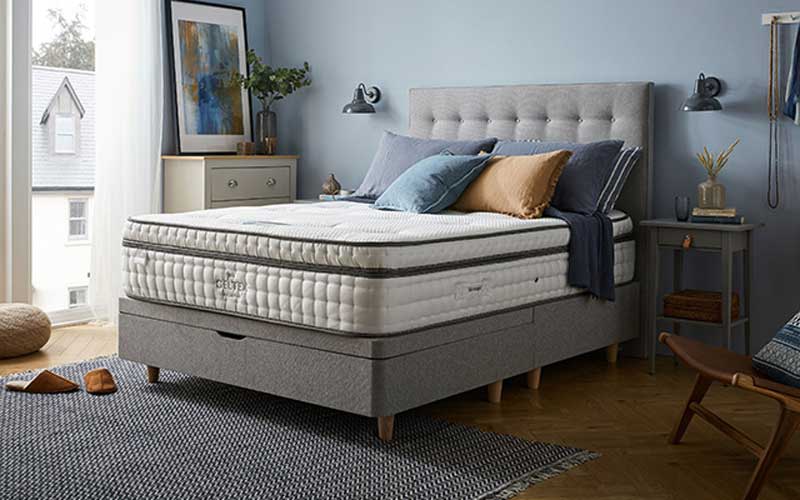 Our budget-friendly mattress suggestion for today is the Silentnight Geltex, a product that combines unrivalled support, luxurious comfort and greater breathability to ensure a cooler, fresher night's sleep.
Silentnight combines a layer of the brand's trademark Mirapocket spring system of 2,000 individually nested pocket springs delivering tailored support. We also have an extra layer of 1,000 responsive mini springs, which actively respond to your movement.
The Mirapocket spring system is encased in an intelligent Geltex gel-infused comfort filling for enhanced breathability that helps prevent overheating due to its unique open cell structure. This happens while Purotex fibres actively protect you against dust mites and allergens to ensure your sleeping space stays fresh.
This Silentnight's choice can be purchased in four sizes, from single to super king, with a depth of 38cm and a comfort level that's considered to be medium-firm. In general, Silentnight is a somewhat affordable option with free delivery in the UK, a 60-night trial period and a 5-year warranty.
4. DreamCloud Luxury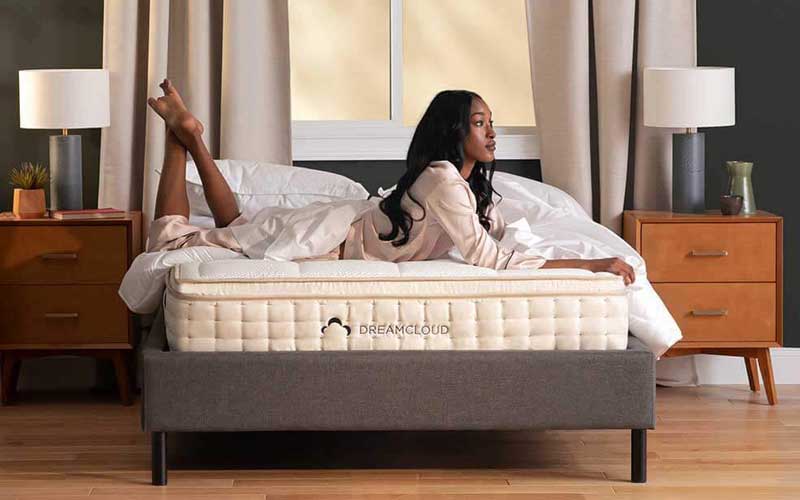 A good day starts with a good night's sleep, and that's the DreamCloud mattress motto, with its five innovative layers that scream perfection. You'll be kept cool and cosy with quilted foam and cashmere cover. DreamCloud's first layer is a pressure-activated high-density gel memory foam that contours to your shape, while the second layer is low-motion transfer supportive foam, ensuring you don't sink in too deep.
After that, we have the targeted support ActivEdge™ Coil layer, which provides you with custom relief due to the individually wrapped 15 cm coils adapting to your body. And on the bottom, you'll find the base layer that ensures everything above it performs at its best.
If you appreciate a firm mattress and your partner prefers a soft one, DreamCloud Luxury is your ticket to compromise in six available sizes with a depth of 35cm. Have the sweetest dreams with DreamCloud Luxury mattress, coming with free shipping, a lifetime warranty and a whopping 365-days trial period.
5. Dreams TheraPur ActiGel Response 1600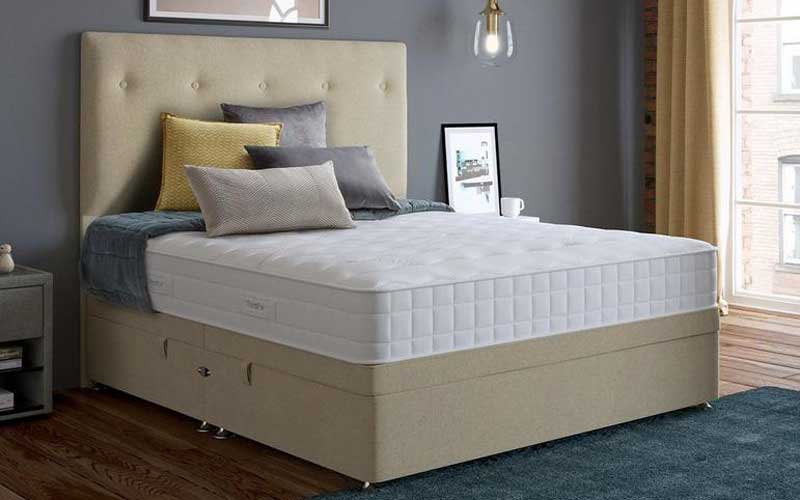 TheraPur's ActiGel Response mattress is a pocket sprung/ hybrid option featuring revolutionary sleep technology layers. The ActiGel comes with many overwhelmingly positive reviews from customers that have purchased it. TheraPur ActiGel stands at 27cm tall with a comfort grade of very firm tension.
You get five internal layers, where the base layer features 1,600 individually wrapped springs that respond to each sleeper's movements separately. So if you share the bed with a partner, your movements won't disturb them whatsoever.
The other TheraPur layers are designed to mould to your body while keeping you cool and aiding in pressure relief and comfort, which is everything you can want from a mattress. Heavy people need to look for an option that will keep their spine correctly aligned without compromising comfort, and the TheraPur is just that!
This manufacturer gives you 40 nights in which you can decide if this is the mattress for you. However, keep in mind that you can't return it. You can only exchange it for another comfort level choice.
How to choose a gel mattress?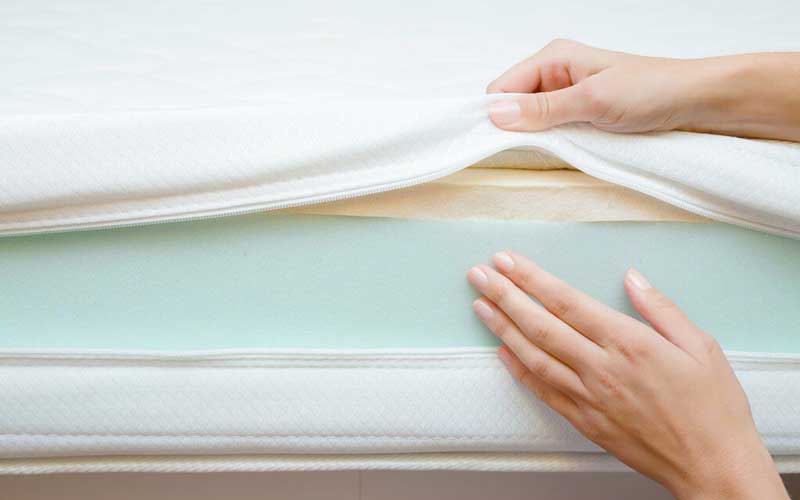 Today the mattress industry grows by the day. There are numerous options on the market, but not all of them are made from high-quality materials and offer the right firmness or the correct foam density. Here is what you need to consider before purchasing a gel mattress:
Materials Quality
In general, gel foam is designed to help you sleep cool at night, but if it is combined with other materials, it can also help ease back and pressure-point pain. It can even reduce motion transfer while providing support for most sleeping positions and body types.
Keep in mind that gel is a synthetic material, which is why we recommend looking for models that have specific certifications, such as CertiPUR-US and Greenguard. That's crucial since those credentials minimize the potential for unpleasant off-gassing.
Foam Density
Foam density is another essential feature that is measured in pounds per cubic foot (PCF). It determines how well the foam will support your body and how long will it need to go back to its original shape. Density is separated into three groups which are low (2.5 to 3.9 PCF), medium (4.0 to 5.9 PCF) and high (6.0 PCF or higher).
Know that the higher the density, the slower the recovery will be. The good news is that most memory foam mattresses include a mix of both low and high-density foam in order to suit everyone's wants and needs.
Firmness & Sleeping Position
Another important feature is the firmness level as well as the support the bed offers. You should pick the comfort grade of a mattress depending on your sleep position and body weight.
Back Sleepers
For example, back sleepers will most likely prefer a product, which will alleviate pressure points in the lower back area. Therefore you should consider a medium-firm mattress since it will provide excellent spine support.
Side Sleepers
Side sleepers often put pressure on their shoulders and lumbar area. If that's the case with you, we recommend deciding on a medium-firm mattress with pressure points, like the ones for back sleepers. The reason for it is that you will find it to be perfect for this sleep position since it's still flexible to the body's curvature.
Stomach Sleepers
Stomach sleepers will put pressure on their neck and back. Your best bet in this situation will be a firm product since it usually offers excellent spine support. It will also help alleviate neck tension by preventing the lower body from sinking.
ILD Rating
ILD (Indentation Load Deflection) is what determines the foam's firmness by measuring how much pressure it takes to make a 10 cm indent on the surface. Overall, most foams range from 8 to 20 (with 10 being the ideal measurement for the best support ). Keep in mind that the higher the number, the firmer the foam will be.
Company Policies
Reading about the company policies is crucial. What we mean by that is, do they offer a sleep trial at home and what happens if the mattress you've purchased isn't the right fit for you? Will they give you a refund, and would it be in full? Or maybe they will only let you exchange it for another model? Do they have a stellar warranty? What about their delivery service? All these are questions you need to think about before making a decision.
Bottom line
A gel memory foam mattress is an excellent choice if you find regular ones too hot. They come with a gel infusion of some sort that feels cooler to sleep on. They aid you in temperature regulation while being comfortable and supportive.
All of the products we listed above have great customer reviews and are generally well-received. We hope you could find what you were looking for in our guide regarding the best gel mattress the market has to offer.
Brands in the bed industry frequently change, and so do the products they offer, which is why we will continue to provide you with the most up to par information. We hope that this article was helpful, and that you could find what you are looking for.
Now it's our turn to hear from you if any questions regarding the subject were left unanswered. If you want to share some information, we would gladly hear about it in the comments below.