Sex shouldn't be overlooked when choosing a new mattress. The ideal mattress for sex is also great for sleep, and most people need a good bed for both. It isn't uncommon for people to feel overwhelmed when trying to balance all of these needs.
So how can you choose a quality mattress that fits the bill and ticks all the boxes? There are many brands and models on the market – from good quality products from reputable companies to not-so-great rubbish that we wouldn't recommend to our worst enemy.
That's why we created LightSleeper – to help you choose the product that is right for you and you alone and help you make that choice along the way. Companies can never pay to feature their products on LightSleeper, nor are we getting paid to recommend one product over the other – we are an independent resource, and we only recommend products that have passed our tests. We feel that they are the best in their category.
So let's see what we think are the best mattresses for sex in the UK and why:
1. Nectar Memory Foam Mattress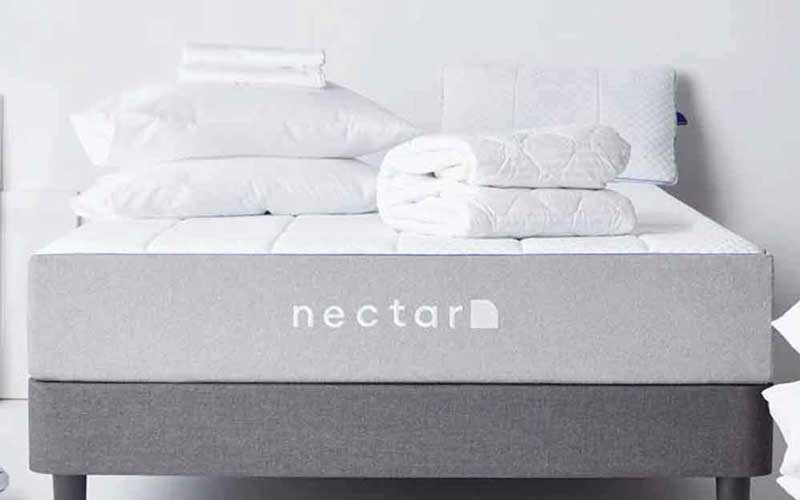 Are you continually struggling with night sweats and tossing while sleeping? If you are, the Nectar medium-firm mattress might be the best option for you.
This excellent option has five unique foam layers that will help keep your spine in perfect alignment through sleep while providing a cool and breathable sleeping surface due to the poly-blend cover featuring heat-wicking and cooling technology.
Nectar's excellent product has a cooling top high-density, pressure-relieving gel memory foam that is neither too firm nor too soft. This perfection is packed in an item where the contouring gel memory foam will meet the body's natural curves, available in six sizes with a depth of 30cm.
The dynamically adjusting foam follows it and the stay-stable base layer ensures the comfort and support layers above it perform at their best. Finally, we have the shift-resistant lower cover that will help your bed stay together, no matter how much you jump on it.
The Nectar mattress comes at a reasonable price, with a 365-night trial period and a lifetime guarantee. Not only do you get a fantastic bed, but this company has included an incredible offer with two cooling pillows, a sheet set and a mattress protector. Jump on the offer immediately, so you don't miss hundreds of pounds worth of free bedding products!
Pros
365 Night Free Trial
Lifetime Warranty
Cooling
Motion Isolation
2. Silentnight Eco Comfort Miracoil Mattress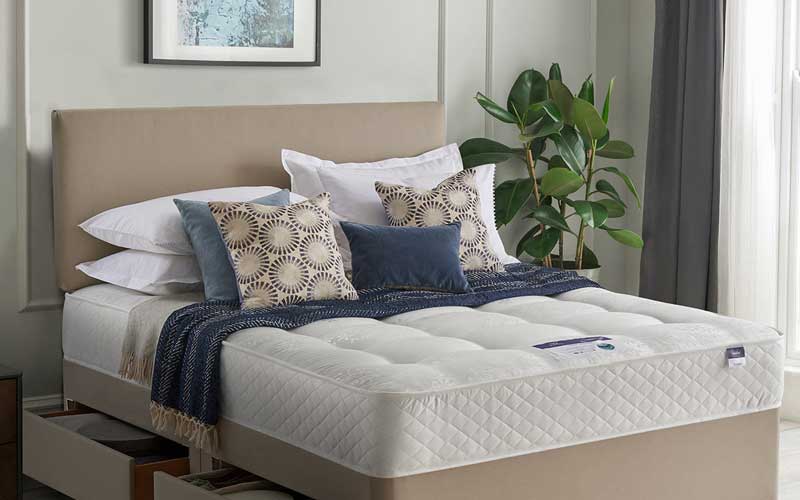 If you're looking for a mattress that's good for the planet, your wallet and your intimate life, the Silentnight Eco Comfort Miracoil Ortho can be the one!
This Silentnight option has a Miracoil zoned spring system offering outstanding support, superior spinal alignment, and maximised sleeping space. In addition, its innerspring coil system features a unique spring layer that makes the mattress extra firm.
It has 3-zoned support, where one and three are softer and aimed at comfort, while zone two provides firmer support for your hips and lower back. The difference between the zones ensures spinal support that may help reduce aches and pains while giving you a firm surface to enjoy the night with someone special.
Silentnight Miracoil is hypo-allergenic and dust-mite-free. The manufacturer uses breathable, sustainable fibres and eco-friendly materials. The Eco Comfort is Purotex treated and Allergy UK approved to create a fresher and healthier mattress. You can pick from five available sizes with a depth of 24cm.
Silentnight provides free next-day delivery to a room of your choice, a 60-night comfort trial period, and a 5-year guarantee, which is way more than other products in this price range can offer!
Pros
Offers excellent support
Breathable & Cooling
Hypoallergenic
Reasonable prices
Cons
Questionable durability
Not great for side sleepers
3. Simba Hybrid Pro Mattress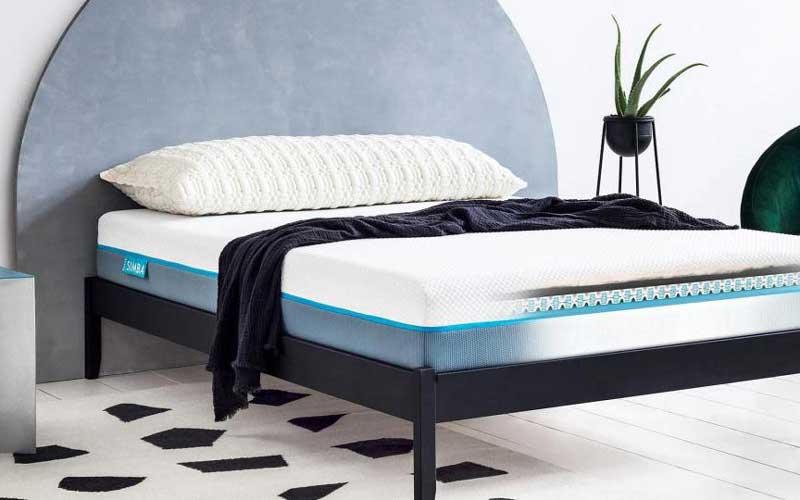 The Simba Hybrid Pro is our favourite top-of-the-range coil spring mattress with over 5000 25mm titanium springs and seven layers of comfortable goodness, making it perfect for intercourse. The top layer is a soft, breathable surface similar to other Simba models. The second layer is a breathable natural wool layer on top of a patented foam open-cell Simba-Pure layer.
The two layers of springs are in the middle, sitting on top of another high-definition Simba-Pure foam layer with edge support. All this is wrapped into a hypoallergic knitted cover with four handles for ease of movement.
The Simba Hybrid Pro comes with a 200-night free trial and a class-leading 10-years warranty. Shipping is free for most of the UK, so there are no added postage and fees.
The Simba Hybrid is good for the environment, too – it has no harmful chemicals, and the Simba-Pure has no chemical smell typical of most memory foam mattresses.
Overall, the Simba Pro mattress comes highly recommended by the LightSleeper team. It is easily the number one choice, but it comes with a significant price tag; some might not be able to justify it. But as we all know, sometimes you get what you pay for.
Pros
Premium build and feel
Excellent temperature regulation
Great movement isolation
Very supportive
Cons
Non-removable cover
Quite expensive
4. Emma Original Mattress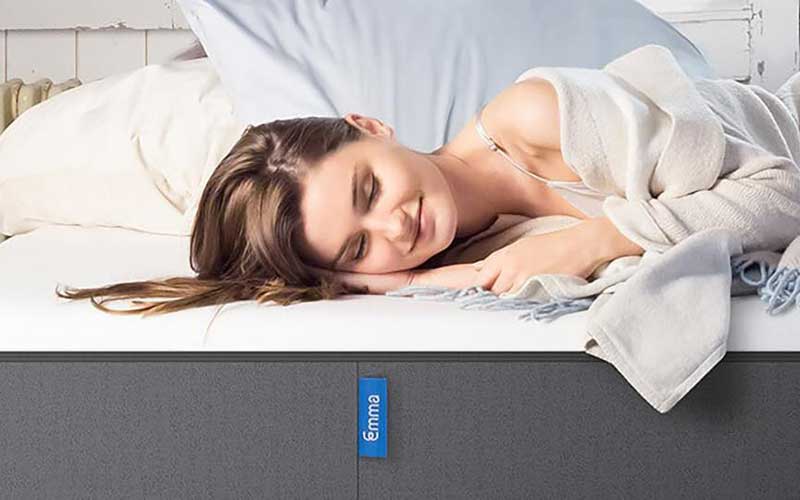 The Emma Original mattress is the UK's most awarded mattress and our clear winner in this category. Emma is sure to give you the most restful and energising sleep imaginable while keeping your intimate life a priority. 
The brand's products are proudly made in the United Kingdom and undergo strict testing to ensure they meet the highest quality standards. This medium-firm mattress is constructed from three innovative layers.
First, we have the Halo™ memory foam layer that adapts to your body shape for targeted spinal alignment, enhanced pressure relief and body-hugging comfort. It's followed by the Emma's Point Elastic Airgocell® technology, enhancing breathability and regulating temperature by absorbing and evaporating sweat.
Lastly, you'll find the HRX (High Resiliency Extra) Supreme ™ foam that is engineered to last for years without losing its durability due to the adaptive cut-outs zone, distributing your body weight evenly to reduce pressure.
You get to pick from five different sizes with a depth of 25cm and discover what it means to wake up feeling genuinely epic next to your loved one. Emma gives you a 200-day trial period for your body to adjust to the new mattress and ten blissful years of guaranteed quality!
Pros
200 Night Free Trial
Adequate support for most people
Comfortable to sleep on
Cons
Can trap heat
Not the best for heavy people
5. DreamCloud Hybrid Mattress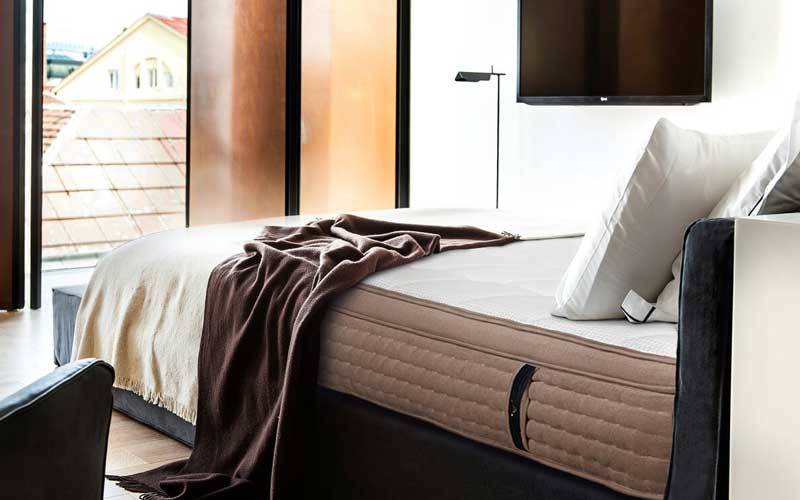 A good day starts with a good night's sleep and some sexy time. DreamCloud has designed an item with five innovative layers that scream perfection.
You'll be kept cool and cosy with quilted foam and a cashmere cover. DreamCloud's first layer is a pressure-activated high-density gel memory foam that contours to your shape. In contrast, the second layer is low-motion transfer supportive foam, ensuring you don't sink in too deep when having sex.
After that, we have the targeted support ActivEdge™ Coil layer, which provides you with custom relief due to the individually wrapped 15 cm coils adapting to your body. And on the bottom, you'll find the base layer that ensures everything above it performs at its best.
If you appreciate a firm mattress and your partner prefers a soft one, DreamCloud is your ticket to compromise in six available sizes with a depth of 35cm. Have the best time with the DreamCloud Luxury mattress, free shipping, a lifetime warranty and a whopping 365-day trial period.
Pros
Lush & luxurious feel
Excellent temperature control
Good bounce and pressure relief
Long sleep trial
Cons
Not great motion transfer control
Firm for light people but not firm enough for overweight people
How to choose a mattress when you have an active sex life?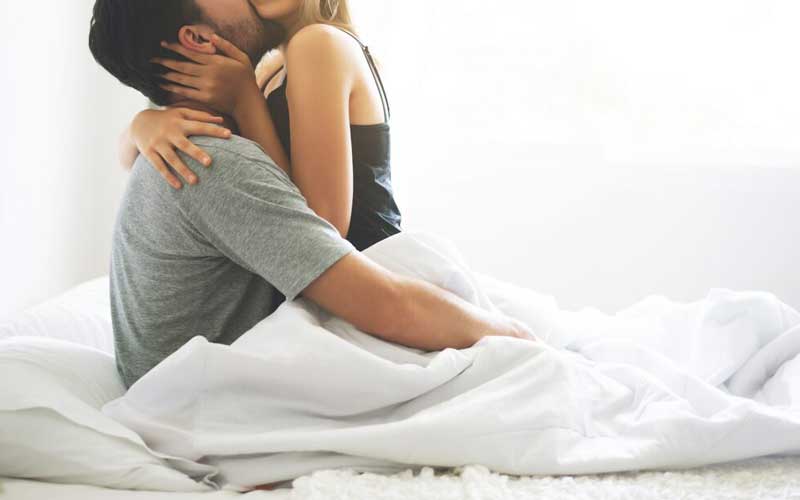 A good mattress should be able to support you properly while providing you with comfort. However, beds aren't used only for sleeping. If you're looking for the best mattress for sex, here is what you need to consider:
Bounce
When it comes down to having sex on a bed, bounce is a crucial factor to consider before making a purchase. There are a few factors that can affect bounciness, such as the mattress type and firmness level.
Generally speaking, innerspring mattresses are the bounciest due to the interconnected network of springs. In contrast, memory foam is the least bouncy option, making it less preferable for sexual activity. Latex is in the middle, which means it can work well for your sex life. If you prefer memory foam mattresses but still have an active sex life, you can compromise by getting a hybrid mattress.
Noise
Let's be honest here, nothing can kill the mood like the insistent squeak of a noisy mattress. That can be even more significant if you don't live alone. A noisy bed can be a deterrent to healthy sex life, no matter if it's because your kids, roommates or parents can hear you.
If this is a massive problem, opting for a latex or memory foam mattres is your best bet since innerspring options are the noisiest. Also, think about the bed frame you have and if it can cause disturbing noises.
Temperature Regulation
Another big mood killer is excessive sweating. Some items tend to retain more body heat than others, making sex hot in a literal way. The best way to avoid this is by choosing a product that is breathable and has excellent cooling properties.
This way, the mattress will disperse excess body heat and try to regulate your body temperature. Memory foam is the material that usually retains the most heat. However, some brands have come up with gel-infused options that can change your life.
Durability
If you have an active sex life, you need a mattress that's durable and long-lasting. You don't want to purchase something that will wear put quickly and has a short lifespan. The advice we can give you is to always look for brands that have good customer service and offer free sleep trial periods and warranties.
If you purchase a product that loses its shape fast, you can return it (if the trial period allows it) and get a new option that will work better for you and your partner's needs. The good news is that most premium options last several years without losing comfort or stability.
Edge Support
Lastly, when looking for the best mattress for sex, you want a bed with excellent edge-to-edge support, so you don't roll off the bed. That can easily kill the mood, which is something you're probably trying to avoid.
In general, latex and memory foam have weaker edge support compared to innerspring or hybrid mattresses. However, just because a brand says its products offer great edge support doesn't mean that's true, which is why we recommend you read some customer reviews before making a decision.
Bottom line
A mattress for active couples should be comfortable during both sleep and sex. When choosing one, you should consider the type of mattress, the firmness level, the bounce, and the pressure point relief and check if it has cooling properties. Don't forget about choosing a quiet mattress that won't squeak whenever move you make!
All the bed products we listed above have great customer reviews and are well-received. We hope you can find what you were looking for in our guide regarding the best mattress for sex the market has to offer. To simplify your shopping experience, we've selected the top 5 models for this year.
Brands in the bed industry frequently change, and so do the products they offer, which is why we will continue to provide you with the most up-to-date information. We hope this article was helpful and you could find what you are looking for.
Now it's our turn to hear from you if any questions regarding the subject were left unanswered. If you want to share some information, we would gladly hear about it in the comments below.