We spend hours with our heads on a pillow, and friction can cause creases that turn into wrinkles over time, and if that's not a big enough problem, messy hair is not a desired style in the morning.
The good news is that everything we've mentioned can be avoided with silk pillowcases with which you receive the beauty sleep of your dreams. Silk is a material that creates a smooth surface for your hair and skin. And with less friction, there will be fewer wrinkles and frizz in your hair.
Silk fabrics have a luxurious feel and inherent cooling capabilities like no other. However, they are quite delicate and often pricy, which is why you have to know what you're spending your hard-earned money on.
That's why we created LightSleeper – to help you choose the pillow that is right for you and you alone and help you make that choice along the way. Companies can never pay to feature their products on LightSleeper, nor we are getting paid to recommend one product over the other – we are an independent resource, and we only recommend products that have passed our tests, and we feel that they are the best in their category.
We tested over 50 different silk pillowcases for this roundup and while there are some real winners, there were some nasty losers as well. We'll spare you the full details, but some of the pillowcases sold on Amazon can actually be damaging to your skin and even your health.
So without further ado, let's see what we think are the best silk pillowcases in the UK today:
1. Soak & Sleep Housewife – Our Pick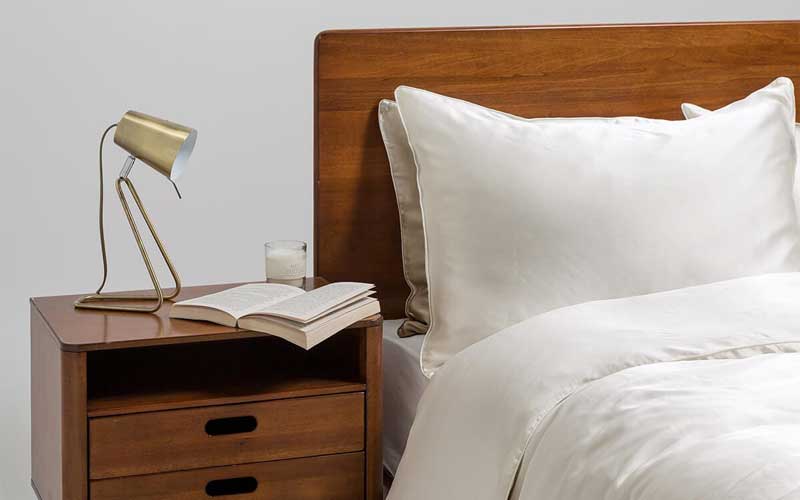 Soak and Sleep is a popular bedding brand in the UK and their Housewife Pillowcase Pair isn't an exception.
This elegant pair is made from 19 momme 100% Mulberry silk with an elegant, lustrous satin weave. It's the only pillowcase on this list that comes with a warranty (1-year), which is pretty rare for this type of item.
You can purchase this Soak and Sleep product in a stylish ivory colour in a super king-size (50x90cm). Sleep like royalty with temperature regulating option coming with a smooth finish, ideal for your hair and skin. Soak & Sleep provides a Free UK standard delivery service as the cherry on top.
2. The White Company Silk Beauty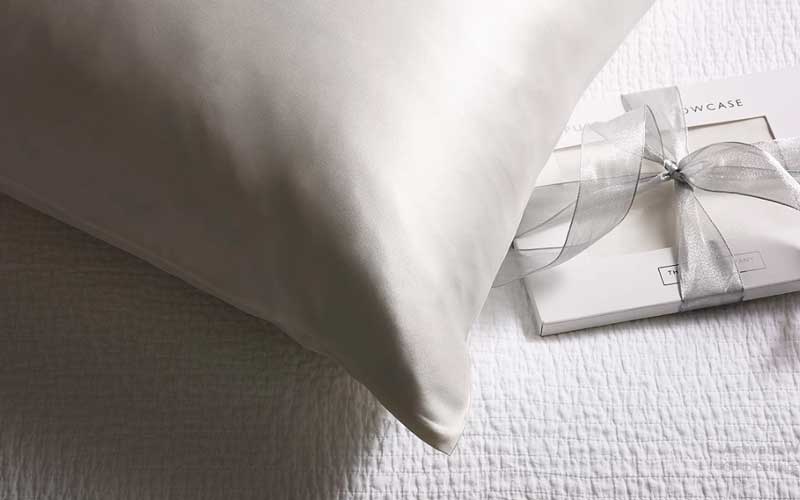 Second on our list is the Sleepdown White Company Silk Beauty Pillowcase For Hair & Skin, a luxuriously soft product that easily won a place in this category.
You can rest your head on a soft 100% pure-silk pillowcase, available in timeless chalk and petal pink in standard (50x75cm) and super king size (50x90cm). The secret to a good night's beauty sleep starts with White Company's beautifully crafted pillowcase and its smooth, cool finish feel, which is sensational to sleep on.
This premium 19 momme item is believed to have beauty-boosting benefits due to its silk construction. The sleek surface also reduces friction and static, meaning hair stays softer for longer and helps skin retain its moisture. Overall, the White Company's pillowcase comes with free delivery and has glowing customer reviews.
3. LilySilk 100 Pure Mulberry Silk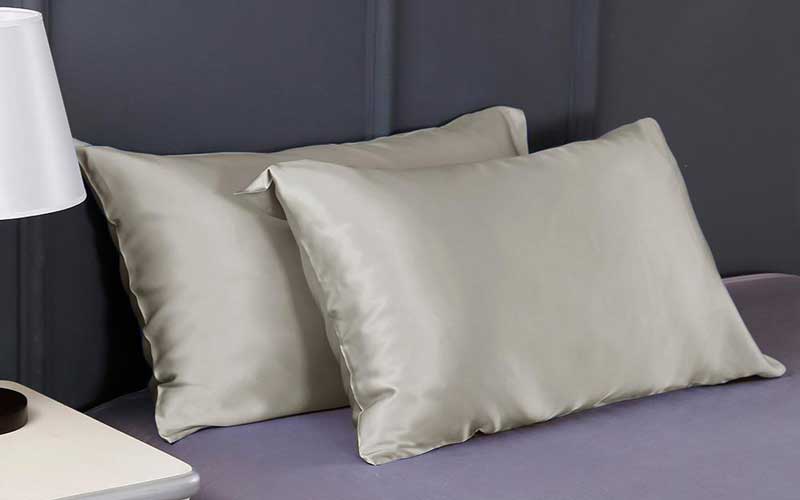 Today's budget-friendly option is the LilySilk pillowcase 100% real 19 momme mulberry silk with a cotton underside. This LilySilk option is made with sensuously smooth, hypoallergenic and breathable natural, organic fibre on one side and 100% cotton on the other to prevent slipping.
Silk never conduct static electricity or attracts dust mites. It's the most natural anti-sleep crease and anti-bed head product. LilySilk OEKO-TEX Standard 100 Certified pillowcase can be bought in nine colour designs in the standard size 50x75cm
LilySilk comes with a hidden zipper at the end that allows you to fit the pillow into the silk pillowcase with ease. It would be best to hand or machine wash it in cold water on a gentle cycle and hang it to dry.
4. Coco + Eve Beauty Sleep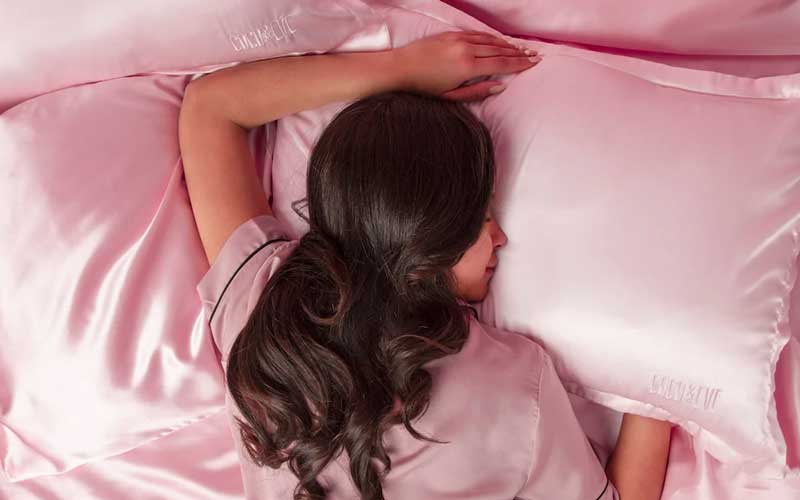 Get your beauty sleep and wake up with silkier, smoother, healthier hair and skin with Coco + Eve's cruelty-free and vegan silk pillowcase that comes in pale pink or green with 45x70cm size.
The Beauty Sleep Pillow Case is the ultimate pillowcase for hair health and hair care, making it the perfect gift for your girlfriend, mother or sister. It's 100% vegan and cruelty-free, which is another positive. Coco + Eve's product is advertised as an excellent hair pillow suitable for curly hair, straight hair, or anything in between.
Coco + Eve offer free delivery for orders above £40. You can purchase this silk pillowcase in a Dreamy Hair Set with a Super Nourishing Hair Masque (212ml), a Tangle Tamer and get yourself a fantastic deal that will beautify you like no other!
5. Jasmine Charmeuse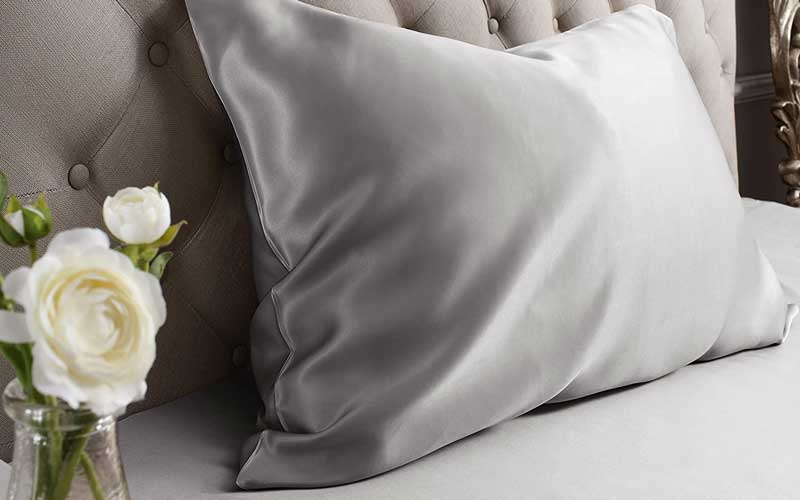 Jasmine offers another inexpensive alternative that's still made from high-quality materials and, more specifically, 100% 19 Momme finest, smoothest, and shiniest seamless charmeuse silk and 300 thread count cotton underside to prevent slipping.
It comes in nine solid colours and is the standard 50x75cm size. Jasmine can be machine washed at 30 °C using mild silk detergent. It's recommended that you air dry and use the cool iron setting. This pillowcase is naturally hypo-allergenic, making it suitable for itchy skin conditions such as rosacea and eczema.
All Jasmine Silk products are made by one of the largest and best-run silk factories in the world, making them a desirable option.
How to choose a silk pillowcase?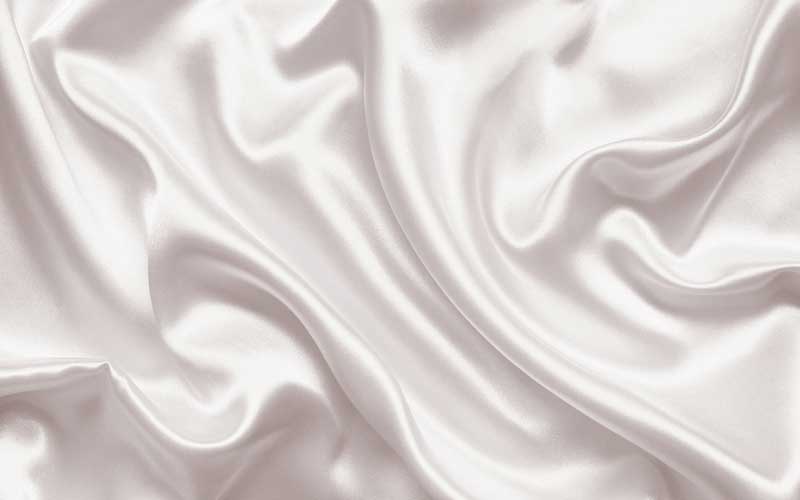 As we've just shown you, silk pillowcases are available in various styles and price points, which is why it is essential to know what you're looking for before making your purchase. Start with the following:
Type of Silk
First, let's talk about the different types of silk: Mulberry, Eri, Tasar and Muga. The most popular version is Mulberry, which is from silkworms raised in captivity, creating refined and consistent quality as well as a naturally pure-white colour.
Many people mistake silk and satin, so you need to know the difference. Silk refers to fibre, while satin refers to the type of weave, meaning satin pillowcases advertised as silk might have other fabrics in them.
That's why we recommend a pillowcase that is 100% silk, not just a blend that includes it.
Momme & Silk Rating
Momme refers to the silk's weight and reflects the quality and durability of the fabric. Most silk products range between 15-30mm, with the best silk pillowcases starting at 19 momme.
Another factor is silk rating, which is pretty much in a grading system on a scale of A, B and C, with A being the highest quality.
Thread Count
Thread count is the measure of horizontal and vertical threads that are in one square centimetre. Although we hear about it a lot, it's not the best measure of quality, at least in silk.
For this specific fabric, you should focus on the type of silk as well as the momme and rating to get a quality product that will last longer and will be worth its value.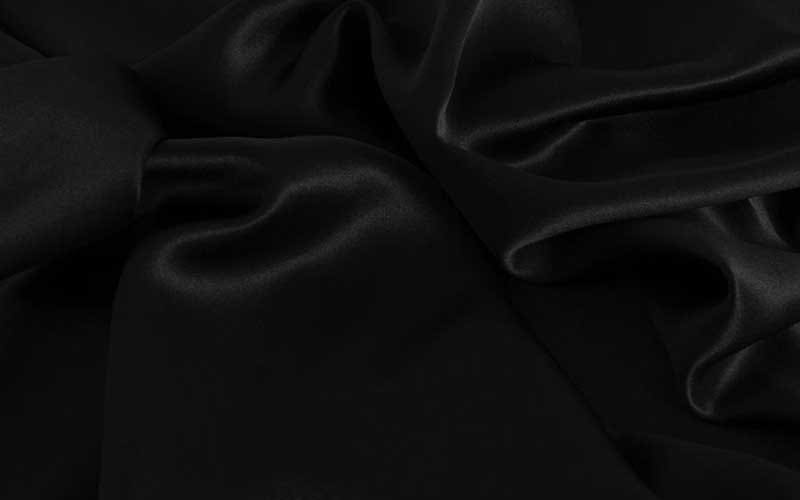 Final Words
We spend a third of our lives in bed, so we might as well make our experience as pleasant as possible. One of the best ways to do so is by introducing the soft and smooth texture of silk that will help with temperature regulation and that messy hair you have in the morning.
All of the bed products we listed above have great customer reviews and are well received. We hope you could find what you were looking for in our guide regarding the best silk pillowcases the market has to offer. To simplify your shopping experience, we've selected the top products for this year.
Brands in the bed industry frequently change, and so do the products they offer, which is why we will continue to provide you with the most up to par information. We hope that this article was helpful, and you could find what you are looking for. Alternatively, you can check out our best pillowcases on the market as well.
Now it's our turn to hear from you if any questions regarding the subject were left unanswered. If you want to share some information, we would gladly hear about it in the comments below.