When you want to upgrade your bedding situation or add a few more pillows to your bed without buying an entirely new set of sheets, your best bet is to get some excellent pillowcases. In general, the best pillowcases are soft and breathable, and they provide you with the ideal place for the best night's sleep.
But how can you choose a quality option that fits the bill and checks all the boxes? There are many options on the market – from good quality products from reputable companies to cheap Chinese items that we wouldn't recommend to our worst enemy.
That's why we created LightSleeper – to help you choose the product that is right for you and you alone and help you make that choice along the way. Companies can never pay to feature their products on LightSleeper, nor we are getting paid to recommend one product over the other – we are an independent resource, and we only recommend products that have passed our tests, and we feel that they are the best in their category.
So without further ado, let's see what we think are the best pillowcases on the market today and why:
1. NTBAY Microfiber – Editor's Pick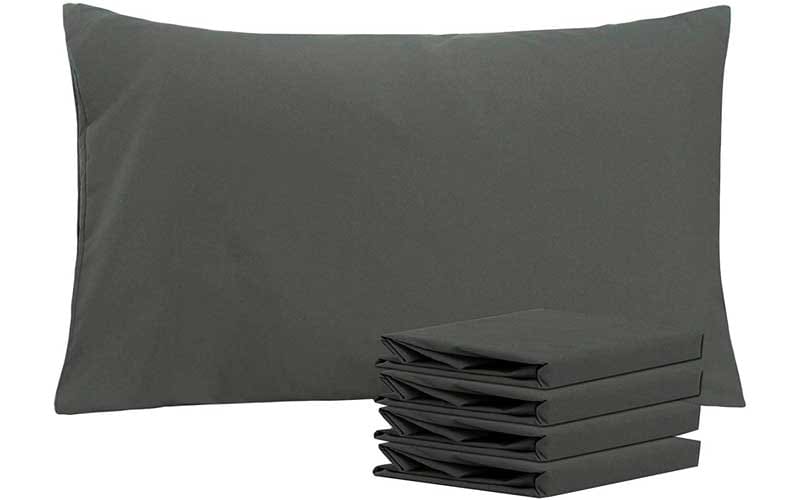 First on our list is NTBAY Microfiber Plain in a pack of four soft anti-wrinkles pillowcases, easily winning the Editor's pick in this category. This NTBAY product has over 30,000 reviews, most of which come with a 5-star rating.
NTBAY can be purchased in 24 vibrant colours available in three sizes: standard/queen (50×75 cm), king (50×90 cm) and body (50×135 cm). Our worth it winner is made from 100% polyester microfiber fabric, which is breathable, stain and wrinkle resistant.
The brand offers a 90-day return and replacement service, which is quite rare for a pillowcase set, but NTBAY believes in the quality products they put out. They have used environmentally friendly dyeing technology, making these pillow covers skin-friendly and fade resistant. Wash the set on the gentle cycle and tumble dry at low temperature.
2. Amazon Basics – Budget Choice
Today's budget-friendly option comes with 10,000 5-star ratings, and it's a part of the Amazon Basics Collection. It comes in a standard 50x75cm size, available in a wide range of colours from bright white to various rich and soothing colours (15 in total).
Amazon's pillowcase set acts as an extra layer of warmth for year-round comfort, made of 100 % polyester microfiber that has natural protection against shrinkage and creasing while being exceptionally soft.
This Amazon Basics pillowcase can be machine washed and tumble dried on low, so you always have fresh sheets to lay your head-on.
3. Slip Pure Silk – The Premium Choice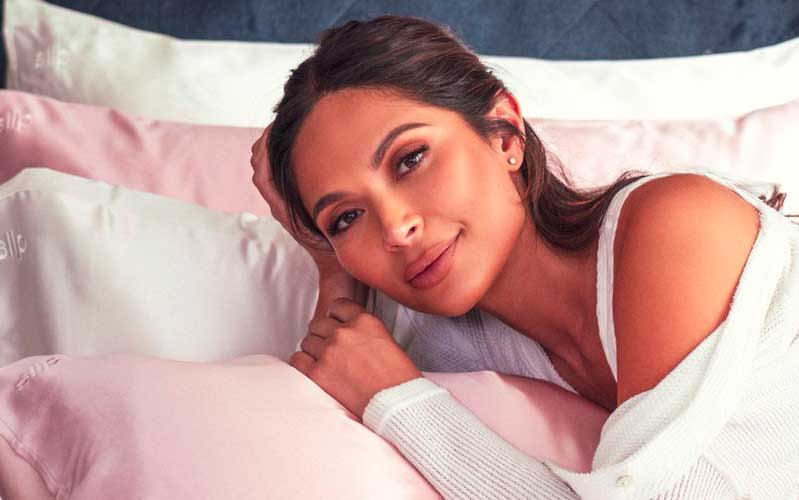 If you appreciate the finer things in life, you will fall in love with the Slip pillowcase made from 100% pure mulberry silk – developed and refined over ten years for ultimate quality and natural skincare.
Mulberry silk is gentle on both the skin and hair. It's incredibly breathable and great at temperature regulation as well. You can purchase this Slip item in a spectrum of sublime shades – from 'Plum' to 'Rose Gold' via 'Silver', 'Black' and the traditional 'White' in one standard size 50x75cm that will suit every bedroom's aesthetic.
Slik prevents your pillow from drawing moisture from your face and damaging your hair so you can get your beauty sleep. The brand also offers free worldwide shipping so that everyone can enjoy Slip's luxurious products.
4. Hachette Egyptian Cotton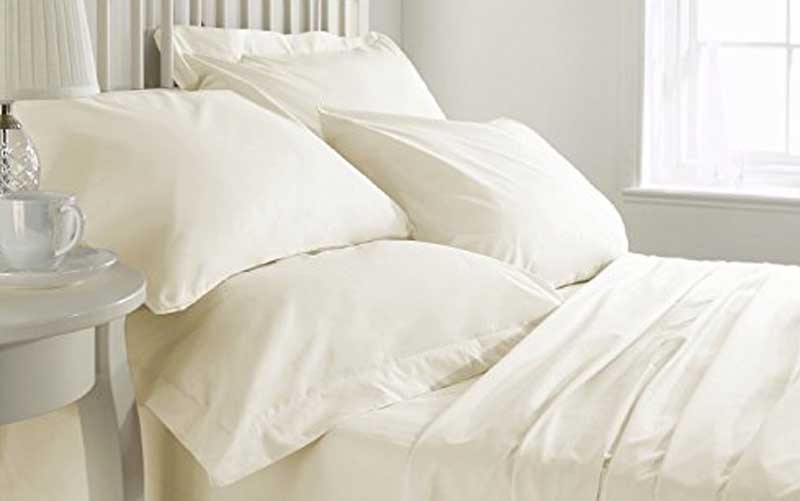 If you're a fan of cotton pillowcases, we have a winner with the Hachette pair made with super fine yarn woven in a 200 thread count fabric to give a smooth, very comfortable, crisp finish.
It's time you pamper yourself with the most delicate Hachette's pillow covers, providing fantastic quality and durability while not compromising on the extravagantly soft feel and a silk touch that caresses your skin.
Hachette's option comes in a set of two in the standard pillowcase size 50x75cm in four colours: beige, white, silver and black. The brand offers a complete bedding range in 200 thread count, which comes with an affordable price tag, and just like the pillow covers can be machine washed and tumble dried.
5. Rayyan Linen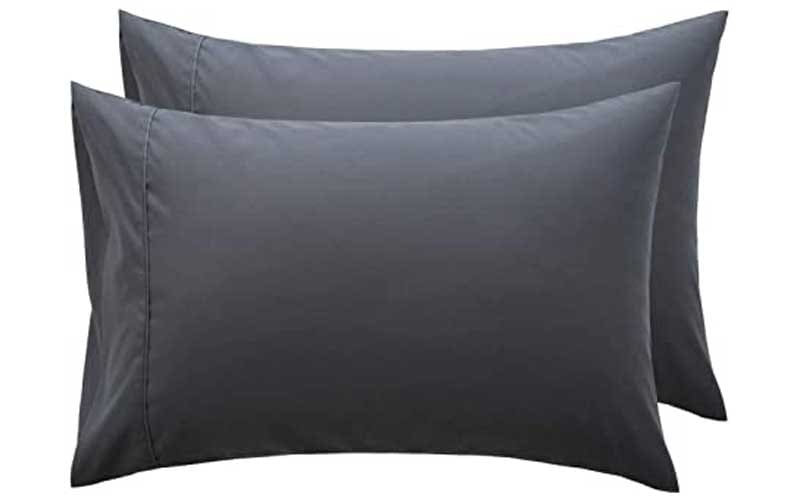 Another highly rated Amazon product that exceeds in the linen department is the Rayyan pillowcase. Rayyan's product can be purchased in white or silver-grey in the standard 50x75cm size and suit every room's aesthetics.
The package includes a set of two pillow covers made from 100% Egyptian Cotton with a 200 thread count, feeling incredibly soft, smooth and luxurious. Rayyan's set can be machine washed at 40°C and tumble dried on low.
This inexpensive brand offers matching duvet cover sets and many other bedding ranges that can be the final touch you've been searching for in your bedroom!
6. Dreamzie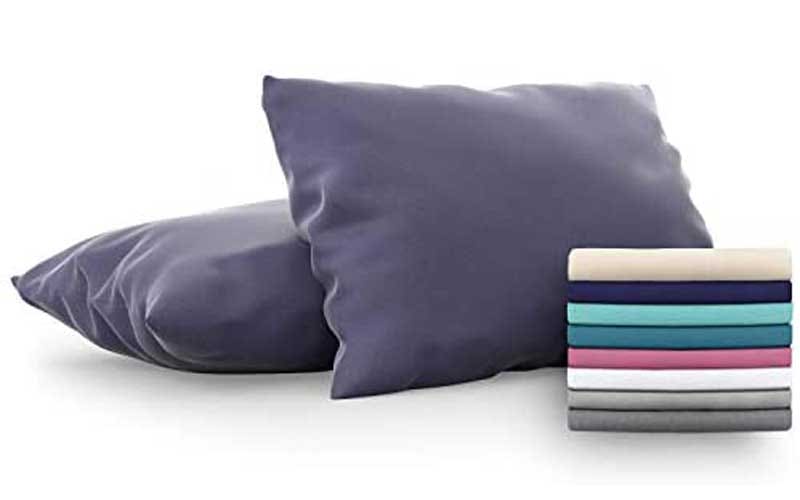 If you want to ensure you get a splendid night and you fall asleep the moment your head touches the pillow, you should get yourself the Dreamzie pillowcase pair.
This hypo-allergenic product comes in four sizes: 40 x 80 cm, 50 x 70 cm, 50 x 75 cm, and 50 x 80 cm and can be bought in six colour variations. Dreamzie's products are made from 100% Polyester microfiber for ultimate softness and come in a set of 2 pillow covers, which are easy to slip on and off thanks to their large fabric flaps.
Since Dreamzie's items are made from microfiber, you don't have to worry about its maintenance. They are machine washable up to 60°C and dryer-safe at low temperatures.
7. Silk Life Satin Set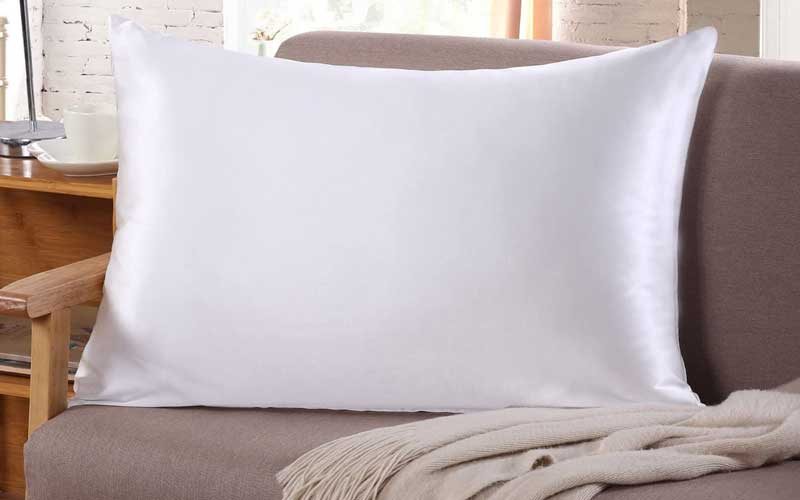 Are you a fan of silky smooth products but don't have the budget for pure silk? You can finally enjoy a quality pillowcase made from high-quality polyester satin from the brand Silk Life.
Silk Life provides you with a pack of two perfectly smooth items in the standard 50x75cm size in four elegant colours: white, grey, black and pink. This sensuously smooth, strong, hypo-allergenic and breathable natural option can be the perfect gift for a loved one.
Each pillowcase is handmade and shows top-quality artistry with a hidden zipper for style, comfort and a better fit. Silk Life suggestions can be hand washed or dry cleaned.
8. Coco + Eve Beauty Sleep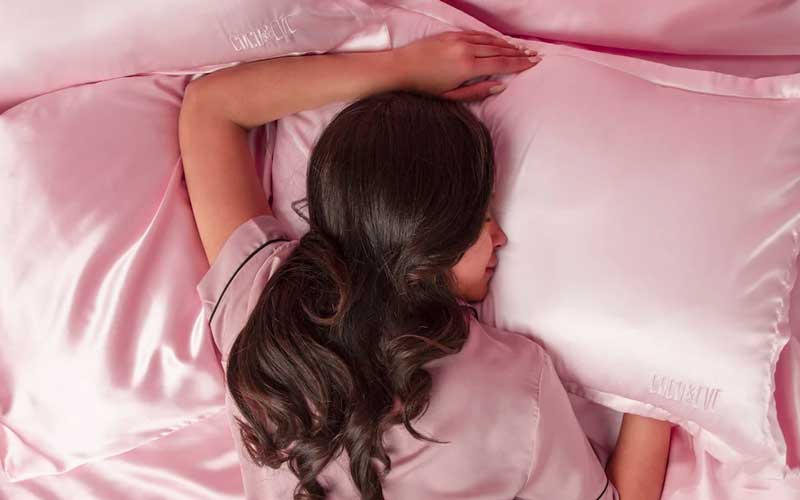 Get your beauty sleep and wake up with silkier, smoother, healthier hair and skin with Coco + Eve's vegan silk pillowcase, available in pale pink or green in one size 45x70cm.
The Beauty Sleep Pillow cover is the ultimate pillowcase for hair health and hair care, making it the perfect gift for your girlfriend, mother, sister or best friend. It's 100% vegan and cruelty-free, which is another positive. Coco + Eve's product is advertised as an excellent hair pillow suitable for curly hair, straight hair, or anything in between.
This company offers free delivery for orders above £40. You can purchase this silk goodness in a bundle with a Super Nourishing Hair Masque (212ml), a Tangle Tamer. Get yourself a fantastic deal that will beautify you like no other because it won't last forever!
9. LilySilk 100 Pure Mulberry Silk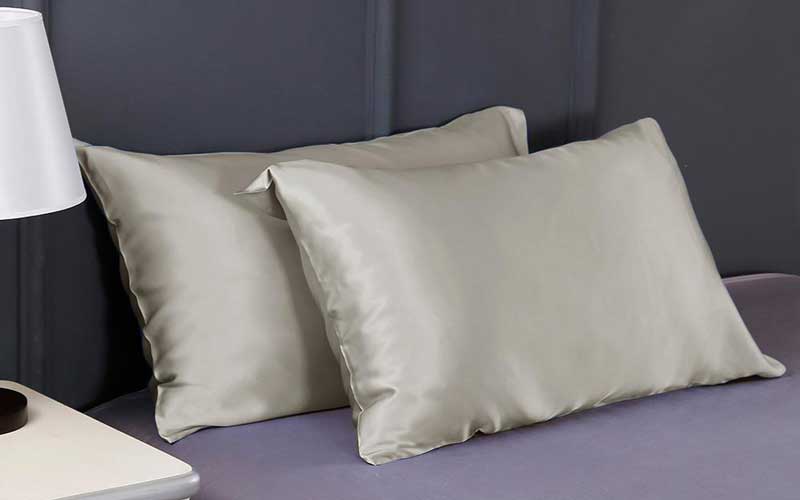 Another budget-friendly alternative is the LilySilk pillow cover made from 100% real 19 momme mulberry silk with a cotton underside. This LilySilk product is crafted from sensuously smooth, hypo-allergenic and breathable natural, organic fibre on one side and 100% cotton on the other to prevent slipping during the night.
Silk never conducts static electricity or attracts dust mites. It's the most natural anti-sleep crease and anti-bed head product. LilySilk is OEKO-TEX Standard 100 Certified and can be purchased in nine colour designs in the standard size of 50x75cm.
The cover comes with a hidden zipper at the end that allows you to fit the pillow into the silky product with ease. It's advised that you hand or machine wash it in cold water on a gentle cycle and hang it to dry.
10. OLESILK for Hair and Skin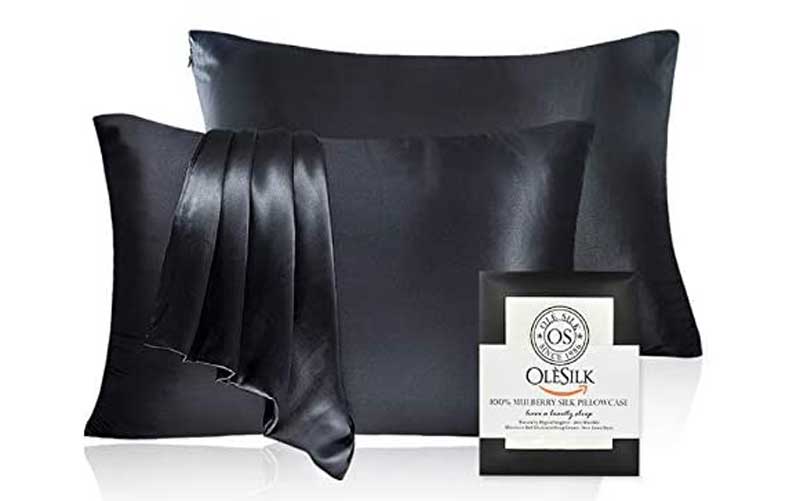 OleSilk is a brand that has designed a 100% Natural mulberry silk on both sides pillowcase with a 19 momme and a 600 thread count. This product can be purchased in 9 elegant colours in five different sizes (40x60cm; 40x80cm; 50x70cm; 50x75cm; 65x65cm).
OleSilk's pillow cover is a natural anti-ageing product that's skin-friendly and reduces moisture to help you feel cool in summer and warm in winter. It is hypo-allergenic, breathable, soft, comfortable and can prevent your hair from becoming knotted while also reducing facial wrinkles.
This OleSilk option comes with a durable zipper closure at the side, so your pillow won't slip out during the night. It can be hand or machine washed on the most gentle cycle and hung to try.
How to choose a good pillowcase?
We spend a third of our lives sleeping with our heads on a pillow. The pillowcase we lay on is just as important st the pillow itself, which is why we've created a guide to help you make the right choice. Here are the factors you need to consider before making a purchase: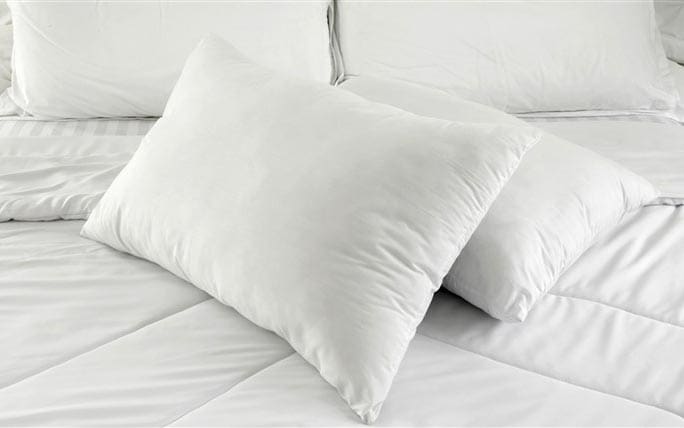 Materials
As we've just shown you with our top 10 selection above, cases can be made from various materials and fabrics. When it comes down to pillowcases, the material is the most crucial factor, and you need to know what you're purchasing. However, not all materials are optimal for everyone, and some fabrics are better than others. Here are the most common options:
Cotton – is the most popular option because it's soft and breathable. It keeps you cool and often comes with an affordable price tag. With that said, not all cotton is created equal, the best option for sheets and cases is Egyptian cotton.
Silk – the other loved option is silk. It is the best fabric for pillowcases due to the many cosmetic benefits it comes with. Pure silk is smooth and can help reduce wrinkles and lines because it doesn't absorb facial oils other materials.
Polyester – is an affordable fabric that is usually hypo-allergenic and wrinkle-resistant. It is exceptionally soft when woven into a brushed microfiber.
Linen – is made from fibres from a plant known as flax. It isn't as soft as others, but it is extremely light and breathable, making it highly suitable for places with hot climates.
Satin – is the reasonably priced alternative to silk. It is a weave rather than a specific material, which can be crafted from polyester, nylon, and even silk.
Flannel – is a weave made from cotton, wool, or polyester suitable for cooler climates. It's great for keeping you warm, but it isn't silky smooth, nor does it wick moisture away.
Nylon – lastly, we have a synthetic material made from a plastic polymer. It is a stretchy material with a shiny look and a smooth feel. However, it not breathable or soft.
Thread Count
This is a feature that has a noticeable difference in cotton. Usually, standard sheets range from 100-500 thread count, but some premium quality options can go up to 1000. Put simply, thread count refers to the number of threads woven into a square centimetre.
The higher the count, the better the quality and the softer the sheets. However, some microfiber sets have a thread count of over 1000, which can be misleading and incorrect since it refers to the comparable thread count by feel.
Size
Most people aren't aware of the fact that a king-sized sheet may also arrive with a pair of king-sized pillows. That's why when you're making a purchase that includes an entire set or has more than one option for a pillowcase size, you pick the right one because nothing is more annoying than trying to fit a standard shaped pillow into an oddly shaped pillowcase.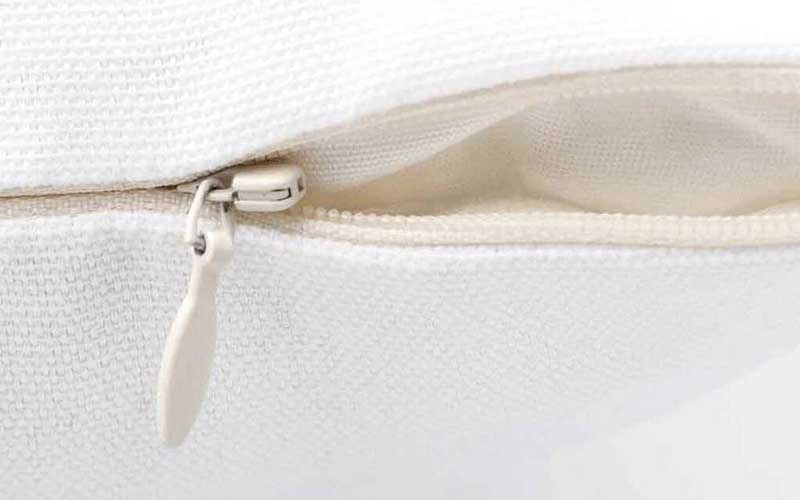 Zippers & Openings
Many don't really think about the opening of a pillowcase, but there are situations in which they might regret it. For example, fabrics like silk and satin are very smooth and can slip right out of their case while a person is sleeping, which will defeat the pillowcase's purpose in the first place.
If you are considering silk or satin, we advise you to look for options with an envelope design to fold the pillow in place or have a zipper for easy assembly.
Breathability
If you live in a place with a hot climate or you tend to sleep hot, you have to think about breathability when making a purchase. In general, the two best options are cotton and microfiber since they help with the airflow and direct warmth from your face.
Hair & Skin Benefits
Pillow covers have a significant impact on your hair and skin. Some fabrics are better than others, with silk at the top for preventing tangling and reducing fine lines. Both silk and satin don't absorb oils from your hair or skin, preventing frizziness and tangles. With these fabrics, your face will be wrinkle-free, and your hair will be soft and smooth.
Price
Lastly, we have the price factor. Not everyone is willing to spend a lot of money on a pillow cover, which is why we recommend you look at some brands and models, read some reviews and then set a well-informed price budget.
Final Words
Pillow cover helps with allergies, temperature regulation, frizzy hair and wrinkles. You can choose anything from cotton to silk, but it is a matter of preference at the end of the day. Whether you're looking to replace an old pillowcase or you're on the lookout for a new bedding set, you should know what you're searching for and why.
All of the bedding products we listed above have great customer reviews and are well received. We hope you could find what you were looking for in our guide when it comes to the best pillowcase bed the market has to offer. To simplify your shopping experience, we've selected the top 5 options for 2021.
Brands in the bed industry frequently change, and so do the products they offer, which is why we will continue to provide you with the most up to par information. We hope that this article was helpful, and you could find what you are looking for.
Now it's our turn to hear from you if any questions regarding the subject were left unanswered. If you want to share some information, we would gladly hear about it in the comments below.