Are you on the market for a weighted blanket, but don't know where to start because of the sheer choice of products available on the market? So many options – fillings, glass beads, plastic pellets, fabric choices… It's tough!
Don't worry!
We tested over 25 different weighted blankets to save you the time and hassle of doing it yourself. It's safe to say that not all products on the market are worth your effort, even some of the ones vigorously claiming that their blanket is the bee's knees. Let me tell you – it isn't.
We've spent quite a bit of time with all the products in this article and, in the end, we had a really tough time picking the winner. The losers were easy – we didn't like most of the cheap blankets sold on Amazon and eBay. We don't recommend buying one either, regardless of the suspiciously cheap price some of these are being offered at.
So without further ado, let's see what we think are the best weighted blankets in the UK today:
1. Remy Sleeper – Editor's Choice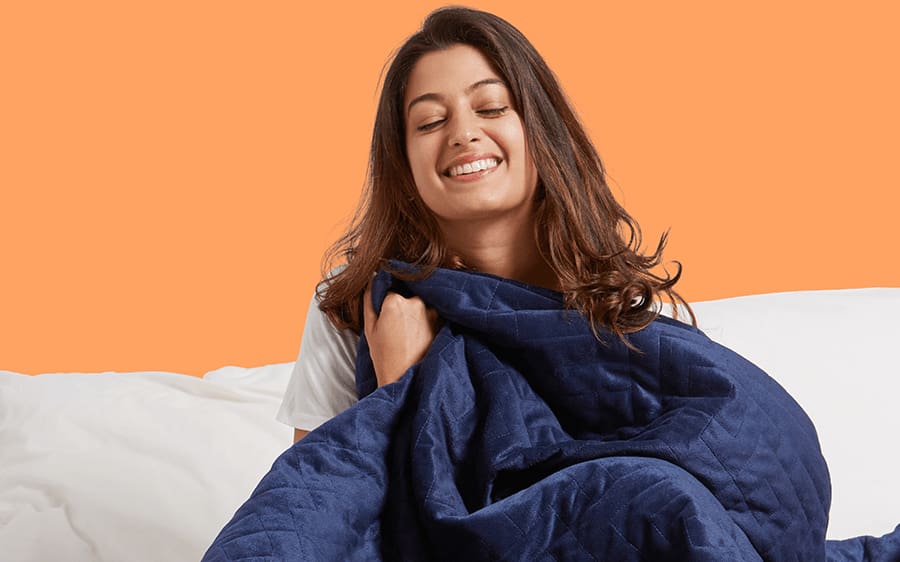 Remy is one of the most established weighted blanket manufacturers in the UK. They offer a variety of available options: four weight categories and your choice of single or large. It's finally time you stop losing sleep and relax!
The Sleeper comes with an innovative DreamZip™ system that keeps it attached to the cover, and the weight is evenly spread. When we talk about covers, Remy gives you a choice, you can either select the Airy Bamboo Cover or the Cosy Plush Cover.
You can decide which one will work best for you, depending on the type of sleeper you are. The bamboo version is soft, natural, breathable and works great for individuals who tend to sleep hot. Whereas the premium, quilted micro-fleece cover is for cold sleepers.
Not only do they give you a choice for covers, but they also do so with age too. What we mean by that is they've designed an option for kids as well. That way, your child will have even sweeter dreams than you!
We tested the original version with a standard cover, and it turned out to be quite breathable and comfortable to sleep with. You also receive a 100-days trial period in which you can see what dreams are made of!
Key Features:
Two cover options
Glass bead filling
360° zipper system
Trial Period for Returns: 100 days
2. Simba Orbit – The Premium Choice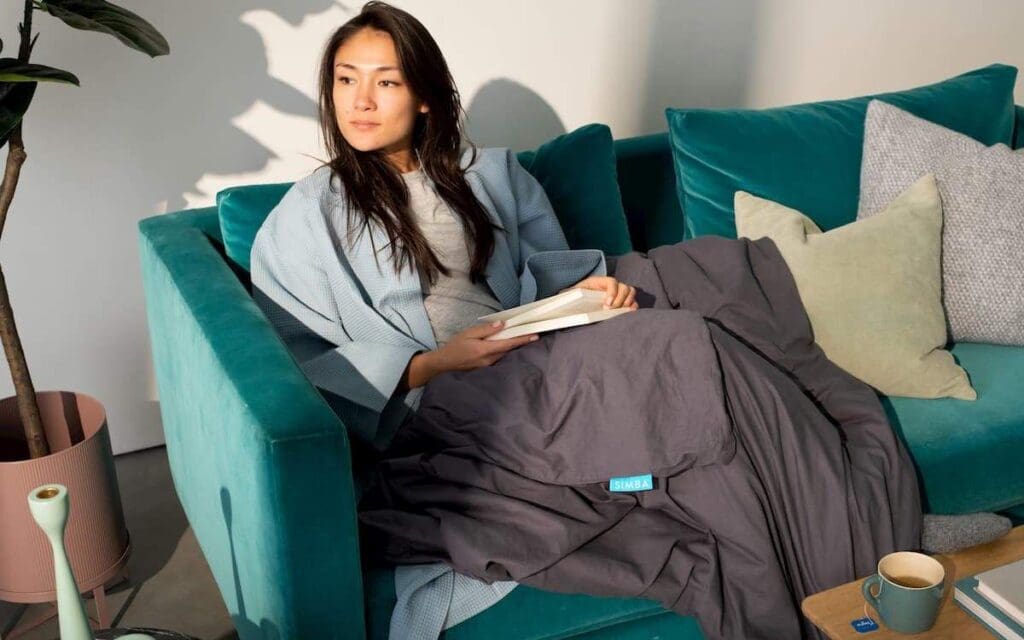 Simba is a renowned brand in the bedding industry, and their Orbit weighted blanket provides a gentle, full-body hugging feeling. The blanket stimulates a calming process known as 'deep pressure therapy' that helps you fall asleep and stay that way.
This heavy blanket comes in 2 different weights with a multi-layer design. It is wrapped in a 100% cotton cover, which is fully breathable and machine washable. What's even better is that it will keep the temperature at an ideal level, and if you're a hot sleeper or a cold one, this will be incredibly beneficial for you.
The cover follows three unique layers, where the first one produces a soft exterior from cotton. Next, we the layer that features thousands of glass nano-beads. Its nano-bead technology relaxes your muscles, regulates your heartbeat, and helps you fall asleep underneath the weight.
These beads are evenly spaced and contained in quilted pockets to provide you with the proper weight distribution throughout the product. The same number of nano-beads means an even layer across the blanket. Finally, we have the comfort fill layer between the glass beads and our bodies for added comfort.
Orbit has a removable and washable cover, so you can clean and store it with ease. By getting this item, you receive a 1-year warranty and a blissful night's sleep.
Key Features:
100% cotton cover
glass nano-beads
Machine washable
Deep pressure therapy
Warranty: 1-year
3. Mela – Budget Alternative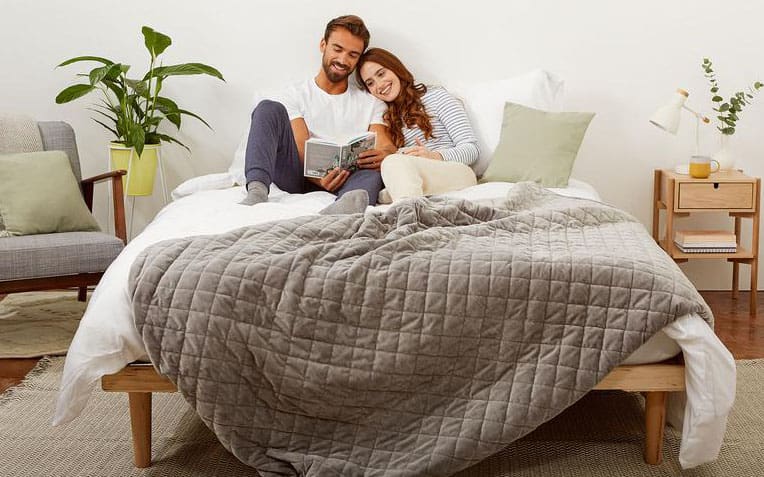 If you're struggling with falling asleep and staying that way, it's probably time for you to invest in a weighted blanket and get rid of those restless legs. Mela can be a great solution for that!
You get to pick from 3 different weights and sizes to find the right one for you. Most heavy blankets are designed for individuals, and Mela is no different. Yes, you can share, but the deep touch stimulation will work better if you and your partner both have one.
The blanket's inner part features SGS certified anti-rustle glass quartz pellets that move around silently while moulding to your body shape. Even though you might not think of noise as a factor, some options can turn out to be quite disturbing. Those pellets are padded with polyester for extra comfort, in order to apply calming pressure to your body.
Next, we have Mela's cover, which is made from polyester. This material is used because it allows for ample airflow through the blanket. Therefore heat will be able to escape, and you will be kept cool and sweat-free. For an additional price, you can purchase a cotton cover for additional moisture-wicking features.
For us, Mela is an affordable product with many positives such as being machine washable, having a trial period and even a year warranty.
Key Features:
100% polyester or cotton cover
Anti-rustle glass quartz pellets
Machine washable
Trial Period for Returns: 30 days
Warranty: 1-year
4. Nectar (Discontinued)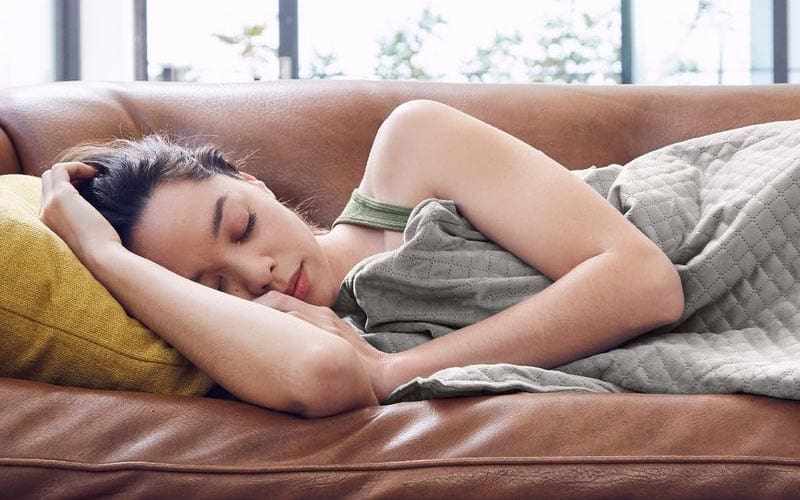 Nectar is one of the most recognized brands in the UK for mattresses, but they offer so much more! For example, they have created a luxurious weighted blanket that continues to grow in popularity.
This Nectar product was designed for relaxation and blissful sleep! The BlanQuil™ is generously sized to envelop any adult in a plush hug, and you can choose your preferred weight from two options. When we tested this product, one of the things we loved the most was its plushly soft feeling of a warm, comforting hug.
With this item, you get to relax, reduce stress, and relieve anxiety with the end goal of bettering your night's rest. It's so snug and comfy that you can use it while reading, meditating, or even bingeing the latest show.
BlanQuil™ is filled with silicon dioxide beads that minimize your body movement, and enable a deeper REM (rapid eye movement) cycle. Nectar has chosen eco-friendly glass beads that are durable, non-toxic, washer/dryer safe, and kid/pet-friendly. How many brands have done that?
The blanket uses "Deep Pressure Therapy" to help alleviate anxiety, increase relaxation, and improve your overall sleep. You don't have a trial period with this product, but you get 50 days in which you can return it was left unopened. But if it stays with you, there is a 5-year guarantee, showcasing its quality.
Key Features:
100% Polyester cover
Silicon Dioxide Beads
Half weighted/half quilt
Deep Pressure Touch Therapy
Warranty: 5-years
5. Gravity Blanket – Last but not least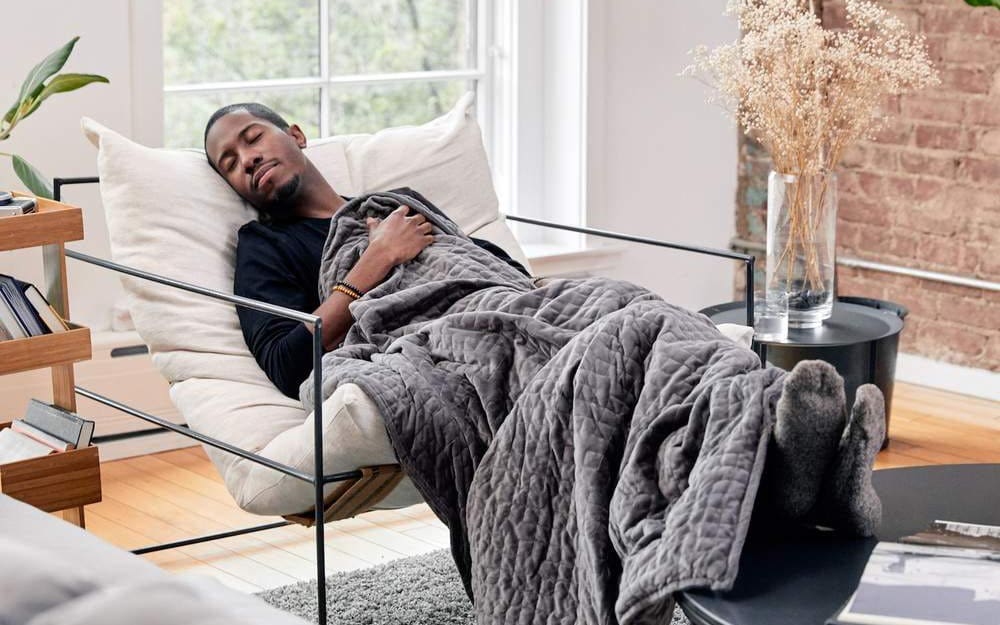 After testing and sleeping under 20 different models in the course of a few months, it's safe to say that the best weighted blanket in our book is Gravity! Who would've known that by starting a Kickstart project, Gravity would have created easily the top choice on the market today!
With its quality and superior craftsmanship, Gravity company raised a whopping $4.7 million and has sold more than 60,000 units in just one year! This information by itself is more powerful and meaningful than most.
Gravity is a truly superb product made of quality materials and pretty effective in relieving anxiety and stress symptoms with the offer of a gentle hug. The heavy blanket is the perfect choice for those who want a plush fabric to help them sleep and cope with various conditions.
It's filled with glass beads which are evenly distributed across. The outer sheets are created from organic cotton, making it a beautiful bedding piece to snuggle up to. While most products on the market can't be washed in a washing machine, that's not the case with this one – you can clean both the inner duvet and the covers with ease.
Weighted blankets can get hot, but the Gravity comes with a lovely cooling effect so that you won't feel hot under it even on warm summer nights.
In our eyes, this item easily edges the competition, and it is somewhat reasonably priced too. You will find raving reviews online, which can support that.
Key Features:
Organic cotton outer sheet
Fine-grade glass beads filling
Machine washable
Trial Period for Returns: 28 days
Warranty: 1-year
How to choose a weighted blanket?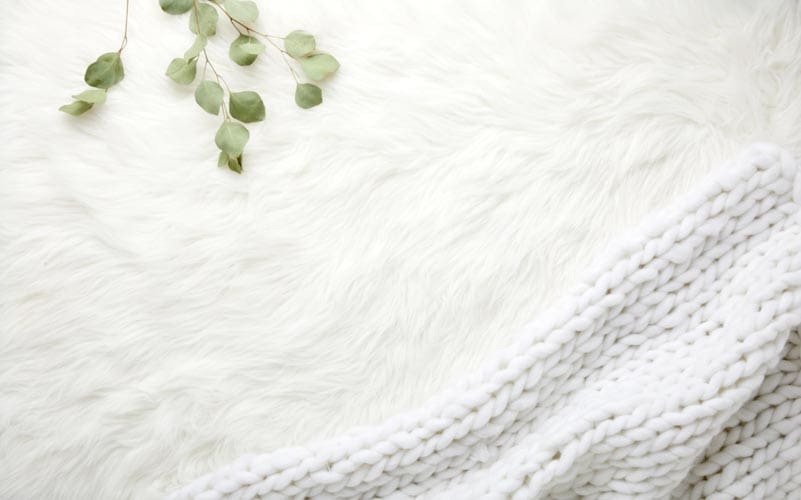 When you're looking for the best product, there are so many things you need to consider. These factors can help you choose which weighted blanket will help you sleep while providing the ultimate comfort.
Even though most of them focus on providing quality sleep and relaxation, it can be a tedious process to find the right one. We created a list of features to consider in selecting the product to help you out with your decision. They are the following:
Weight
Weight is an essential aspect of your choice. It would be ideal if you remembered that when choosing the correct measure, you should opt for 10% of your body weight. Too light or too heavy comforters can affect the effectiveness of deep touch pressure.
If you're looking for an option for your child, make sure that it is suited for their weight and size. Having a bigger or heavier duvet cover can be dangerous for them. Many brands offer weights ranging from 2kg to 13kg. For more info on weight, check 'How heavy should a pressure blanket be?'
Size
One of the essential factors to consider is the size of a weighted blanket. Its size will most likely depend on the weight it is. Some brands offer standard sizes like a single, double, queen, and king. However, some may come in one-size-fits-all, and others can be customized.
The right fit is essential for getting a good night's sleep, but with that said you have to be careful with the size you pick, as too much weight can be dangerous. Here is more info on the subject: 'Are weighted blankets safe?'
Build
Next, we need to consider the build and cooling properties of a blanket. They are heavier than usual, because of the high-quality fabrics, beads, and quality sewing materials that are being used. The filling of the pressure blanket is crucial in your decision making, so if you don't know where to start, check our guide on 'Weighted Blanket Fillers.'
If the inside pockets aren't sewn adequately, the pellets or beads inside can spill out, and make a huge mess. A cooling cover can be a real lifesaver when it comes to summer and warmer nights, in which the product will prevent you from sleeping hot.
Use
Most good brands offer different sizes for both adults and children. There are some fantastic weighted blankets for children, depending on their size and weight. Children with autism and ADHD can potentially benefit from this type of blanket. Even though it's not scientifically proven, parents of children who tried them, have attested to its efficacy in letting their children relax and stay calm at night.
On the other hand, most adults can benefit from the effects of weighted blankets just as much. People who suffer from insomnia and anxiety can experience relief from their symptoms and a sense of calm and tranquillity when sleeping with such a blanket. They can also sleep better at night, reducing daytime drowsiness, inability to focus, and altered concentration the next day.
Finally, you need a product that can use daily, which is one that can be regularly washed, but not all blankets are machine washable or tumble drier friendly. Here is how to wash a pressure blanket.
Bottom Line
We really hope we've helped you make an informed choice when researching what is the best weighted blanket in the UK today.
We really think that the Gravity blanket is the ideal choice, but there are other factors at play as well. For starters, Gravity might be a bit expensive for most people so we've included quite a few other brands and models to fit as many budgets and personal preferences as possible.
All the blankets we recommend are sourced responsibly, well built and come from reputable sources. The companies behind them really stand behind their products and offer adequate customer support if a problem arises. All you have to do is wash them and properly care for them to prolong their life.
If you think we missed something and if you have a question or a concern, please drop us a line in the comments below and we'll try to respond as soon as possible!