How heavy should a weighted blanket be? The further we understand the calming effects of a heavy blanket, the more we grasp that weight is comforting. However, how much weight is beneficial for you is another story.
Weighted blankets are used for a variety of reasons — anxiety, therapy, insomnia, etc. They can be comforting for people with stress or anxiety or for people with trouble sleeping. As the demand for heavy blankets grows, so too do the questions that come with them.
How heavy should a weighted blanket be?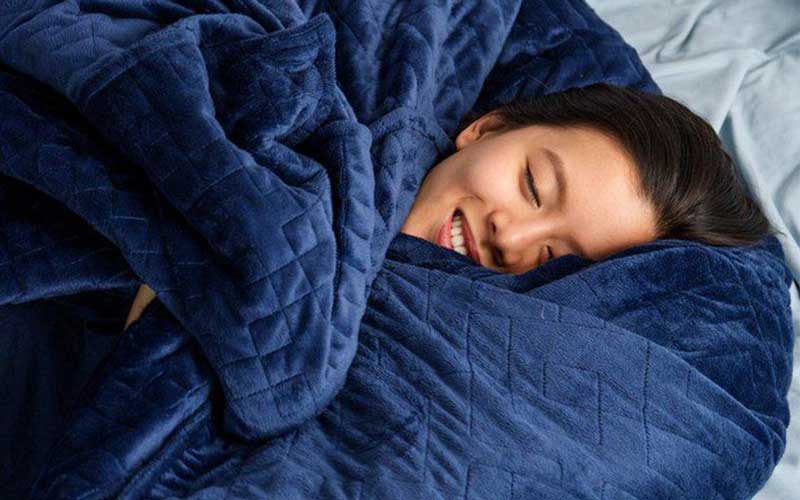 In today's market, weighted blankets weigh anywhere from 5 to 30 pounds. Many brands offer numerous options with different weights at different price points. However, it would be best if you made your decision based on your own weight.
The general guideline says that your purchase should be 10% of your body weight to fit your frame while providing you with all the benefits that come with deep pressure therapy. That said, if you're finding it difficult to roll over underneath your cover or you feel trapped, you should opt for a lighter version. Keep in mind that the blanket may not have the same benefits if you go a lot lighter.
By getting an option that is roughly 10% of your body weight, you will be able to feel the body-hugging sensation that will give you a sense of calmness, which can reduce stress and help you sleep better.
If you find that 10% body weight is getting the job done for you, maybe you can add a couple more pounds, but try to stay around 12% of your weight and don't get something that's way too heavy for your body frame since it can have a negative impact.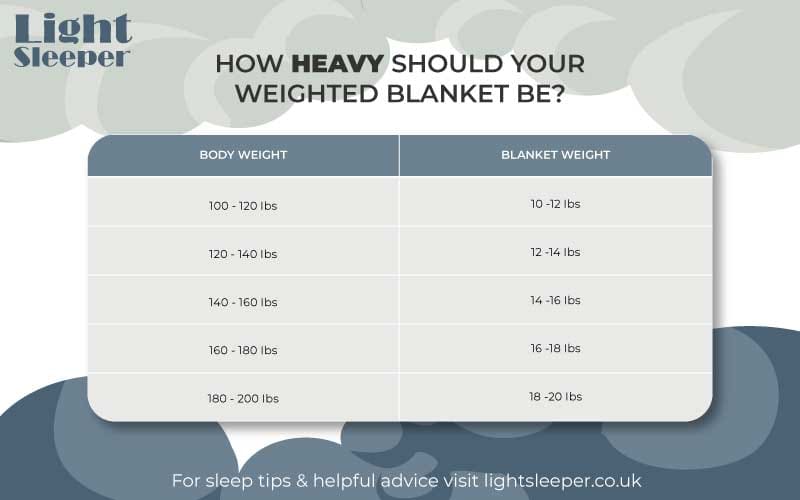 What if I'm in between the standard sizes a weighted blanket comes in?
As we've mentioned above, the general rule of thumb is getting a product that's 10 per cent of your body weight, which in some cases might not be possible. There are situations in which a person can fall between standard weights of blankets, and they can be left wondering whether to go up or down in weight.
Most rands offer blankets that weigh 10, 12, 15, 17, and 20 pounds and if you fall between two of those options, opting for the one that is one to two pounds heavier is usually the better option. Overall, you don't have to get one that's precisely 10%. Your choice can vary between 7 to 12% of your body weight, depending on personal preference.
If you're someone that has a frail frame, maybe going down one size will be better for you personally, but if you're a heavier individual, going up might be the more beneficial way to go.
Does height matter when choosing a weighted blanket?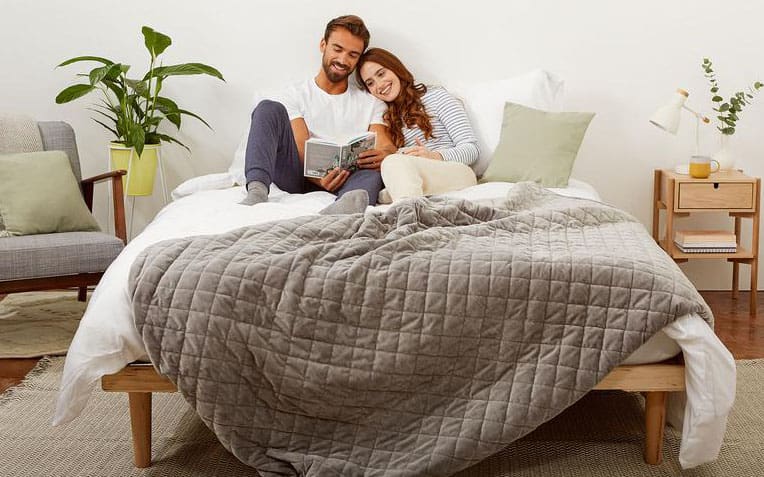 Height isn't a priority when it comes down to weighted blankets since weight plays the most significant part and even weight distribution is essential.
Of course, just like with anything else, there are some exceptions. For example, if you are a very tall person, the size of the blanket would definitely play a role in your choice, especially if you like to be fully covered. If that's the case, you should also make sure the blanket is measured to your height as well as your weight.
If you're on the opposite end and you are a shorter individual, you might feel very overwhelmed in a king-sized option, which is you may want to look for an option that's smaller in size (not in weight) so you don't feel trapped underneath your blanket.
To sum it up, height isn't the most crucial factor when choosing a weighted blanket, but it is a feature that boils down to each individual person.
Is there a maximum weight limit?
Today, the heaviest weighted blanket that still lets you enjoy the benefits of deep pressure stimulation weighs 35 pounds. There is a study by Taylor & Francis Online shows that heavy blankets can provide a person with excellent and safe sleep when weighing up to 35 pounds.
Blankets up to 35Ibs won't affect your blood circulation, heart rate, or pulse if you're an adult that has an average weight. Suppose, for some reason you decide to purchase a product that weighs more than that. In that case, you should know that it might not be safe to use, especially if you have underlying medical conditions such as mobility issues or claustrophobia.
The reason why heavy blankets are beneficial to us is that they provide deep pressure therapy, and if not correctly used, a person won't be able to receive all the benefits that come with them. More isn't always better, be considerate of your weight and the recommended norm since it's there for a reason.
Weighted blankets can help with restless leg syndrome, pain disorders, and ADHD, they can also reduce cortisol levels to ease stress and reduce tension. All you have to do is use them adequately.
What are the dangers of a blanket that's too heavy?
Some people might be tempted to purchase the heaviest blanket they can find, which we don't recommend at all. Using the wrong weight for your blanket can downright threaten your well-being. It can increase your stress and make it harder for you to fall asleep.
If you're looking to buy a weighted blanket, you're probably searching for a product that will ease your stress and improve the quality of your sleep. We all sleep better in a cooler environment, and too heavy of a blanket can actually cause overheating. All in all, we highly recommend you stick to the 10% of your body weight rule so that you can get a good night's sleep.
Bottom line
Ultimately, the only thing that truly matters is your comfort and safety, which is why getting a blanket that's the right weight is essential. If you're purchasing a blanket for someone else, make sure you measure correctly in order to receive all the benefits.
Try to stick to the 10% of your body weight rule, and if you find yourself in between sizes, focus on options that are roughly around 7 to 12%. Weighted blankets are designed to bring you soothing comfort, warmth, and security while you sleep, which is why you should be mindful when choosing the weight of your blanket. You can also check out the best weighted blankets in the UK!
No matter why you're using one, your top priority is to make sure it's made to fit you and it's kept clean and fresh at all times! If you think we missed something on the subject or if you have any questions and concerns, please drop us a line in the comments below, and we'd try to respond as soon as possible!