If you're considering purchasing an inflatable mattress, you might be wondering what advantages and disadvantages they come with. Generally speaking, air beds tend to be smaller than traditional mattresses and come with an affordable price tag, making them score high on owner satisfaction.
An inflatable option can be used as your permanent bed, as well as the occasional guest bed when you have people visiting, or even as a portable choice for your camping and backpacking expeditions. Whatever you intend to use it for, you must know one has to offer as well as its limitations.
That's why in today's article, we'll discuss the pros and cons of an air mattress, so you can decide if it is the right fit for your needs and preferences.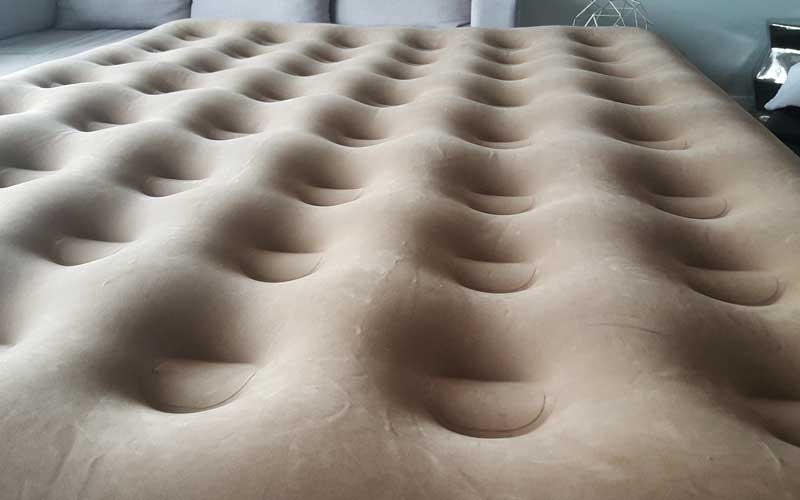 Air beds are typically used as a portable and compact sleeping solution when there is a lack of space. Inflatable beds have grown in popularity in recent years, as guest beds and, for some, even for permanent use. The days when an inflatable mattress was used only while you were out in the wilderness are long gone.
However, before investing in one, you may want to review the pros and cons of this type of bedding option. They are the following:
What are the pros/advantages of air mattresses?
Adjustable Firmness
One of the main air mattress pros is its custom firmness, especially when used in-home as a permanent or main bed. That's because you can set it up as firm or soft as you prefer.
For example, if you add more air, it will have a firm finish, but you'll receive a more plush and soft sleeping surface if you reduce it. This is excellent, as every user can adjust it to their desired firmness level.
Pain Relief
Although an air bed isn't necessarily considered a product with pain-relieving properties, it can be beneficial for people with back problems and other types of body or joint pains due to the adjustable firmness mentioned above.
Everyone is different, so some individuals might consider this mattress type too soft, but with the press of a button, they can quickly add some air and make its surface firmer. That can provide them with better pain relief and better body contouring.
In comparison, sometimes, the bed might be too firm for an individual, so they can easily deflate it and soften the surface to suit their personal preferences.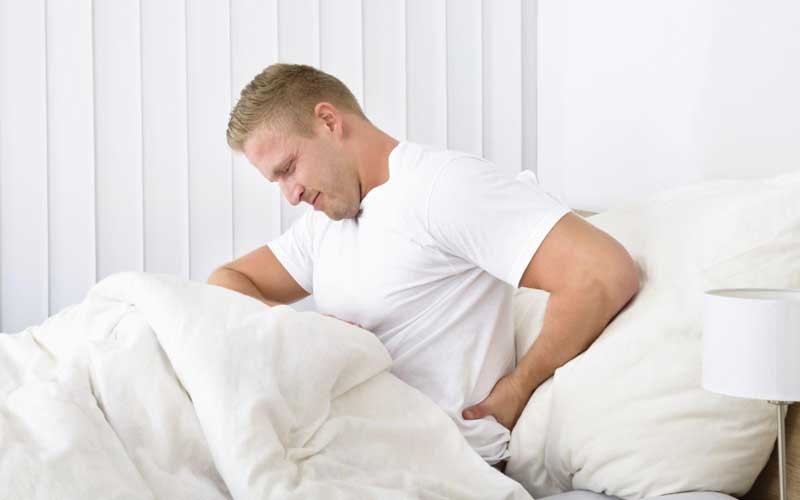 Sharing with a Partner
We know we are still on the subject of adjustable firmness. Still, it is a large advantage because almost every full-size bed and above usually has two separate inner chambers, meaning you can have one side firmer than the other, depending on you and your partner's preference.
You no longer have to compromise on your desired comfort level, as both people can adjust it to their liking! That's why many will start asking the question: Can you sleep on an air mattress every night?
Odor-Free
When you are choosing a bed, no matter if it's for permanent use or as a space saver when people come to visit you, the odour might not be the first thing that comes to mind.
However, many traditional beds come with unpleasant smells and off-gassing. But because of the PVC material used to manufacture most air beds, they aren't any nasty off-gassing odours like you might find in a new memory foam mattress.
No Sagging
A standard mattress will slowly start to sag after years of usage, which can lead to body pains and aches. And when it occurs, it normally means it's time to start thinking about a replacement.
A full-size memory foam mattress or an innerspring bed will sag after a few years of usage, but that's not the case with an air bed. That's because you can inflate with more air, which will eliminate the sagging right away.
Increased Durability
Even though this might be surprising for many, an air bed can last up to 15 years, whereas innerspring, latex, or foam mattresses will last between 7-10 years, depending on their build and quality.
Remember that not all inflatable products are the same, so some options won't last as long. But truth be told, if you have an air bed with a built-in pump, the pump will fail before the mattress itself. The good news is that a pump can be replaced with less effort and at a low cost.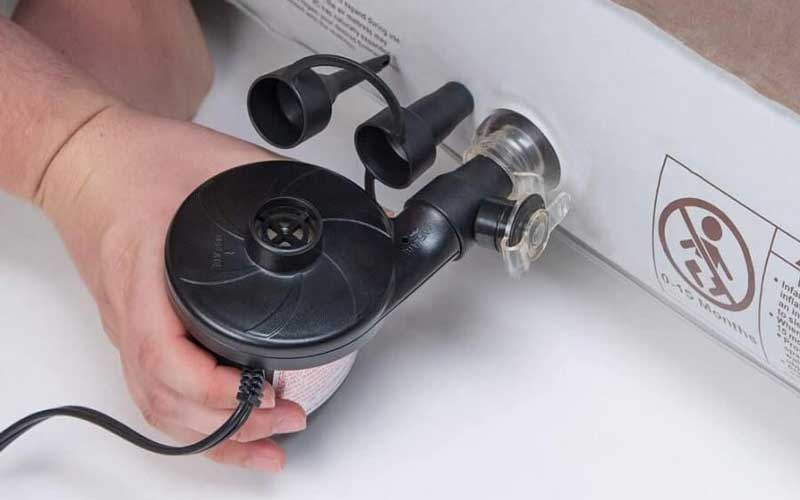 Fast Inflation
Depending on the quality of your pump, you can inflate an air mattress to its full size within minutes. When it comes down to inflation, there are two main groups, and they are built-in or external pumps. Both are easy to use and will fill your bed with air in no time.
Sometimes you might find yourself camping without your pump. If that happens, take a look at our guide on 'How to inflate an air bed with no pump?'
Affordable Price
Finding a high-quality mattress can be a costly investment, especially if it's made from latex or memory foam, as they usually come with a hefty price tag.
That's not the case with air-filled products because you can find items for as low as £30 that offer adjustable firmness and comfort.
Multiple Uses
Last but not least, another advantage of air mattresses is their multiple uses. An inflatable option can be used both indoors and outdoors, depending on its size.
For example, a twin-size product can be taken on camping trips and other outdoor activities or rolled up and tucked away as a guest bed for unexpected visitors.
What are the cons/disadvantages of air mattresses?
Long Assembly
If you plan on purchasing a larger permanent/fixed usage inflatable bed, know that it can take anywhere between 30 to 60 minutes to assemble and might require two individuals.
However, once it's assembled, all you'll need to worry about is whether to increase or decrease air (for a firmer or softer feel) based on your personal preference.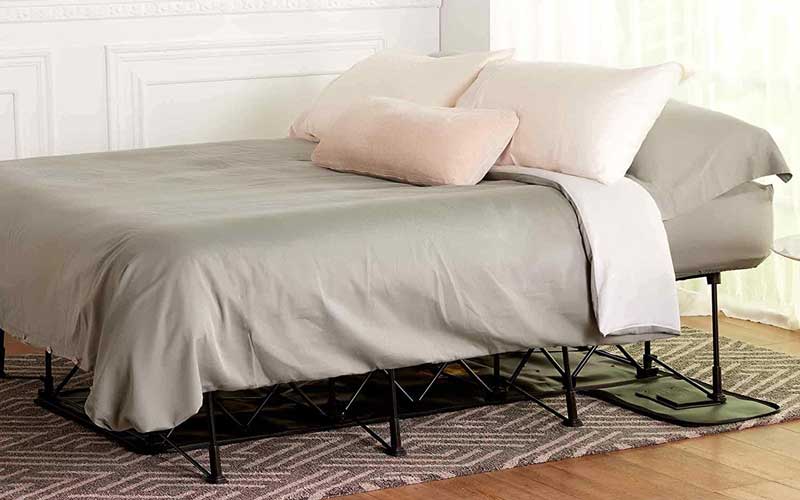 Noise Complaints
Noise can be an occurring con for some people, as the mattress might be squicky, or the pump itself might make noisy sounds when being used.
Some individuals complain of noisy pumps, but they are usually unpleasantly loud in budget brands and low-quality products. Remember that pumps are only ever used to inflate or deflate your sleeping surface, so they won't disturb you while you are sleeping.
Pump Replacement
Some issues might occur if your choice comes with a built-in pump due to the mechanical nature and reliance. If your electric pump breaks, you'll need it repaired either by way of cost or warranty.
Whereas, if your inflatable bed requires an external pump instead, you can purchase one from Amazon that won't hurt your wallet.
Short Warranties
Inflatable products normally come with shorter warranties compared to latex or memory foam options, meaning if the PVC bed structure or pump develops a fault, you might need to pay in order to get it fixed.
The good news is, nowadays, the cost of a new air-filled item will usually be the same as to repair your old one, so you're better off looking for a new replacement.
Bottom line
Depending on what you are using it for, an air mattress might be the perfect choice for dealing with space limitations or extra sleeping arrangements for unexpected visitors.
Most air mattresses have many individual degrees of adjustability and support zones on each side, making them a desired option for couples. However, they require manual adjustment, whereas, with traditional beds, this adjustability is automatic.
Mould issues, assembly, middle dividers and noise are the issues that may affect your choice. But if you do some research and read some customers' reviews, you will find a high-quality option.
We hope we were able to answer the how and why when it comes down to 'Pros and cons of an air mattress' and now it's our turn to hear from you if any questions regarding the subject were left unanswered. If you want to share some information, we would gladly hear about it in the comments below.