Are inflatable mattresses just suitable for camping and guests, or can they be used as a long-term solution as well? Do they offer the kind of support that you need in order to get a good night's sleep? Are they long-lasting?
It's possible to save money if you choose an air mattress over a standard one, but is that a good idea? In today's article, we discuss the benefits and dangers of sleeping on an inflatable bed and finally answer the question 'Can you sleep on an air mattress every night?'.
What are the benefits of an air mattress?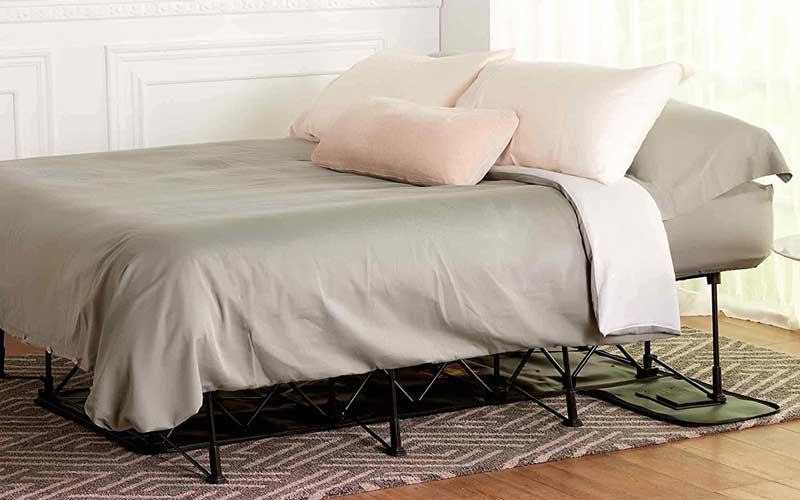 In general, air beds are easily portable and storable. They can even fold down to a compact size that can be stashed away until the next guest visits. But, with that said, you have to think about what are your plans for the bed and how will you use it.
There are benefits to using an air bed instead of traditional foam or coil mattresses, but the two most important aspects are:
Space
It can be difficult to live in a tight space. Tiny apartments are particularly common in the UK and, more specifically, London, where 30 square meters might be all the room you get. In that case, it might not be possible to have a bed permanently in your living space.
Due to electric pumps, air mattresses are usually quickly deployed and deflated, often in less than two minutes. The benefit of this method is that you can deflate the bed in the morning, which will allow you to have more space to cook, wash and enjoy your apartment during the day.
Single and twin air beds are small enough to fit into a backpack and are perfect for storing in a drawer or a tiny closet.
Money
An air bed can be a lifesaver if you are on a tight budget. It is more comfortable than sleeping on the sofa and can be purchased for less than a traditional mattress. However, even the cheapest mattresses can cost ten times more than the cheapest air beds before you even start to look at bed frames and headboards.
For those planning to use their air bed daily, it is worth stretching their budget a bit to find a higher quality product that will last longer. If you are buying a cheap option, it is likely that you will need to replace it sooner than later because it isn't as durable.
To prevent this, it is advisable to invest in a high-quality air mattress that is comparable to traditional beds and has a variety of features that will help you sleep better. In addition, they will save you money in the long run because you won't need to replace them as frequently, and they won't cost that much more.
What are the disadvantages of an air mattress?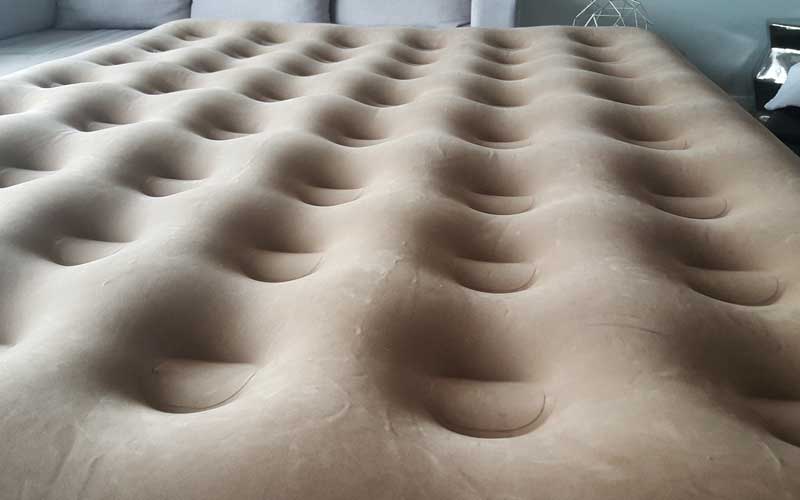 With few people choosing to sleep on inflatable mattresses long term, it's difficult to know the precise risks that you might face. However, sleep scientists have been looking at the importance of body support and temperature regulation for decades. As a result, they have a good idea of the health impacts of improper spinal alignment and restless sleep.
Temperature regulation
When it comes to using an air bed, it can be hard to regulate your body temperature. Most of the mattresses are made from synthetic materials that aren't breathable and lack proper airflow.
The heat your body creates during the night can't be dispersed, meaning you may overheat. In addition, the air trapped inside the bed takes on the temperature outside, which can create an uncomfortable and sweaty night, especially when temperatures are higher.
In winter, the air inside your bed takes on a cooler temperature, and this can make you feel cold. The best way to combat these issues is to place a barrier between you and the bed. It could be something like cotton sheets, a blanket in the summer or a mattress topper in the winter.
Comfort level
Generally speaking, inflatable items aren't all extremely comfortable to sleep on. If support levels are not high enough, you might struggle to fall asleep and stay that way during the night. Overall, there isn't deep contouring support and not much in the way of pressure relief either.
Motion isolation
Air beds aren't generally good for isolation of the movement of one partner with another, which is why motion isolation has to be mentioned as a con. Couples can use air beds, but understand that when one person moves on the bed, it will most likely disturb the other. Unfortunately, there isn't an easy solution to this problem, though you can find some couples using two single air mattresses on a double or king base.
Body support
Let's be honest, an inflatable mattress isn't known for the support it provides. While it may be okay to sleep on it every once in a while, long-term use could lead to back pain and stiffness. Without adequate support, your spine will be out of alignment, meaning you won't get a night of restorative sleep.
Mattress maintenance
Maintenance (care) with a lot of mattresses is very low key and often overlooked. A standard coil bed, for example, just needs to be flipped every now and again in order to allow for more even wear and tear. However, that isn't the case with inflatable models.
You will have to make sure that there is enough air in it and that the holes are patched quickly (if any occur). If there aren't any holes, the bed will flatten naturally over time and will need refilling, making them a higher maintenance option.
How to choose a long term air bed?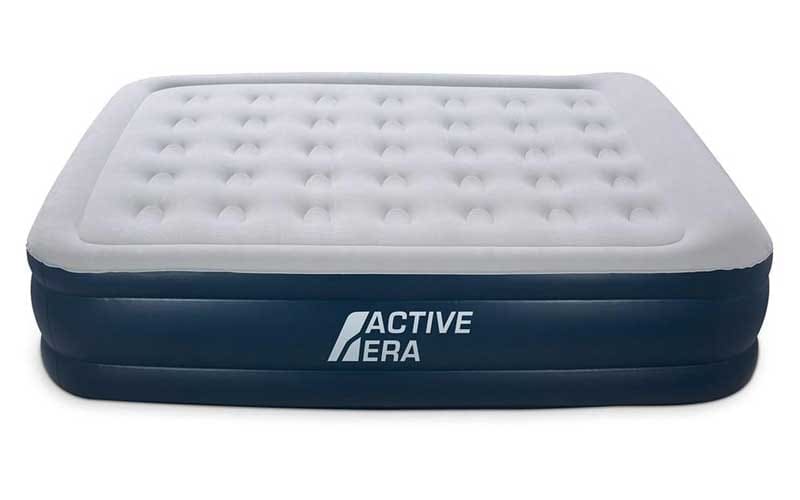 It doesn't matter which air bed you choose if you only use it on occasions. However, for long-term use, it is essential to pick the best air bed you can in order to receive the best care for your body and wake up refreshed the next morning.
Poor sleep can have a serious impact on both your physical and mental health. Therefore, ensuring that you get a good night's sleep is critical. Here are the most important factors to consider:
Comfort
Air mattress comfort should be the first thing you look at. How comfortable is it going to be, and can you use it every night? Will it be plush enough to sleep on permanently, or is it only meant for camping? There are models that will allow you to adjust the firmness to your liking, which can be a plus. But, above all else, look for something that provides better overall support.
Durability
There is a saying, 'you get what you pay for', which is accurate here as well. If you walk into a discount store and choose the cheapest outfit you can find, you know that it won't last long. The same applies to air bed shopping. It would be best if you got the best quality air mattress you can afford. Understand that cheap products aren't as durable and will cost you a lot more in the long run.
Air retention
If you choose a high-quality product, you should be good when it comes to air retention. While you are going to have to top up the air from time to time, you don't want to do it all the time, which is why we recommend you find a quality product with good air retentive properties.
Material
You want an option with a quality foam layer that won't degrade quickly and a high-quality vinyl cover that will stand up to the test of time and won't easily wear and tear. Many items have a softer finish that feels nice to the touch, but the underlying foam is going to be the deciding factor. The cover plays a role, but it isn't as crucial since you won't be sleeping directly on it anyway because you will be using a sheet, duvet, pillows, etc.
Electrical pump
The days of manually pumping up an airbed are behind us. Middle to higher-tier beds come with pumps that push air into the chamber and also draw it out. Electric pumps are a huge benefit because you can deflate and pack the bed away in a matter of seconds, giving your home more room without you losing any energy.
Warranty
A good warranty is essential to your choice. First, you need to ensure that you will get your money back or get a replacement if something goes wrong. You can start by taking a look at the manufacturer's reputation and warranty policy. The minimum starting point should be a between two to three-year warranty against manufacturer's defects.
Bottom line
When it comes to long term sleeping arrangements, is an inflatable mattress the best option? This will depend on the option you choose. While it is not ideal, it can still be a viable option for some people that lack space and have a tight budget.
First and foremost, support is the factor that you need to consider. Adjustable products are a good idea since they allow you to choose your own level of firmness. You can make your air bed more comfortable and supportive by selecting the right base, using the proper bedding, or adding a mattress topper.
We hope we were able to answer the how and why when it comes down to 'Can you sleep on an air mattress every night?', and now it's our turn to hear from you if any questions regarding the subject were left unanswered. If you want to share some information, we would gladly hear about it in the comments below.
You can also see what we think are the best air beds and mattresses on the market today!