Best Air Mattress Bed UK
Last Updated on January 4, 2022
Many are quick to dismiss air mattresses as they aren't viewed as the most comfortable option, but in today's market, there are some innovative inflatable beds that provide true comfort and support.
In general, air beds are easily portable and storable. They can even fold down to a compact size that can easily be stashed away until the next guest visits. With that said, you have to think about what are your plans for the bed and how will you use it. Do you want a sturdy, bigger option or a small and compact one? Do you want a thin product or one with a raised height, similar to a regular bed?
With so many options, how can you really choose a quality mattress that fits the bill and checks all the boxes? There are many brands on the market – from high-quality products from reputable companies to cheap knockoffs that we wouldn't recommend to our worst enemy.
That's the sole reason why we created LightSleeper – to help you choose the product that is right for you and you alone and help you make that choice along the way. Companies can never pay to feature their products on LightSleeper, nor we are getting paid to recommend one product over the other – we are an independent resource, and we only recommend products that have passed our tests, and we feel that they are the best in their category.
We tested over 25 different inflatable beds for this guide and the results were very clear from the get-go. As usual, some of the big brands performed above adequately, but we were surprised how well built are some of the more budget-friendly brands. There were some really bad products that we tested, but we'll try to spare you the details.
So without further ado, let's see our testing results and what we think are the best air mattresses in the UK today.
1. Aerobed Inflatable Bed – Editor's Pick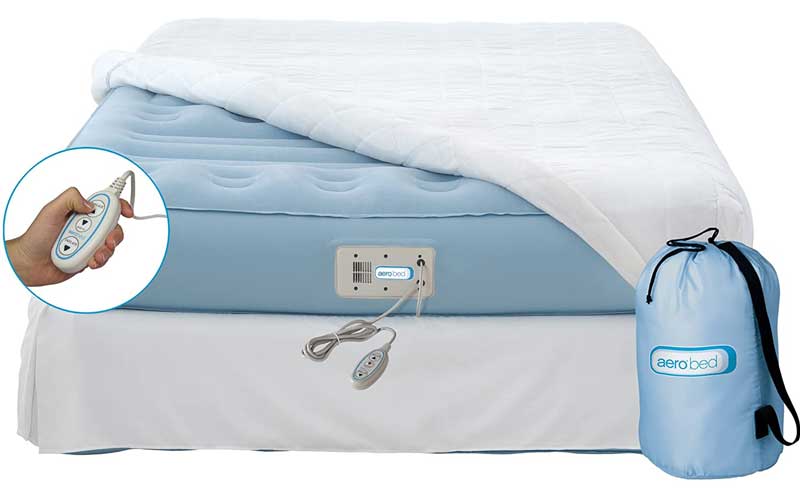 First on our list is Aerobed Platinum Raised Airbed with enough space for two adults and a quality build, easily winning the Editor's pick in this category.
Aerobed has remained at the forefront of this industry for over 20 years, and this product is the perfect example of the quality they put out on the market. This inflatable option features an integrated, powerful, flat-panel pump, which plugs into the main power for quick and straightforward inflation and deflation.
The WandControl wand allows you to inflate, deflate, or adjust the mattress's firmness, and when you aren't using your Aerobed you can store it compactly in its carry bag. Aerobed has designed a 100% cotton, quilted, machine washable mattress and a box pleat valance for the ultimate comfort.
2. Coleman Airbed Maxi Comfort – Premium Choice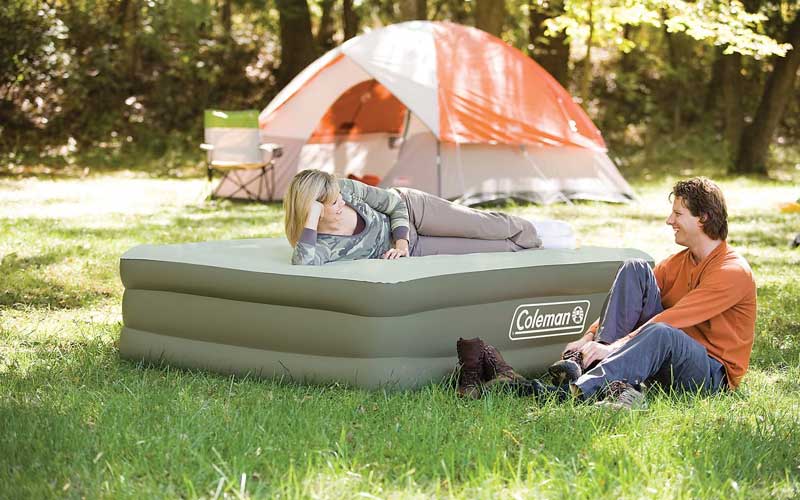 We have the Coleman Maxi Comfort Airbed for our premium option, which comes in a bundle Coleman's 4D QuickPump Electric Battery Operated Pump.
This raised king size bed measures at 198 x 152 cm, with a 46 cm height, which is an excellent seated height, so it is easy to get on and off. The Coleman Maxi Comfort is designed with 35 coils for support, and the flocked surface provides comfort.
It can easily fit two adults and hold up to 270kg. Coleman is known for its airtight system that features the Double Lock valve and its highly durable thick, puncture-resistant PVC, making it suitable even for the great outdoors.
3. Pavillo Quick Inflation Outdoor Air Mattress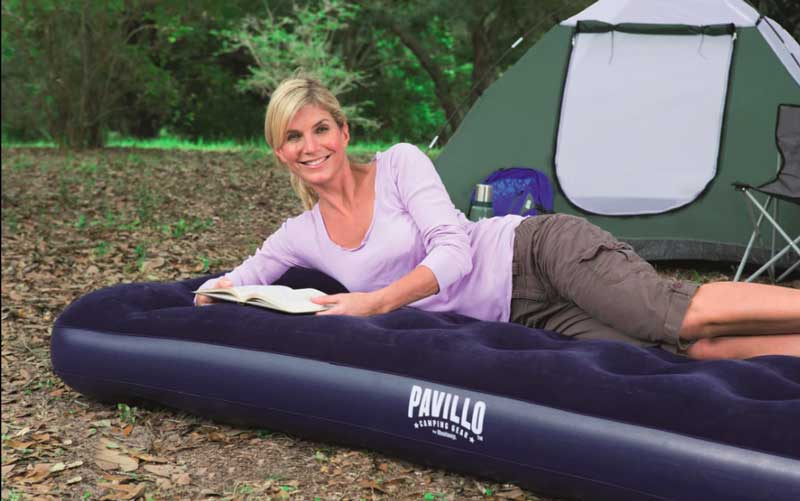 If you're looking for a budget-friendly option that can work as a guest bed when people come to visit, you should take a look at the Pavillo Quick Inflation Air Mattress.
This Pavillo item can be purchased in four sizes: single, double, queen and king. The bed can be quickly inflated and deflated, but it doesn't include a pump, which is why we recommend the Deeplee 150W/130W High Power Electric Air Pump with 3 Sizes Nozzle. It will get the job done quickly and won't cost you a fortune.
Pavillo has a locked surface material and a sturdy coil beam construction for extra comfort and comfort with a quick-release valve for fast deflation and easy packing. Finally, the Pavillo includes a heavy-duty repair patch for a quick fix.
4. Active Era Air Mattress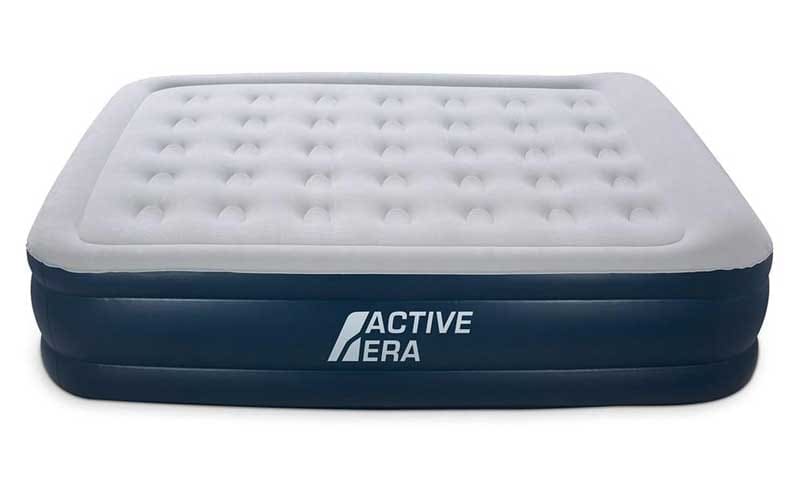 Blowing up a mattress has never been easier than with the Active Era air bed. You don't have to waste your time nor energy because you get a powerful built-in electric pump. It is integrated into the blow-up bed to allow total inflation in less than 3 minutes.
Active Era is designed with ultra-high quality hard-wearing puncture-resistant materials, so you can fight against any damage that might occur. What makes it even better is the fact that it is waterproof without losing the soft flocked top layer, which you rest on.
It comes in a king-size measuring 152x203x50cm. Another great feature of the Active Era is the 35 inner air coils supporting your body. The final touch of perfection is the built-in raised pillow that helps to keep your head's weight while properly aligning your neck.
5. Sable Inflatable Mattress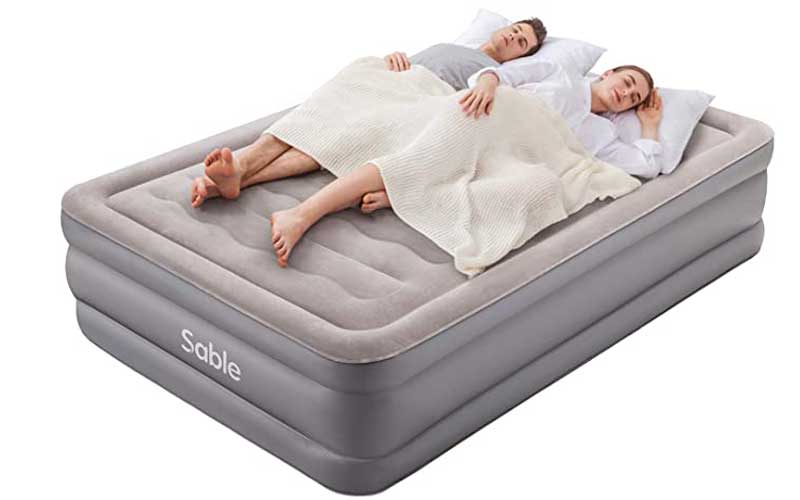 Next on our list is the Sable Double Air Mattress, which provides a new comfort and stability level. It measures at 190 x 137 x 46cm and utilizes an advanced coil beam construction with adjustable inflation that gives you the needed back support.
Sable comes with a built-in 130W high-powered air pump with which you can get your desired mattress firmness for 3 to 5 minutes. Not all bodies are the same, which is why Sable has created a product that supports different sized individuals up to 300kg.
This mattress comes with a three-month warranty, so no matter what life throws at you, you'll be prepared with a handy air mattress that deflates down fast and is easy to fold.
6. Bestway Fortech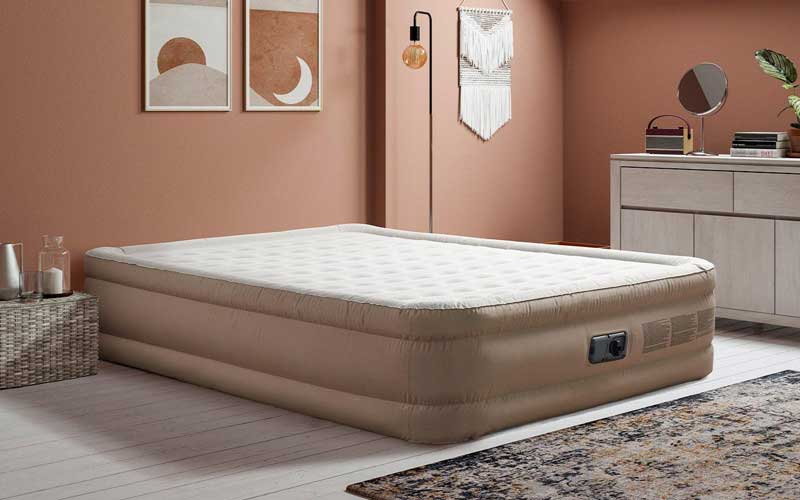 Dreams offer a fantastic option with the Bestway Fortech Air Bed with its built-in 220-240V electric pump, making it quick and easy to set up.
Bestway is perfect for guest rooms, sleepovers and camping because it's strong and durable due to the Fortech technology, and it inflates in 5 minutes. It's constructed from dense polyester fabric and durable PVC, measuring 203x152x46cm.
This Bestway option comes complete with a convenient storage bag, making it easy to store and transport. And to put the cherry on top, you also receive a six-month guarantee.
7. Trespass Raised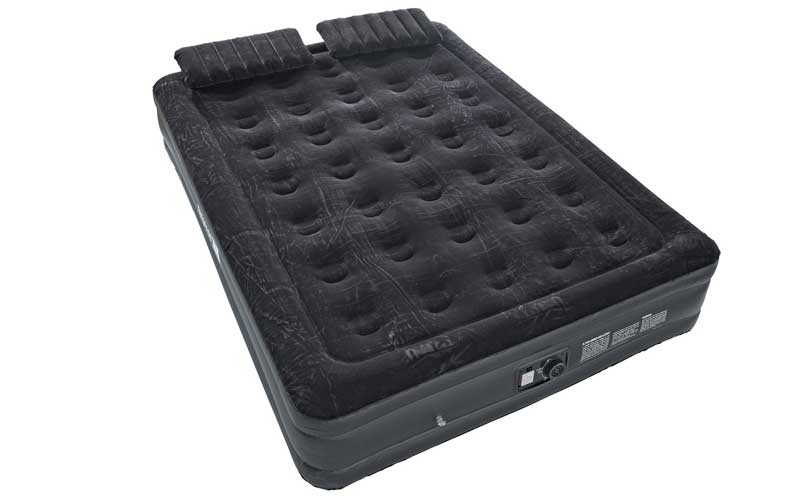 Another excellent mattress is the Trespass Premium Raised Air Bed that comes in a single (183x77x38cm) and a double (190x141x38cm) in the colour black.
The Trespass is a comfortable and practical solution with fast inflation and deflation due to its built-in electric pump for convenience. It is a PVC flocked mattress with an internal coil structure for enhanced support.
Depending on the size you select, it can either hold 120kg or 195kg of weight. This PVC mattress comes with an airtight system and a double lock valve. It can be used outside as well since it's waterproof and comes with a repair kit. Ensure a good night's sleep with the Trespass Premium, and its 1-year manufacturer's warranty.
8. JML EZ Bed Automatic Inflatable Bed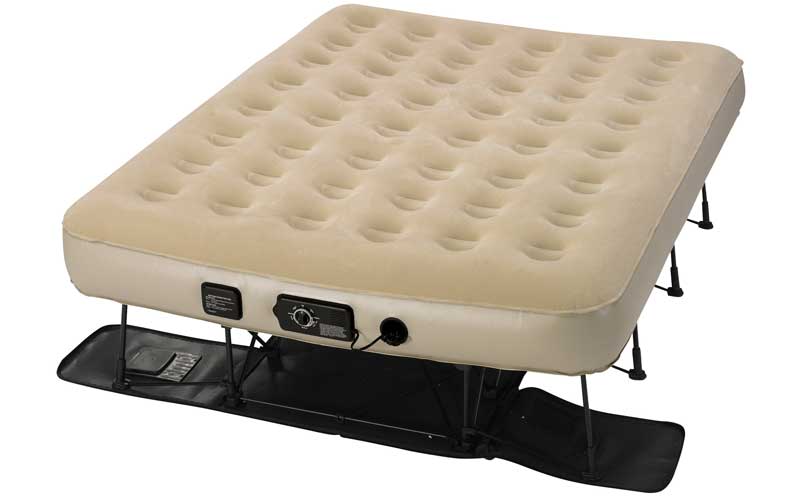 If you want the real deal and the metal frame, you can have it all with the EZ Bed Automatic Inflatable Bed.
JML's beds come in two sizes single (193cm x 99cm x 52cm) and double (198cm x 137cm x 63cm). It comes in a compact storage box with an in-built electric pump (230V AC), which will fold out and inflate the bed for you in less than 2 minutes, and in the morning, you can reverse it and pack it away.
Both JML sizes include the bed with a carry base, a storage box on wheels for easy transport and a repair kit. The bed can hold up to 180kg (for double), but what you have to keep in mind is that it's quite heavy for an inflatable option, so we don't recommend it for the elderly who have to pick it up.
9. Milestone Camping Airbed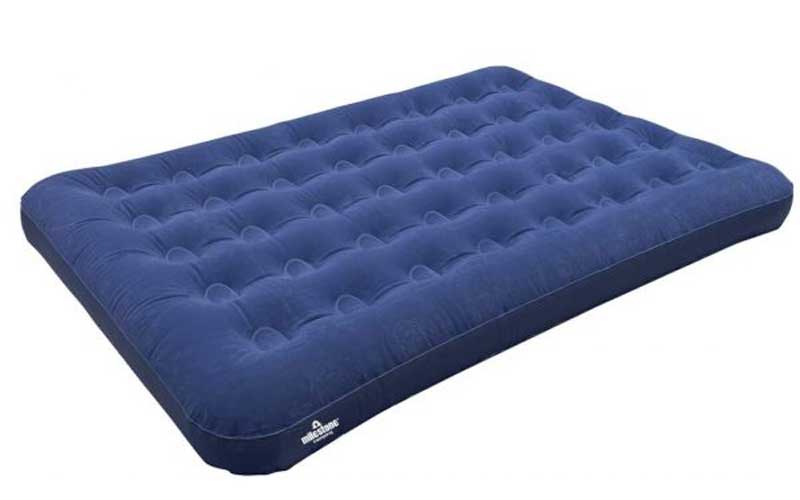 Our next suggestion is an Amazon Best Seller called the Milestone Camping Airbed, available in a single(191 x 73 x 22cm) and double (191 x 137 x 22cm) size.
This Milestone product is another affordable alternative suitable for indoor use, camping trips, festivals and other outdoor activities. It doesn't come with a pump, but we recommend the Cadrim Electric Air Pump AC240V&DC12V/40W with three nozzles since it isn't a costly option.
Milestone has a robust vinyl coil beam construction to ensure that the airbed is highly durable and long-lasting. It comes with a built-in safety valve that will help you to inflate and deflate the bed quickly and get a good night's rest.
10. iDoo Air Mattress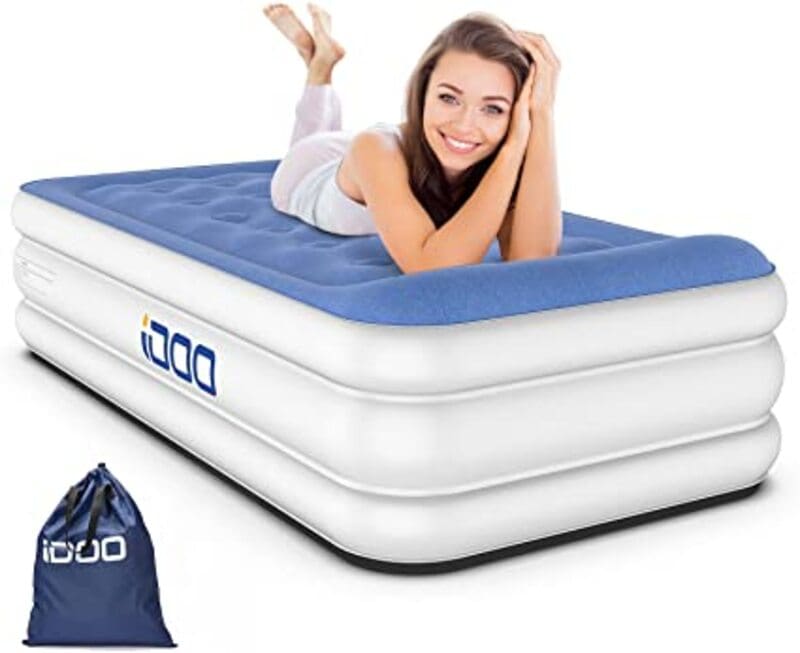 Our last suggestion for today is the iDoo Inflatable Air Mattress made from a flocked material, ensuring a comfortable sleep experience for you or your family and friends.
iDoo comes in a twin (188x99x46cm) and carries up to 250 kg. It has a two-layer structure made from high-quality material that helps the mattress retains its shape. Keep in mind that this is an indoor mattress, and we don't advise you to use it outside because you can damage the bed.
iDoo has a built-in 120 V AC pump that quickly inflates or deflates the air bed to the desired firmness in around 4 to 5 minutes. You get a storage bag in which you can roll the deflated mattress and store or carry it with ease.
How to choose an air mattress and inflatable bed?
You need to consider a few factors to be able to make the right choice when it comes down to picking an air bed. They are the following:
Type
Blow up mattresses offer a wide variety of options, and you need to know what you're looking for. Each model and brand comes with its own advantages and disadvantages, so it's up to you to decide what you're looking for.
The most popular option is raised mattresses since they are easier to get in and out compared to ones that sit low to the ground. Another choice can be the convertible air mattress which can serve you as a piece of furniture. Or you might want a self-inflatable solution with a built-in pump.
Size
Just like any other bed, inflatable ones come in different sizes that usually range from twin to king, with the most common one being queen.
When you're thinking about size, consider the number of people that will be using it and if they will be sleeping on it indoors or outdoors because if you're camping, you will want a more compact solution. Still, if you're using it as an indoor bed, you will want it to be comfortable and supportive.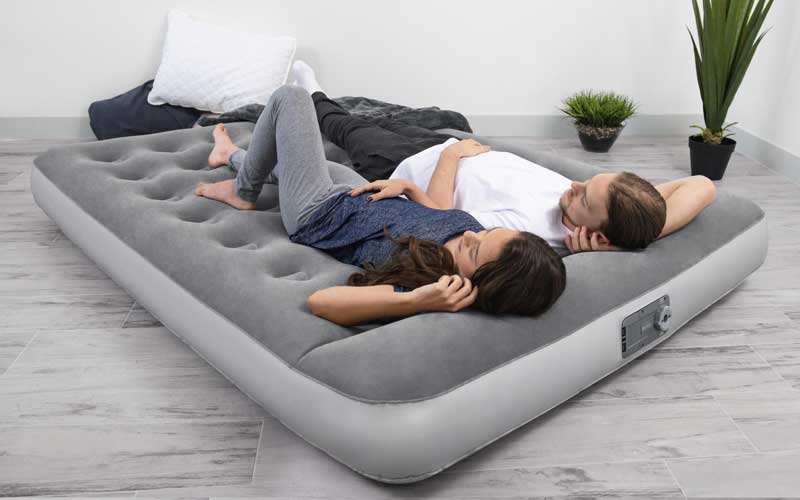 Pump & ease of use
Inflating can be a difficult chore, or it can be done in a matter of minutes. Pumps are incredibly convenient to use, especially electric ones since they do the whole job without you having to even break a sweat.
The most significant advantage of an automatic pump is the ability to add air back into your mattress while you sleep at night. It may cost you extra, but it is a worth it investment in the long run.
Comfort level
Said simply, the comfort level of a bed is going to be directly related to its thickness. The thicker the mattress, the more comfortable it typically is. With a thin option, you can start the night somewhat comfortable and wake up on the floor due to deflation.
Another aspect of comfort is the material the bed is constructed from. If it's combined with a layer of cotton, foam or other fabrics, it will usually provide a more comfortable night's sleep.
Air Holding Properties
When it comes down to air beds, this is the most critical point. However, that is of particular concern when sleeping in a cold environment, usually meaning outside. Read some customer reviews and makes sure you have a repair kit on you if you're using it the great outdoors.
Warranty
Most air mattresses don't come with a warranty, but having one is always a plus since it speaks of the product's quality. Or if the model you like doesn't have one, at least choose a brand with reliable customer service in case something goes wrong.
Overall, it would be best to think about what you want to get and how long you would like it to last.
Can you sleep on an air mattress every night?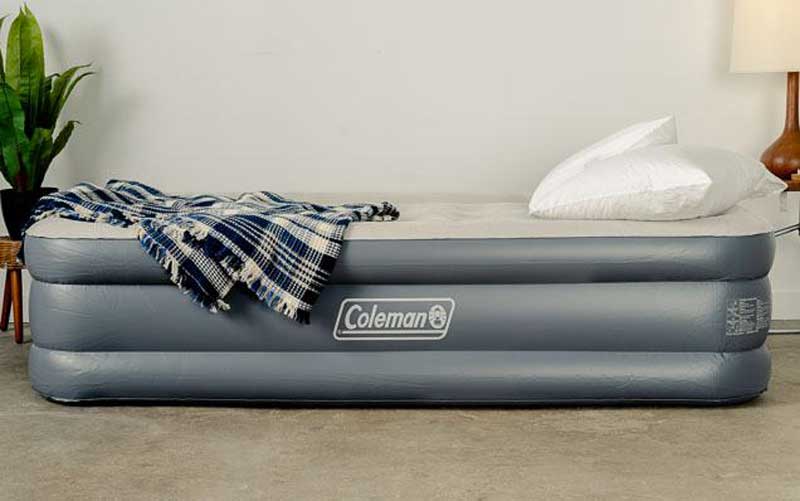 The shortest answer is yes. In today's market, there are many designs that are comfortable and supportive enough to use every day.
Every air bed comes with a number of great features and handy conveniences. All you have to do is decide which features you want. Do you want to have an electric pump? Do you prefer a raised mattress? What firmness level are you looking for? Or maybe you want an actual bed look alike?
It's all up to you and your personal preference.
Final Words
Air mattresses can be an excellent everyday option if you're searching for an option that can be easily stashed away and is also a cost-effective way to customize firmness and flexibility. With that said, you need to consider your motivation for buying an air bed.
All of the bed products we listed above have great customer reviews and are well received. We hope you could find what you were looking for in our guide regarding the best air bed and air mattress the market has to offer. To simplify your shopping experience, we've selected the top 10 options for this year.
Brands in the bed industry frequently change, and so do the products they offer, which is why we will continue to provide you with the most up to par information. We hope that this article was helpful, and you could find what you are looking for.
Now it's our turn to hear from you if any questions regarding the subject were left unanswered. If you want to share some information, we would gladly hear about it in the comments below.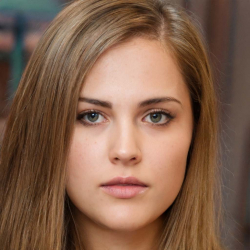 Latest posts by Isabelle Harris
(see all)