When you're looking into purchasing furniture for your home, you have to consider your family's needs and think about others who might come and visit. If you're someone that often has family members or friends staying over, you'll have to find a comfortable way to accommodate them.
One of the most practical and affordable solution when expecting visitors are guest beds. Finding a place for your loved ones to sleep if you don't have a spare bedroom can be challenging and overwhelming.
But how can you choose a quality option that fits the bill and checks all the boxes? There are many options on the market – from good quality products from reputable companies to cheap Chinese foam items that we wouldn't recommend to our worst enemy.
That's why we created LightSleeper – to help you choose the product that is right for you and you alone and help you make that choice along the way. Companies can never pay to feature their products on LightSleeper, nor we are getting paid to recommend one product over the other – we are an independent resource, and we only recommend products that have passed our tests, and we feel that they are the best in their category.
So let's see what we think are the best guest beds in the UK today and why:
1. Jay-Be Jubilee e-Fibre – Editor's Pick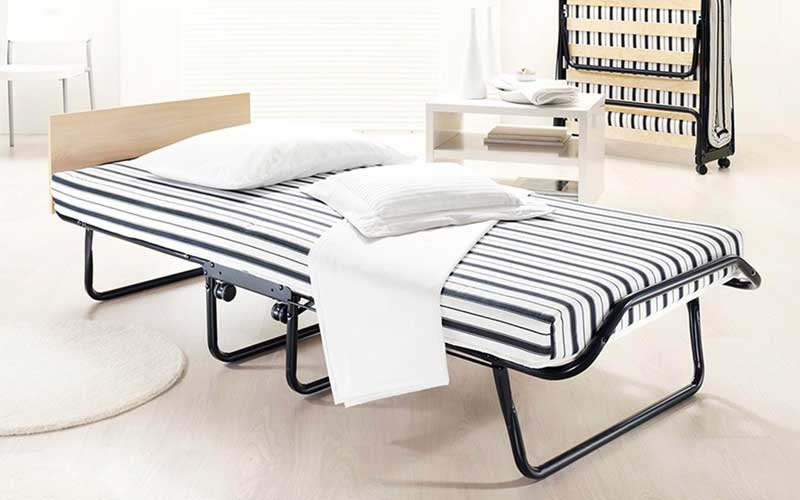 First on our list is the Jay-Be Jubilee e-Fibre™, a guest bed that meets more than the eye with its construction made from recycled plastic materials, easily winning the Editor's pick in this category.
Folding beds are an option that's worth considering, and the Jubilee is no exception. It comes with a mattress that's 10 cm thick, designed with a soft woven fabric cover and a breathable rebound e-Fibre comfort layer.
This Jay-Be traditional sprung slatted bed with a sturdy and robust steel frame with a lifetime guarantee is unbelievable for a rollaway option. The wood used for the FSC is certified and harvested from sustainable and ethical sources. You get 360° castors for easy movement, automatic folding legs and the frame itself is crafted from Epoxy powder-coated steel.
The Jay-Be Jubilee e-Fibre™ bed can hold up to 120kg user weight and comes in one size W82 x L192 x H39cm, which when folded becomes W82 x D34 x H100cm.
Overall, we find the Jay-Be guest bed affordable, well-constructed and environmentally friendly due to the use of sustainably sourced, recyclable materials that reduce landfill waste.
2. Yoko Click Clack Sofa Bed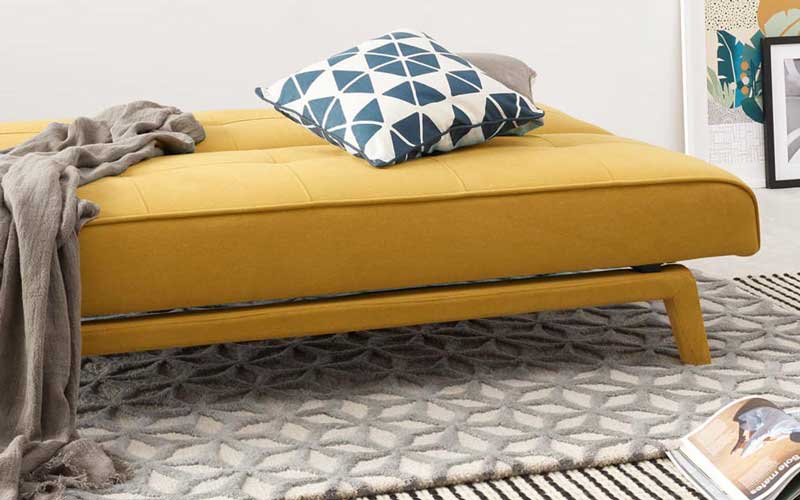 Next on our list is the Yoko Click Clack sofa bed, an aesthetically pleasing choice for any home. This item can be handy in any space, specifically smaller spaces, such as a student's room.
You get space during the daytime while using it as a bed at night or opening it up when someone comes to visit. We like this product because it has a unique modern design feel, suitable for most living areas. It's easy to use since the cushions are attached to the sofa itself, saving you the hassle of having to reassemble it.
zIts frame is solid and engineered wood, while the used fabric is 100% polyester. Yoko has the following dimensions as a sofa: width of 180cm, depth of 90cm and height of 78cm. However, it doesn't come with a warranty.
There are many colour options such as grey, red, gold, silver, cream, black and brown. The cushions are made out of a sprung foam, which assures a comfortable seat or sleep situation. This product has been a press favourite for some time and has been featured in The Telegraph.
3. Milliard Diplomat Folding Bed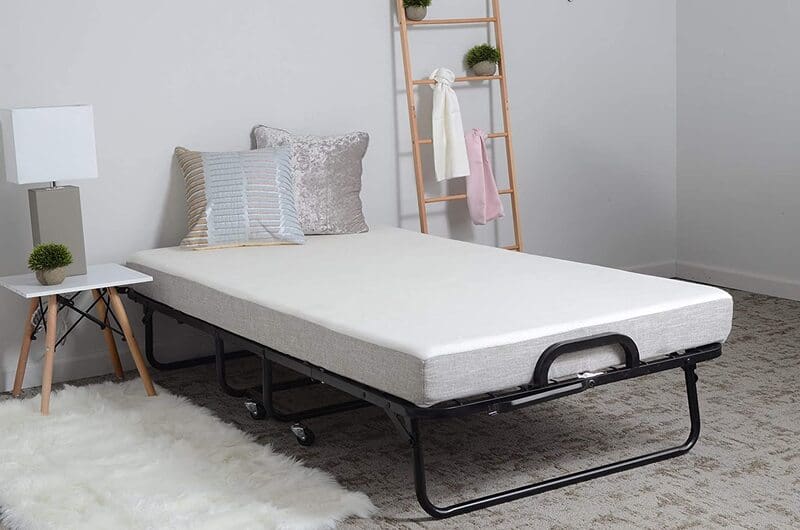 We find this Milliard Diplomat folding guest bed to be ideal for hosting guests. In general, this type of product is popular because you can hide one away most of the time so that the used space isn't forever cluttered.
Milliard's option is a durable and sturdy product with a high-quality steel tubing, a full metal rollaway bed frame with 4 extra-durable legs with a locking brace for your safety, and a unique wire lattice base, to ensure no sagging at all. Its assembly is simple and quick, and all the tools you need are already included.
Too many folding beds have thin, flimsy mattresses that offer no comfort at all. But with the Diplomat, you'll get a mattress that's just like the ones on real beds! It's constructed from two foam layers providing you with gives that luxuriously soft and soothing comfort your body will love.
The Milliard Diplomat comes in one size L 190cm x W 79cm x H 43cm, which when folded is as compact as they can get with just 36cm thickness. This rollaway bed doesn't come with a warranty but it has over 500 positive reviews.
4. Schubert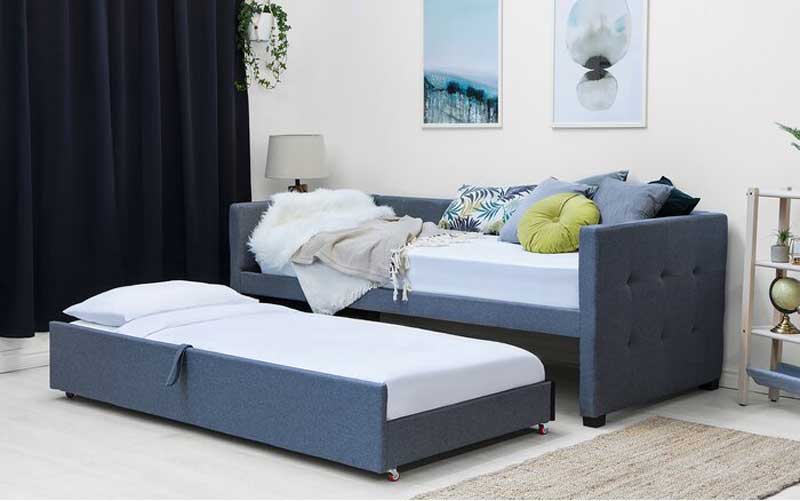 Brayden Studio offers sought-after contemporary design at affordable prices, and that's how they came up with the Schubert day bed. Day beds are usually more comfortable to sleep on than other guest bed options.
The Schubert is the perfect mixture of stylish and practical, offering two spaces to sleep on. The bed frame itself is made from manufactured wood and upholstered in smooth charcoal grey fabric, with tufted detail on the back and sidearms.
It also features black finish solid wooden legs, and the pull-out guest bed is on castors for ease. However, keep in mind that a mattress isn't included, and there is a full assembly needed. When you do purchase a mattress, know that it will sit on sprung slats that will give the bed a bit of a bouncy feeling.
The Schubert comes with a year guarantee in an elegant grey colour with these dimensions: H78cm x L215cm x W102cm.
5. Active Era Premium Self Inflating Air Bed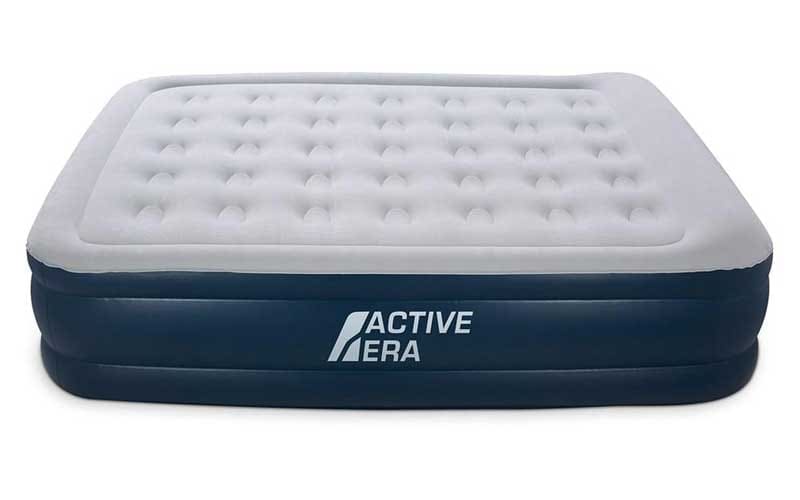 Blowing up a mattress has never been easier than with the Active Era air bed. You don't have to waste your time or energy any longer. With this model, you get a powerful built-in electric pump integrated into the blow-up bed to allow full inflation in only three minutes. If for some reason, you wish to inflate or deflate it without the included pump, there is a manual air valve.
This premium guest bed is created with an ultra-high quality hard-wearing puncture resistant-material. The reason for that was, so you can fight against any punctures or damage that might occur. What makes it even better is the fact that it is waterproof without losing the soft flocked top layer, which you rest on.
We can safely say that this bed will get plenty of use, making it a brilliant and affordable choice. It comes in a king-size with set measures: 152x203x50cm. Another great feature is the 35 inner air coils that you get the support your body needs for a good night's sleep. It doesn't matter what position you sleep in because, with this item, you'll be able to get a great night's rest.
The final touch is the built-in raised pillow that helps to support your head's weight while adequately aligning your neck.
How to choose а guest bed?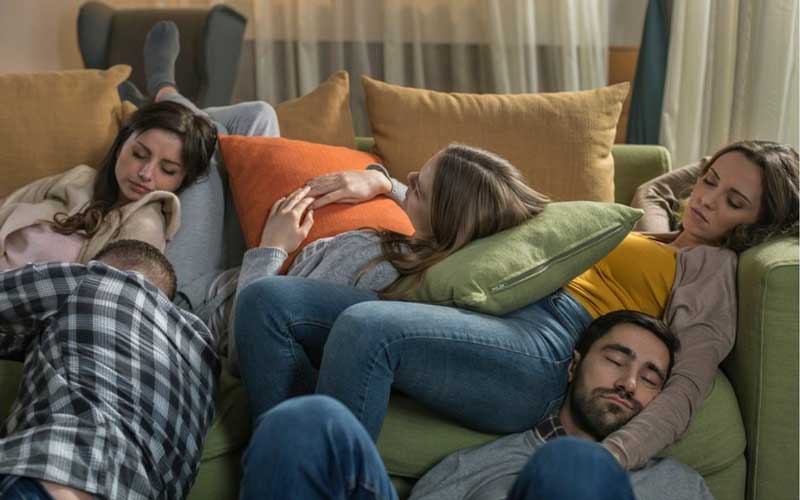 The average person spends up to a third of their life in bed, which is why when you have guests over, you should try and provide them with the most comfortable atmosphere possible. Here is a list of factors you have to consider before making your decision:
Size
When it comes down to size, the first thing you have to think about is the available space you have and if the bed is going to be in a guest bedroom, or will it have to be a compact option you can use whenever some is visiting. Keep in mind that the size will be dependent upon the weight and build of the people using it.
Quality
If you're on a budget, buying a bed can seem expensive, but after all, it is a significant investment, which, if chosen appropriately, can have a lifespan of up to 10 years. Therefore, you should do some research to make sure that reputable manufacturers have made the bed. Deciding on a high-quality option means more general support, comfort and longevity, which is the end goal.
Comfort
Many associate comforts with the mattress they are sleeping on, but not the bed itself. That can be a valid point since the mattress is the starting point of your journey when we talk about bedding products. If you're just starting yours, make sure to check our guide about the best mattresses on the market in the UK.
However, after the mattress comes to the realisation that a comfortable bed will be the difference between waking up feeling tired and frustrated or jumping out of bed with new energy bounds. There isn't a one-way comfort plan since one person's perception of comfort can be entirely different from someone else's. Continue reading and find the answer that will suit your specific needs.
Support
We all want something aesthetically pleasing, but this shouldn't be your priority when it comes down to beds. A product can look amazing, but if it's too soft or too hard, your guests will suffer from many sleepless nights, which is why you have to make sure you're getting the right level of support.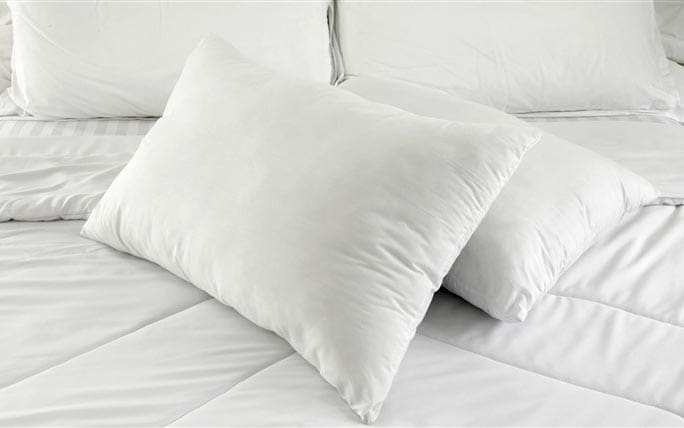 Mattress & Pillows
A bed can't stand on its own. It will need a mattress, a pillow and some bedding sets if you want a decent night's sleep. Investing in a high-quality mattress and pillow is always worth it. The general rule of thumb is to choose a mattress that can adapt to the body's contours while providing the right amount of support for your body.
If you're a fan of optimum comfort, you should consider picking a high-quality pillow as well. If you don't know where to start, check out one of our pillows guides and see if you can spot something that you like.
Style
We all know that functionality is what matters, but aesthetics do too. Whether you a fan of contemporary options or classic design, there are enough options that can suit different personal tastes and furniture themes.
Extras
Let's talk business, alright. If you're in a room, which can't fit all your belongings and you lack space, opting for a built-in under storage can be the perfect way to free up some valuable space. Another extra you should consider is a guest bed that folds out if people visit you often.
How can I make my guest bed more comfortable?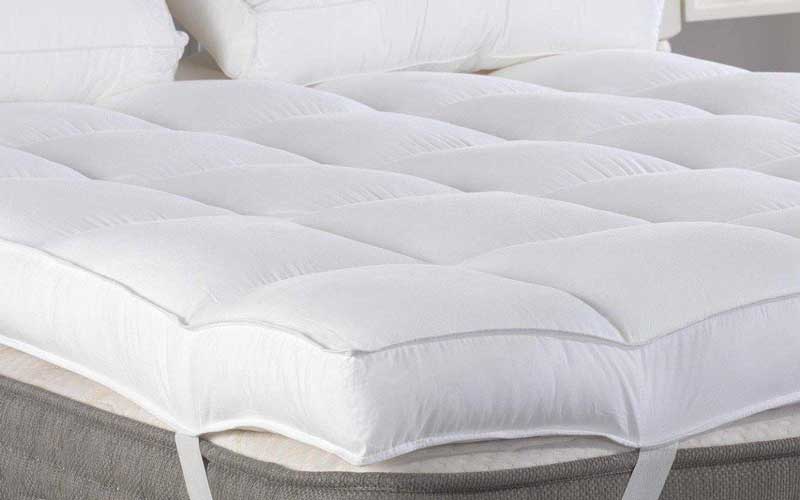 Even with a bed for guests, there are ways you can elevate your sleeping experience. Sometimes a foldable mattress can be thin and not always very supportive nor comfortable. You can fix this problem by getting a mattress topper since they come in various sizes and materials that can match your needs. You can see our favourite ones here.
If you're a hot sleeper, we recommend a pocketed mattress topper, and if you run cold, memory foam options are your best bet. Another way to improve someone's sleeping experience is by purchasing quality bed sheets, fluffy pillows and soft duvets.
Overall, there are numerous options you can choose from for your guests, but for you to be able to make an informed decision, you need to be able to tell them apart. For, example there is a difference between a sofa bed and a futon.
Final Words
No matter if you're searching for a permanent guest bed for your spare bedroom or you want to have an option that can convert into a bed in your living space, there are many incredible options. You have to consider the comfort levels and compare price points depending on the inclusion of mattresses or extra features.
All of the bed products we listed above have great customer reviews and are well received. We hope you were able to find what you were looking for in our guide when it comes to the best guest bed the market has to offer. To simplify your shopping experience, we've selected what we think are the top five guest beds on the market today.
Brands in the bed industry frequently change, and so do the products they offer, which is why we will continue to provide you with the most up to par information. We hope that this article was helpful, and you could find what you are looking for.
Now it's our turn to hear from you if any questions regarding the subject were left unanswered. If you want to share some information, we would gladly hear about it in the comments below.