Using a folding bed to save space for a small bedroom or as a spare bed on a camping trip is possible. The burning question is, what types of folding beds are there, and are they comfortable to sleep on? And how do they compare to the 'regular beds'?
In today's guide, we'll answer all your questions about the different types of beds, their comfortability, and their pros and cons. 
What are the most common types of folding beds?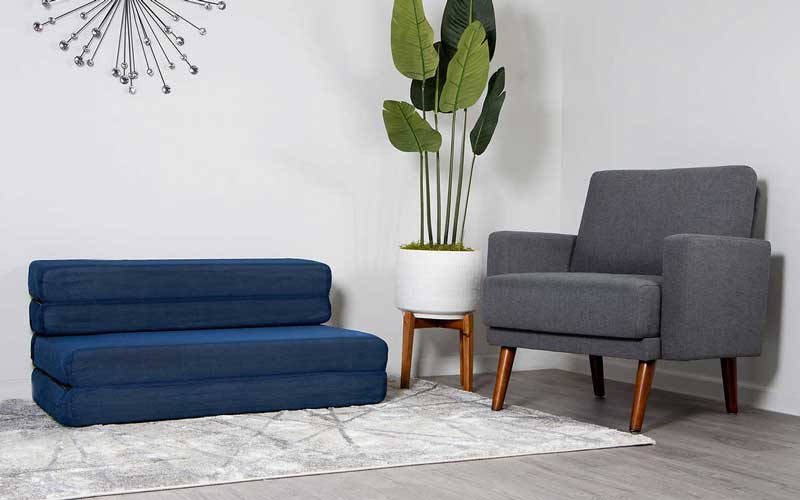 There are many different types of folding beds that you can buy on today's market. They can come in a variety and usually are not limited to one style. The most common options are the following:
Stowaway – this folding bed is the most common type many use as a guest bed. Depending on the manufacturer, it might or may not come with a mattress. However, it is a budget-friendly choice that's comfortable for a good night's rest.
Army style – this bed has a basic sturdy frame with a thin mattress. They are easy to carry around and convenient to store as well. These beds are suitable for guests and even camping.
As the name implies, sofa beds can also be used as a bed. They act both as furniture and as a bed in your house. Therefore, you can use it to watch TV, relax with your friends and family, or use it as a bed when needed.
Studio chair sleeper – the resemblance of this one to a sofa bed is quite similar as it looks like a chair but can be used as a bed. During the day, it can be a comfy chair that can transform into a bed when you need to sleep.
Chest-cum-bed – this is the type of bed that is ideal for a person who is looking for an additional place to store things. The space in these beds is double the size of a normal folding bed. You can use it as storage and as a place to rest.
Apart from these suggestions, you can also have an inflatable air mattress. They are more than foldable beds but can be used as a substitute. 
Are foldable beds comfortable?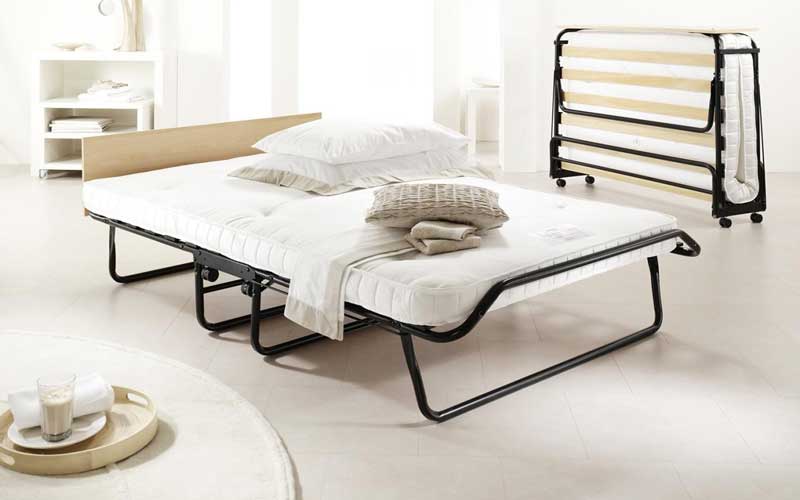 Usually, people have the misconception that a bed on wheels doesn't sound like a comfortable option, but the truth is that a rollaway bed can offer a satisfying night's sleep.
Over the last few years, many brands have improved foldable options, and they are no longer the last-minute desperate bed for hosting your guests. Nowadays, you can find a comfortable foldable model if you read some reviews and do some research.
Our advice is that if you're searching for an affordable, compact, portable, and comfortable solution to your problems, you shouldn't shy away from rollaway beds.
What are the advantages of folding beds?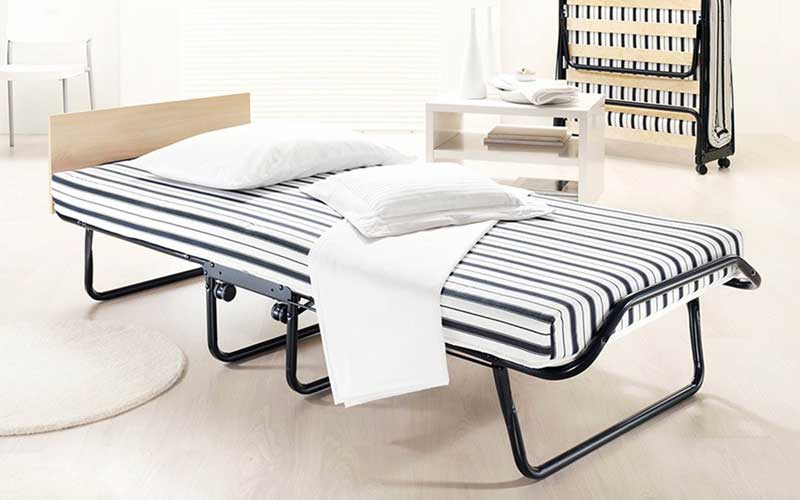 Whether you're searching for a permanent guest bed for your spare bedroom or want an option that can convert into a bed in your living space, there are many incredible options. You have to consider the comfort levels and compare price points depending on whether you include mattresses or extra features.
A folding bed offers multiple advantages in comparison to a regular bed. They are the following:
Affordable – generally, folding beds are a lot cheaper than normal beds. Therefore, they are a quick and inexpensive solution that allows you to accommodate visitors/guests in your house.
Save space – foldable options are easily stored and use less space. This way, you can use the space required for another bed for something else, which can be useful if you live in a small flat.
Durable – a sturdy frame is one of the reasons that folding beds are as durable. That means they can last for a long time, which makes them an affordable and worthwhile investment.
Portable – not only do foldable items save, but they can be easily transported from one place to another. Thus, it makes them a wonderful companion to take on trips, camping, or just taking them out of your wardrobe (or elsewhere) for a guest.
Easy to use – True to their name, folding beds are easy to set up and unfold in minutes.
Premium quality folding beds can provide added benefits due to a stronger frame or a specific design. Some folding beds have mattresses that can be used for a more comfortable sleeping experience.
What about the disadvantages?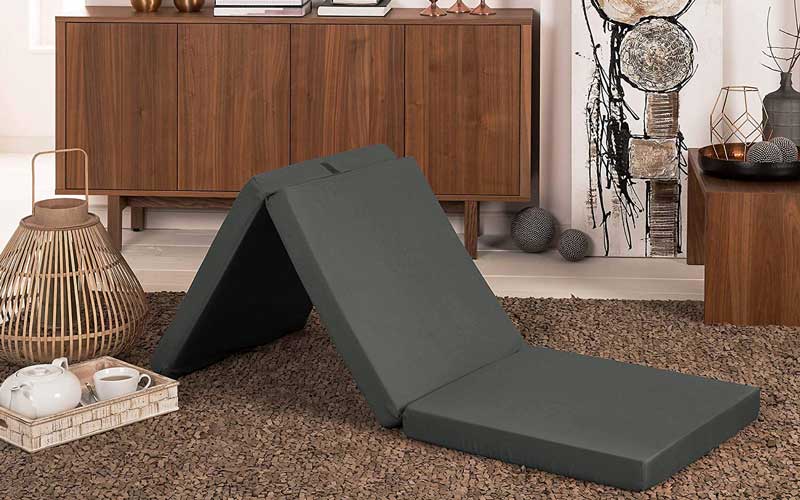 There are many benefits to folding beds, but they also come with a few drawbacks. Here are some of the problems that you might face when using one:
Comfort – truth be told, the comfort of a folding bed may vary across different models or even prices. In addition, the comfort level can be affected by the presence of a mattress and its quality.
Sturdiness – the sturdiness of a folding bed can often be determined by the price and model of the bed you've chosen. Therefore, one model may be weaker, while others might be sturdier.
Size – just like other sleeping products, a folding bed comes in different sizes. That's why, when purchasing one, you must be mindful of your choice. There are folding beds for both children and adults. Also, keep in mind that most items have different weight limitations. 
Daily usage – We don't recommend you use a foldable bed regularly. The sturdy frame and the thin mattress most likely aren't healthy for your spine and body. With that said, you can still use it occasionally.
Aesthetics – a folding bed is less aesthetically pleasing than a normal bed. Ideally, we don't advise you to replace all your normal beds with folding ones as they aren't the best for daily usage and don't suit most sleeping environments.
Bottom line
Generally, a house is usually bought by a family to house its members. However, there could be instances when friends or family members come for a stay-over. In such circumstances, there might not be enough room to accommodate them. Therefore, purchasing a spare mattress or folding bed is a viable choice which won't hurt your wallet. A folding bed is a better recommendation as it has various benefits. You can also see what we think are the best guest beds in the UK.
We hope we were able to answer the how and why when it comes down to 'Are foldable beds comfortable to sleep on?', and now it's our turn to hear from you if any questions were left unanswered. We would gladly hear about it in the comments below if you want to share some information.