Thanks to their practical, space-saving design, bunk beds have been an extremely popular children's bed option for decades.
But in recent years, bunk beds have evolved. Today they offer more than just the benefit of two beds in a one-bed space. Nowadays, there are various types with a wide range of frames that include a large collection of innovative, contemporary designed bunk, cabin and loft beds.
The designs have been adapted into an all-in-one bedroom furniture solution to suit the modern child and teenager, whether they're studying, gaming, or just hanging out with friends. If you're not familiar with the difference between all types, you are at the right place.
In today's guide, we'll discuss all standard types of bunks and who are they best suited for. So let's get started!
Common types of bunk beds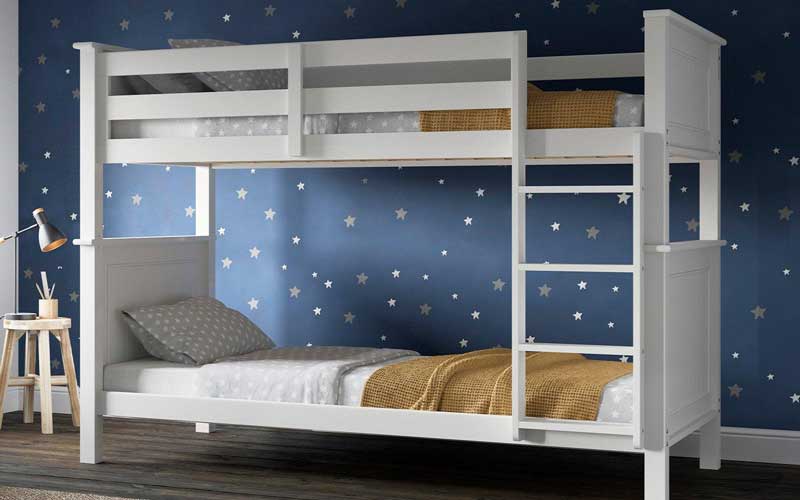 Bunk beds offer a wide range of styles, so if you're searching for a new one, here are the most common options you can find on today's market:
Standard
The standard one is as simple as it can get. This is a type that's constructed with two stacked bunks of the same size. In this case, most models can fit a standard single mattress, but keep in mind that some are compatible with twin size models. Often the beds are detachable, which can come in handy when your children grow up.
Standard Loft
A standard loft bunk bed typically means a bed stacked over an open space. Set open space is often used for a workstation or a kid's playground. Some loft options are even tall enough for a sofa or chair to fit underneath it. As a result, they are quite a popular choice for dorms and teenage bedrooms.
Trundle
A trundle bunk bed can sleep three individuals, where two of the beds are evenly stacked, and the third one can be accessed using a pull-out drawer attached to the bottom of the bunk. If your living space is small, but you have guests that visit often, this is an excellent choice.
Triple
Triple bunk beds have three separate matching-sized beds stacked on top of each other. Sometimes you can find two adjoining bunks in a straight line or an L-shape and a third one stacked over them. In most situations, they can also be detached to create three individual beds.
Triple Loft
A triple loft bed features two top bunks that connect at a 90-degree angle with open space and a third bed. They can be very convenient for a group of roommates that share a small space, and usually, you'll find them in one corner of a room to maximize floor space.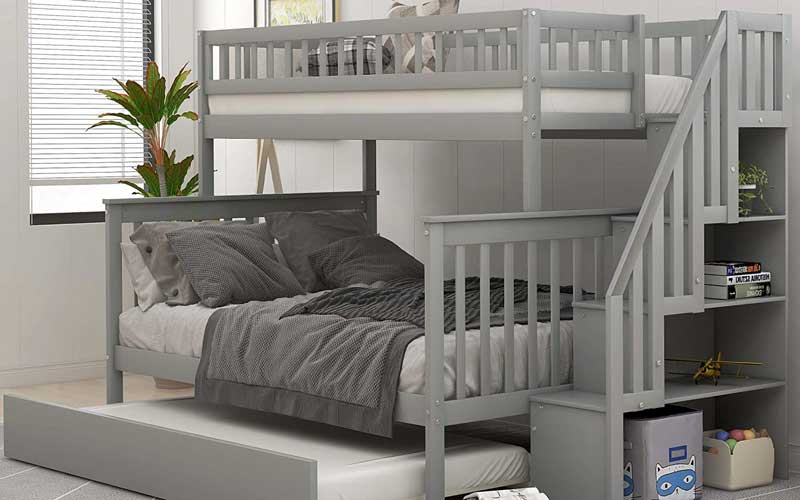 Twin-Over-Full
If you need to accommodate three people, but your room isn't tall enough for a triple option, you can try the twin-over-full bunk bed. It's constructed with a twin-sized top bunk and a full-size bottom bunk, making it incredibly suitable for a family with three kids.
L-Shaped Bunk
L-shaped bunk beds typically feature two individual bunks that are evenly stacked in a perpendicular fashion with a ladder to the lower bunk. Often this type has drawers or compartments for added storage in which you can fit your belongings.
Futon
Futon bunk beds are similar to the standard option, with the difference that they look like a sofa that can be folded down to create a bed surface. They are also popular in college dorms as they are multi-purposeful and can be used by a group of people as a hang out spot.
Mid Sleeper Loft
This type of bed has a top bunk of a mid sleeper which is lower than that of a typical bunk bed or loft bed. The space underneath can be used for storage and even include built-in cupboards or shelving for extra space.
Study
The study design bunk bed uses the standard loft platform to place a desk or workstation below the upper level instead of a lower bed. Some will have a simple shelf, but others will have a fully equipped desk and shelving.
Kids Loft Panel / Novelty
A play tower bed is a great alternative to a regular loft bed as it can double up as a bedroom play structure and incorporate many imaginative themes and fantastic places. Some feature a slide from the top bunk for more adventurous children, while others can be utilized as a playhouse with a canopy and windows. Overall, novelty bunk beds represent the whimsical part of sleeping.
Bottom line
We hope you've found this article helpful in identifying exactly what you may want for your bedroom/ living space. Hopefully, we were able to answer the how and why when it comes down to the types of bunk beds available, and now it's our turn to hear from you if any questions regarding the subject were left unanswered. You can also check what are the best bunk beds to buy according to us. If you want to share some information, we would gladly hear about it in the comments below.