Finding and creating space for your guests when they visit can quickly become complicated and difficult, especially when visiting on short notice. We don't always have the option for a spare guest bedroom or a full-blown sofa, and that's where chair beds come in handy.
But how can you choose a product that fits the bill and checks all the boxes? There are many brands and models on the market – from high-quality products from reputable companies to cheap knock-off items that we wouldn't recommend to our worst enemy.
That's why we created LightSleeper – to help you choose the product that is right for you and you alone and help you make that choice along the way. Companies can never pay to feature their products on LightSleeper, nor we are getting paid to recommend one product over the other – we are an independent resource, and we only recommend products that have passed our tests, and we feel that they are the best in their category.
So without further ado, let's see what we think are the best chair beds in the UK today and why:
1. HOMCOM 2-In-1 – Editor's Pick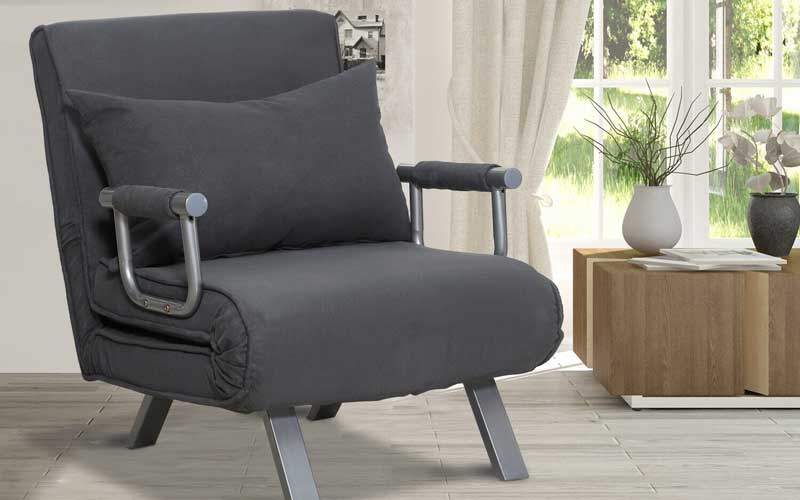 First on our list is the HOMCOM 2-In-1, a single guest bed that meets more than the eye with its sleek design and quality craftsmanship, easily winning the Editor's pick in this category.
The 2-In-1 design lets you quickly transform a single chair into a bed. The HOMCOM is the ideal space saver, perfect or when visitors stay overnight. Its structure is solid and robust due to the steel frame that features a five-level back adjustment position.
HOMCOM is filled with thick foam padding and wrapped in suedette upholstery, which comes in a grey colour and is soft to the touch. It also comes with armrests, slanted legs for stability and a large pillow for extra comfort and support to give it the final touch.
This single sofa bed comes with a weight capacity of 100kg and set dimensions: 80H x 65W x 69Dcm.
Key features:
2-In-1 design
Adjustable back – 5 positions
Steel frame
Suedette upholstery
Assembly required
2. Dreams Cork A-Frame – Luxury Choice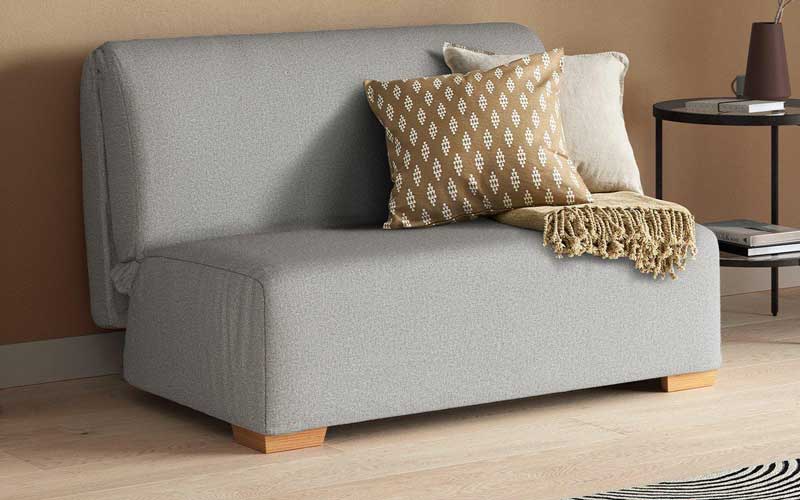 The Cork is the ultimate space-saving solution, offеred by Dreams in three different sizes, including а single chair bed model. This premium product is a bit more expensive than some similar designs, but its quality is outstanding, and solid customer reviews can vouch for that.
Cork features an innovative a-frame mechanism with which you can quickly and easily convert it into a bed by merely lifting the base and pulling it towards you. It comes with a slatted sprung base and super soft fabric that everyone will appreciate for a peaceful night's sleep.
It mattress part is designed with responsive foam covered by a woven fabric. The Cork is available in four colours cream, grey, plum or silver, and has these dimensions: H82cm x W84cm x D93cm. Dreams provide you with a one year guarantee and a free delivery service. They can also get rid of your old bed or mattress and assemble your new purchase.
Key features:
Responsive foam
Woven fabric
A-Frame mechanism
Free Delivery
Warranty: 1-year
3. Natalia Spzoo – Budget Alternative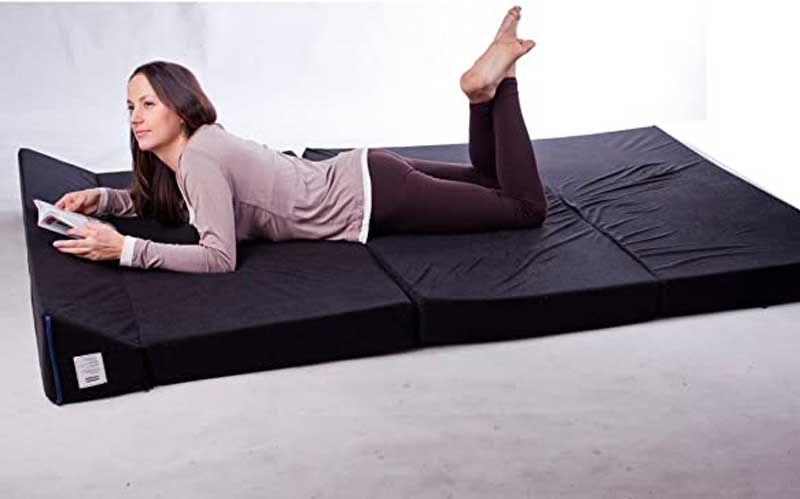 The Natalia Spzoo Fold Out is the most inexpensive option in our guide today and a great choice to consider. This fantastic product not only is an excellent floor mattress, but it also doubles up as a chair.
We can safely say that Natalia Spzoo offers the best of both worlds, creating a comfortable and portable choice for a guest bed. You can fold it out in a matter of seconds into a bed or an armchair, and you get to choose from eight beautiful designs.
When you unfold the Natalia Spzoo, it sits 200 cm long x 70 cm wide x 10 cm high. It is made from foam with a density of up to 22kg and a 100% polyester cover with a zipper that makes it removable. This is great because you can wash it after every use or visit, so no bacteria stick to it.
We strongly recommend the Natalia Spzoo for anyone looking for a comfortable option that can come in handy when people visit at an affordable price.
Key Features:
Foam core
100% polyester cover
Doubles as a chair bed
8 colour options
Size: 200x70x10cm
4. Haru Single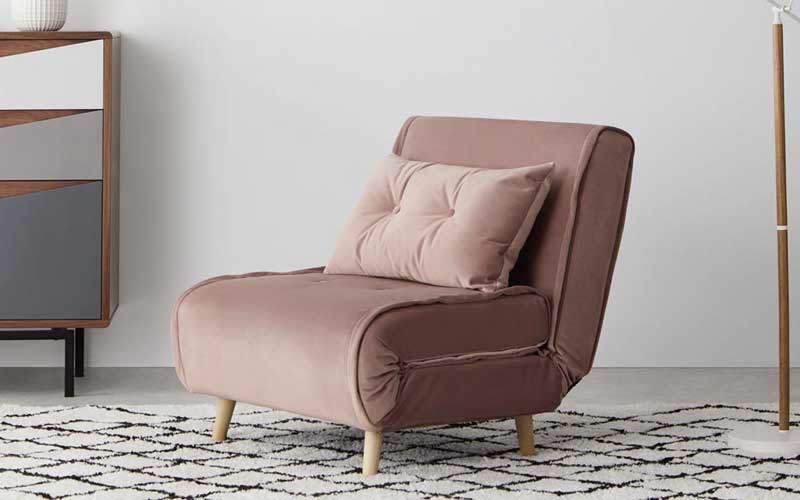 Compact in size, the Haru Single armchair is ideal for homes where you want to be prepared for guests but don't quite have space to spare. This Haru item is available on the well-known furniture supplier MADE, which creates high-quality pieces without the expensive price tag.
If you're not a fan of a mattress on its own and you want a compact item that folds out as a bed, this option will provide you with everything you need. It's modern-looking, and it can be a great accessory to any home and room.
You get to pick from two sizes: a single bed or a 2-seat one that will offer a bit more room. Both options are inexpensive and come in various colours: Cygnet Grey; Quartz Blue; Sherbet Blue; Butter Yellow; Faux Sheepskin and Marshmallow Grey. Each of these colour variations comes with a different colour chair leg.
The mattress is made from foam, the frame from pine and the fabric are woven. When it's open, it is 182cm long, but when it's used as a chair, it only needs 77cm. Save space while having an actual bed for your guests to rest on with the Haru!
Key features:
Affordable chair bed
Tightly woven fabric
Pine frame
Two size options
Six colour options
5. CASART Convertible Recliner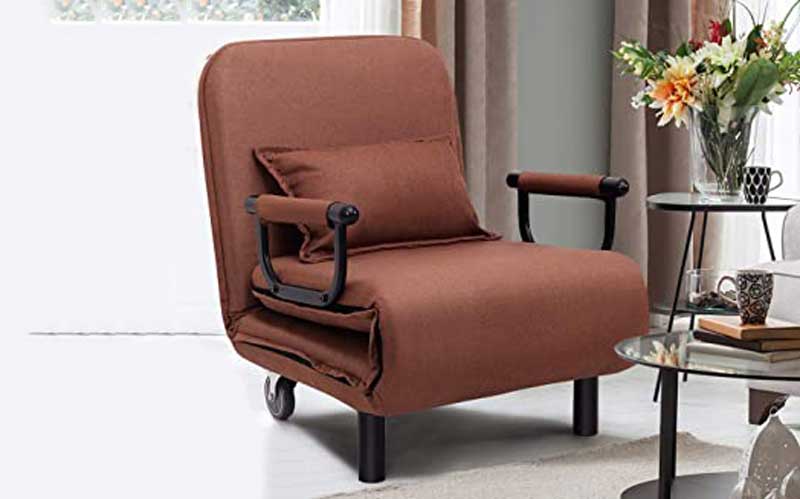 If you're a fan of both form and function and want an armchair that can deliver that, the CASART Convertible is an excellent option to consider.
CASART has a wheel design, making it easy to move around and use when people visit. It comes with armrests that will keep you from falling out when the chair unfolds into a bed. This recliner chair has an adjustable backrest, and it comes with a pillow that will make you even more comfortable.
Its constructed from steel, and the bed itself is made from a thick, high-density sponge, designed to be comfortable for you to rest on. CASART comes with a removable and washable polyester cover in an elegant terracotta colour or a light cornflower blue.
The CASART Convertible's solid and durable structure allows you to use it for a long time, suitable for living room, study, bedroom and other places.
Key features:
3-in-1 folding sofa
Wheels design
Weight capacity: 150kg
Polyester cloth + sponge
Pillow included
How to choose a chair bed?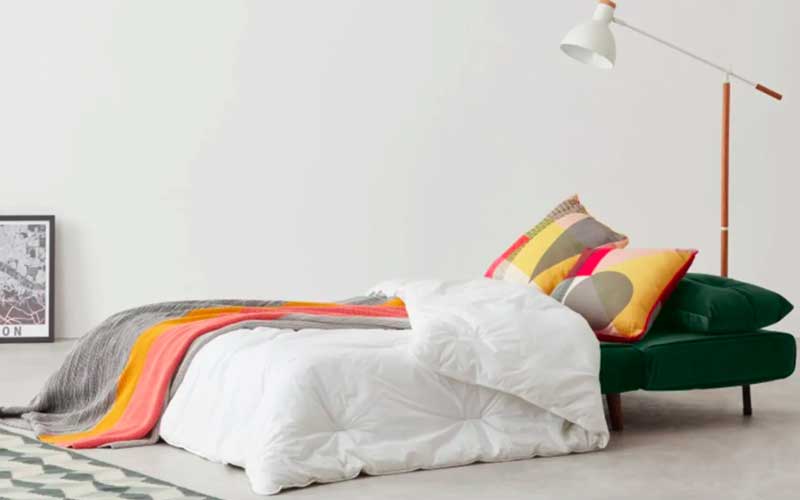 Deciding on a purchase, especially one that's associated with rest and your guests, can be a big and overwhelming decision. To make things easier, here are some factors you'll have to consider:
Intended Use & Size
The first thing you need to think about is what you intend to use the single sofa for and how much space you have for it. You don't want a large piece of furniture in your small flat, which will make the entire room.
Consider the availability you have and think about how often you intend to use it because some products are advertised for non-regular use. Another factor is storage. Do you need a chair bed that doubles as an ottoman or some sort of storage?
Comfort & Support
You want your guests to sleep comfortably and feel supported throughout the night, which is why you shouldn't just assume that every model is going to work for its intended purpose.
When you're buying a new product, you should ensure the outer frame is durable and robust to hold people's weight. You want to find one that's easy to open and can support the person who uses it. Sometimes you can make your guest's bed more comfortable by getting a lovely topper, a soft blanket and some plush, fluffy pillows to go with it.
Placement
You have to keep in mind that the product's aesthetics and physical dimensions can affect your living space's overall look. Think about placement so that you know your guest bed will be able to open and still look visually attractive.
Final Words
Chair beds are the easiest and most compact solution to accommodate an unexpected guest. They fit almost anywhere and usually cost way less than other guest beds. No matter if you're searching for a permanent solution for your spare bedroom or you want to have an option that can convert into a bed in your living space, there are many incredible options.
However, there is a difference between a chair bed and a sofa bed. If you want to be able to tell them apart in order to make an informed decision, make sure to check our guide on it.
All of the sleeping products we listed above have great customer reviews and are well received. We hope you could find what you were looking for in our guide when it comes to the best guest bed the market has to offer. To simplify your shopping experience, we've selected the top 5 models in the UK.
Brands in the bed industry frequently change, and so do the products they offer, which is why we will continue to provide you with the most up to par information. We hope that this article was helpful, and you could find what you are looking for.
Now it's our turn to hear from you if any questions regarding the subject were left unanswered. If you want to share some information, we would gladly hear about it in the comments below.