There are many reasons why mattress toppers are essential in the bedroom. They can bring your old mattress to life while providing incredible support and comfort each night. In addition, they provide support for your back and spine while relieving body aches and pains. However, if you want even more benefits from a topper, the best ones are made from Bamboo!
But how can you choose a quality option that fits the bill and checks all the boxes? There are many options on the market – from good quality products from reputable companies to cheap Chinese items that we wouldn't recommend to our worst enemy.
That's why we created LightSleeper – to help you choose the product that is right for you and you alone and help you make that choice along the way. Companies can never pay to feature their products on LightSleeper, nor we are getting paid to recommend one product over the other – we are an independent resource, and we only recommend products that have passed our tests, and we feel that they are the best in their category.
So let's see what we think are the best bamboo mattress toppers today and why.
1. Panda Bamboo Topper – Editor's Pick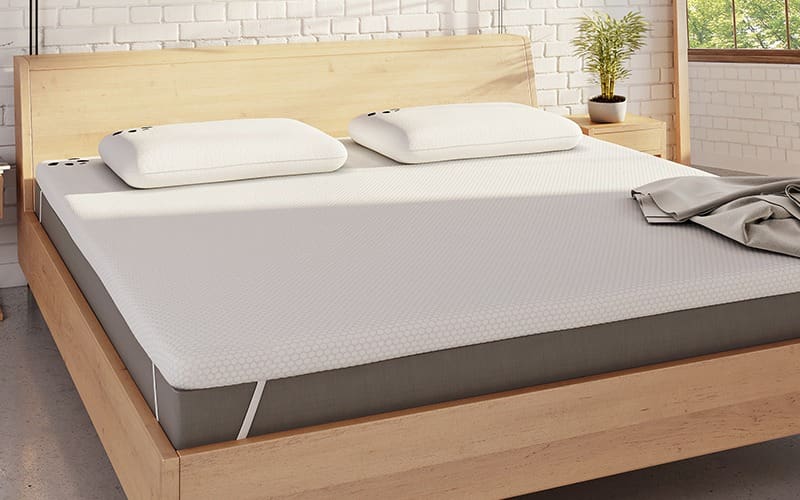 This is one of the best memory foam mattress toppers we've ever tested, which says a lot on its own, but it's hands down our winner if you are looking for a bamboo option. Panda's topper is made from temperature-regulating Hydro-foam™ and is found cooler and a touch firmer than its cheaper rivals.
Its gel-infused technology reacts to your body's temperature and keeps you cool during the night—everything you need for a sensational sleep.
It comes with a washable, hypoallergenic bamboo cover with elastic straps and an anti-slip layer. We see this product as the perfect combination of quality and value with a healthy comfort and support dose. You get what you pay for, and in this situation, it's more than you can expect. Buying this Panda pad from the manufacturer means receiving a 30-day trial period and a whopping guarantee of ten years!
This Gel Cooling Topper can be purchased in nine different sizes. The Panda Topper comes with a five-star rating from over 4000 reviews, and to make it even better, the brand offers free delivery service on orders over £30.
2. Inofia Sleep Gel Topper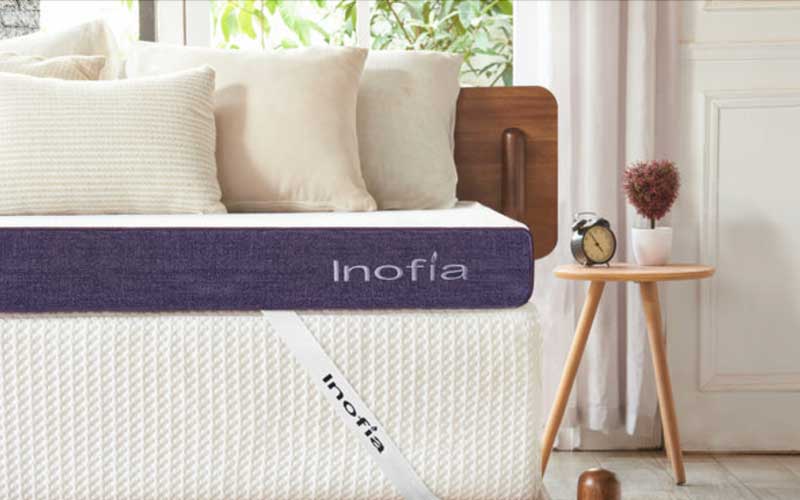 Next, we have the Inofia Sleep Gel memory foam mattress topper with gel-infused beaded memory foam that helps regulate body temperature for longer-lasting, more comfortable sleep and increased ventilation.
The Inofia topper has a 2cm Gelex memory foam layer, infused with gel grain to help prevent overheating and maintain an optimal temperature. It's followed by a 6cm laxender reliefoam, providing body-moulding and pressure relief capabilities. Lastly, we have a breathable soft knitted bamboo cover that's removable and washable for easy cleaning care.
Inofia Sleep provides 24-hour timely customer service, a 100-night trial period and a 10-year warranty, so you know that your investment is worth it.
3. Vesgantti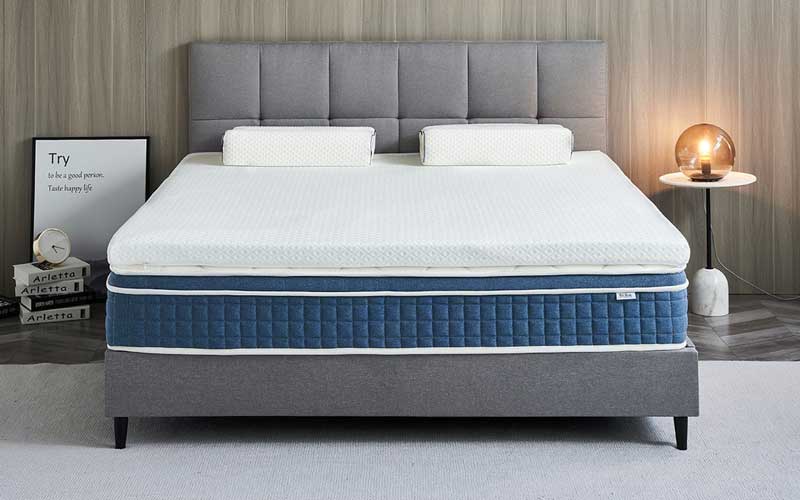 Next, we have a product from the brand Vesgantti that was designed to provide years of outstanding comfort. This item is constructed with three layers, where the first one is a naturally breathable soft bamboo fibre cover that helps repel moisture.
After that, we have the 2.5cm egg crate memory foam layer, offering increased air circulation with great bounce and improved pressure relief. Lastly, you'll find the 3.5cm cooling foam infused with a bamboo charcoal layer engineered to deliver an instant boost to any mattress.
Vesgantti is an excellent choice for people with allergies since it is ventilated for superior airflow and highly plush, breathable, light and airy. You can purchase it in five sizes, and you get a 30-night trial period in which you can test it out for yourself.
We love the Vesgantti Memory Foam Mattress Topper because it's made from non-toxic materials such as the infused bamboo charcoal, which provides odour and moisture control and regulates temperature for increased relaxation. It also comes with a two-year limited warranty.
4. RECCI Memory Foam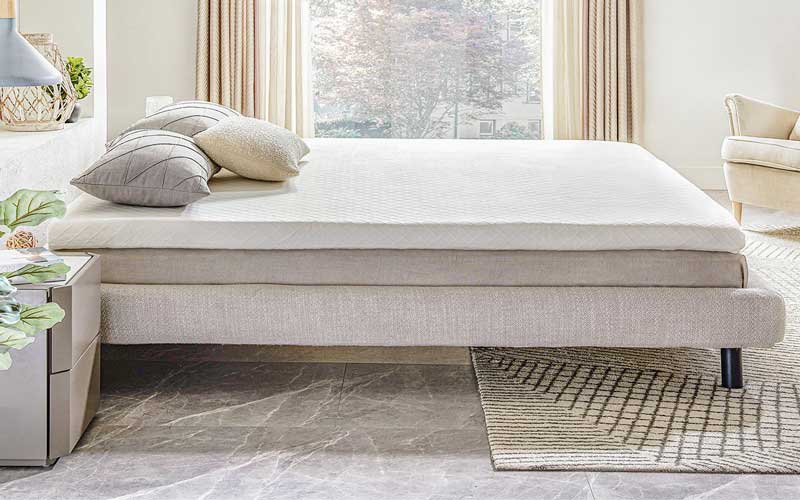 Another fantastic suggestion that we have is from a company called Recci. They've crafted a mattress pad from 100% pure memory foam that moulds perfectly around your body and takes stress off of achy joints and muscles as you sleep.
This firm option is engineered with advanced heat insulation technology, which helps stabilise your body temperature at night. The open cell memory foam allows for higher airflow and heat absorption as well. All of this is encased in a super soft bamboo viscose cover that is removable and washable.
Recci's option prevents you from overheating and sweating, making it an excellent choice for hot sleepers. It is safe and durable, plus it has the certifications to prove it, which are CertiPUR-EU and OEKO-TEX 100. In addition, the manufacturer provides a 30-day return service for customers and a 10-year warranty.
5. NOFFA Bamboo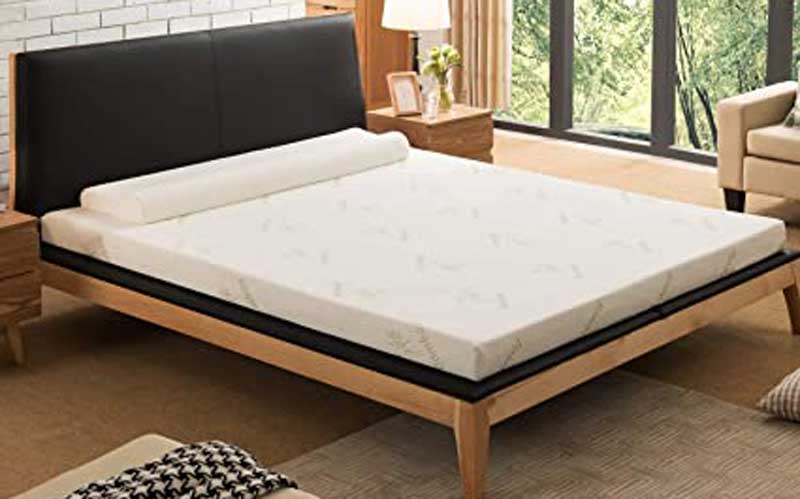 Last but not least, we have the Noffa Bamboo Mattress Topper, available in five sizes at an affordable price. NOFFA is a professional manufacturer that has been dedicated to the sleeping industry for more than 15 years. They've come up with a product that's 5cm thick and increases the softness of a mattress.
Noffa has an ergonomic design, which means that the memory foam distributes weight evenly and conforms to curves to alleviate pressure points. Noffa is constructed from two layers. One is a unique support system with a memory foam layer that is combined with a reflex foam layer.
The mattress topper is encased in a highly breathable bamboo cover with temperature regulating capabilities that's removable and washable. For convenient use, the cover has four adjustable elastic bands and an anti-slip layer preventing unwanted movements during your sleep.
If you aren't satisfied when you receive the product, Noffa offers a 100% money-back guarantee, but if you do like it, the brand will provide you with a 5-year guarantee.
How to choose a bamboo mattress topper?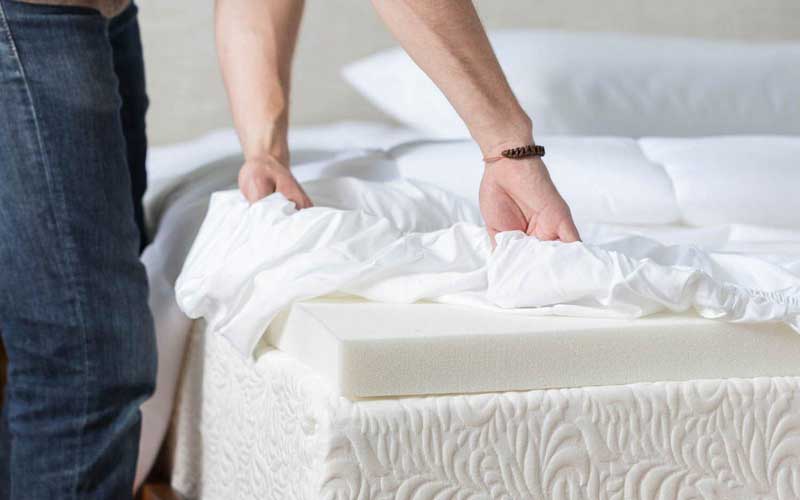 Before purchasing a new topper, you should know what to consider and what you'll have to keep in mind in order to make the right choice. When it comes down to bamboo options, many manufacturers might use misleading information and label an item as "green" or "natural" without having the proper certifications. Here are some of the most important factors to think about:
Materials
As you might have heard, some materials are associated with longer lifespans and stronger performance than others. The most popular materials for mattress toppers are high-density memory foam, ventilated latex, natural wool, and premium down.
But with bamboo, you get great value for numerous benefits, which we'll discuss later on. However, bamboo can be made into fabrics and other different forms for production purposes, meaning there can be a significant difference in texture, weight, etc. Here are the best bamboo-based materials that can be used in the production of the best bamboo mattress topper:
Bamboo Rayon – This bamboo-based option is naturally hypoallergenic and manufactured following a strict chemical process. It also provides an excellent cooling effect to prevent night sweats while still reducing odour and continuing to be very absorbent.
Bamboo Lyocell – This type is produced naturally from pure organic bamboo pulp. Its production process is considered simple since the bamboo plant is crushed, washed thoroughly, and spun. Bamboo lyocell is one of the most sustainable resources on earth. It's also incredibly soft, silky, and smooth.
Bamboo Charcoal – This type is obtained by burning and grinding the burnt bamboo into its most refined state. The charcoal-infused bamboo regulates your body temperature and helps reduce odour, as well as moisture.
Bamboo Modal – This bamboo-based choice also follows a chemical process. Bamboo modal is ultra-soft, and typically you'll find it more in clothing than bedding.
Bamboo blend – A blend is usually formed when combining bamboo with other fabrics such as polyester, cotton, etc. Bamboo combined with other materials often reduces its softness and takes away its naturally hypoallergenic properties.
Cooling Properties
Most people need a topper that will keep them cool, which is why finding an option that has a straightforward way to maintain temperature neutrality is essential. Often that is done by the used materials and, more specifically, breathable fabrics. The most popular naturally breathable materials are latex or open-cell foams and cotton or wool.
Others feature a convoluted or aerated design that increases airflow and circulation. Sometimes manufacturers must to other tactics like the use of charcoal, graphite, gel, or copper infusions to transport heat away from the body.
Firmness
In general, mattress toppers are used to either soften a bed or make it firmer. The main reason people purchase them is to adjust the firmness level of a mattress. Lighter sleepers and side sleepers are best suited for a plusher topper, whereas stomach sleepers and heavier individuals should choose a firmer item.
Put simply, the heavier the sleeper, the more they will sink, leading to increased heat retention, which is the opposite of what you want, so make your choice wisely.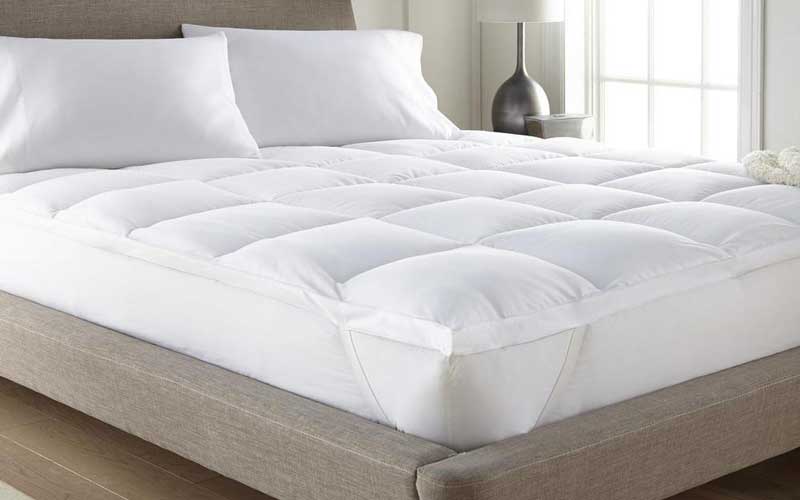 Sleeping Position
In general, side sleepers need softer mattress toppers. In contrast, most back and stomach sleepers need a firmer topper that will keep their bodies on the surface without too much sinkage. We recommend you always check the comfort grade to make sure it will suit your sleeping position and body weight.
Thickness
Typically, toppers measure between 5 and 10 cm thick. So, for example, heavier sleepers and side sleepers should search for a thicker option. This way, their purchase can handle this extra weight without bottoming out.
Pressure Relief
Pressure relief is usually associated with memory foam due to its close-conforming abilities. However, foams can often contribute to your body overheating. If you want to stay away from heat, there are some gel-infused memory foam options with pressure-relieving properties that are more breathable.
Price
Just like anything else, the price can vary widely depending on the materials and quality of a mattress topper. High-quality options will start at 70 £ and get up to a few hundred. The saying you get what you pay for is often true, which is why you should look at different products before setting a budget. With added price comes higher quality and better longevity.
Not sure about bamboo fabric?

Check out our "Best memory foam mattress toppers" guide
Bottom line
To conclude our review, we want you to be mindful of the choices you make since they can impact the quality of your sleep. Consider what features you want to maximise your ability to have a great night's sleep.
All of the bed products we listed above have great customer reviews and are well received. We hope you could find what you were looking for in our guide regarding the best bamboo mattress topper the market has to offer. To simplify your shopping experience, we've selected the top five models on the market today.
Brands in the bed industry frequently change, and so do the products they offer, which is why we will continue to provide you with the most up to par information. We hope that this article was helpful, and you could find what you are looking for.
Now it's our turn to hear from you if any questions regarding the subject were left unanswered. If you want to share some information, we would gladly hear about it in the comments below.