Best Cot Bed Mattress for 2021 – Reviews & Comparison
Last Updated on April 19, 2021
Premium
Little Green Sheep
Babies and toddlers spend more time asleep than awake, which is why selecting a cot bed mattress for your child is essential.
Babies spend between 13 and 16 hours per day sleeping. Therefore, you have to make a choice that can be hard and overwhelming. Do not worry, we are here to help!
Here in LightSleeper, we test each product we review and thoroughly inspected it for a set number of days. However, we are non-professionals in the medical field and these only recommendations. With that said we've carefully selected the Top 5 Cot Bed Mattresses for 2021 so that you can make an informed decision.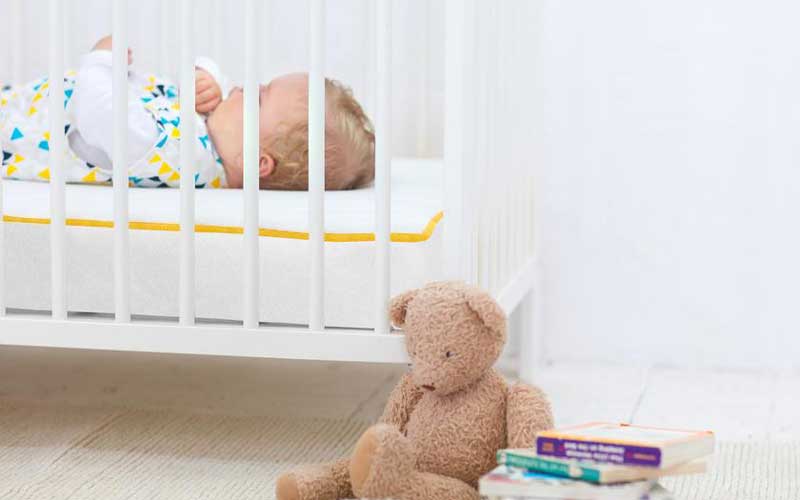 What to consider when buying a Cot Bed Mattress?
Next, we will try to help you with a few explanations and features that have to be taken into account before making a purchase. They are the following:
Base
Selecting a base is something that can be beneficial for your baby as it grows. If you choose an adjustable option, you will typically find it with three positions.
Those positions can be switched with your baby's growth. Every cot bed base will come with instructions, and in them, you can find the recommendations for the specific levels a set product offers. By selecting the appropriate base, you give your child a better chance at blissful sleep, and possibly a longer rest for yourself.
Mattress
No matter if you choose a cot or a cot bed, you have to get the right type of mattress to go in it.
Even if you're using a second-hand base, we recommend that you buy a new mattress so that you can make sure its dust free and hypoallergenic. You should look for a product that is on the firmer side and fits your bed with no gaps.
Usually, mattresses and cot beds are sold separately, which gives you the choice of different types. If you don't know what they are, we will discuss them later on in the article.
Size
Cots are often smaller than cots beds. Even though there's a lot more variation in sizes when we talk about cot beds, they are generally quite similar.
Usually, that's around 145cm long, 100cm tall and 75cm deep. Most options will have side rails between 84-87cm high in the highest position. Sometimes that can be a challenge for a shorter person to reach over.
That's why you should consider a product with a drop side that will reduce this height and make it easier for you to reach your child. Lastly, don't forget to measure the space you have in your bedroom or the nursery you will be using.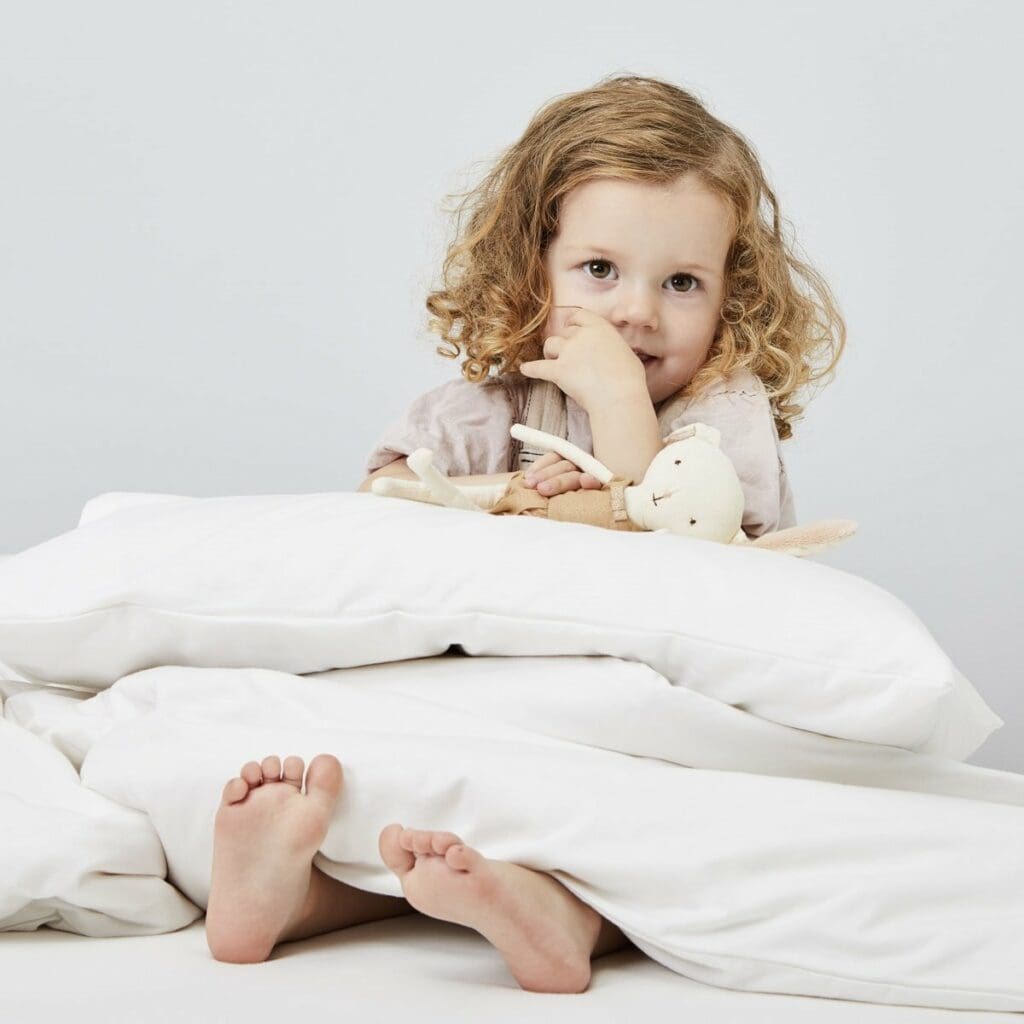 Wood or Not?
The material used for the bed will showcase its durability and quality. Some choices are better than others, but people typically decide between wood or MDF (engineered wood product).
Of course, the cost and quality will depend on the type of wood. When you're making a decision check on the label whether the mentioned material is used throughout or is only a finish on top.
Teething Rail
Chewing the edge of a cot is a habit that many babies have. That can be dangerous for a baby or a toddler since it can cost damage.
However, you can prevent that by choosing an option with a teething rail. The protective covering on the side edges will help protect the cot and most importantly, your kid.
Casters
If you're planning on continually moving your cot bed from one room to another, you might want to consider casters or mounted wheels. They can come in handy, plus with them, it's going to be much easier for you to clean underneath the bed so that no specks of dust stay around your child.
Panda Kids Bamboo Mattress – Editor's Pick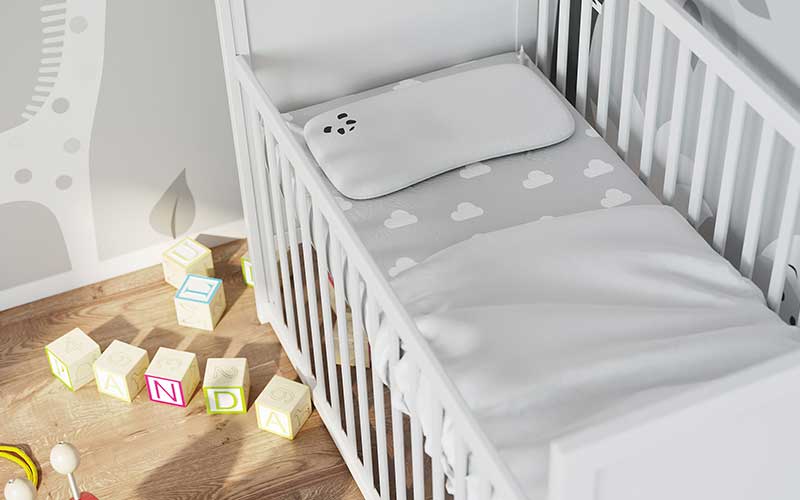 Panda is a company that uses bamboo in almost all of their products because of its benefits. And this Pand Kids Bamboo Mattress is no exception!
Suitable for newborns all the way up to 5 years of age, this product is highly breathable and also waterproof due to using nanotechnology. It comes in two sizes (120 x 60 cm and 140 x 70 cm) and is Oeko-Tex Standard 100 certified.
That means that this Panda product was tested and turned out safe for babies and kids with sensitive skin. You get a removable and machine washable cover and anti-slip micro-silicone grips at the bottom of the mattress to secure it in place.
Its core is upper gel-infused memory foam, which offers lower supportive airflow and excellent temperature regulation. It balances out weight evenly and provides your child with comfort.
This Panda product has over 3000 positive reviews that showcase its quality. But, if that's not enough, you get a 5-year guarantee and a 30-night trial to make sure this is the best option available!
Key features:
Anti-slip grips
Machine washable Bamboo cover
Waterproof
Trial Period for Returns: 30 days
Warranty: 5 years
Little Green Sheep Natural Twist Cot Bed Mattress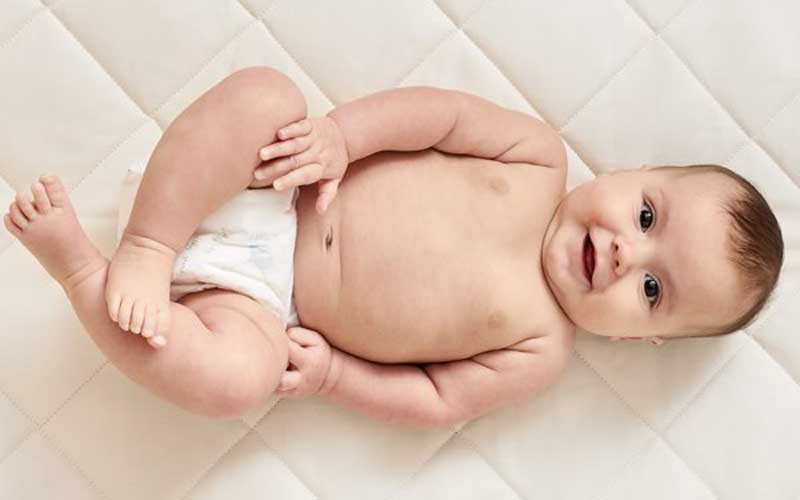 Next, we have the Little Green Sheep Twist Cotbed mattress, which is a 100% natural. This premium product is perfectly suited for newborns until 12 months with a firm side and a natural latex side.
Its has a BSI number that shows the product you're buying is in line with British safety standards. This Little Green Sheep option is handmade with breathable cotton, supportive coconut fibres and mini springs with pressure-relieving benefits.
The Twist Cotbed has naturally hypoallergenic fleece wool, which works like magic when we talk about dispersing moisture and creating an anti-dust mite space.
Panda creates products in which your child can sleep in a healthy environment that is free from toxins and harmful chemicals. It comes in one size (140 x 70cm) and has a 5-year guarantee. However, it's not waterproof, so you might want to get a mattress protector.
Key features:
Dual-sided
Hypoallergenic
100% natural
BSI number
Warranty: 5 years
Silentnight Safe Nights Airflow Cot Mattress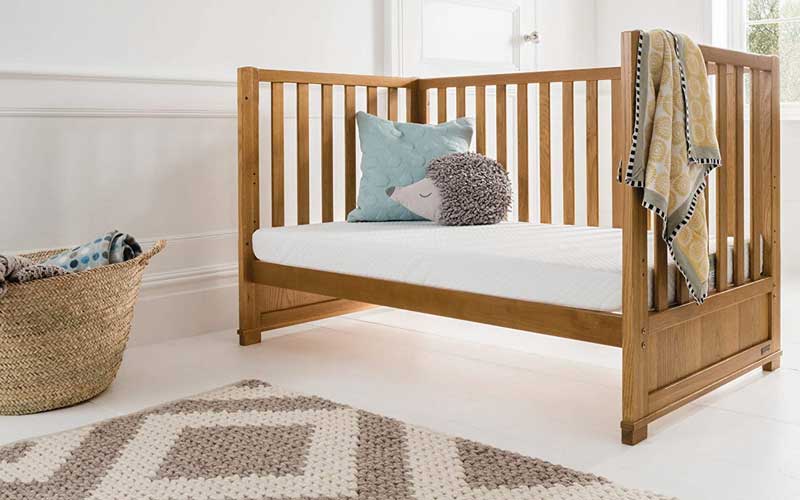 If you want to best for your baby, but you're on a budget, the Silentnight Cot mattress will blow you away. Silentnight has been in the sleeping industry for over 70 years, making it one of the few companies that have excited longer than the warranty they offer.
This Safe Nights Airflow product is designed with breathability and temperature control in mind. You child will get a cooler night's sleep on a soft-knitted removable and washable 3D mesh cover. Silentnight's cover is treated by Purotex in order to be hypoallergenic. That's why it will be improbable to cause any allergic reaction in your kid.
It comes in two sizes (120 x 60 cm and 140 x 70 cm). But what makes this affordable option stand out is that it is free from foam and any unpleasant odours it may bring. Constricted from Silentnight's sustainable Eco Comfort Fibre™, this item is a lot more breathable than others. However, it can only be returned in 14 days and if you haven't opened or used it.
Key features:
Breathable cover
Purotex & hypoallergenic cover
Eco Comfort Fibre™ layers
Period for Returns: 14 days
Warranty: none
Eve Baby Mattress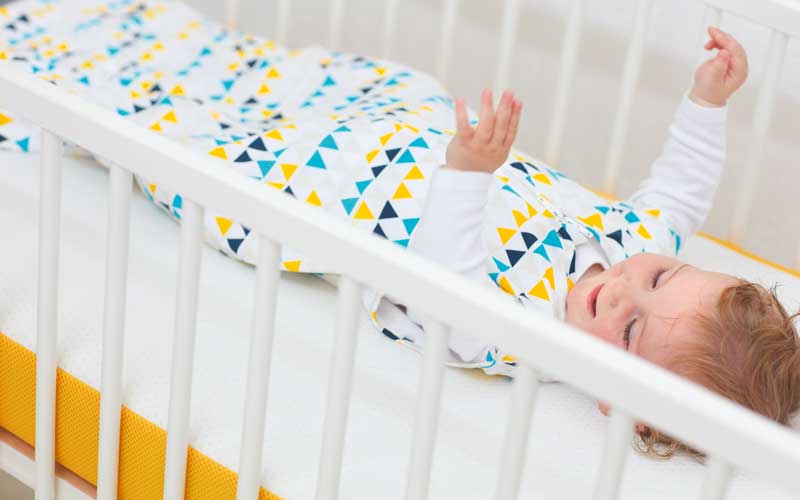 The Eve Baby Cot mattress is undoubtedly a top competitor that has won awards from Junior Design and the Baby Products Association (BPA). With many excellent reviews, this product is a hybrid that includes a core spring pocket layer for support, encased by foam and wrapped up in a waterproof protector. That way you can be sure that all liquids and bed bugs stay away!
Eve's protector has a chic design, but what makes it unique is that you can machine wash it up to 60℃. You get to choose from two available sizes (60 x 120 cm and 70 x 140 cm) and appreciate that the Eve Baby mattress meets all legal UK safety and regulatory requirements.
One of the biggest reason behind that is the Certi-PUR certified foam that proves that no harmful chemicals were used in the manufacturing. And if that's not enough, it also comes with a BSI number, which complies with the country's safety standards.
Key features:
Hybrid with springs
Machine washable
Waterproof protector
Trial Period for Returns: 30 days
Warranty: 5 years
John Lewis Dual-Purpose Pocket Spring Cot Bed Mattress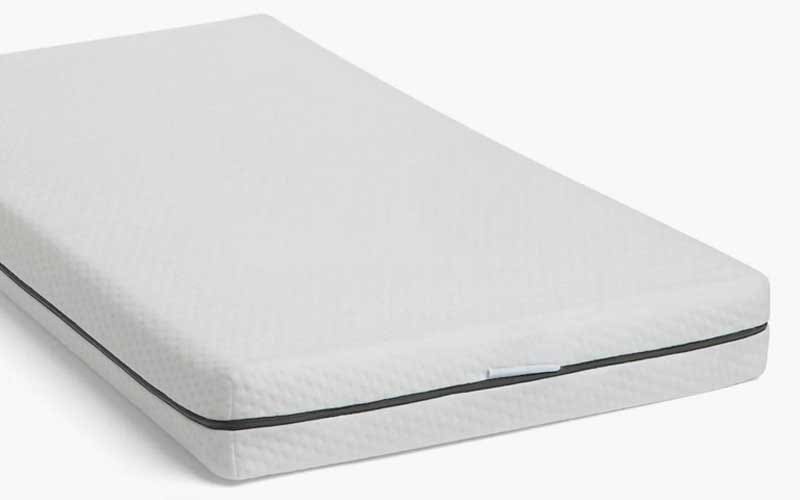 Last but surely not least on this guide is the John Lewis Pocket Spring Cotbed mattress. This unbelievable product is a dual-purpose cot bed, which is engineered to grow with your baby.
This innovative option has two sides: firmer side for newborns and a softer side for toddlers.
John Lewis's mattress has a fully removable and machine washable cover made from polyester that provides a soft and breathable sleep surface. The set cover is treated with anti-allergy Purotex, making it ideal for allergy sufferers.
It comes in one size (140 x 70cm) and its core is constructed from two sets of pocket springs, encased in baby-safe nursery grade foam. This way, this John Lewis item is more comfortable and quite supportive. The manufacturer doesn't charge for delivery in the UK and gives you a 5-year warranty.
Key features:
Hybrid design
Machine washable cover
Waterproof layer
Dual-purpose
Warranty: 5 years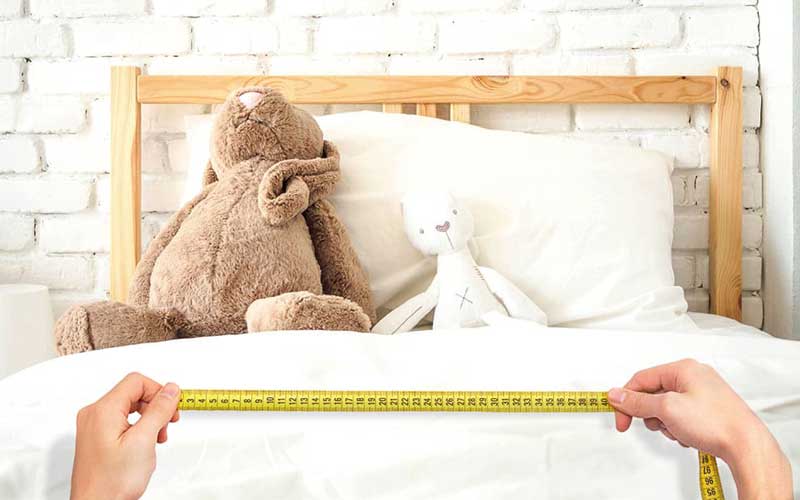 What size cot mattress do I need?
The size of the mattress will depend on your choice. In the UK, the standard option is 60 x 120cm, but if you've purchased your bed from elsewhere, you have to check the required size.
For example, baskets, cribs and co-sleepers require smaller mattresses designed for that purpose. A cot bed is often larger and will need the mattress to be 70 x 140cm.
No matter what mattress you're buying, always check its dimensions before you make a purchase. You can do that either online or with the retailer.
How thick should a cot mattress be?
This is one of the most important questions you should be asking yourself before getting a cot mattress. Kids concentrate their weight on a small mattress area, meaning sagging and hitting the cot bed beneath.
To avoid that we recommend selecting an option that's at least 10cm thick and firmer rather than softer. You want to make a choice that will support your child's body and head and won't sag. If you don't know how to choose an option, you can visit a store and squeeze at the edges and in the centre to decide.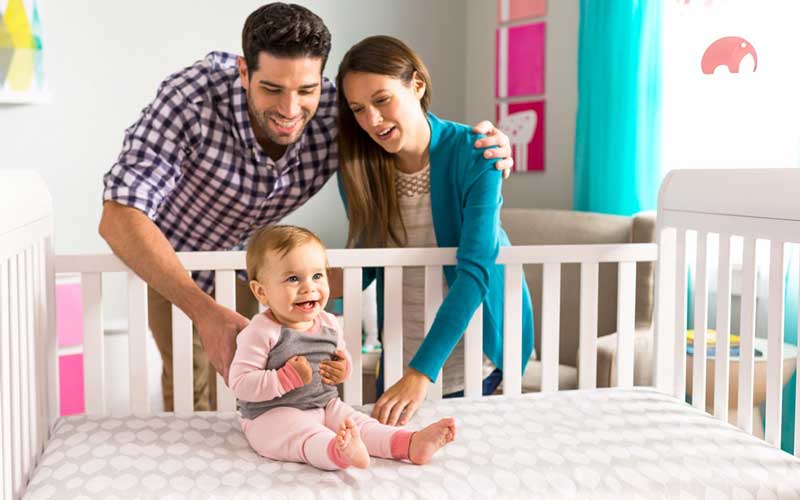 What are the cot mattress safety guidelines?
Every parent cares for their kid's safety. That's why we've created a shortlist of things you can do to improve it further and make sure your baby is as safe as it can be.
Even if you're using the same cot bed, get a new mattress to prevent any instances of hygiene-related issues
Make sure that the cot bed and the mattress are the same sizes
Select a firmer mattress to avoid sagging, while ensuring your child receives the need support
Pick an option that includes BSI number, which will ensure the product you're buying is in line with British Standards for safety.
A cot is suitable for newborns up to 2 years of age
A cot bed is suitable for babies from birth to 4 years of age
If you need more advice and tips on infant sleep safety, you can check lullabytrust.org.uk.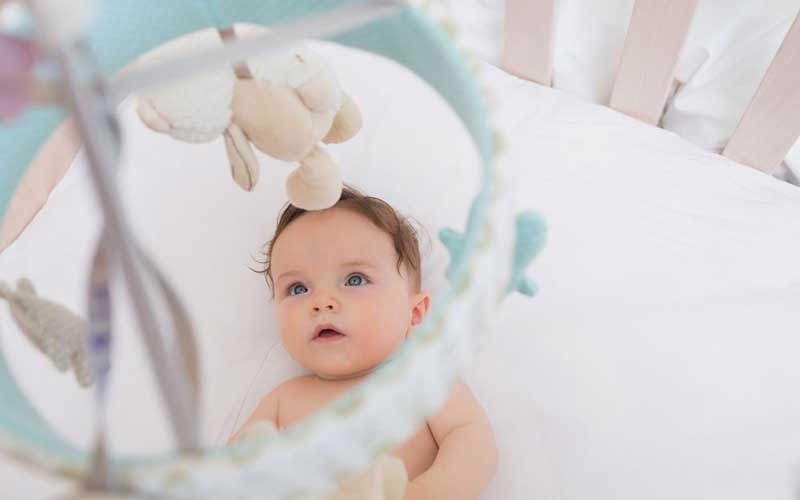 What types of cot bed mattresses are there?
As we mentioned above the type of cot bed mattress you choose is essential for your baby's comfort and support. Here are the three most common types found in the UK:
Foam Cot Bed Mattresses
Usually, this type is made from polyfoam, which generally varies in firmness level from medium-firm all the way up to firm.
Those levels are regarded as safest for babies. Foam options are often the most affordable choice. The support they offer depends on the mattress thickness and density.
Layered foam doesn't generate much noise, and that's a plus when it comes down to movement. However, it offers less edge support compared to others.
Pocket Sprung Cot Bed Mattresses
This type features springs which are individually wrapped within a cloth sleeve.
Pocket sprung options adapt to your baby's movements for enhanced support and comfort. The reason behind it are the pocket springs that adapt to your baby's movements through the night.
Also, pocket sprung cot bed mattresses are heavier with above-average life spans and tend to produce less off-gassing.
Hybrid Cot Bed Mattresses
Lastly, we have the hybrid option, which is pretty much a combination of the two types above. They come with a pocket sprung layer and upper foam layers for comfort.
Just like the sprung ones, they are on the heavier side and have longer life spans. Most hybrid choices offer excellent support and firmness to reduce rollover. However, they can be more expensive as opposed to foam options.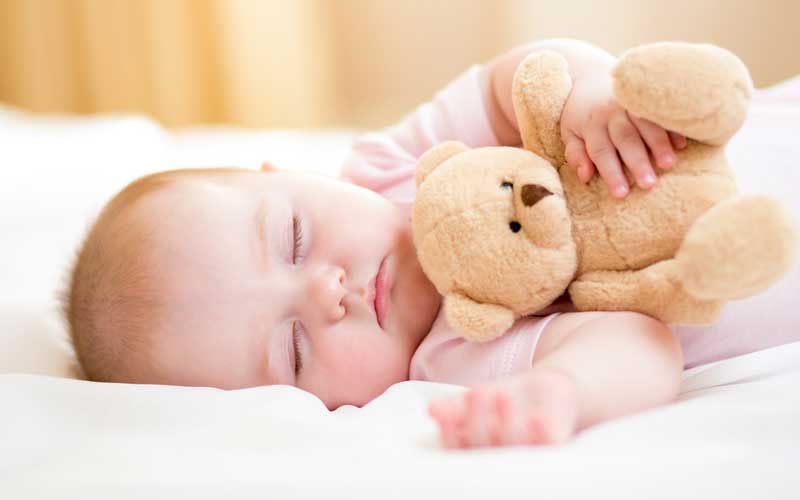 Final Words
As a parent, nothing is more important than your child, which is why you want to make sure that they get the sleep and rest they need while ensuring their comfort and safety.
Mattress brands frequently change, and so do the products they offer, which is why we will continue to provide you with the most up to par information. We might not be professionals, but we've tested, researched and commented on every product we've put on this list.
We hope that this article was helpful, and you were able to find what you are looking for. If there are any questions, regarding the subject that were left unanswered, we would gladly answer them in the comments below.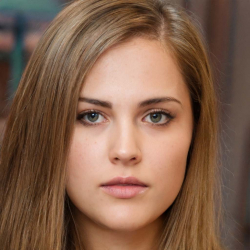 Latest posts by Isabelle Harris
(see all)