Kids are our most immense joy, and their safety and comfort are essential, which is why buying a mattress for a baby's cot can be challenging and overwhelming. When you're choosing a bed for yourself, you look for an option that will be comfortable and supportive, but you'll start thinking if it needs to be 'organic' and 'natural' when it comes down to your child.
Buying a cot isn't a straightforward process because you need to know your priorities such as coil or pocket spring, functional or foldaway? If you don't know where to start, we are here to help you sort through the piles of information.
That's why we created LightSleeper – to help you choose the product that is right for you and you alone, and help you make that choice along the way. Companies can never pay to feature their products on LightSleeper, nor we are getting paid to recommend one product over the other – we are an independent resource and we only recommend products that have passed our tests and we feel that they are the best in their category.
So let's see what we think are the best cot mattresses in the UK today and why.
1. Relyon Luxury Pocket Sprung – Editor's Pick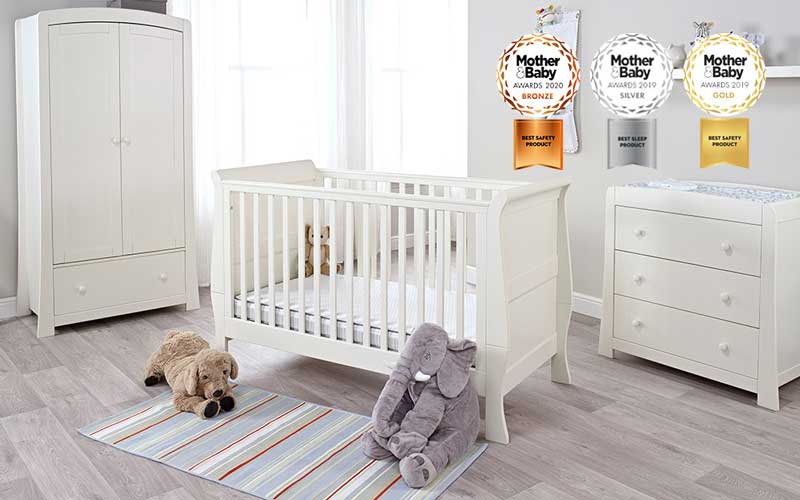 The Relyon Luxury mattress has won multiple awards at "Mother and Baby" in different categories such as 'sleep' and 'safety'. This Relyon product is available in two sizes, 140x70cm and 120x60cm, making it perfect for your precious little one.
It's made in the UK, and it uses individual pocket springs that provide all the support and comfort your baby needs to sleep well. Layers of foam cushion those springs for extra comfort. Also, it is treated with Actipro, which is a natural anti-allergenic treatment.
Relyon is our personal favourite option because it's breathable and supportive while featuring baby-safe fibre for your total peace of mind. With this item, you get a soft sleeping surface, ensuring better airflow and temperature regulation. The Relyon Luxury is designed to last from birth right up to five years and comes with a two-year guarantee.
Key features:
Pocket Sprung
Waterproof
Cosy knitted cover
Single-sided
Warranty: 2 years
2. Little Green Sheep Natural Twist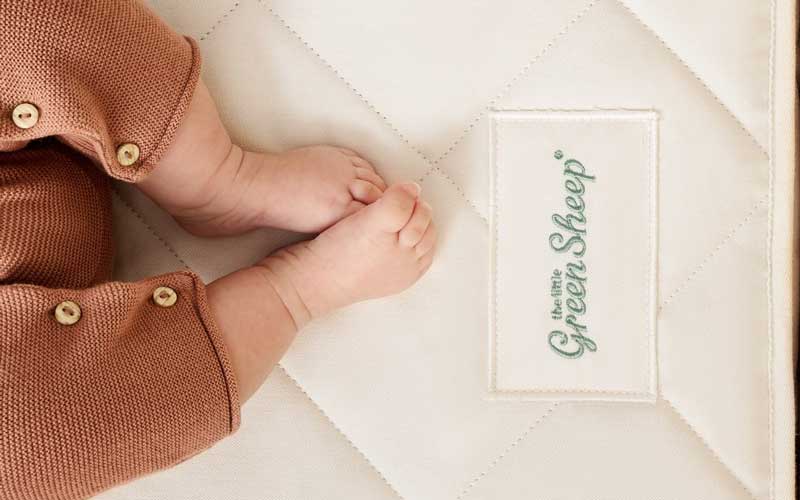 Next, we have the Little Green Sheep Twist mattress, which is 100% natural. This luxurious item is ideally suited for newborns until 12 months old, with a firm side and a natural latex side.
Little Green Sheep has a BSI number which proves the product you're buying is in line with the 'British Safety Standards.' This Natural Twist is a handmade product with breathable cotton, supportive coconut fibres and mini springs that have pressure-relieving benefits.
The Little Green Sheep mattress is designed with naturally hypoallergenic fleece wool that works very sufficiently when we talk about dispersing moisture and establishing an anti-dust mite space for your child.
This manufacturer creates products with which your baby can sleep in a healthy environment, free of toxins and harmful chemicals. Little Green Sheep comes in one size (140 x 70cm) and offers a 5-year guarantee.
Key features:
Dual-sided
Hypoallergenic
100% natural
BSI number
Warranty: 5 years
3. Mother Nurture Essential Eco Fibre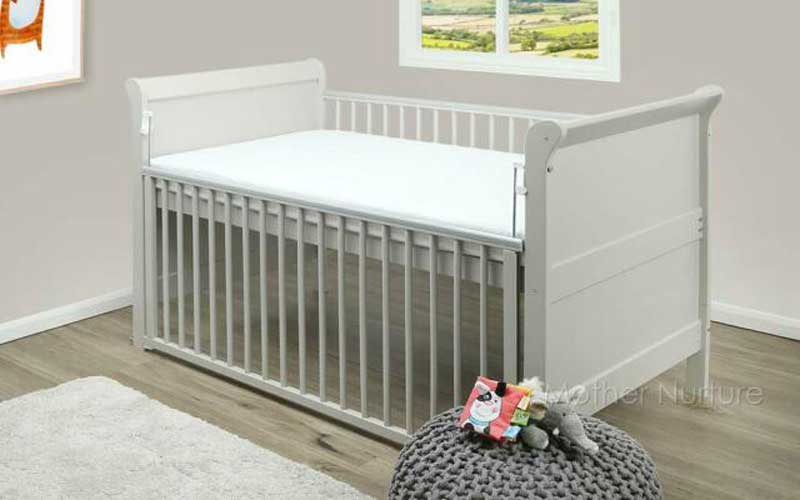 If you're looking for a simple mattress at an affordable price in which you baby can sleep peacefully, the Mother Nurture Essential Eco Fibre might be something to consider.
Mother Nurture's product is made entirely of a 'recyclable polyester fibre core' that is considered as an alternative to foam. This mattress doesn't have any springs or organically sourced fibres, but it will get the job done for less than 30 pounds.
Not everyone can afford to splash out £200 on an all-natural product, which is why this Mother Nurture option can be useful and suitable for babies from birth up to four years. You can choose from two available sizes 120cm x 60cm and 140cm x 70cm. Finally, this eco-friendly choice comes in an easy to remove, hypoallergenic cover that is machine washable at 40'C.
Key features:
100% eco polyester fibre
Breathable & water-resistant
Removable & washable cover
Eco-friendly
Suitable from birth
4. Silentnight Safe Nights Airflow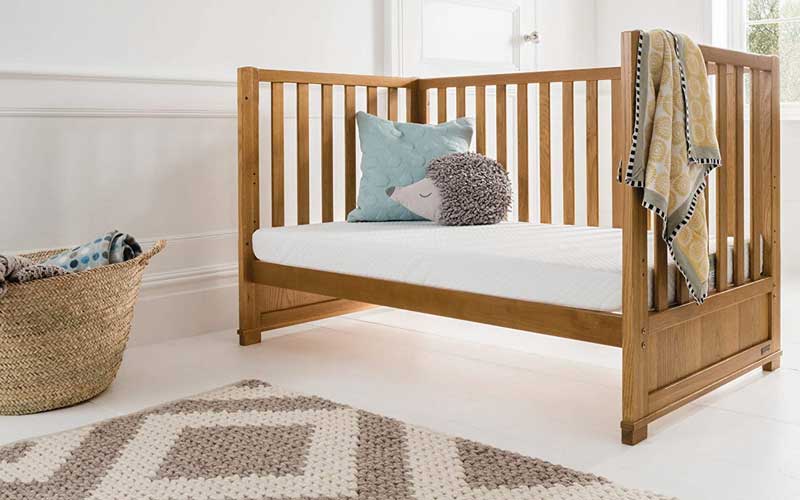 If you want to best for your baby, but you're on a budget, the Silentnight Cot mattress will blow you away. Silentnight has been in the sleeping industry for over 70 years, making it one of the few companies that have excited longer than the warranty they offer.
This Safe Nights Airflow product is designed with breathability and temperature control in mind. Your child will get a cooler night's sleep on a soft-knitted removable and washable 3D mesh cover. Silentnight's cover is treated by Purotex in order to be hypoallergenic. That's why it will be improbable to cause any allergic reaction in your kid.
It comes in two sizes (120 x 60 cm and 140 x 70 cm). But what makes this affordable option stand out is that it is free from foam and any unpleasant odours it may bring. Constricted from Silentnight's sustainable Eco Comfort Fibre™, this item is a lot more breathable than others. However, it can only be returned in 14 days if you haven't opened or used it.
Key features:
Breathable cover
Purotex & hypoallergenic cover
Eco Comfort Fibre™ layers
Period for Returns: 14 days
Warranty: none
5. Naturalmat Quilted Coco Mat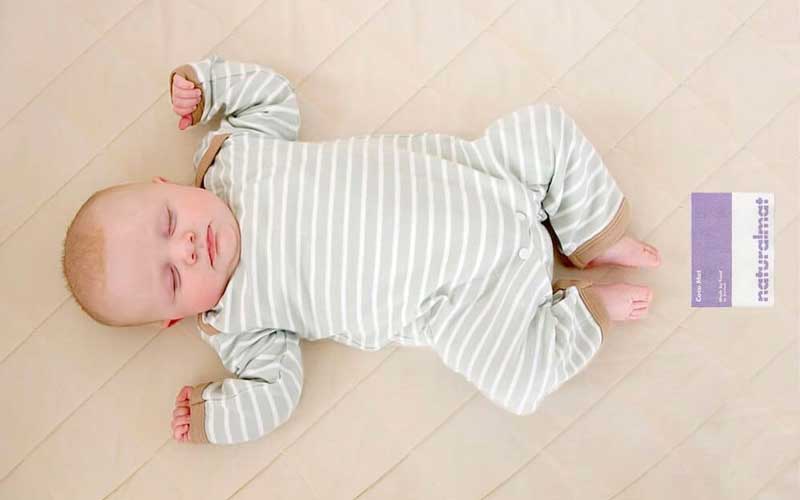 The Naturalmat Quilted Coco Mat is unique due to the coconut husk used in it, also known as coir. This is multiple award-winning mattresses is extraordinarily breathable and self-ventilating. That helps your baby regulate their body temperature for a comfortable night's sleep.
Wool is a fantastic natural insulator that adds softness to the mattress, without compromising the support. Naturalmat is chemical-free, non-toxic and naturally fire retardant. It's available in 60cm x 120cm, 70cm x 140cm sizes, and some other unusual sizes that can be useful.
This Naturalmat item complies with all standards and has a BSI number. You get it in a removable machine washable cotton cover that is OEKO-TEX® certified to protect your baby, from bed bugs, dust mites, mosquitos and moths. And Naturalmat provides you with a five-year warranty.
Key features:
Organic coir
OEKO-TEX® certified
Organic lambswool
Quilted cover
Warranty: 5 years
How to choose the a Cot Mattress?
Babies spend most of their days asleep, which is why you have to make sure you choose the appropriate product. Next, we will try to help you with a few explanations and features that have to be taken into account before making a purchase. They are the following:
Safety
The most crucial factor in making your choice is your child's safety. We recommend selecting a firm mattress, so it doesn't sag easily. After that, make sure the option you've got will fit the cot snugly with no gaps. You want to avoid gaps so that you don't have to worry about fingers or tiny toes getting trapped.
To prevent your child from climbing out the cot, you should get one with a minimum of 50cm.
Looks should always be secondary to safety. You want to have your baby sleeping in a neat, simple and unfussy environment. Always look for the British Safety Standards' with the prefix BSI number so that you know you are giving your little one the safest possible option.
Comfort & Positioning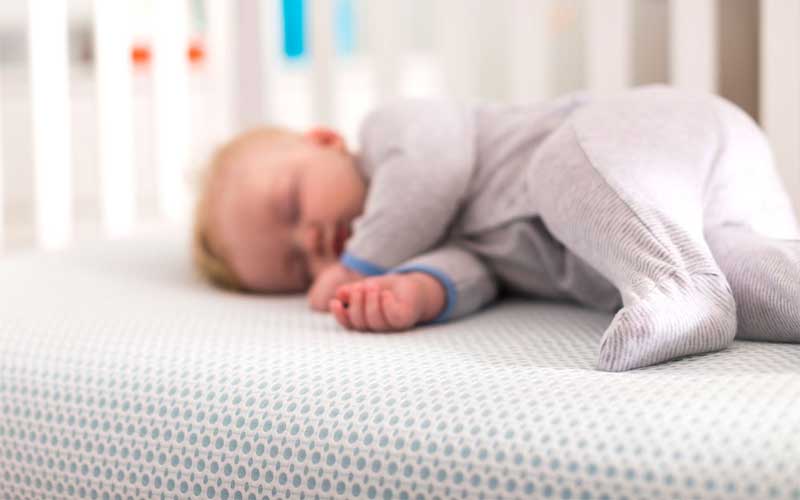 The general rule of thumb for safe sleeping says that you should place your baby in the cot on his or her back at all times, even if you own a breathable crib mattress. Some companies have tried to factor in that babies roll onto their tummies during sleep; health professionals still advise that back sleeping is safest.
It would be best if you position your child appropriately so that it can be comfortable. A great way to make a choice is to look for an item that is firm and flat.
Mattress
No matter if you choose a cot or a cotbed, you have to purchase the appropriate mattress to go in it.
Even if you're using a second-hand base or you've got a new one, we suggest that you buy a new mattress. This way, you can make sure its dust free and hypoallergenic.
Often, mattresses and cot beds are sold separately, and that gives you the opportunity to choose from different types. If you don't know what they are, we will discuss them later on in this guide.
What's the best type of cot mattress?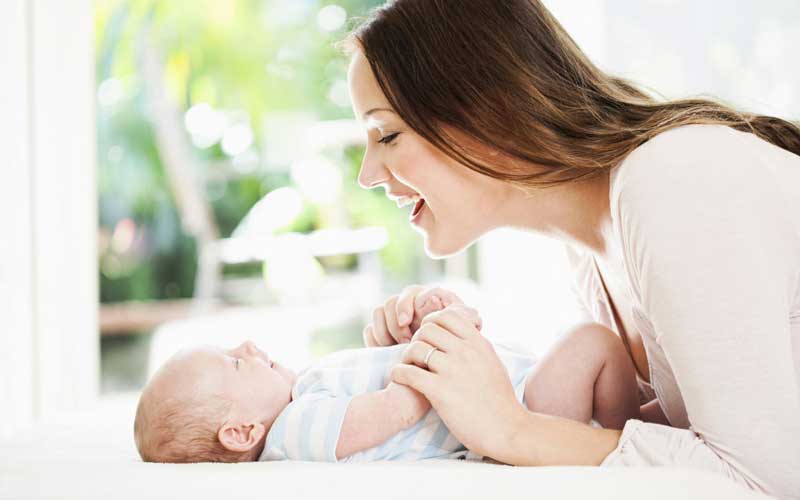 Let's discuss the different types of cot mattresses and what each one brings. There are five broad types you can choose from, and they are the following:
Foam mattress – this is a great option that's usually affordable, lightweight and easy to clean
Pocket spring – that one comes with individually wrapped springs within a cloth sleeve, which provide excellent support but are on the pricier side
Coil spring – with this one you get open coil springs which are surrounded by foam and other fillings, making it a sturdier than a typical option
Hollow-frame (Purflo) – this is the choice that is advertised as a fully breathable and fully washable product, that is often expensive
Coir – lastly, we have a naturally firm and durable product, manufactured from coconut, latex and wool
What's the size of a cot mattress?
Both cot mattresses and cot bed mattresses can come in many shapes and sizes. However, there are some general sizes for each one. Typically a cot mattress is 120 x 60cm in size, whereas a cot bed is 140 x 70cm. If you end up getting a smaller or larger cot than the norm, make sure you purchase a mattress specifically designed to fit in it.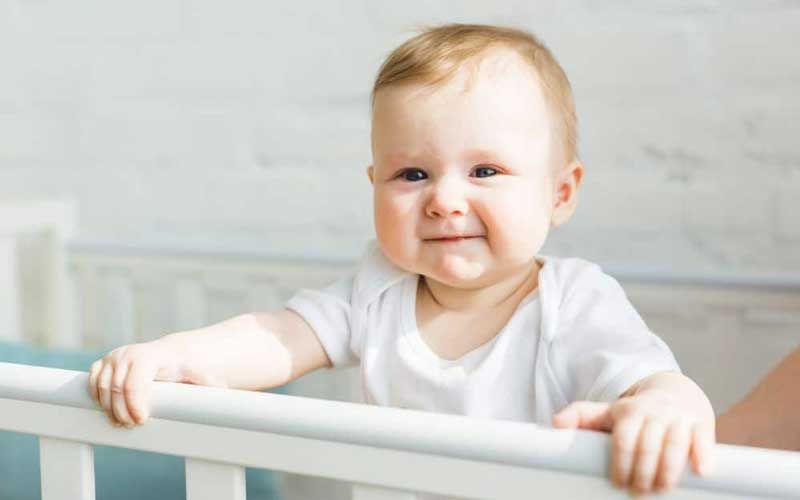 How thick should a cot mattress be?
Your child's comfort is essential, which is why we don't recommend going under 10cm thick. Your baby's weight is going to be concentrated on a small area of the mattress, and that's why you should try to avoid their body sagging through.
If not appropriately selected, the mattress can sag and lump and hit the cot bed beneath, which can be harmful and dangerous for you little one. Choose a product that will provide adequate support, won't sag, and feel firm rather than soft. And if you can decide on a firmness, squeeze at the edges and in the centre.
Final Words
Babies are the most precious thing in the world, and their comfort and safety are crucial. Think about the mattress density, thickness, size, don't forget to do some research and read some reviews.
Mattress brands frequently change, and so do the products they offer, which is why we will continue to provide you with the most up to par information and try to shed some light on the best cot mattress on the market.
We might not be professionals, but we've tested, researched and commented on every product we've put on this list. With that said, we hope that this article was helpful, and you were able to find what you are looking for.
If there are any questions, regarding the subject that were left unanswered, feel free to ask in the comments below.