Best Memory Foam Pillow UK
Last Updated on January 5, 2022
Does your pillow need an upgrade? Most people sleep on the same lumpy sack for years, which can cause neck pain, stiffness and persistent headaches due to poor pillow support. A good night's sleep isn't only dependant on your mattress choice. Finding the right pillow can play a crucial role in supporting your head while you sleep.
Almost all of us use pillows at night, and memory foam products have gained popularity in the last couple of years worldwide. This type of pillow usually comes with firm contouring in many shapes designed by numerous brands.
But how can you choose a quality option that fits the bill and checks all the boxes? There are many options on the market – from high-quality products from reputable companies to cheap Chinese items that we wouldn't recommend to our worst enemy.
That's why we created LightSleeper – to help you choose the product that is right for you and you alone and help you make that choice along the way. Companies can never pay to feature their products on LightSleeper, nor we are getting paid to recommend one product over the other – we are an independent resource, and we only recommend products that have passed our tests, and we feel that they are the best in their category.
So let's see what we think are the best memory foam pillows in the UK today and why.
1. Eve – Editor's Pick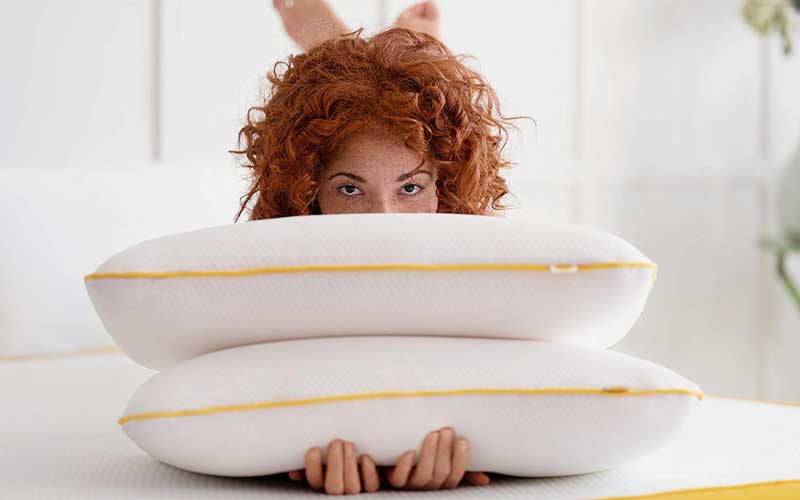 First on our list is Eve's Cooling Pillow, coming with glowing reviews and quality materials, easily winning the Editor's pick in this category.
Eve has come up with a perfectly supportive foam pillow, ideal for side and back sleepers, which is designed to relieve tension and weariness each night. This product is more supportive than squishy, and it will keep your neck and spine properly aligned for the perfect night's sleep.
Memory foam tends to trap heat, but you don't have to worry about overheating due to the cleverly placed air holes that get rid of unwanted heat while you sleep. Eve has excellent cooling properties because of the 100% soft and supportive PU foam and a 100% polyester removable cover for a lovely stretchy and soft feel.
It comes in one standard size (50 x 75cm) with a 14-night trial period in which you can test it out for yourself and if you don't love it, send it back – no questions asked. Eve also provides a 3-year warranty to prove its quality and free delivery service in the UK's Mainland.
2. Panda Bamboo – The Luxury Alternative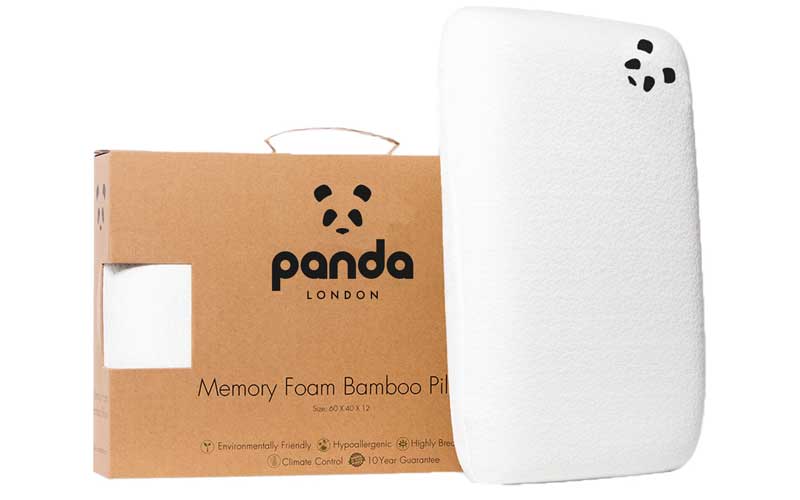 Next, we want to introduce you to the Panda Luxury Memory Foam Bamboo option. Panda is a company that uses bamboo fibres in their products, which is a sustainable resource and is one of the world's fastest and densely growing plants, making it environmentally friendly.
Every used material is tested to ensure the absence of any harmful chemicals. This REACH (Registration, Evaluation, Authorisation and restriction of Chemicals) certified product comes with three unique layers.
The centre layer is Visco memory foam, which orthopaedic experts and doctors highly recommend. Next, we have a protective mesh layer that keeps your memory foam centre clean. Lastly, we have a plush bamboo pillowcase, which works great by helping against skin irritation and allergies.
Panda's pillowcase keeps the air flowing and is highly breathable. Thus the unique temperature control system, keeping us cool and comfortable. It's also easily removable and machine washable.
Unlike most, this Panda item comes with a 30-day trial period, where you can try and test it. You also get free delivery and a 10-year guarantee that furthermore proves the high-quality of this impeccable product.
3. Silentnight – Budget Alternative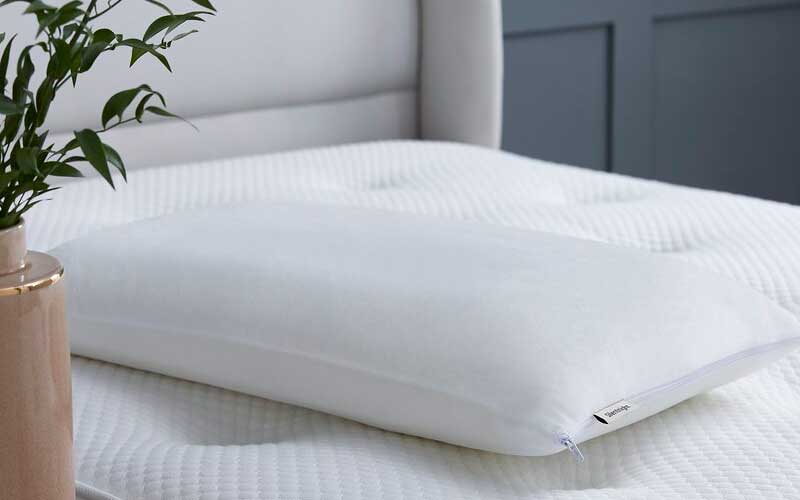 For our budget-friendly suggestion today, we have the Traditional Foam pillow by Silentnight that includes a mix of memory foam and microfiber.
Silentnight provides you with personalised comfort because of the soft and reactive memory foam shell, which moulds to the contours of your head. We can say that this pillow has a hybrid filling, meaning the hollow fibre surrounding the foam.
This Silentnight's choice has a microfibre removable machine washable cover that will provide maximum comfort while keeping your pillow feeling fresh. It can be purchased in one size 45 x 70cm in the colour white.
It is made right here in the UK and comes with a two-year manufacturer's guarantee with which you can sleep soundly. Silentnight's item is suitable for back and side sleepers and is also hypoallergenic. Overall, it's an affordable option that is responsive and super comfortable.
4. REM-Fit 500 Cool Gel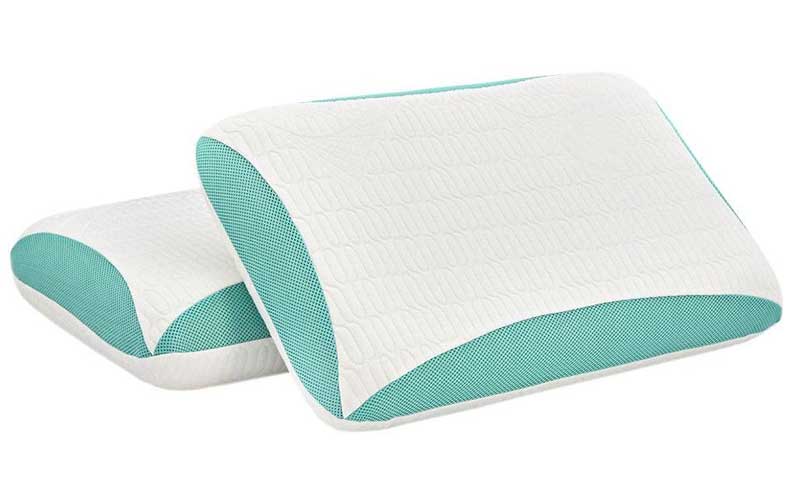 Another suggestion on today's guide is the REM-Fit 500 Cool Gel Pillow that has been carefully crafted so that every sleeper can use it.
REM-Fit focuses on sleep recovery, which has become the company's vision in the last years. But this specific product received full marks for overall performance by the Good Housekeeping Institute, which is a massive deal since no other brand has achieved it.
This excellent product is made from memory foam that uses heat to mould and shape to your body. However, there is one downside to it and its that it often retains heat. But hey, we have some good news! You get a pillow that has gel powders infused into the foam, helping reduce the overheating. If you get this item, you receive all the benefits of memory foam without heat retention.
REM-Fit comes with a removable and machine washable cover made from Re-ax® fibres in size 40 x 64cm. The fibres in the cover try to keep sweat away from your body. How many pillows do you know that can do that? Not only do you get a 5-year warranty, which is a lot longer than the usual 1 to 2 years, but Rem-Fit also provides you with free next day or day of choice delivery to the UK.
5. Simba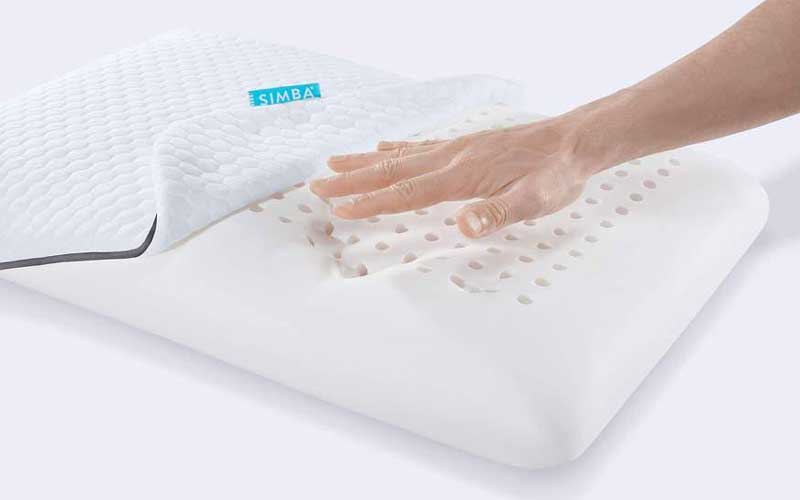 Simba is a well-known brand in the mattress industry, but they are just as great when it comes to bedding. The brand has designed a product that adapts to you for support and comfort while cooling channels keep you chilled out.
The Simba pillow comes in a 42 x 62cm size and is made from 100% viscoelastic polyurethane foam with a 100% polyester cover that is removable and machine washable. This manufacturer takes great care to ensure the lowest environmental impact possible from production to delivery.
Simba's option has cooling airflow channels that allow heat to escape and air to circulate through the pillow, so you can keep a cool head even when the heat is on.
In general, Simba provides you with responsive support that cradles your head and neck, while the 100% hypoallergenic materials allow even sensitive sleepers to rest undisturbed. This brand will replace any Simba pillow which exhibits a material defect and falls within the scope of the one-year guarantee.
6. Emma Original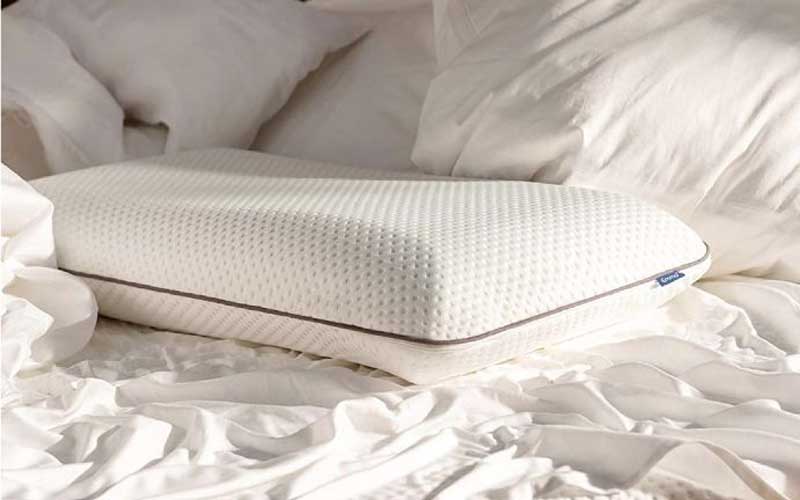 Next, we have an award-winning product with over 100,000 units sold in 2020, and that's the Emma Original. Emma is designed to suit people in all sleeping positions due to its adjustable height and firmness level.
It can be purchased in one size only, and that's 40 x 70cm. Emma is constructed with a moisture-wicking UltraDry cover guaranteed to help you sleep cool and comfortable and three unique memory foam layers.
On top, we have a durable and supportive HRX Supreme Foam that's on the firmer side, followed by a soft and ultra-breathable Airgocell® layer that transfers heat from your head. Finally, you'll find the ZeroGravity viscoelastic foam, which contours to your neck and head for a wonderful weightless air feel.
No sleep is truly restful without the perfect pillow, thus why the Emma OG was created to give you the freedom to adapt the height and firmness to your needs. Simba's products are proudly made in the UK and undergo strict testing to ensure they meet the highest quality standards. This incredible choice has a 200-night sleep trial and free delivery on all orders.
7. Ergoflex HD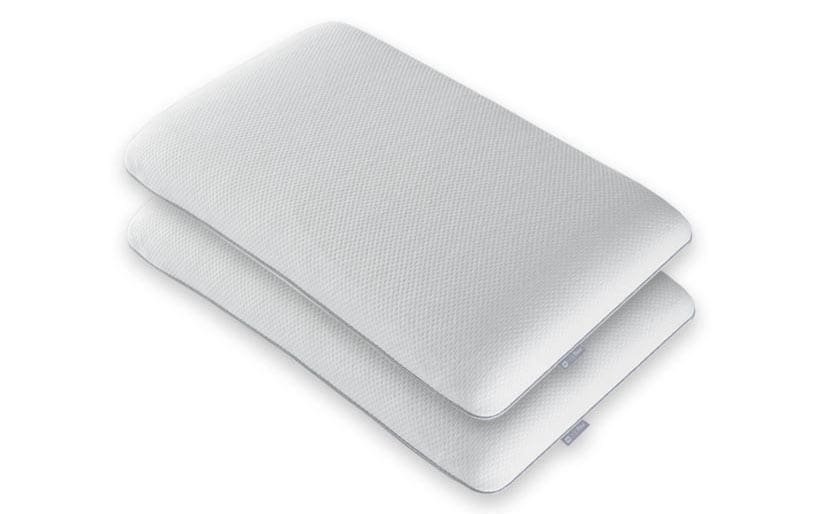 Another excellent suggestion on our list is the Ergoflex pillow. This is the only company in our guide that has been in operation for longer than their mattress warranty, and in our opinion, this means a lot on its own.
Ergoflex was established in 2006, and their latest release is the Ergoflex HD option, designed with the idea to deliver the "perfect" ergonomic posture for your head while bringing incredible support and comfort.
Its core is made from a visco-elastic, high-density memory foam that relieves pressure like no other. Set core has a slow response, and that's why it will gently shape to your head and neck. Ergoflex is constructed from a single foam layer, which means that both pressure relief and support will be present at any point of the product.
Forget about the need for fluffing with the single foam core layer, as your pillow will return to its original shape. The high-quality foam is wrapped in a Tencel cover, a wood fibre that doesn't require as much water as others, making it removable and washable.
You get a breathable and comfortably soft product that is anti-allergenic and anti-microbial, with which you prevent the build-up of foreign objects. Now it's time for you to rest with this carefully crafted option that comes with a 2-year guarantee, in size 45 x 65cm.
8. Ecosafeter Contour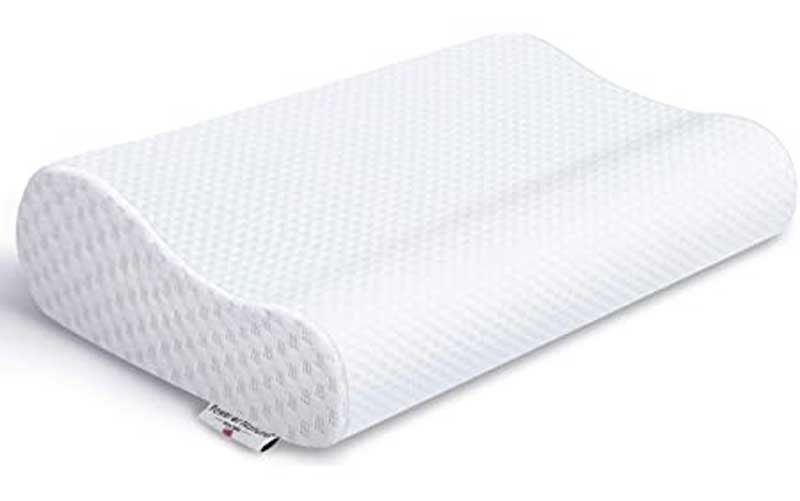 Another affordable alternative for today's guide is Ecosafeter Deep Sleep Neck Pillow that fits into UK's standards. The new type of pillow is designed by sleep experts to help everyone relax their cervical spine and bring deep sleep.
Ecosafeter offers both an eco-friendly inner and outer cover, which isn't familiar with other similar items. The foam pillow has a dust-proof and unique breathable inner shell, which more effectively extends the service life of the memory foam core.
While the outer cover is removable, washable and breathable, it's also made from 40% Bamboo and 60% polyester. It comes in one size 50 x 30 cm with a medium-firm feel designed with high-density memory foam.
Ecosafeter has combined the luxury comfort of a memory foam item with the scientifically proven wave design that perfectly cradles and supports your neck, head and shoulders while you drift off to blissful sleep.
9. BedStory Cooling Gel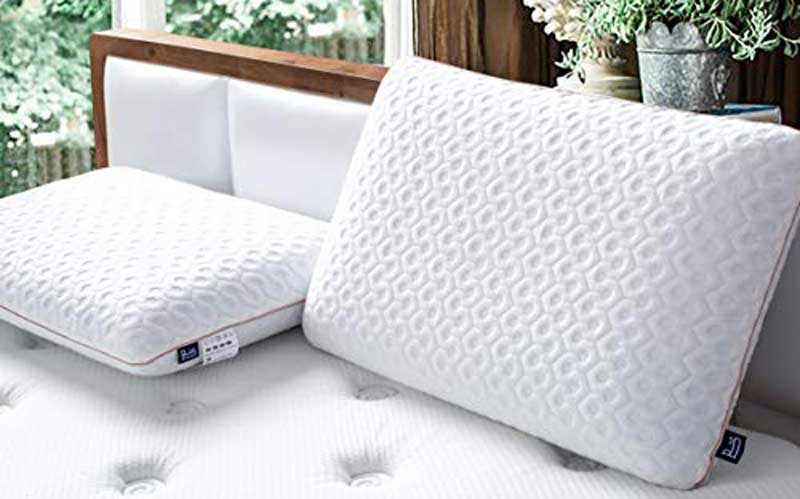 Our next suggestion is a luxury cervical pillow designed to keep your spine aligned by conforming to your body's shape by the brand BedStory.
This manufacturer has designed a pillow with cooling gel-infused memory foam that regulates temperature, disperses heat and promotes airflow while preventing sweating and supporting the neck, shoulders, and upper back.
BedStory can be bought in one size, which is 40 x 60cm and has a breathable cover made with 40% Tencel and 60% microfiber fabric, featuring an air layer on the surface, which keeps you comfortable throughout the night.
BedStory pillows are CertiPUR-US, and OEKO-TEX certified for durability, performance, and content. They are hypoallergenic and offer a healthy and safe sleeping condition. This option is equipped with a unique 3D pattern design that retains its shape for a long time, while the cover can be removed and washed, so you can keep it clean and fresh.
10. The White Company Comfort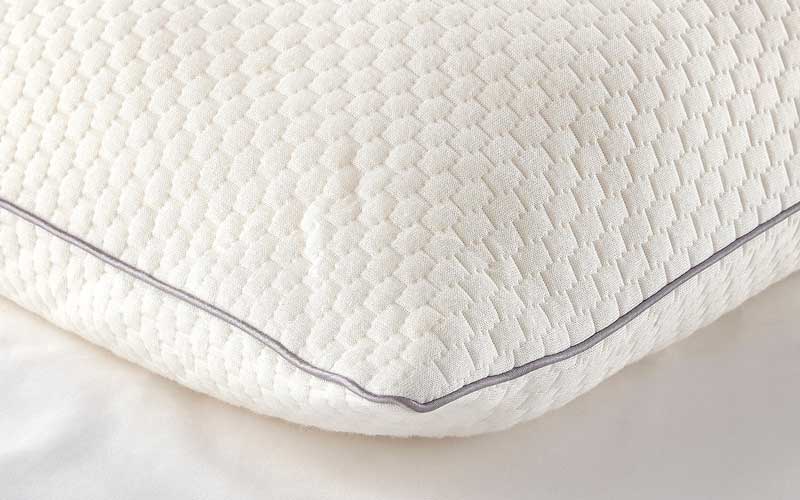 Last but not least, we have a shape-contouring pillow from the White Company, made with shredded memory foam.
This White Company's item is designed to provide you with the supportive benefits of memory foam while boasting the sleek appearance of a traditional pillow. It comes in one available size that's 45 x 70cm, with a firmer level of support.
Its filling is made from 100% memory foam clusters, while the soft removable cover is 55% polyester and 45% viscose from bamboo. White Company's choice is hypoallergenic and will bridge the gap between your shoulder and neck for perfect alignment.
All pillows from The White Company are thoroughly tested by European standards. However, keep in mind that you can't return your pillow for hygiene reasons if you've opened the packaging. This brand doesn't provide a warranty by the offer a free standard UK delivery on orders over £50.
How to choose a good memory foam pillow?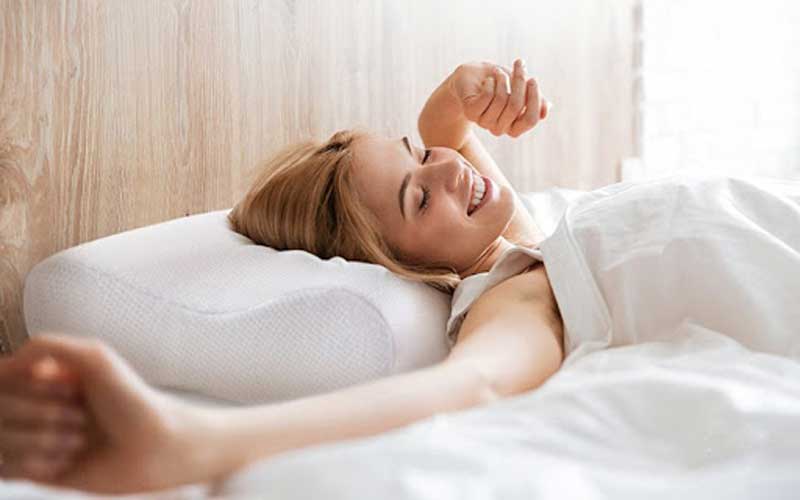 Nowadays, the bedding industry has been flooded with manufacturers that offer various types of memory foam products at different price points. However, some foams can trap heat and overheat your head.
When you're searching for a new pillow, it's essential to know the basics behind how they are constructed and what kind of options are there. Here are some of the factors you have to take into account before making a purchase:
One-Piece vs Shredded
Memory foam pillows come in two types: one piece and shredded. The one-piece products are made of a single solid block of memory foam that can have a different shape. Sometimes it will have the traditional pillow shape, and other times it may be tailored to mimic the curves of the head and neck. This type conforms very closely and has a slower response to pressure, but they tend to go back to their original shape when you take your head off of them.
On the other side, shredded memory foam pillows can be made in a few ways. In some situations, they can contain 100% shredded memory foam, and in others, they can be a blend with other materials such as latex or fiberfill. This type can be beneficial for an individual that doesn't know their preferred loft and thickness since they can mise the shape of the pillow to a certain extent. Shredded items also allow for better airflow.
Firmness
The firmness level you choose should depend on your body type, sleep position and personal preference. In general, most memory foam products are usually medium-soft to medium. As we mentioned above, one-piece items have one firmness, whereas shredded products allow you to customise the firmness by adding or removing the filling to your liking.
Materials
Memory foam is a material that will eventually lose its ability to bounce back to its original shape, which is why you should select a higher-quality option, which will last longer than an inferior one. Materials often go hand in hand with the price, and the quality of the foam will often reflect it.
Cooling Properties
There has been a stereotype that implies memory foam tends to trap heat, but that's not always true. Heat build-up can make a person uncomfortably warm and disrupt their sleep. With that said, some brands were able to get around the heat retention issue by opting for shredded pillows or gel-infused products.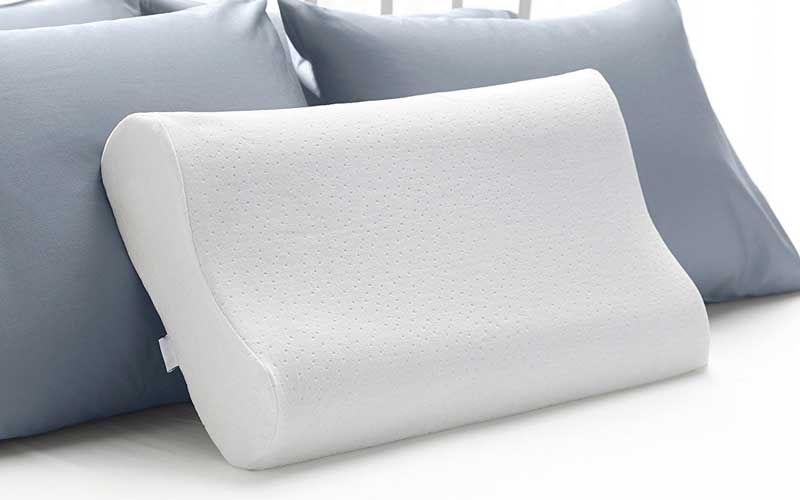 Sleeping Position
Your sleeping position should be one of the main features that dictate the type of pillow you choose. Thicker pillows are typically well-suited for side sleepers, whereas stomach and back sleepers should opt for a slimmer loft, like shredded pillows that allow customization.
Pressure Relief
Memory foam is a known pressure relief companion since it conforms to you and prevents pressure build-up in the head and neck. That's one of the main reasons for the memory foam to be used in specialised orthopaedic pillows, which aid individuals with their neck pain or other issues.
Loft
The height of a pillow is also crucial since it helps keep your head and back aligned while preventing neck pain. One-piece options usually have a higher loft, while shredded ones allow loft adjustment to your preference. However, some solid-foam items have removable inserts, which let you between two or more settings.
Price
Memory foam pillows come with a higher price tag compared to traditional options, but they also come with many benefits that a feather pillow can't provide. The advice we can give you regarding price is, read some customer reviews and look at the pricing before setting a budget so that you are well-informed.
Bottom line
Finding the right pillow that will cradle and support your head is just as important as finding a supportive mattress. When you're shopping for a foam pillow, you should consider the type of foam and any special features that can provide you with quality sleep. You can find the right fit no matter your sleeping position, body type or weight. You just have to know where to look!
All of the bed products we listed above have great customer reviews and are well received. We hope you could find what you were looking for in our guide. To simplify your shopping experience, we've selected the top 10 models for this year. Alternatively, you can check out the rest of our pillows buying guides as well.
Brands in the bed industry frequently change, and so do the products they offer, which is why we will continue to provide you with the most up to par information. We hope that this article was helpful, and you could find what you are looking for.
Now it's our turn to hear from you if any questions regarding the subject were left unanswered. If you want to share some information, we would gladly hear about it in the comments below.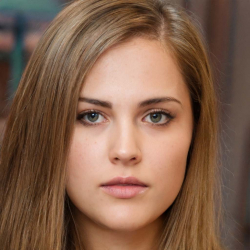 Latest posts by Isabelle Harris
(see all)