Brits around the country love them for their sleek and ergonomic design that offers built-in storage at an exceptional value. Divan beds can aid you in finding more floor space while providing you with a good night's sleep.
But how can you choose a decent divan bed that fits the bill and checks all the boxes? There are many models on the market – from high-quality products from reputable companies to cheap Chinese items that we wouldn't recommend to our worst enemy.
That's why we created LightSleeper – to help you choose the product that is right for you and you alone and help you make that choice along the way. Companies can never pay to feature their products on LightSleeper, nor we are getting paid to recommend one product over the other – we are an independent resource, and we only recommend products that have passed our tests, and we feel that they are the best in their category.
Without further ado, let's see what we think are the divan beds and bases on the market today:
1. Brook + Wilde The Signature Divan Bed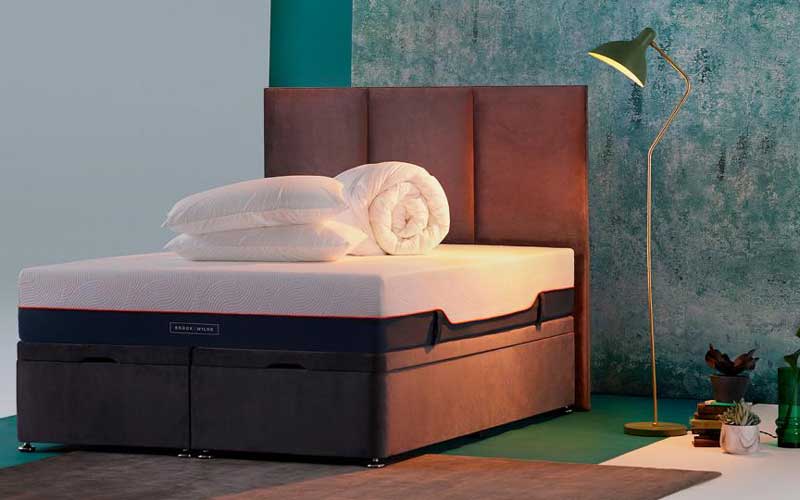 First on our list is Brook + Wilde, a fastly growing company with thousands of positive reviews, using quality materials, easily winning the Editor's pick in this category. Brook and Wilde's luxurious divan base is available with a choice of storage options that feature contemporary or continental style drawers.
You can purchase this high-quality base in sizes from single to super king. It's available in six stylish colours (steel, silver, new teal, Fernando granite, denim, and Hampton biscuit) and five premium headboard options (Oakmere, Congleton, Knutsford, Harrington, Lovegrove). They start with FSC-certified timber and your choice of fabric with a range of storage configuration options (no drawer, 2 drawers or 4 drawers).
All Brook + Wilde divans are manufactured here in the UK and have a 10-year manufacturer's guarantee. The brand also offers premium delivery to a room of your choice, with a two-man delivery service.
2. Dreams Luxury Divan Base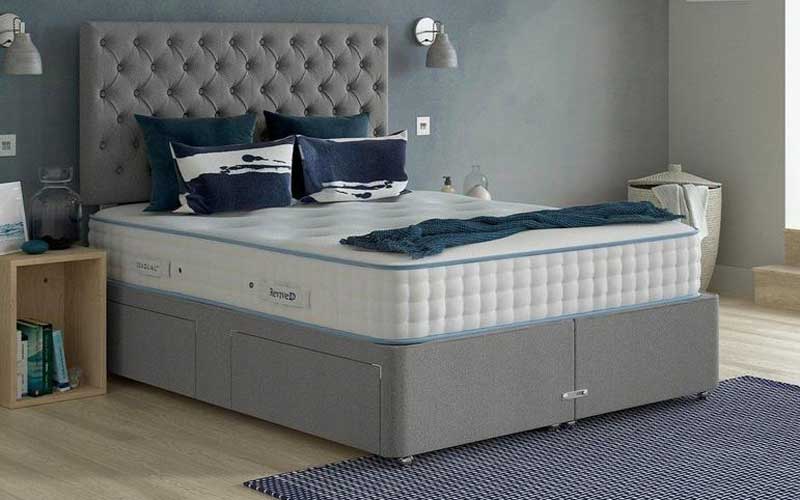 Another somewhat affordable choice is the Dreams Luxury Divan Base which comes with a 4.7 rating. This sleek base is available in five sizes (from single to super king) and five neutral clours (ash, charcoal, dark grey, mocha and oatmeal).
Dreams suggestion can be purchased with sturdy chrome glides or legs and has three options when it comes to storage. They are no drawers, two or four, depending on your room and availability. The divan is fully upholstered across the top of the base with padded under-bed drawers.
Keep in mind that this offer doesn't include a mattress or a headboard, but Dreams offers many suitable options with an affordable price tag. This UK made base comes with a one-year warranty and free delivery on all orders.
3. Silentnight Essentials Mirapocket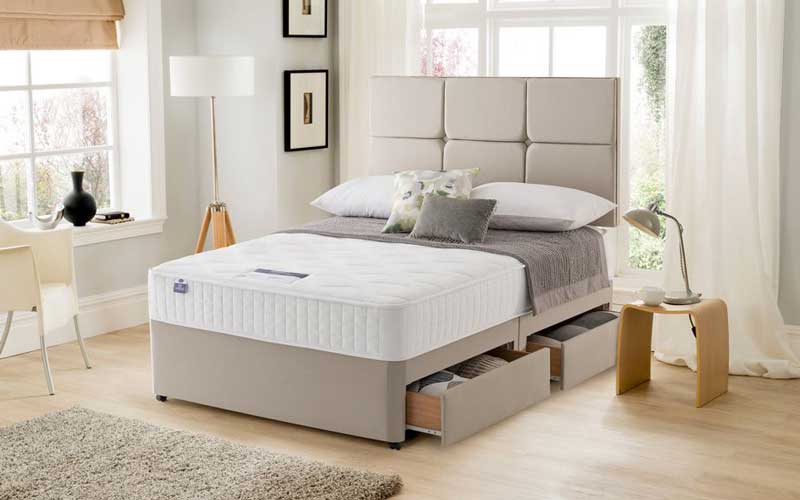 Next, we have our budget-friendly option from Silentnight which includes a pocket sprung mattress. Silentnight's products are handcrafted in the UK. They are approved by the National Bed Federation for the highest standards of quality and safety and the Forest Stewardship Council for the responsibly sourced wood.
Silentnight's set can be bought in five sizes, varying from single to super king. The mattress comes in one firmness level, which is medium with a thickness of 24cm. The base itself can be either a sandstone or slate grey colour with four headboard options.
When it comes down to storge, Silentnight gives you an incredible selection of choices. You have eight available options. If you don't want storage, you have that option, but if you do, there is plenty to choose from. You can get two drawers, four drawers, two drawers + two half drawers, half ottoman, half ottoman + two drawers, half ottoman + two half drawers or full ottoman storage.
The included mattress is a 1000 pocket sprung one with cooling Eco Comfort Fibres™. It has a cover treated with Purotex to fight allergens and is approved by Allergy UK. Silentnight provides you with a five-year warranty and a free two-man delivery service.
4. Vispring Plymouth Supreme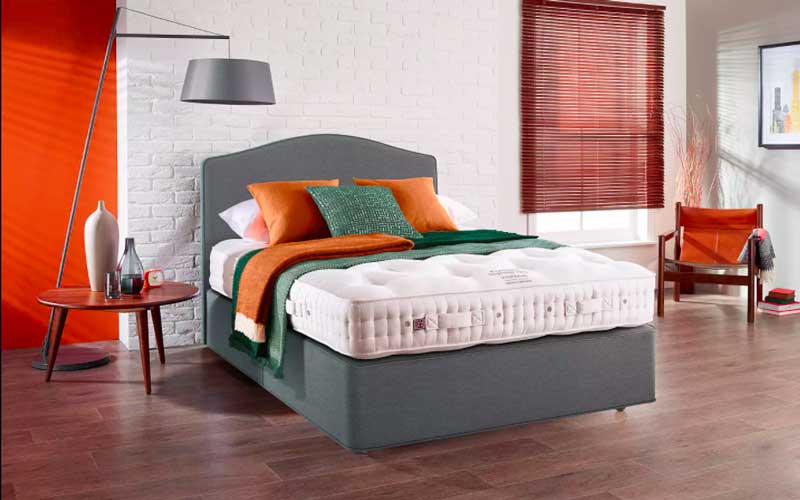 Our premium suggestion in today's guide is the Vispring Plymouth Supreme Divan Set. If you're a fan of luxury and don't mind spending the extra buck, this is an excellent product that comes with a long-lasting pocket sprung mattress.
This Vispring item is available in five sizes, from single to super king, with a medium firmness level for the mattress. The base itself is a supportive and durable foundation for your mattress made from high-quality FSC-certified slow-grown Scandinavian softwood and hardwood. Colour-wise you get to choose from six variations: Gem Prussia, Gem Cream, Amatheon Wolf, Plush Heather, Plush Saffron and Turtle Dove.
The used mattress is handmade in the UK with a steel pocket spring system and layers of natural materials. Its filling is from insulating New Zealand wool and breathable cotton that helps to maintain an effective airflow throughout the night while keeping you cool. This mattress is finished with an exclusive M-PURE cover which is chemical-free and flame retardant, with two rows of hand-side stitching and cotton, felt tufts.
What makes this purchase incredibly impressive is the 30-year warranty that comes with it. Vispring also provides a standard free delivery to UK's Mainland.
5. ComfoRest Complete Set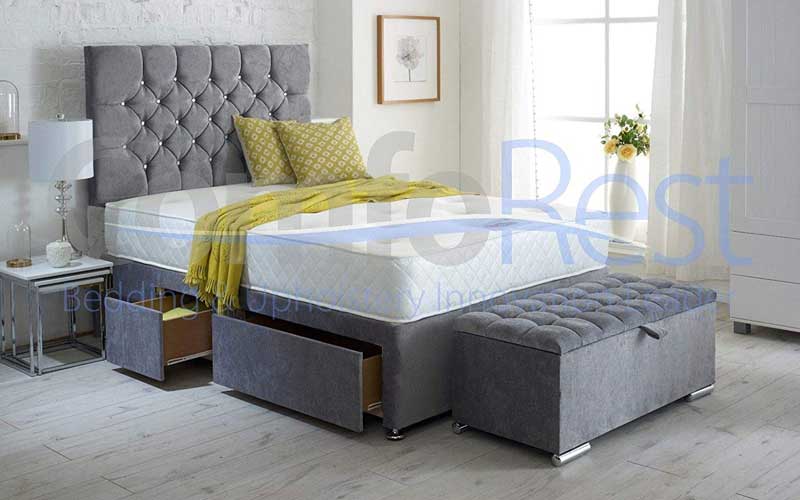 Finally, we have a suggestion that offers it all, and that's ComfoRest Complete Divan Bed Set. This set is the full package with a base, headboard, mattress and an ottoman box which is finished in a Naples velvet material in your choice of colour.
ComfoRest has a memory foam sprung mattress with a depth of 25cm that's medium-firm. It's available in four sizes: single, double, king and super king.  When it comes down to storage, you can choose where you want them to be placed. They can be on the right-hand side, or the left-hand side of the foot end.
ComfoRest's bed come with diamonds attached at the corners of each diamond shape designed on the headboard and the ottoman box, but if you're not a fan of sparkle, you can switch that up with matching buttons for an additional charge.
This option doesn't come with a warranty, but a 4.7 rating shows that the quality is remarkable, especially considering how much of a deal this is for your pocket.
How to choose a divan bed?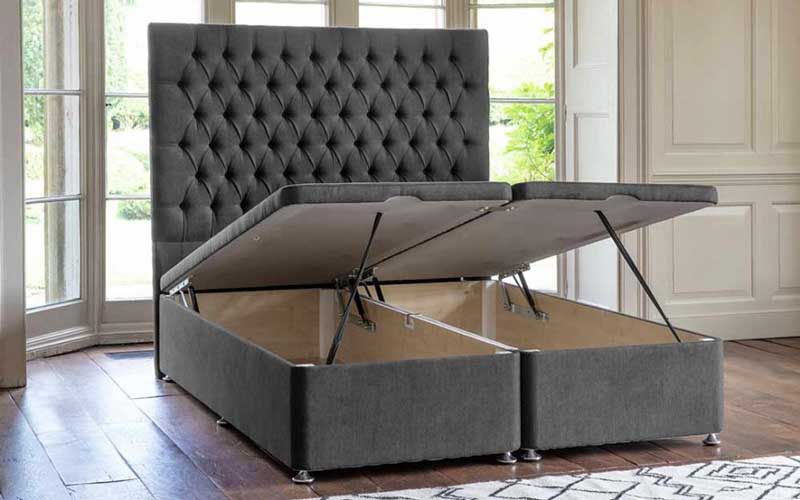 No one wants to spend their money on products that aren't durable nor sturdy. There are some crucial factors to consider before making a purchase so that you are well-informed. They are the following:
Size
Choosing the right size for your bed and mattress are arguably the most important decisions you'll have to make considering your bedroom. Before buying, make sure to take proper room measurements. In the UK, six standard sizes are commonly used in the bedding industry. They are:
Small Single – 75 x 190 cm – best for children or guest rooms
Single – 90 x 190 cm – best for kids or one adult
Small Double – 120 x 190 cm – best for one larger adult or two smaller kids
Double – 135 x 190 cm – best for two adults
King – 150 x 200 cm – best for two adults with added legroom
Super King – 180 cm x 200 cm – Best for two people that enjoy the extra space
Storage
Divan bed's most significant benefit is the built-in storage space they offer. Beds are a bulky item that can be a fantastic space saver. There are multiple configurations of storage options available in the UK. We recommend you think about the storage space you need and the position of your divan bed in the room. Here are the most common options:
Ottoman storage base
2 drawer base
4 drawer base
Sliding door compartments
End drawer base
Mattress type
As we've already mentioned many divan bases come with an included mattress. The type of mattress you choose should depend on your body weight, sleeping position and personal preference. However, if you have any particular support needs, you should also consider them as well. Here are the most popular types of mattresses you can choose from:
Pocket Sprung Mattress – made from coil springs for a bouncy feel
Memory Foam Mattress – made from polyurethane foam that moulds around your body
Latex Mattress – made for the sap in trees, providing great airflow
Hybrid Mattress – a combination of springs and foam or latex
Pillow Top Mattress – made with a thin layer of plush material for extra comfort
Headboard
Headboards are a popular choice associated with divan beds. Typically, there are two types. One is smaller and has supporting legs, while the other is larger and extends all the way to the floor. The good news is that the type of headboard you choose is entirely up to you since it's simply up to your design preference and budget. However, before making a final decision, make sure it will also fit through your doorways.
Bottom line
Choosing the right divan bed can be a complex decision that you have to consider comfort, practicality, storage and design.
All of the bed products we listed above have great customer reviews and are well received. We hope you could find what you were looking for in our guide regarding the best divan bed or base the market has to offer. To simplify your shopping experience, we've selected the top 5 options for this year.
Brands in the bed industry frequently change, and so do the products they offer, which is why we will continue to provide you with the most up to par information. We hope that this article was helpful, and that you could find what you are looking for.
Now it's our turn to hear from you if any questions regarding the subject were left unanswered. If you want to share some information, we would gladly hear about it in the comments below.