Choosing the best bed for your needs can be a daunting task with such a saturated market today, especially if you lack the time to do proper research. Going over all the available brands, models and so on can quickly become overwhelming. So how do you choose?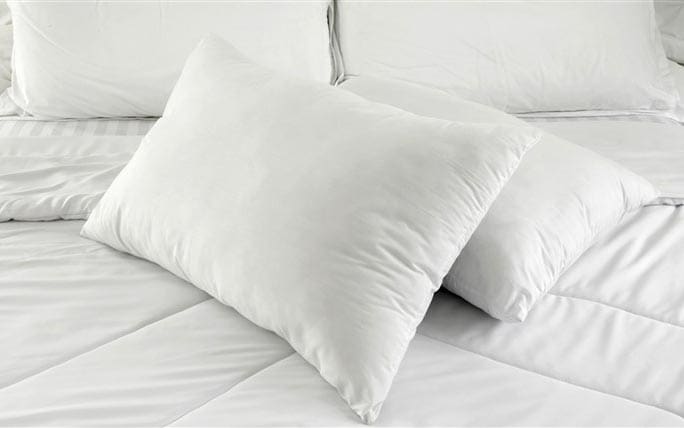 That's why we created LightSleeper – to help you choose the product that is right for you and you alone, and help you make that choice along the way. Companies can never pay to feature their products on LightSleeper, nor we are getting paid to recommend one product over the other – we are an independent resource and we only recommend products that have passed our tests and we feel that they are the best in their category.
So let's see what we think are the best beds in the UK today and why.
1. Haze 2 Seater – Best sofa bed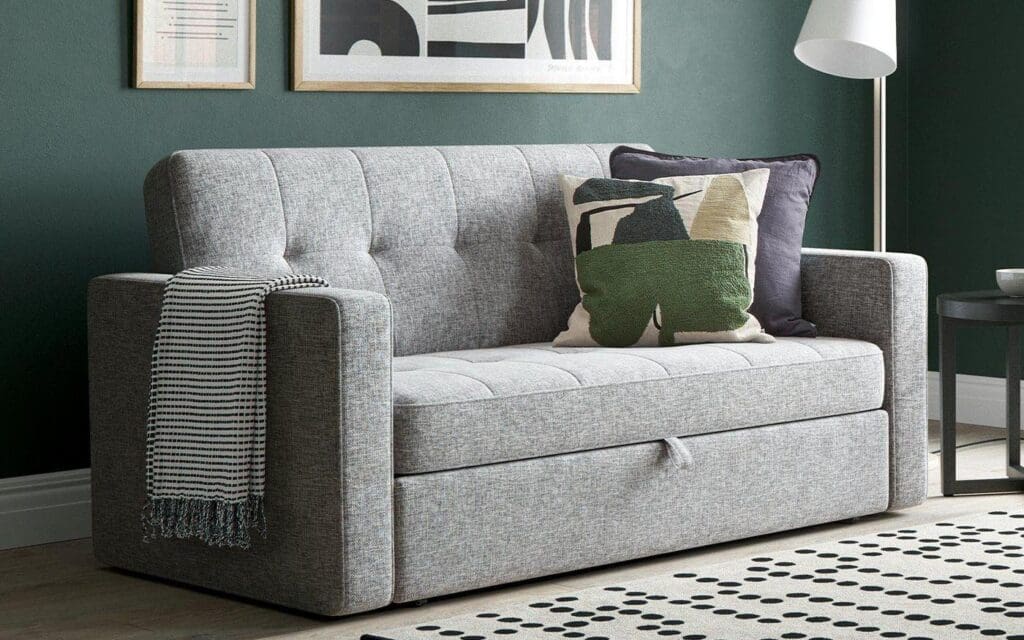 The first type of beds we'll be talking about today are sofa options. Our personal favourite is the Haze, which is a modern two-seater sofa that combines style, comfort and practicality without having to compromise on space.
This stylish item features a pocket spring seat and sleeping area that provide comfort whilst seated and support whilst sleeping. And that's the end goal, right? You can easily convert it into a double bed with the simple 'Click-Clack' mechanism it comes with. It's super easy to transform in a matter of seconds.
You get to choose from two different colours: grey and natural (a.k.a. beige). Most people short on space still want to have an item that won't compromise on style, so don't waste your time and grab this beauty! When you buy it, you'll get a 1-year guarantee, that protects your purchase.
And if you want to make it a full set, the manufacturer offers a matching Haze chair and Haze ottoman footstool, so that you can have a chic and practical suite for your room.
Key features:
Supportive pocket spring sleeping area
Pop up mechanism with 'Click-Clack' back
Two-seater sofa
Easy assembly – 1 hour
Warranty: 1-year
2. John Lewis Savoy – Best trundle bed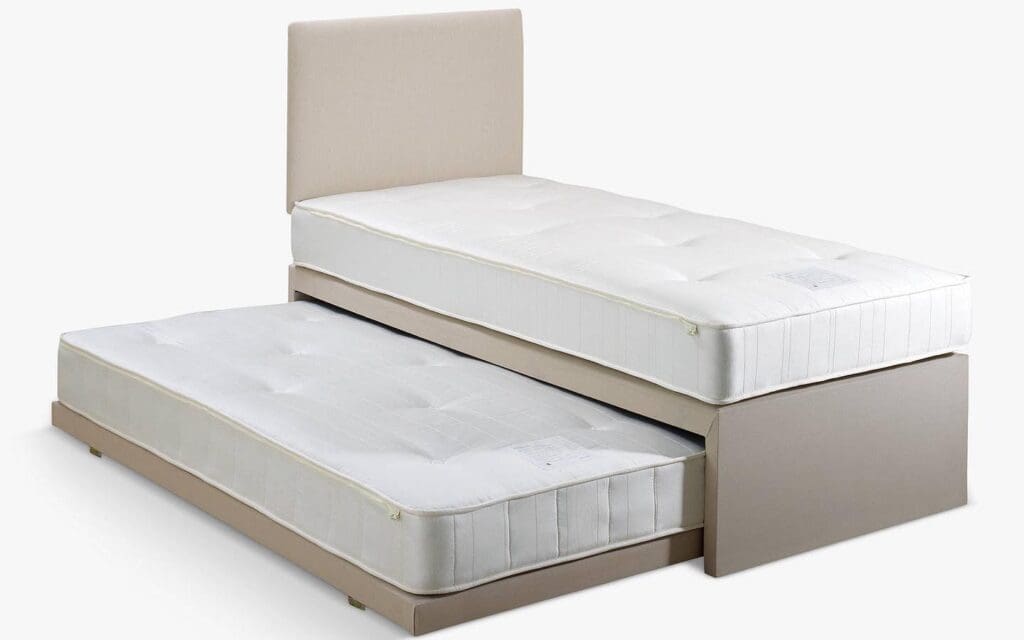 When it comes down to bedding, John Lewis is the real deal, and the Savoy Bed With Trundle is no exception. Designed to combine contemporary style with timeless functionality, this item gives the ultimate space-saving solution.
With a sleek and elegant look, this product has three options of use. It has two pocket spring mattresses, where both are the same height when pushed together. The trundle fits perfectly into the underneath of the main compartment, to save you space during the day.
Depending on how you need to use it, you can push together and zip the mattresses to make them into a king-size one, that can easily fit two people. A positive we would like to mention is that the mattress has slightly curved edges, which give it an elegant and finished look.
Something special about this item is that it carries the EU Ecolabel, which is received after meeting the highest environmental and performance standards throughout its life cycle. Lastly, we want to talk about the whooping 7-year guarantee, with which you can rest assured that you'll get the most out of it.
Key features:
3 in 1 upholstered bed
2 pocket spring mattresses
Folding legs
Space-saving solution
Warranty: 7-years
3. Yoko Sofa – Best Guest Bed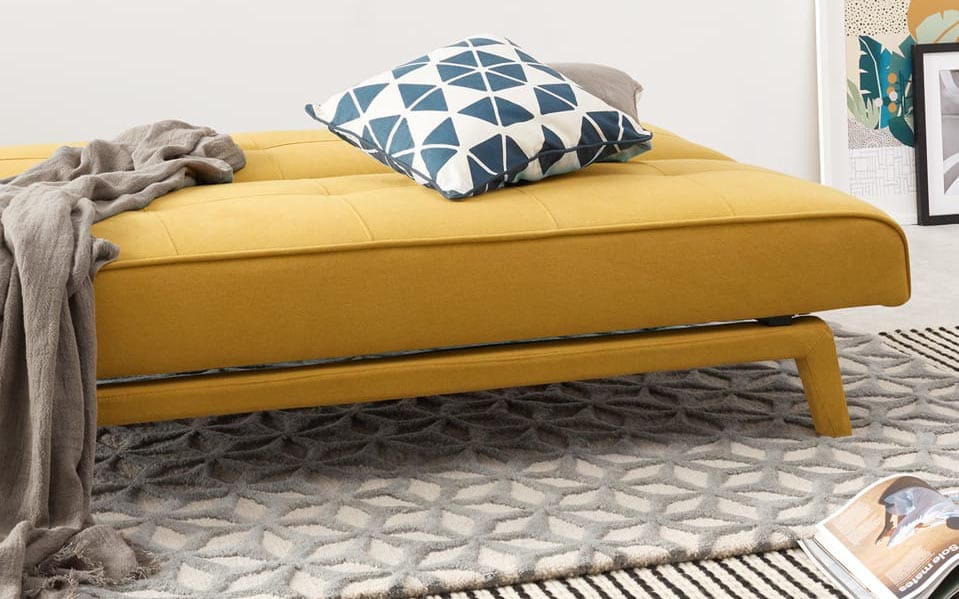 Let's start with the Yoko Click Clack option, which is an aesthetically pleasing choice for any home. This item can be handy in any space, specifically smaller rooms, such as a student's room.
You get space during the daytime while using it as a bed at night, or opening it up when someone comes to visit. We like this product because it has a unique modern design feel, suitable for most living areas. It's easy to use since the cushions are attached to the sofa itself, saving you the hassle of having to reassemble it.
Its frame is solid and engineered wood, while the used fabric is 100% polyester. Yoko has the following dimensions as a sofa: width of 180cm; depth of 90cm and height of 78cm. However, it doesn't come with a warranty.
There are many colour options such as grey, red, gold, silver, cream, black and brown. The cushions are made out of a sprung foam, which assures a comfortable seat or sleep situation. This product has been a press favourite for some time and has been featured in 'The Telegraph'.
Key features:
Click Clack bed
Doubles up as a sofa
Genuine comfort
Three-seater sofa
Hard-wearing & soft fabric
4. Wilson Upholstered – Best ottoman bed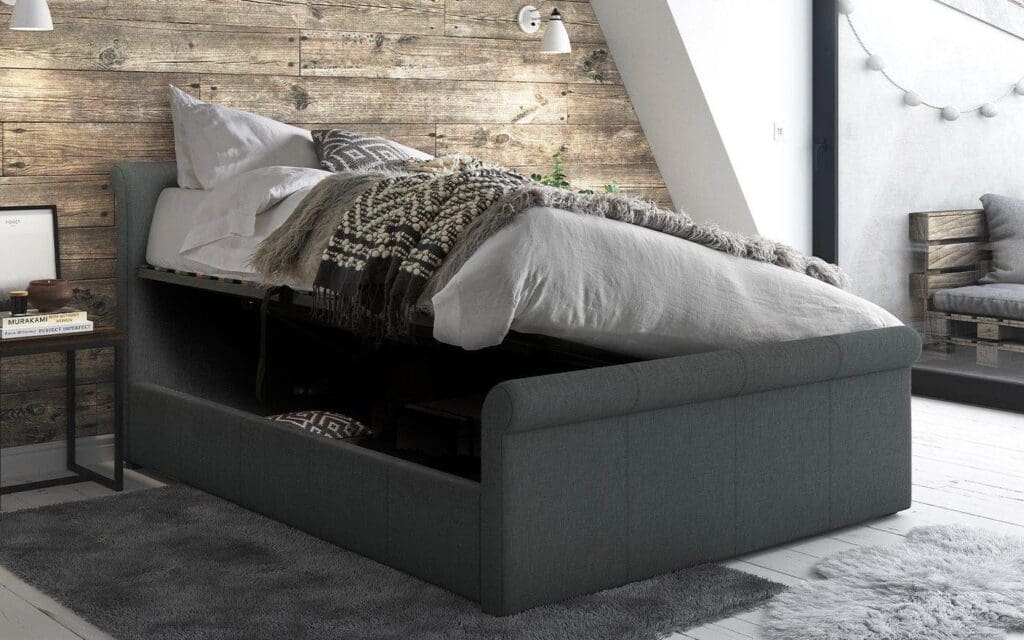 Let's say you like contemporary design. If that's the case you will fall in love with the Wilson Upholstered Ottoman. This beauty has over 1700 5-star ratings and is the most reviewed ottoman option. You get a high-quality product at an affordable price with incredible storage space and impeccable build. Who can beat that?
There are three sizes (small double, double and king) and three colour variations (black, grey and silver). For an additional cost, you can get the Lucia / Wilson storage chest and the Drawer Bedside chest to create the perfect bedroom set.
You can assemble the Wilson to open from a side of your choice. The manufacturer offers a bed frame assembly, that is carried out by an expert service team, which can save you the hassle. Inside you'll find plenty of storage space that offers a simple and practical solution for keeping your room tidy and neat. Lastly, there is a year warranty, but if you think it's necessary, you can extend it at checkout.
Key features:
Side opening ottoman
Scrolled head end and foot end
Cloth ottoman base
Sprung slats
Warranty: 1-year
5. Seoul Upholstered – Best TV bed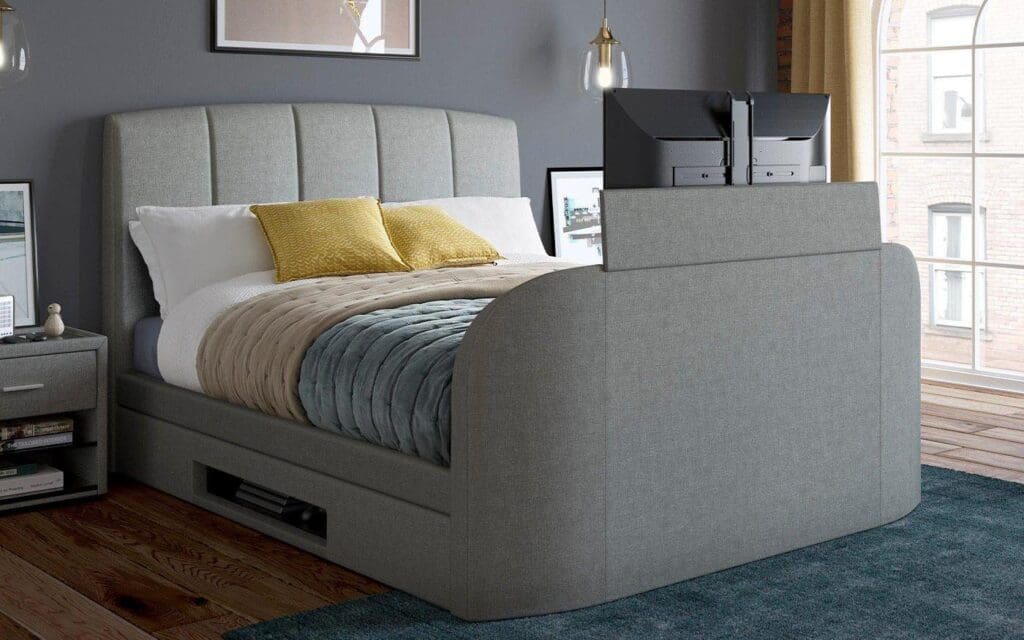 For us, the Seoul bed is the complete package. The proof you need is that this is the highest-rated TV option from Dreams and that says a lot. This amazing item has two TV's that you can choose from. One is a Smart LED TV and the other is a Samsung 32 inch LED TV.
The Smart version has a resolution of 1920 x 1080 and a year manufacturer's warranty. Where the other choice comes with a resolution of 1366 x 768, but still has the year manufacturer's warranty. You also get a wireless remote for controlling the TV lifting mechanism, but if that's not enough you can always download the Dreams Napp App and navigate it from there.
This product comes in two sizes and three possible base options, which are solid slat, sprung slat or sleep motion base. No matter your choice of base, your bed comes with a stylish quilted vertical panelled headboard. It takes 30 minutes to assemble and two people, but if you're not up for the task, you can always opt for the Dreams team to do it for you.
With this product, you get a year guarantee but there is a possibility of extension with the Dreams' cover plan, which will give you 5 years of accidental damage and 8 years of manufacturing faults. Isn't that just perfect?
Key features:
Samsung 32" LED or Smart LED TV
Wireless control to TV lifting mechanism
Solid slat, sprung slat or sleep motion base
Quilted vertical panelled headboard
Warranty: 1-year (Possible extension)
6. Lucia Bed Frame – Best sleigh bed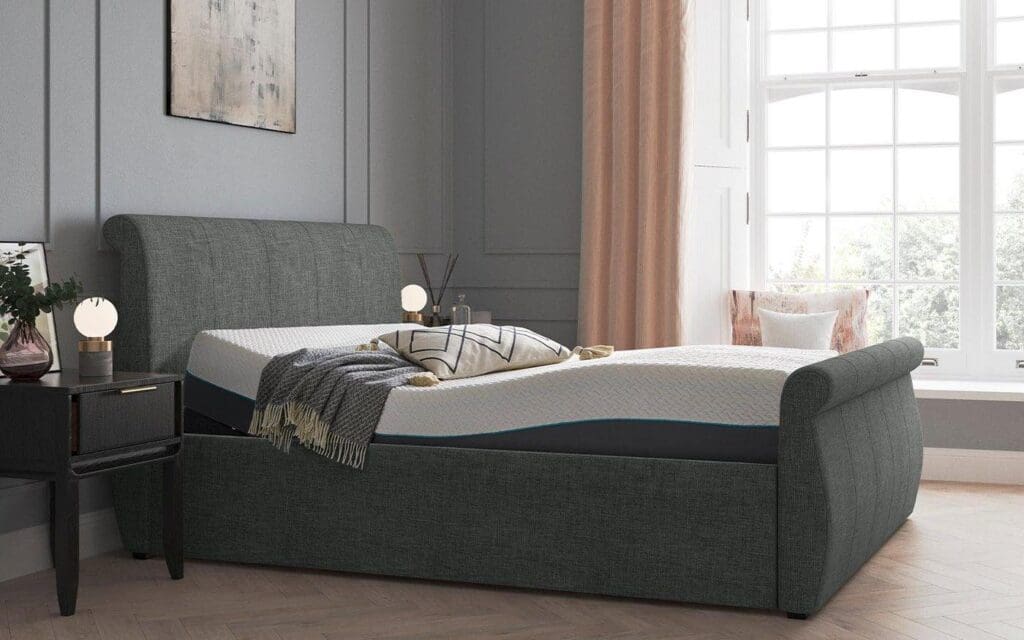 Are you looking for a modern sleigh bed with a lot of storage space? If the answer is yes, make sure to give the Lucia Upholstered frame a try. This luxurious looking option has five sizes (single, small double, double, king and super king) and three beautiful muted colours (dark brown, dark grey and silver).
To match the sleigh style, the head end and foot end are both curved, which helps it all get tied together. You can choose your slat preference and the possible options are sprung and solid. We recommend the sprung slats since they are much more comfortable.
An interesting aspect is that you can customize the Sleepmotion, depending on the way that you sleep. There shouldn't be any worries about storage either since you get two large drawers that can come in handy if you're living in a smaller space.
This frame is easily assembled with the instructions and it has thousands of excellent reviews, so you know it's true. Dreams offer a year guarantee, with the option to purchase an extended one at the checkout. That's not all, they can also take away your old bed when they deliver your new one.
Key features:
Sleigh bed frame
Curved head end & foot end
2 large storage drawers
Solid or sprung slats
Warranty: 1-year (possible extension)
7. Stompa Mi Zone Wooden – Best day bed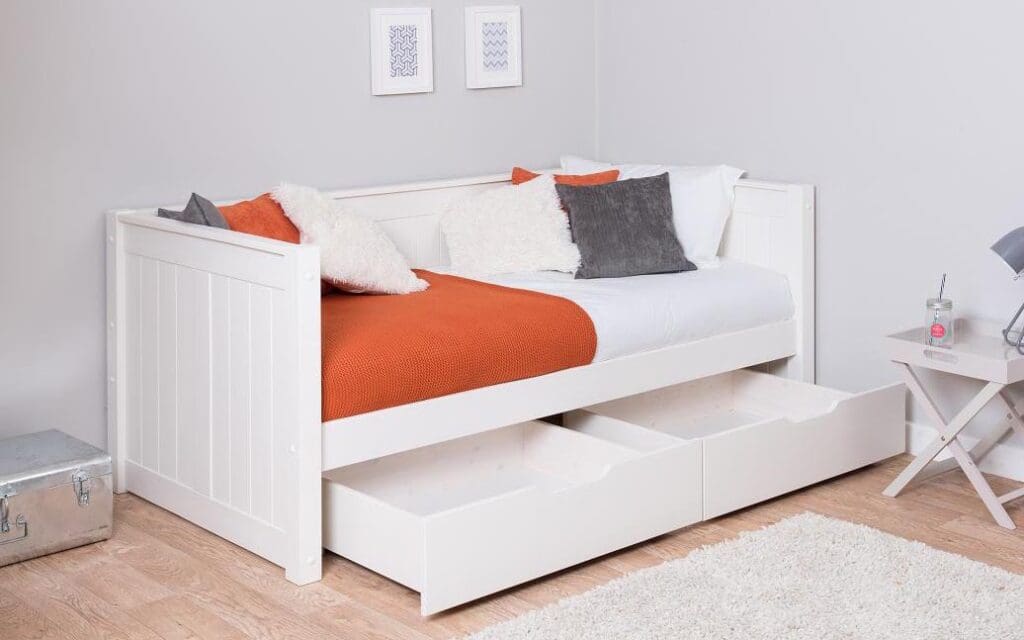 Next, we're going to talk about day beds. Our favourite is the Stompa Mi Zone one. This brand is known for a variety of furniture with a classic look and high quality. It comes in one size and colour, but with that style, it can work in any room and aesthetic.
Depending on your preference, you can turn it into a double bed, by getting two single mattresses (75×190 cm) and put them together. It's made from Scandinavian pine with a smooth painted, white finish, which creates a timeless piece of furniture.
If the room you're putting it in is smaller, the two under bed drawers can come in handy and save you some space. You can use these drawers, to tidy up your child's everyday clutter of shoes, toys and school things. Not only is this product beautiful it's also practical, which is what we want.
The Mi Zone can be the perfect option for your guests, kids and many more. You receive a year warranty by purchasing it, but if you buy a mattress alongside it from Bensons For Beds, it gets extended to five years, and that's quite impressive.
Key features:
Single day bed
2 under bed drawers
Scandinavian pine with white finish
Assembly required
Warranty: 1-5 years
8. Haru Single – Best chair bed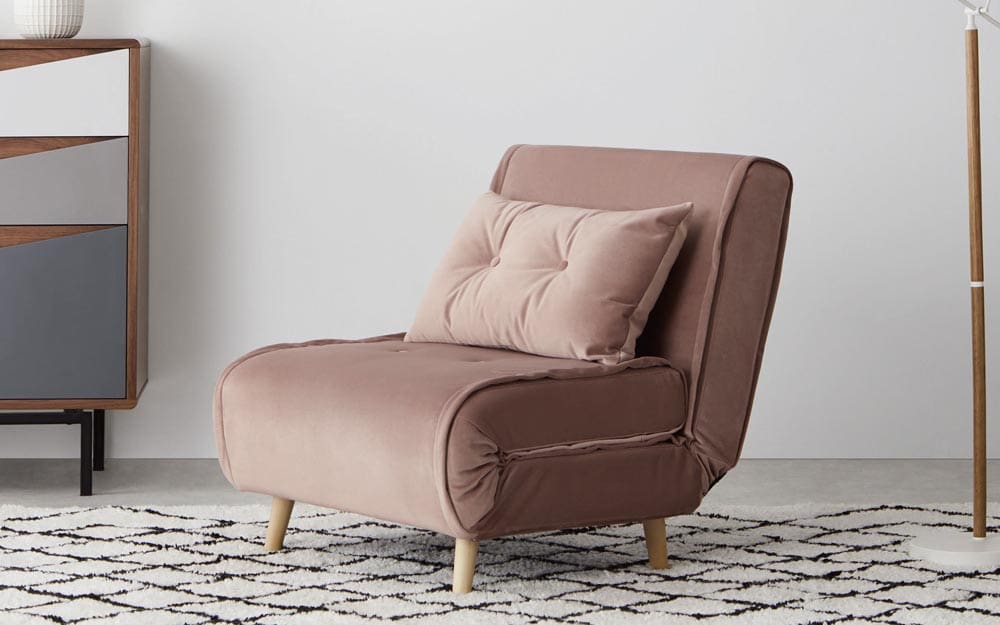 Compact in size, the Haru Single armchair is ideal for homes where you want to be prepared for guests, but don't quite have the space to spare. This Haru product is available on the well-known furniture supplier MADE, which creates high-quality pieces without the expensive price tag.
If you're not a fan of a mattress on its own and you want a compact item that folds out as a bed, this option will provide you with everything you need. It's modern-looking, and it can be a great accessory to any home and room.
You get to pick from two sizes: a single bed or a 2-seat one that will offer a bit more room. Both options are inexpensive and come in a variety of colours: Cygnet Grey; Quartz Blue; Sherbet Blue; Butter Yellow; Faux Sheepskin and Marshmallow Grey. Each of these colour versions comes with a different colour chair leg.
The mattress is made from foam, the frame from pine and the fabric is woven. When it's open, it is 182cm long, but when it's used as a chair, it only needs 77cm. Save space, while having an actual bed for your guests to rest on!
Key features:
Affordable chair bed
Tightly woven fabric
Pine frame
Two size options
Six colour options
9. Active Era Premium Self Inflating – Best Air Bed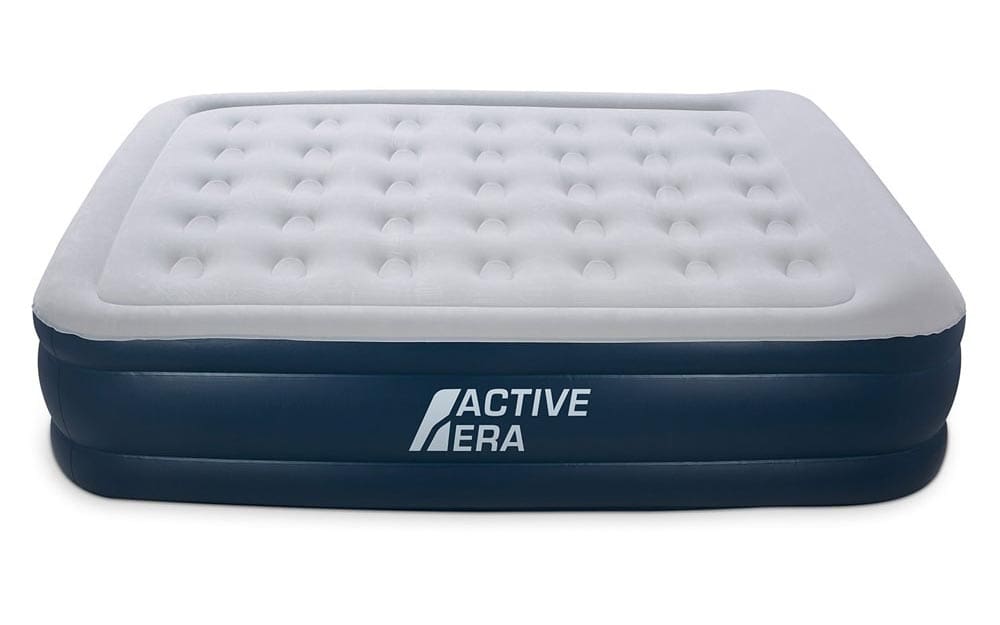 Blowing up a mattress has never been easier than with the Active Era air bed. You don't have to waste your time nor energy any longer with this product you get a powerful built-in electric pump. It is integrated into the blow-up bed to allow full inflation in 3 minutes. If for some reason you wish to inflate or deflate it without the included pump, there is a manual air valve.
This premium option is created with an ultra-high quality hard-wearing puncture resistant-material. The reason for that was, so you can fight against any punctures or damage that might occur. What makes it even better is the fact that it is waterproof, without losing the soft flocked top layer, which you rest on.
We can safely this product that you will get plenty of use out of, which makes it a brilliant choice. It comes in a king-size with set measures: 152x203x50cm. Another great feature is the 35 inner air coils that you get the support your body needs for a good night's sleep. It doesn't matter what position you sleep in because with this item you'll be able to get a great night's rest.
The final touch is the built-in raised pillow that helps to support your head's weight while properly aligning your neck.
Key features:
Powerful built-in electric pump
15 Gauge puncture-resistant material
35 structured air coils
Waterproof flock coating
Integrated raised pillow
10. Dreams Lucia Sleepmotion – best adjustable bed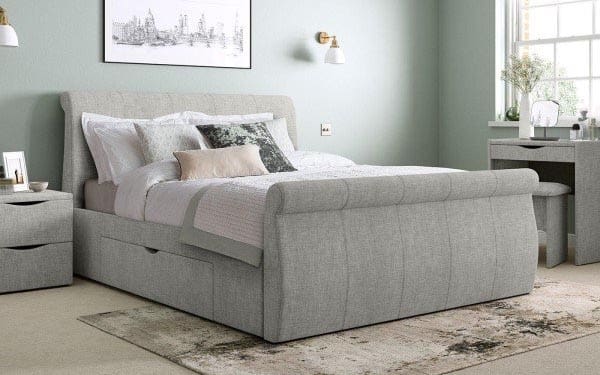 If you're a fan of adjustable beds, the Dreams Lucia Sleepmotion product is the one for you. We consider it the perfect combination of comfort, style and technology. This lavish-looking option comes with a standard remote, but there is another option for control, and that's through the Napp Dreams App. We are a generation that is constantly on our phones, so why not use them for our comfort?
For us, this item stood out because of its customer ratings and possibilities. If over 1800 people give something a 5-star rating, that has to mean something. This bed gained its popularity with the additional customisations and services it offers.
You get to choose from five possible sizes, two beautiful colours, three base options and a high-quality roll-top headboard and footboard. The smooth upholstery options in faux leather or fabric and the elegant sleigh structure are some of the many reasons this product is a bestseller.
If you chose the 400i base, you get to enjoy additional features, which include lumbar support and two relaxing massage units for your back and feet. We know that this sounds very complex for assembly, but if you're worried about that, you can get the Dreams team to assemble it for you.
Key features:
Adjustable
Zero Gravity technology
Roll-top headboard and footboard
Three base options
Warranty: 1-year
What to consider when buying a Bed?
The average person will spend up to a third of their life in bed, which is why you must make the right decision when you're deciding on a new one. We know that this can be a daunting task, which is why we've created a list of factors you have to consider before buying an item.
Every day, you want to wake up feeling refreshed, revitalised and ready to face the day ahead, so here is how you can do so:
Size
When it comes down to size, the first thing you have to think about is if you're sharing it with a partner or not. If you are, you'll need to find an option that will provide maximum comfort for both of you. However, the size will be dependent upon the weight and build, but in general, the bigger the bed, the less partner disturbance there will be.
For many, a double bed will be spacious enough for two, but a king-size will be even better. The king will allow you to stretch out and enjoy a truly relaxing and comfortable night's sleep. Who doesn't want that? With that said, you shouldn't forget about the size of your room and its capacity.
Comfort
Many associate comfort with the mattress their sleeping on, but not the bed itself. That can be a valid point since the mattress is the starting point of your journey when we talk about bedding products. If you're just starting yours, make sure to check our guide about the Top 10 Best Mattresses for 2021 on the market.
After the mattress comes to the realisation that a comfortable bed will be the difference between waking up feeling tired and frustrated or jumping out of bed with new energy bounds. There isn't a one-way comfort plan since one person's perception of comfort can be entirely different from someone else's. Continue reading and find the answer that will suit your specific needs.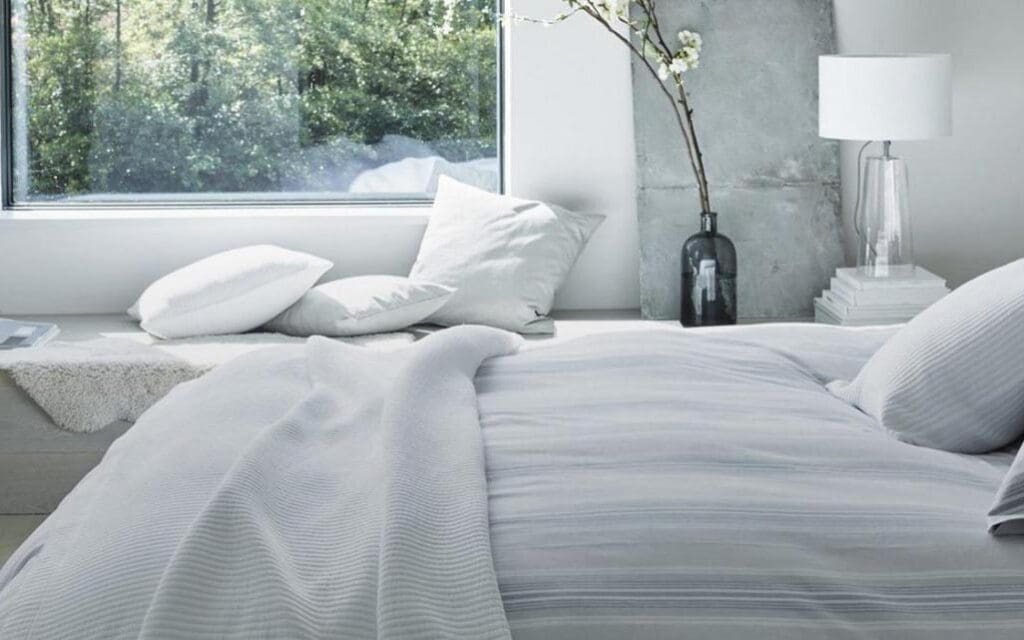 Support
Let's be honest, the best way to ensure that you've chosen the right bed is to test it out. You can do that by going to a store or using the trial period when your order it online. No matter what option you choose, make sure to lie in various sleeping positions and see if you're getting the right level of support for your height and weight.
We all want something that's aesthetically pleasing, but when it comes down to beds, this shouldn't be your priority. A product can look amazing, but if it's too soft or too hard, we're going to suffer from many sleepless nights.
Quality
If you're on a budget, buying a bed can seem expensive, but after all, it is a significant investment, which if chosen appropriately can have a lifespan of up to 10 years. Therefore, you should do some research to make sure that reputable manufacturers have made the bed. Deciding on a high-quality option means more general support, comfort and longevity, which is the end goal.
Adjustability
Adjustability isn't a feature everyone thinks about. However, it is essential for the elderly or people that suffer from mobility restricting conditions. If you're choosing the bed or looking for someone else, think about how a person can get in and out of a lying down position comfortably.
Health conditions
Finding the right bed is essential if you're suffering from a debilitating medical condition. You'll need to look for an option that provides the right support and cushioning to help relieve painful ailments. It also needs to be able to keep the spine aligned and alleviate pressure off affected areas.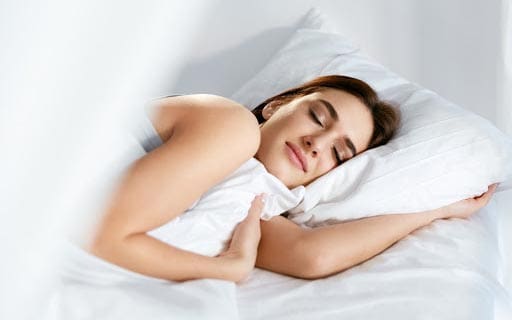 Mattress and pillows
A bed can't stand on its own. It will need a mattress, a pillow and some bedding sets if you want a decent night's sleep. Investing in a high-quality mattress and pillow is always worth it. The general rule of thumb is choosing a mattress, which can adapt to the body's contours while providing the right amount of support for your body.
If you're a fan of optimum comfort, you should consider, picking a high-quality pillow as well. If you don't know where to start, check our guide for the Top 5 Best Pillows for 2021 and beyond.
Lifestyle
Yes, this is a factor just as any other thing on this list. Many won't think about this as a feature, but the truth is if you're sharing the bed with a partner and you want to retain intimacy, but you have different lifestyles, you'll need to find a way to accommodate that.
If you choose an option that can be manoeuvred so that you can sit and read a book, while your loved one is laying down and watching TV, you've done a great job. What you can do is consider link beds or zipped mattresses, if you have different needs.
Style
We all know that functionality is what matters, but aesthetics do too. Whether you a fan of contemporary options or classic design, there are enough options that can suit different personal tastes. If you want to add style to your choice, you can always opt for a decorative headboard or an elegant and coordinated furniture theme.
Extras
Let's talk business, alright. If you're in a room, which can't fit all your belongings and you lack space, opting for a built-in under storage can be the perfect way to free up some valuable space. Another extra you should consider is a guest bed that folds out if people visit you often. Next, we have a list of 10 different options for numerous locations you can take a look at.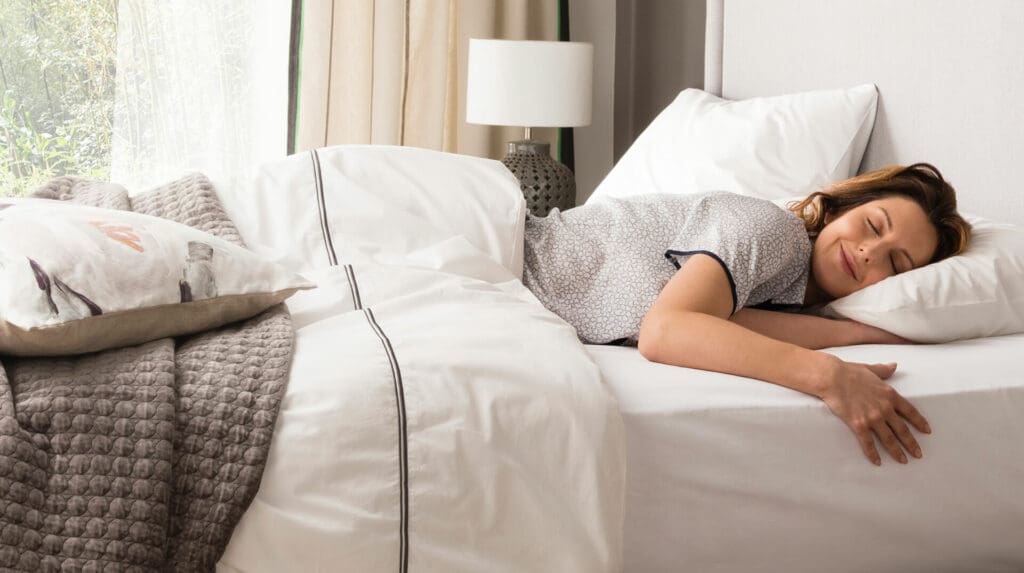 How to Choose The Best Type of Bed?
Choosing a quality bed isn't as simple as pick a bed stand, for example. Looks aren't everything here, there is plenty to think about, such as storage, mattress types, size and much more. That's why we've created a list of tips, which you can follow to make the right decision.
Visit a Store
Let's say this is your first time buying a bed on your own, how do you know what to look for? Seeing it on a screen might not always be an ideal option, which is why visiting a store will allow you to try out different styles, shapes and designs. Find the nearest store and try some options, after that you can always go home a purchase an item online and get the free trial period, to make sure your body will correctly adapt to your new choice.
Try the Product
As mentioned above, testing the waters is essential. Everyone is different. Therefore, we all have specific wants and needs. People's requirements can differ depending on their weight and build, so choosing something comfortable for both is important.
Make the Choice Together
If you're sleeping with someone else, you have to consider their preferences just as much as yours. Include your partner in the process so that you can get an item, which is ideal for both of you. Find a solution to your problems together!
Consider room size
This is an aspect you should always take into account. You need a spacious enough bed, so you don't disturb your partner, but you still need reasonable space around it. If the space you have is used for multiple purposes, opting for a sofa bed can be the perfect solution.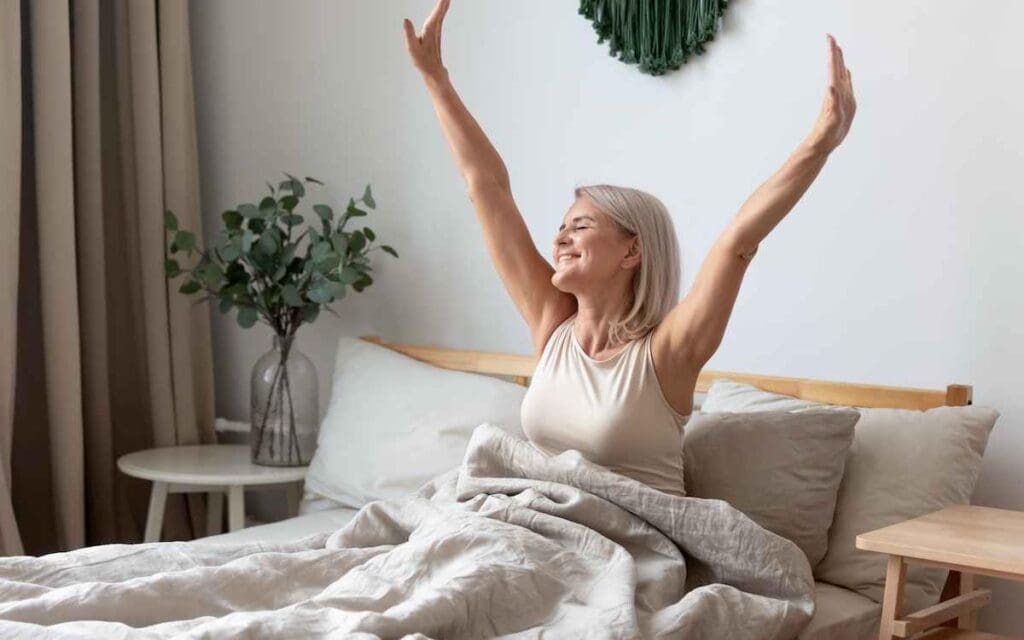 Consider storage options
Having extra space for your belongings is always a plus. Maybe you can't fit a wardrobe in your room, or you can, but there isn't enough space in it, then having a storage bed will help you immensely. In our opinion, these type of products is the best for small rooms as they give you plenty of extra space in which you can store your things, while still having easy access to them.
Consider a Bigger Size
If you don't have to worry about space and your bedroom has a reasonable size, you should think about getting a king-sized option. This way, you and your loved one can spread out and not disturb each other. Assuming you have a lot of space, you can always spoil yourself with an Emperor item.
Think about Aesthetics
Are you someone that prides themselves on having a great sense of style? You should think of the type of statement you want to make with your purchase if you are. Getting a fancy headboard will add character to a room which in our mind is always a plus.
Don't Forget your Back
Nowadays, there are numerous types of options for people that struggle with a bad back. To be able to find yourself a good bed, you will need an appropriate mattress first. For that, you can check our guide for the Best mattress for back pain, which will save you a lot of time and research. Play smarter, not harder!
Create the right Combination
You can't get a comfortable night's sleep with find the right combination of a bed and its mattress. For example, spring mattresses are ideal for spring beds, just like slat beds are usually teamed up with foam mattresses. A new mattress won't last as long, if you put it on an old and bed, that's not right for its specif type. Think about the way you're going to pair them, before buying either.
Think about your Budget
We are going to be very blunt and honest here. The most expensive option isn't always the best one. However, that doesn't mean the cheapest item is either. Take a look at our suggestions and think about the type of bed you need. Then take a look at the price range and decide on your budget. Make sure that your picking one that will give you the support you need for a good night's sleep. We advise you to look at some of the products reviews, just in case.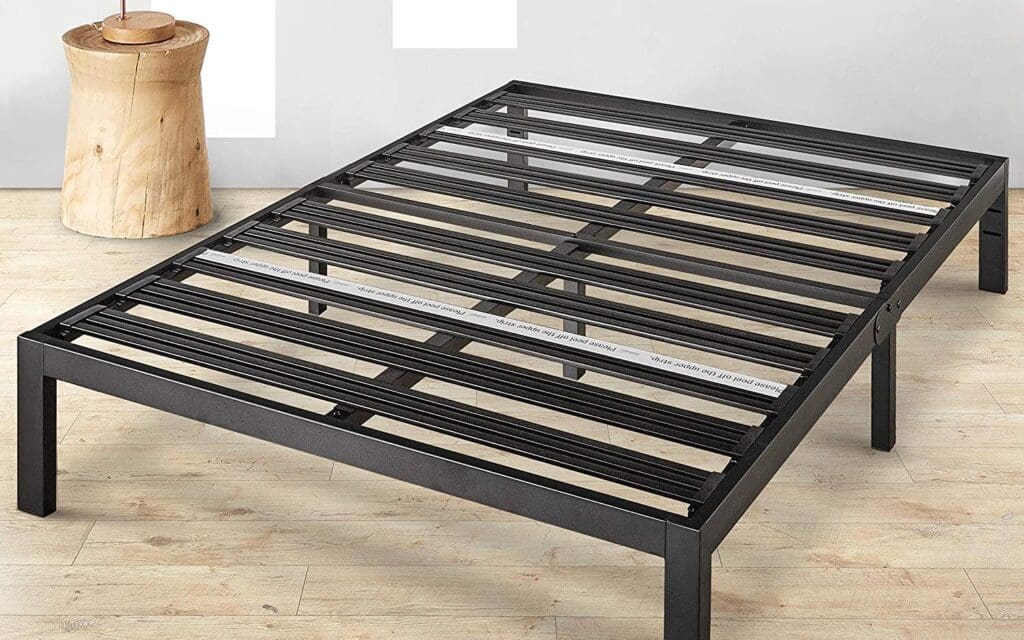 Can I re-use an old bed base?
This is the million-dollar question. The answer to this can be very tricky since most people that talk about it are the people who sell them. Yes, re-using an old one can save you a couple of hundred pounds, but is it worth risking your new mattress?
Let's take a closer look at our possibilities. You can save your old base and just pay for a new mattress, but how much of a negative impact can this have on your body and sleep? If your bedstead isn't falling to pieces, you might be able to use it still.
What happens if you buy a foam mattress but have a sprung divan base? Well, you're in for a rude awaking because it is designed to work with a particular mattress. You don't want to wear out the mattress the same way your base has dipped.
We know that it is cheaper to save your old one, but what happens when you spend hundreds of dollars on a high-quality mattress, which can get ruined because you didn't want to pay a few extra and find it a suitable base? Please think before you make this decision, there is no better advice than that we can give you.
Final Words
We've all seen the dozens of mattress brands in the UK and just as many beds and frames. They all have unique value propositions, but that doesn't necessarily mean quality products. To save you time and a headache, we've created the ultimate list of bed options.
As time goes on and new products and brands appear, we will be evolving and updating our list. But in the meantime, we hope that we could help you with what you've been searching for.
We don't claim that the products above will resolve all your problems, but there is no harm in trying, which is why you shouldn't be afraid to "Test Drive" different items before you buy them.
Understand that even though we might not be professionals, we've tested, researched and commented on every product we've put in our guides. If any questions regarding the subject were left unanswered, don't be a stranger and ask them in the comments below.