Day beds are one of the best space-optimising furniture pieces that you can purchase for your home or garden. They are multifunctional and can be used as a bed, sofa and even storage in some situations. In general, they can be set apart from ordinary beds because their headboard is usually extended along one side of the frame.
But how can you choose a quality option that fits the bill and checks all the boxes? There are many options on the market – from high-quality products from reputable companies to cheap Chinese items that we wouldn't recommend to our worst enemy.
That's why we created LightSleeper – to help you choose the product that is right for you and you alone and help you make that choice along the way. Companies can never pay to feature their products on LightSleeper, nor we are getting paid to recommend one product over the other – we are an independent resource, and we only recommend products that have passed our tests, and we feel that they are the best in their category.
So without further ado, let's see what we think are the best day beds in the UK today:
1. Kylie Metal – Editor's Pick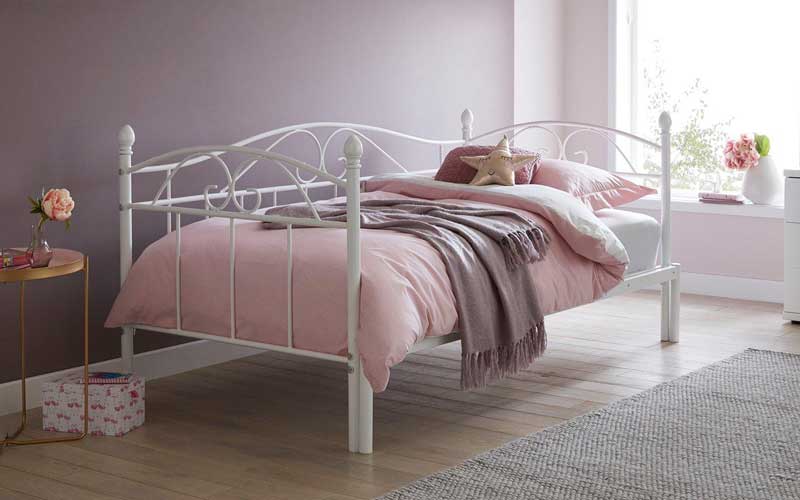 First on our list is the Kylie Metal Day Bed with its lavish design and quality materials, easily winning the Editor's pick in this category. This is a trundle bed that has a pull-out design, which is entirely unnoticeable when not used.
The Kylie bed requires two single mattresses (190cm x 90cm) if you want to use the pull-out trundle, which will transform the bed into a king mattress. Keep in mind that the mattress that goes underneath should be under 27cm since this is the height below the frame.
Kylie's Metal Day Bed comes in one size and colour (white), with a majority of 5-star ratings. This easy hideaway guest bed has a swirled metal design with an interlinking pull-out feature. The product is tested for the British Standard EN1725 on strength and stability and can be assembled for an hour or so.
Dreams offer bed frame assembly service at an additional cost if you don't want to do it on your own. The company provides you with free delivery on all orders in which the product will come in two packages and can be assembled by the team. Also, you can recycle your old bed or mattress with their environmentally friendly recycling service for a small fee.
Overall, the Kylie daybed comes with a 1-year guarantee, great customer reviews and an elegant design suitable for any space.
Key features:
2. Stompa Mi Zone – The Luxury Choice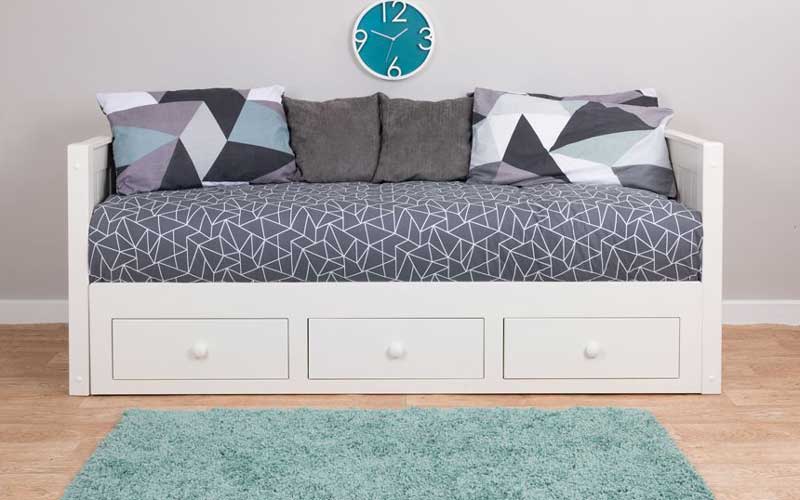 Next, we're going to talk about the Stompa Mi Zone bed. Stompa is known for a variety of furniture with a classic look and high-quality build. The Mi Zone option comes in one size and colour that can work in any room and aesthetic.
Depending on your preference, you can turn it into a double bed by getting two single mattresses (75×190 cm) and putting them together. It's made from Scandinavian pine with a smooth painted, white finish, which creates a timeless piece of furniture.
If the room you're putting it in is smaller, the three under bed drawers can come in handy and save you some space with this storage item. You can use these drawers to tidy up your child's everyday clutter of shoes, toys and school things or fit all the extra pillows and duvets you have for guests.
The Mi Zone can be the perfect option for your guests, kids and many more. You receive a free delivery service, a year warranty that can be extended to five, but if you buy a mattress alongside it from Bensons For Beds.
Key features:
Scandinavian pine with white finish
3 under bed drawers
Optional pull out extension
Assembly required
Warranty: 1-5 years
3. Aingoo Single Frame – Budget Choice
Our cheapest option today is the Aingoo, a must-have piece of furniture for small living spaces. The Aingoo single daybed comes with a majority of glowing customer reviews, but it doesn't include a mattress.
This bed is designed with a classic powder-coated steel frame, available in two colours (white & black) with a solid construction made from 16 steel slats and six support legs, ensuring long term durability. The Aingoo has a considerable loading ability standing at 150kg.
It has a classical design with contemporary scrollwork, suitable for any kids room, a dorm, a guest bedroom or an outdoor area. You need a single-sized mattress (190cm x 90cm) for this bed frame, which is resistant and easy to maintain.
With an affordable price tag and a foot protector design, the Aingoo has 28 cm of under-bed clearance, offering storage space so that you can finally fit the extra things that clutter your room.
Key features:
Sturdy metal frame
16 steel slats & 6 support legs
Foot protector design
Contemporary scrollwork
28 cm of under-bed clearance for storage
4. Wayfair Schubert Fabric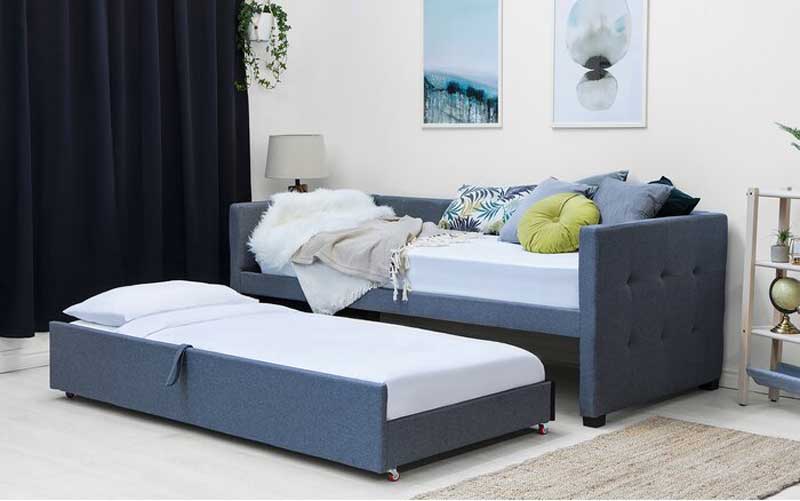 Brayden Studio offers sought-after contemporary design at affordable prices, and that's how they came up with the Schubert day bed. Day beds are usually more comfortable to sleep on than other guest bed options, and this one is no exception.
The Schubert is the perfect mixture of stylish and practical, offering two spaces to sleep on. The bed frame itself is made from manufactured wood and upholstered in smooth charcoal grey fabric, with tufted detail on the back and sidearms.
It also features black finish solid wooden legs, and the pull-out guest bed is on castors for ease. However, keep in mind that a mattress isn't included, and there is a full assembly needed. When you do purchase a mattress, know that it will sit on sprung slats that will give the bed a bit of a bouncy feeling.
The Schubert comes with a year guarantee in an elegant grey colour with these dimensions: H78cm x L215cm x W102cm.
Key features:
Manufactured Wood frame
Upholstery – 100% polyester
Bed size: single
BS 5852 Certified
Warranty: 1-year
5. Julian Bowen Versailles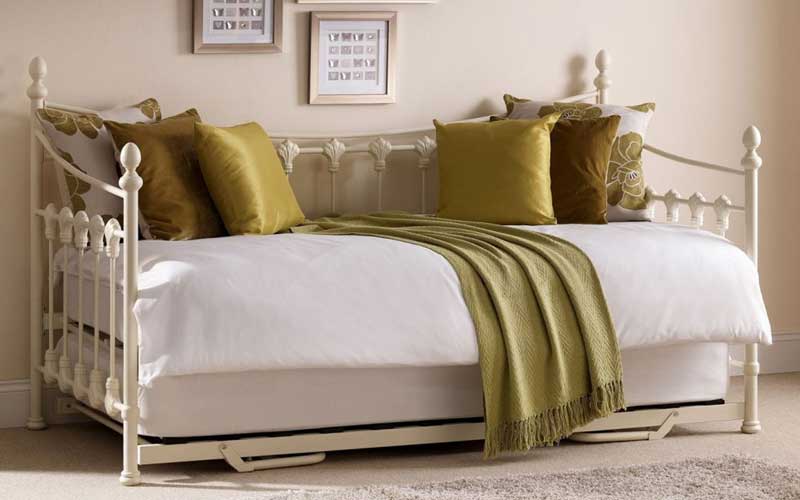 The Julian Bowen Versailles daybed is an elegant interpretation of a great classic design, offering a full 90cm sleeping or sitting space.
The Versailles can fit in almost any setting, from a living room to an outdoor area, as a guest bed to a charming children's bed. It comes in one colour (stone white) and size (202cm D x 100cm W x 116cm H), finished with a white eggshell textured lacquer.
For added comfort, this Julian Bowen daybed incorporates a sprung slatted base made from powder-coated steel with an under-bed trundle, which is sold separately. A standard UK single mattress (90 x 190cm) will fit the Versailles frame.
This Julian Bowen product requires assembly, and if you want to save yourself the hassle and tassel, it can be done for you at an additional cost.
Key features:
Sprung slatted base
Stone white eggshell textured lacquer
With under-bed trundle
Intricate detailing
Fits standard UK single mattress
How to choose a day bed?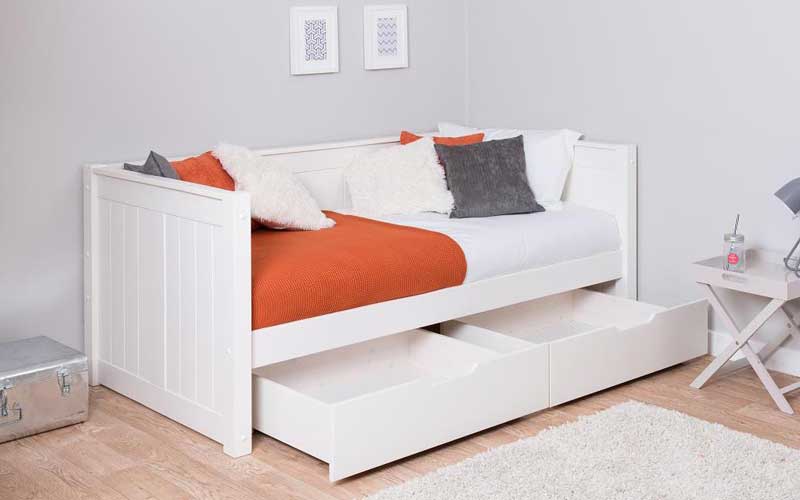 Daybeds are designed like a traditional bed concerning their frame and overall construction. However, they are usually sturdier and exuding a quality, which you won't find in most futons. A day bed can serve as a sofa to sit on during the day and a bed to sleep on at night.
They have symmetrical sides and features that further adds to their strength. Thus they can be an excellent choice for furnishing a guest bedroom, a studio or even an outdoor living space. Here are the few factors you should look for to find the best options:
Material
Just like with any piece of furniture, day beds need to be well-constructed and with high-quality materials. As with most traditional beds, these ones are often designed from wood or metal and choosing one over the other usually is a matter of preference.
Both materials provide strength, stability, and quality while allowing freedom for craftsmanship, a large variety of designs and different design details that can put an item above the rest.
Functionality
This type of bed is great for saving space by serving two roles in one great unit. Functionality is essential, and many daybeds feature a pull-out trundle bed that maximises space by having a second twin mattress underneath the primary mattress.
That way, two people can sleep comfortably on a nice and supportive mattress, while the whole piece of furniture takes up no more floor space than a traditional twin bed.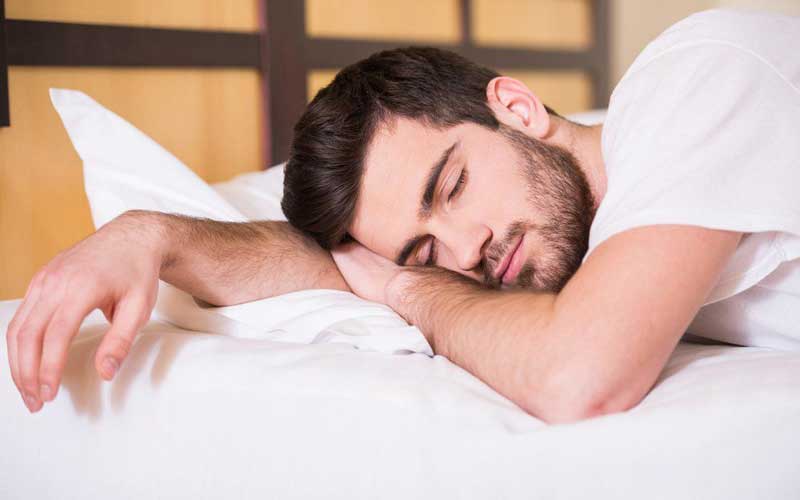 Style
Last but not least, you have to think about the furniture's style. A daybed can cater to every primary genre of beds when we talk about design and style, which can include traditional, contemporary, and cottage.
The variety allows you to select a unit that will complement the existing décor of the room or work effortlessly with the new one you've done.
Comfort & Support
You want the people sleeping on your bed to feel comfortable and supported throughout the night, which is why you shouldn't just assume that every model is going to work for its intended purpose.
When you're buying a new product, you should ensure the outer frame is durable and strong to hold people's body weight. Also, you want to find one with an easy opening inner frame (if there is one) that can support the person who will be using it.
Final Words
A day bed can ultimately save a lot of space, especially if you select an option with a trundle or storage. You can fit them in almost any living or open area and enjoy comfort at its finest! Many people use them for their kids' bedrooms or for when friends or family stay the night.
No matter if you're searching for a permanent guest bed for your spare bedroom or you want to have an option that can convert into a bed for your child or in your living space, there are many incredible options. You have to consider the comfort levels and compare price points depending on the inclusion of mattresses or extra features.
All of the bed products we listed above have great customer reviews and are well received. We hope you could find what you were looking for in our guide regarding some of the top choice day beds the market has to offer. To simplify your shopping experience, we've selected the top 5 options for this year.
Brands in the bed industry frequently change, and so do the products they offer, which is why we will continue to provide you with the most up to par information. We hope that this article was helpful, and you could find what you are looking for.
Now it's our turn to hear from you if any questions regarding the subject were left unanswered. If you want to share some information, we would gladly hear about it in the comments below.